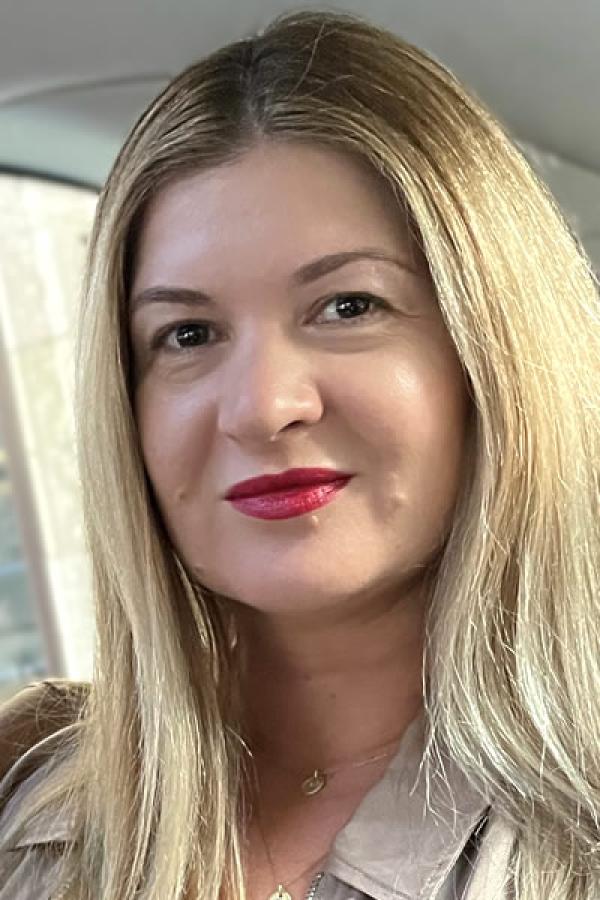 Bio
Izidora Angel is a Bulgarian-born writer and literary translator currently working on Yordanka Beleva's acclaimed collection, Keder. She is the author of two other translations, Hristo Karastoyanov's The Same Night Awaits Us All, hailed as "a bold novel of resistance" by World Literature Today, and Nataliya Deleva's Four Minutes, called "immensely effective" by the Irish Times. Angel's work has been featured in Astra Magazine, Electric Literature, Chicago Reader, Sublunary Editions, Reading in Translation, and elsewhere. Her projects have been supported by English PEN, ART OMI, the Rona Jaffe Foundation, the Elizabeth Kostova Foundation, and others. Angel is at work on Solomon's Daughter, a memoir of growing up during the last days of communism, the meteoric rise, ruin, and slow descent into madness of a notorious businessman father, and the family's prolonged, forced separation. Angel lives in Chicago with her husband and three daughters and is a founding member of the Third Coast Translators Collective.
Project Description
To support the translation from the Bulgarian of the short story collection Keder by Yordanka Beleva. An acclaimed contemporary poet and author of seven books, Beleva writes of virtuous grandmothers and envious neighbors, relationships between women of a different age or stature, and family dynamics strained by phantom relatives lost to death or immigration. Keder is a collection of folkloric flash fiction: writing that is short and precise, devastating and powerful. It is also an homage to the Bulgarian Baba, a no-nonsense, stoic woman for whom there is no happy ending nor self-pity.
To say I cried like a baby when the National Endowment for the Arts called me with the news every writer and translator dreams of would be hyperbolic, but only slightly. Those of us in the literary arts deal with an inordinate amount of rejection as a matter of course and those who work from minority languages such as the Bulgarian have to surmount probably the worst type of rejection there is: dismissal borne of disinterest.
But on the other side of every non response or unwanted response, a community brews and gives life to a translator—the authors, whose words must travel, urgently; fellow translators in the trenches, the ones who workshop and ideate with you, give unconditional support, who pour encouragement, and drinks; crucial organizations, like the NEA, which incubate culturally vital projects; the spouses and family members, contractually obligated to read every last thing placed before them.
I'm immensely grateful to the NEA for recognizing Yordanka Beleva's beautiful, powerful, and surreal words and for facilitating their appearance into English. I'm flattered, truly, that I'm the one who gets to do it. It's easy to acknowledge something once it's already successful. True creative leaps happen at the ground level: a tapping on the shoulder of the artist, a challenge to create a contribution to the culture. Thank you, NEA, for this tap on the shoulder, and for this challenge.
About Yordanka Beleva
Yordanka Beleva is a bewitching writer and a master of the short form. Her acclaimed, woman-centric contemporary style is at turns sensual and devastating, political without being preachy, godly without being sermonic. Most stories in Keder take place in a village, some do not, but they all, in some way, dig through the trauma of exile, the basic human need to belong, to be seen. And Beleva sees it all and asks us to ponder it through her beguiling lens.
The prominent Bulgarian literary critic Mitko Novkov is certain that Beleva's stories, especially those in Keder (Turkish for "sorrow"), will come to reinvent Bulgarian storytelling. "With their unostentatious mood," he writes, "[Beleva's] stories are like haikus, yet they're concerned not with the natural world but with our social milieu—the state of familial bonds, familial knots, and familial weight."