"Artist Perspective: Building Afrocentric Technoculture and Community"
By Ari Melenciano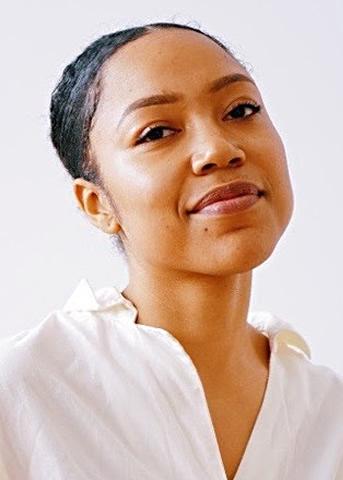 There's a powerful union at the intersection of art and technology, as the report Tech as Art: Supporting Artists Who Use Technology as a Creative Medium suggests—where art expands and humanizes the possibilities of technology, and technology creates entirely new forms of expression through art. As a creative technologist at Google's Creative Lab, I've been fortunate enough to sit at the nexus of these influential worlds.
The Creative Lab is essentially the creative think tank of Google, one of the biggest technology companies in the world. Google's mission is to organize the world's information. The lab is situated within the marketing leg and tasked with finding ways to bring creative life to the tools, technologies, and opportunities Google offers to billions of people every day. Currently, much of my work surrounds learning the ins and outs of machine learning. We are working to become early pioneers of a likely pivotal moment in computation as machine learning is embedded in microcontrollers smaller than a capsule of lipstick, for the cost of a bottle of water. The potential for more of the world to have access to powerful technological infrastructure is massive. We're also excited to begin investing in the developers' ecosystem all across sub-Saharan Africa. We're learning directly from people on the continent as to how Google's tools can better serve these communities and how their lives can become easier with these technologies.           
This is a fruitful time in my career as my professional interests are aligned with many of my personal projects. The largest project I've built, Afrotectopia, is a social institution I founded while a graduate student at New York University's (NYU) Interactive Telecommunications Graduate Program (ITP). Afrotectopia began as a new media arts, culture, and technology festival where hundreds of innovators gathered around centering Blackness and Afrocentric design when considering new ways to create and design to mitigate racial disparities. Since the first festival, Afrotectopia has grown into a vibrant social institution experienced through think tanks, Black youth STEAM summer camp, alternative adult school courses, international fellowship, imaginariums, and a month-long series of online talks called Fractal Fête.
During the summer of 2020, in the midst of a pandemic, I wanted to explore what happens when you bring together ten innovators from around the world to collaboratively imagine, speculate, and design vibrant and healthy Black futures. These curiosities inspired the creation of the inaugural Afrotectopia Imagineer Fellowship. The fellowship was designed to bring together an international, interdisciplinary, and intersectional cohort of ten Black innovators. This initiative was self-funded through donations. Fellows were selected from across every region of the U.S. and around the world (Ghana, France, and the U.K.).
 Since its fruition, Afrotectopia's main areas of focus have been art, design, technology, Black culture, and activism. We've been keen on creating Afrotectopian environments that are welcoming of diverse and wide-ranging professions and practices. We are invested in "omni-specialized" innovators, meaning that they have a vastly wide array of disciplines and practices, because when designing futures it is crucial that it be done with an understanding in every facet of life. We were also intentional to not consider Blackness as a monolith but as a highly nuanced identity. The selected fellows all held a variety of cultural identities within the Black/Pan-African diaspora. Beyond their cultural identities rooted in racial politics, we also wanted to curate a group of people that held other different lived experiences and identities—from socioeconomic statuses to sexualities, and beyond.
And at the core of much of the fellowship, we emphasized the way Afrotectopia defines and identifies "technology," not as synonymous with electric forms of computation but merely as an extension of human capability, and beyond that, an extension of sentient capability.
The fellowship was designed to cultivate a collaborative, research-driven practice through designing and developing theory and communal engagement. A core foundational value of the fellowship was the emphasis of "community over individualism." Every fellow engaged with every project, creating space for them to contribute their expertise or lack thereof. The goal was to cultivate a deep sense of community amongst the fellows, be collaborative, and make sure all research and practice done within the fellowship was accessible to all.
The work of Afrotectopia has been celebrated by a variety of major institutions as it exemplifies a guiding light in the pivotal practice of collaboratively designing pluralistic Black futures, creating space for deeply radical imagination, and cultivating community around pioneering Afrocentric technoculture. We have steadily grown to reveal new possibilities when operating from an antidisciplinary and culturally specific lens.
The story of Afrotectopia was inspired by many life experiences—but particularly my life-changing experience as a student of NYU ITP. It's a space of the most recently possible at the hands of emerging technologies. The program invites students to be imaginative, interdisciplinary, individualistic, and communal. Every student enters the program with their own objectives and is given the space to explore how they can use art and technology to manifest their personal ideas. For me, the opportunity to learn how to realize my ideas through the development of my own technologies was the highest level of artistic agency I had ever experienced. I was able to create projects such as the Ojo Oro, a new-retro camera that explored the interrelationships between fashion and technology, and between digital and analog modes.
Exploring imaginative uses of technology as a student of ITP was an exciting experience. But I began to shift my focus within my work to consider the roles race, culture, politics, socioeconomic status, and other identities play in technoculture of today, yesterday, and tomorrow. This reorientation was inspired by the change of leadership in the White House, and my experience in moving from my predominately Black hometown to being within a program where about four percent of the students were Black. I began to explore how I could use my work to challenge societal norms regarding race and use creative tech for pedagogy that incorporates political dissent. I experienced great frustration in the lack of racial diversity in technology programs countrywide, such as mine. I also recognized the lack of attention to both the social impacts of technology on communities of different races as well as the promising opportunities when considering race, culture, and tech in tandem. My lack of community of Black peers, mentors, and mentees within the creative technology world made it hard to exist, thrive, and be inspired within the field. These experiences encouraged me to develop Afrotectopia, with the support and generosity of ITP.
Like many of the artists featured in Tech as Art, I have since pieced together both my work and creative life by working with many different institutions. After graduating in 2018, I immediately returned to the classroom as a creative technology high school teacher. I managed a makerspace and designed creative technology/computer science curriculum as a full-time creative technology teacher at an all-girls prep school in Upper East Manhattan, as well as consulted with the NYC Department of Education on how to bring conversations around societal issues into the fold of STEAM curriculum for sixth-graders. In those roles, I learned about the power of simple and effective communication on what computer science technology means and how to create classroom environments that recognize the day-to-day applicability of these technical skills.
In this time, I also served as a researcher at NYU ITP, continuing to research the societal impacts of technology, Afrocentric design, and the imaginative possibilities of creative technology through the development of multisensorial experiences. During my research residency, I also began presenting to universities and companies around the country, and eventually the world.
As I've continued through my career, I've also been awarded various fellowships and residencies from institutions like Eyebeam, NYU's Future Imagination Fund, Pioneer Works, Culture Hub, NY Live Arts, and MICA (Maryland Institute College of Art). I've also been invited to incubate work and become a part of inspiring memberships, including the New Museum's New Inc, ONX, and the Guild of Future Architects. Residencies have served as both a great way to sustain my work financially while creating more opportunity to focus on my current projects, begin new ones, and have an expanded community to share it with.
My passage into creative technology has been a windy path created without any models. Part of why Afrotectopia has thrived is because, unfortunately, there are no other communities that are seamlessly offering such an interdisciplinary approach to new media in tandem with race and culture—there need to be many more. Financially supporting this work is difficult, both as a practitioner and as an entrepreneur. Building a community of this nature, and cultivating people-powered initiatives, is a laborious task that unfortunately requires a demanding level of perseverance and frugality. But in all the work I've been able to do throughout my creative technology journey, I've continued to remain in a state of awe and appreciation at the possibilities on the other side of grit, perseverance, continuous curiosity, and a deep optimism for the future.
Ari Melenciano is a Brooklyn-based designer, creative technologist, and researcher who is passionate about exploring the relationships between various forms of design and sentient experiences. She is a creative technologist at Google's Creative Lab, teaching and research fellow at NYU's Interactive Telecommunications Graduate Program, and founder of Afrotectopia, a social institution fostering interdisciplinary innovation at the intersections of art, design, technology, Black culture, and activism. Her award-winning work has been supported and exhibited by a variety of institutions, including Sundance, New Inc, New York Times, and the Studio Museum of Harlem. She is often guest lecturing at universities around the world.