"How Artists Can Bridge the Digital Divide and Reimagine Humanity"
By Agnes Chavez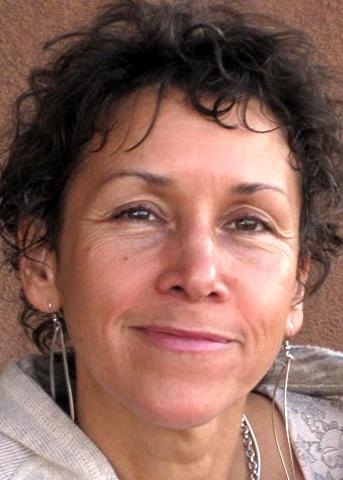 A 10,000-square-foot inflatable Space Cloud with a floor made of ten tons of white salt drifting like beach sand, illuminated with programmable LED lights, lands in a park in Taos—a small, rural, multicultural community in New Mexico. Inside, plankton as large as whales drift on the fabric surfaces of the dream-like cloud, while participants wearing virtual reality headsets paint in three-dimensional space.
The inflatable pavilion designed by Espacio La Nube transformed into a learning space for the integrated STEMarts youth program at the 2018 PASEO Festival. We welcomed 700 students from across Taos County, giving them the opportunity to look under the hood and hear from the artists how the magic is created through the merging of art, science, and technology. As one student participant put it, "Now I know what is possible!"
The STEAM (science, technology, engineering, art, and mathematics) movement has been an important catalyst to develop digital literacy skills in education. To achieve an inclusive and equitable digital society, however, we must broaden the definition of STEAM even further to include the development of humanistic skills and sustainable "futures thinking" through community-engaged projects. This is especially critical in rural and underserved communities where we are facing a gender, race, and culture gap in the field of science and technology. These gaps in digital arts continue to be a challenge in curation.
The STEMarts Lab, founded in 2009, designs installations and artist-embedded curricula that focus on the intersection of the arts, humanities, and philosophy with science and technology. Through immersive and educational sci-art experiences, students work directly with artists whose work imagines what can be achieved with digital technologies. In contrast to an approach that assumes that any social problem has a technological solution, this collaboration empowers our youths and communities to understand the ethics behind new technologies and their impact on nature and humanity, while giving them the tools they need to creatively engage in and with society.
New media artists can play a pivotal role
New media artists have much to contribute to closing the "digital divides."  We live in a society that is fast-changing and increasingly reliant on digital technologies. To fully participate in this new society and reap its rewards, it is crucial to not only bridge the "first-level" digital divide of access to and affordability of information and communication technologies (ICT), but also to address the "second-level" digital divide, called the "production gap." Filling this gap would give people around the world the necessary knowledge and skills to move collectively from being consumers of digital content to producers of it. Currently, the majority of user-generated content is created by a small group of elites. Therefore, it is critical to provide the diverse sectors of our communities with the skills to produce their own content.
But providing access alone—or even closing the production gap—will not help us solve our most complex problems. In order to be effective, as Jan A.G.M Van Dijk notes in The Digital Divide, "policies must simultaneously reduce existing social and digital inequalities."
Bridging the multiple divides is an essential part of this process.  The United Nations' Roadmap for Digital Cooperation outlines "key areas for action." I focus on three of them below—digital capacity-building, digital public goods, and digital inclusion—and I show how collaborating with digital creatives through transdisciplinary educational initiatives can offer exciting new approaches and strategies to address these unique challenges.
The National Endowment for the Arts' report, Tech as Art: Supporting Artists Who Use Technology as a Creative Medium, affirms that "Tech-centered artists are admirably poised to grapple with larger societal and sectoral challenges—whether engaging with audiences during the COVID-19 pandemic or responding to calls for greater equity and inclusion in the arts and technology. They can be invaluable partners for policy-makers, educators, and practitioners in arts and non-arts sectors alike."
Digital capacity-building: Harnessing wonder
SPACE was the concept I explored for the 2018 PASEO Festival with curatorial advisors, Ariane Koek and Dr. Anita McKeown. The festival's free youth program investigated inner and outer space, artistically, socially, and scientifically, and highlighted the role of art, science, and technology in contemplating our place in nature and re-imagining society. In YouthDay@Space Cloud, students from each of Taos County's schools visited virtual reality stations by NoiseFold and Reilly Donovan where they experienced otherworldly landscapes, and a GPS interactive installation by Parker Jennings that transported them into outer space and back. Through Victoria Vesna's hacked gaming technology, they also learned of the destructive power of noise pollution on our oceans.
Through this artist-led experiential learning, students gain insight in the artists' ways of knowing—sensory, embodied, visual, kinesthetic—which prioritize the creative and human connection to technology. Teachers visited the online STEMarts Curriculum Tool in advance to learn more about the artists so that they arrived ready to ask questions. Follow-up surveys showed that students found the experience positive and fun, and were curious to learn more about art, science, and digital technology. Years later, they still ask if "the bubble" is coming back.
The power of fun should not be underestimated. The Digital Divideaffirms that fostering a positive attitude for using digital media is an important first step for closing the digital divide. Another strategy is making a long-term commitment to the community. Annual festivals create more impact than one-off events. Over six years of producing the PASEO Festival, we watched student, educator, and local government engagement grow. Community members stepped up to volunteer at the festival and learn from the artists. Teachers became proactive and asked for artists to come into their classroom to do hands-on workshops. Students continued to use the free digital tools.
One teacher was so excited by artists/activists Illuminator Collective's urban projection workshop that, a year later, she and her students created a protest to save the Arts Endowment in Taos Plaza. Students and teachers who have been participating since the first STEMarts programs at ISEA2012: Machine Wilderness, are now furthering their skills as content creators, teaching or mentoring others, pursuing new media arts fields, or simply walking away with a greater understanding of how they can become creative participants in this new digital society.
Digital public goods: Creating shareable resources
New media artists are at the forefront of inventing and adapting what the UN roadmap calls "digital public goods"— such as open-source software or open data — to create new digital creation tools. Through the STEMarts youth programs built around artist installations, we are cultivating a new pool of creative thinkers who see the possibilities of these open tools and how to use them. These strategies help participants in underserved communities move from being passive consumers of technology to cultural producers, empowered with the technology to tell their own stories.
As an example, Space Messengers is an immersive and educational sci-art exhibition as part of an international youth exchange program in partnership with U.S. embassies. Students in participating countries use artist-created tools to contribute content for the exhibition that travels to festivals around the world. For this installation, artist and openFrameworks programmer Roy MacDonald wrote the code for the web-based Space Board platform and integrated the (x)trees algorithm. This allows students to co-write their science-informed messages and the audience to respond in real time with their own messages from their devices. Both students and the public experience the excitement of learning science and contributing content as part of a real or virtual reality environment. These open-source tools are available for artists to adapt on GitHub.
In another science collaboration, Taos students learn from artist Markus Dorninger how to use his free Tagtool app, which transforms an iPad into a live visual instrument to tell their stories. With this tool, anyone can connect their iPad to a projector and paint with light, create animated graffiti, or tell improvised stories in multiplayer sessions using their fingers or stylus, eliminating the need for computers and mapping software.
Digital inclusion: The STEMarts Model
The STEMarts model (see below) builds youth programming around four pillars:
21st-century skills and technology
Cutting-edge science knowledge
Real-world application and collaboration
New media arts and social practice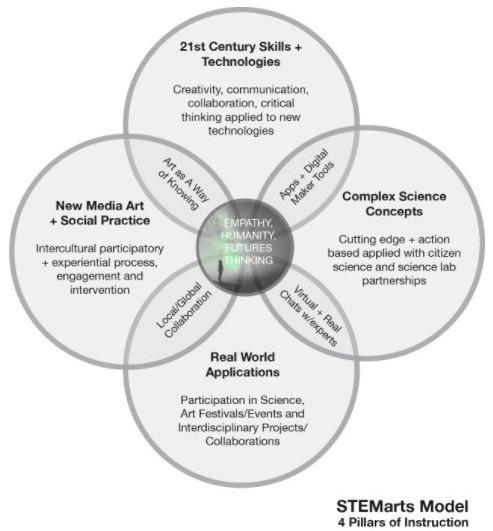 We explore how an understanding of art, science, and technology expands our understanding of ourselves and our relationship to nature and society. We do this by building partnerships and co-designing with universities, science institutions, community organizations, and all levels of government to integrate diverse perspectives and discover new approaches.  The curriculum, board, and advisors for these projects comprise an international and interdisciplinary team of artists, scientists, and cultural specialists that are actively contributing their knowledge—for example, CoDesRes and its STEAM place-based learning interventions and artist, Andrea Polli with STEAM NM. As another example, Dr. Greg Cajete, consultant and author of the book Native Science: Laws of Interdependence, is instrumental in the integration of traditional ecological knowledge. Deeply engaging diverse community members as collaborators in the creation of the workshop, installation, or festival is key to assuring that a wide range of people have equal access to the knowledge and skills, and a platform to share their stories.
Providing free online resources supports access for rural and underserved communities. The STEMarts Curriculum Tool is an online resource that provides teachers with no-cost content for building STEAM activities around the work of participating new media artists, while providing such artists with opportunities to share their work and knowledge with educators and the community. COVID-19 has been a catalyst to get schools and cultural institutions up to speed with internet and computer access, making these free artist-built resources a powerful way to address diversity in the second-level digital divide.
Why this matters now more than ever
We face unprecedented challenges, and if we are to create equitable responses, we must begin to develop numerous literacies. Students can develop understanding and empathy while exploring the applications of science and technology in our societies. They do not need to end up working in related fields to benefit from acquiring humanistic and scientific literacy—and ensuring that they do so will in turn benefit society and the world.
Creating an equitable and sustainable digital society is an essential process that calls for what the United Nations refers to as "digital cooperation": an ecosystem approach of multistakeholder collaborations between private sector, public sector, academia, and civil society. The need to bring people together from diverse disciplines and cultural perspectives to create alternative futures is urgent.  In a world of complexity and constant change, no one approach is sufficient. Pioneering artists experimenting with technologies can play an important role fostering literacies and bridging social divides. By supporting these artists creating new digital tools and experiences, we allow our diverse communities to participate in reimagining our humanity.
Agnes Chavez is a new media artist, educator, and creative producer collaborating across disciplines to create data-visualized light and sound installations that seek balance between science and art, and nature and technology. Her most recent work, Fluidic Data, is a permanent installation which visualizes data from the Large Hadron Collider created in collaboration with scientists at the CERN Data Center in Geneva Switzerland. In 2009 she founded the STEMarts Lab, which designs immersive and educational sci-art experiences that empower youth and communities through art, science, and technology. She participated as an artist and as education director for the ISEA2012:Machine Wilderness symposium. In 2014, she co-founded The PASEO Festival and served as co-director/youth program director until 2018.  She created the SUBE, Language through Art, Music & Games curriculum for teaching language to children, which is in its 25th year. She is now developing an international youth exchange program called BioSTEAM International, partnering with U.S embassies to connect classrooms across borders to collaborate on sci-art installations that inspire scientific, artistic and humanistic literacy.