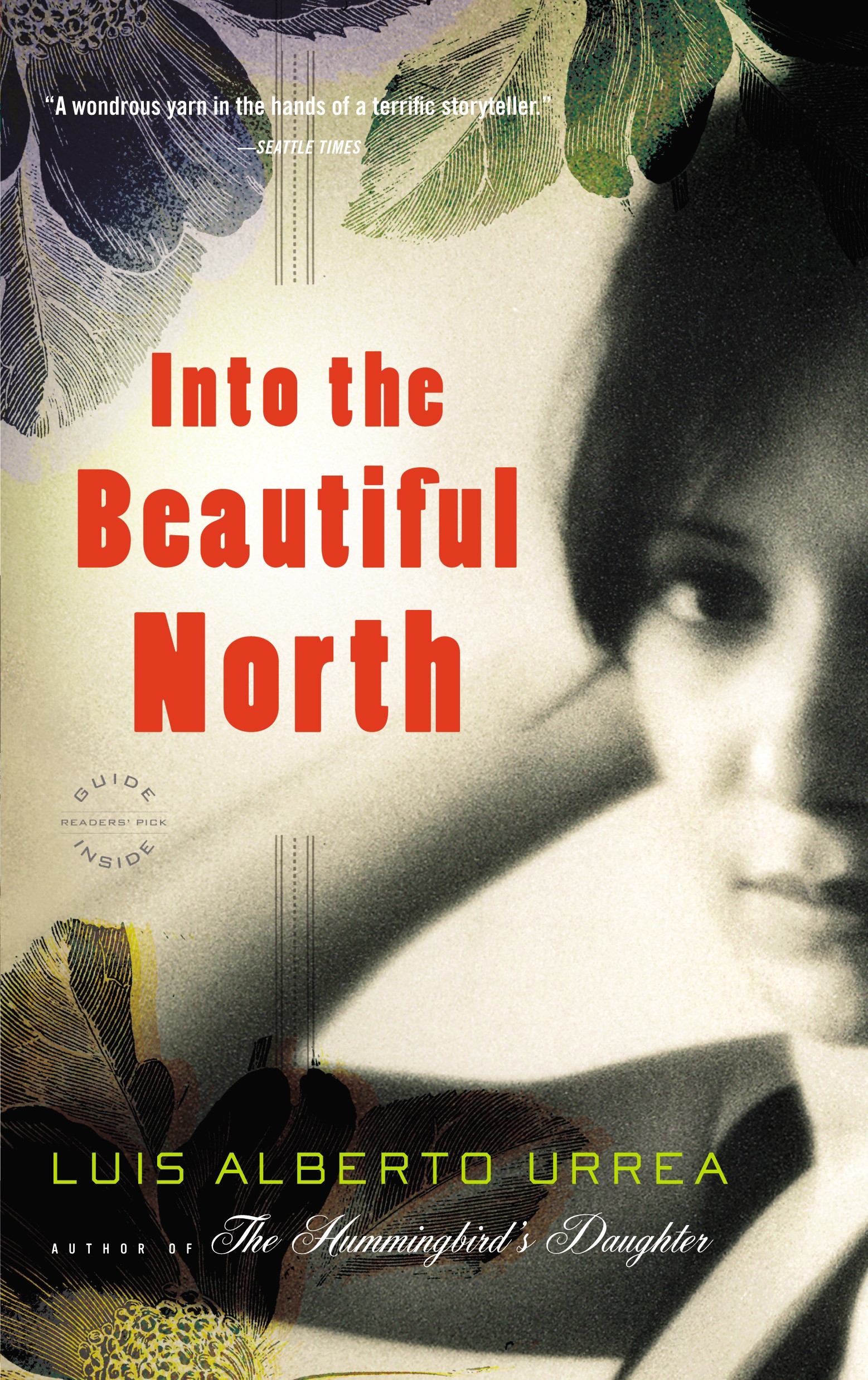 Overview
This title is no longer available for programming after the 2021-2022 grant year.
Hailed by National Public Radio as a "literary badass" and "master storyteller with a rock and roll heart," Luis Alberto Urrea is the award-winning, bestselling author of numerous books of fiction, poetry, and creative nonfiction and a member of the Latino Literature Hall of Fame. Raised in Tijuana and San Diego by a Mexican father and American mother, Urrea inherited a rich legacy of cultural lore and a love of storytelling from his extended family on both sides of the border, though he claims he's "more interested in bridges" than borders. In his third novel, Into the Beautiful North, an idealistic 19-year-old woman is inspired by the film The Magnificent Seven to travel from her home in Mexico to the United States to enlist seven men who've left her town to return and help protect it from drug-dealing bandidos. It's a "wonderful comic satire," writes The Denver Post. "Urrea uses a breathtaking Mexican magical realism to construct a shimmering portrait of the United States." "No great adventure is told without great characters, and Urrea certainly knows how to create them…. That Urrea has turned a usually disturbing subject into a book that keeps a smile on your face is a tribute to his storytelling" (Miami Herald).
"…I always hopelessly, passionately, root for the underdog." —from a 2012 interview with KPBS
Introduction
Into the Beautiful North is a quest novel in the grand tradition, though there are no medieval knights, magic rings, or light sabers within its pages. Author Luis Alberto Urrea sets the novel in the present day, in the highly charged world of the U.S.-Mexico border region.
Nayeli, an energetic and idealistic girl of nineteen, is coming of age in a Mexican village, more than 1,000 miles from the border. She and her friends spend their days working at low-wage jobs and surfing the Internet for videos of their favorite bands and movie stars, dreaming of a wider world they have little hope of knowing.
They live in Tres Camarones (Three Shrimps), a village where folks like things to stay the same. But change is coming fast. Nayeli's Aunt Irma has just been elected the first female Municipal President of the village. Nearly all of the men of the village, including Nayeli's father, have gone north to the U.S. to find work, and drug-dealing thugs have recently begun to target the village, anxious to profit from drug-buying American surfers who frequent the nearby beaches.
One night, Nayeli and her friends attend a screening of John Sturges's classic film, The Magnificent Seven. In the film, a Mexican farming village is terrorized by a bandit until the village elders decide to fight back, electing three farmers to travel to the U.S. to find seven brave gunfighters to help defend the village. Inspired, Nayeli vows to go on a mission to the U.S. to bring back seven men—including her father—to defend Tres Camarones against the drug-dealing bandidos. She persuades her loyal band of friends to accompany her on the dangerous journey, and the quest begins.
In Urrea's border world, characters come into contact with tensions that arise from many kinds of difference. Urrea explores, with compassion and humor, the microcultures within the border world, from the residents of the Tijuana garbage dump to the upscale neighborhoods of San Diego, and reveals that the distance between them is not as great as one might initially imagine.
Lacking influence, money, or power, Nayeli and her friends employ ingenuity, youthfulness, and hope to overcome obstacles, suggesting that a new generation can bring new solutions to old problems. Urrea cleverly subverts cultural stereotypes and literary traditions, creating a fresh approach to the classic hero's journey.
Major Characters in the Novel
Nayeli
Athletic, bright, strong-willed, and charmingly naïve, Nayeli is admired by loyal friends who, like her, are just out of high school, but share a bleak future in the poor Mexican village of Tres Camarones. She identifies with her Aunt Irma, a charismatic feminist, former bowling champion, and newly-elected Municipal President of Tres Camarones.
Yolo
Yolo, short for Yoloxochitl, a name bestowed by her liberal Mexican parents to honor her Aztec heritage, was a straight-A student in high school "simmering with revolutionary ideas." Yolo works a dead-end job at the local bowling alley, but reads everything she can.
Vampi
Veronica, known as Vampi, is the only goth girl in the state of Sinaloa. Her look is distinctive: black hair dyed even blacker, pale makeup, black lips and nails, and a long black skirt. Despite her appearance, Vampi's experience with goth culture is limited, derived from YouTube where she worships bands such as The 69 Eyes and Type O Negative.
Tacho
Tacho is the gay proprietor and cook of the village restaurant, La Mano Caída (The Fallen Hand), a frequent hangout for Nayeli and her girlfriends. Tacho and Nayeli are kindred spirits, both dreaming of a cosmopolitan life in a big city. They sometimes climb up on the roof of the restaurant to look at the sky, "making believe that clouds were the Manhattan skyline."
Matt
A young missionary once stationed in Tres Camarones, Matt is the first "real live blond boy" Nayeli and her friends have ever seen. After his return to San Diego, Matt lives aimlessly, until he receives a phone call from Nayeli and the true extent of his generosity is revealed.
Atómico
Raised in the dumps of Tijuana and armed with a bamboo rod, Atómico brings his unique sense of justice to the journey. His scrappy and maniacal exterior hides a mixture of pride, loyalty, and humble nobility.
"They kept veering north, as if there would be some magical gap in the fences. As if there would be some way into the USA that nobody had ever tried, or that the Border Patrol had overlooked."
— Luis Alberto Urrea, from Into the Beautiful North
In the novel, Nayeli and her friends go north—but not to join the ranks of immigrants looking for a better life. What is their mission?
Though the border seems far away from Tres Camarones, its influence seems closer than ever before. What forces are driving change in Tres Camarones? What are some
examples of traditional aspects of life in Tres Camarones that are affected by border politics?
How does the author portray intergenerational relationships among the characters? How do different generations interact in the novel and what do they offer or teach each other?
Many people (including Nayeli and her friends) have never seen a place like the Tijuana garbage dump. How does Urrea use descriptive language to help the reader visualize and interpret the significance of this sight?
Urrea often takes a comic approach to tragedy. Does this approach enhance or diminish the emotional impact of events in the novel?
Urrea's border is a many-layered symbol, holding multiple meanings, cultural subtleties, and contradictions. In addition to the literal U.S.-Mexico border, what other types of borders or boundaries do the characters experience?
Urrea underlines the novel's connection to other classic quest narratives by paying homage to the classic film The Magnificent Seven. The author
creates his own interpretation of the quest narrative, subverting traditional themes and roles. How does he create a fresh approach to the classic hero's tale?
How do Nayeli's experiences in Kankakee differ from her expectations? Why do you think she leaves Kankakee without confronting her father? Do you agree with her decision?
Did any scene, character, or event in the novel surprise you or change your attitude toward U.S.-Mexico border relations?
Urrea has often described the novel as "a love letter to the United States." Do you agree? How is this love conveyed in the novel? Could the novel also be considered a "love letter" to Mexico?
Into the Beautiful North Builds Community, Engages Youth, and Inspires Literacy in English Language Learners in Boston, Massachusetts
"Through the Big Read, we were able to reach over 680 unique members of our community, including children, youth and adults. The book was used as a tool to bring together segments of our community that do not always interact. Our Mission Hill/Roxbury neighborhood includes professionals who work at Longwood Medical Area and local colleges, college students from nearby schools and low-income families. Although they live in close proximity, these groups interact infrequently. Acknowledging the necessity of bridging these divides, we strategically designed Big Read events to bring these groups together. Community members of all ages, races, ethnicities, professions, and neighborhoods attended and participated in meaningful discussions around the themes in Into the Beautiful North. Many of our community members thanked us for opening up a dialogue on immigration in our community.
"Feedback from youth participants indicated that reading the book and participating in book discussions had a personal impact on them and their understanding of immigration reform and the role that youth can play in advocating for immigrant rights. At Sociedad Latina, a key piece of our mission is to work with youth to build their leadership and civic engagement skills, with the goal of preparing them to improve the world they inherit. Our Big Read activities provided a multi-disciplinary approach for our organization to work towards this goal. It provided participants with a new frame of reference to understand immigration, to think about how oppression, racism and poverty continue to impact their lives today, and to explore how we can come together as a community to address these issues.
"The Big Read was also an effective way to get our community excited about reading. According to the most recent Massachusetts State Assessment of Adult Literacy, nearly 50% of English Language Learners (ELL) in our state have "below basic" literacy skills, and the majority of Latino and Black residents in Massachusetts have significantly lower levels of literacy than their White counterparts. Many of the youth in our community are considered academically "underperforming" because they are behind grade level in their literacy skills. The interdisciplinary nature of our activities and events attracted a diverse audience who might not otherwise be engaged in our programs. The option to read the book in Spanish made it more accessible for our Spanish speaking and ELL community members to take part in the Big Read program."
– from a report by Sociedad Latina, an NEA Big Read grant recipient in FY 2014-15.
Into the Beautiful North Author Speaks to Residents of a Juvenile Detention Facility in Wichita, Kansas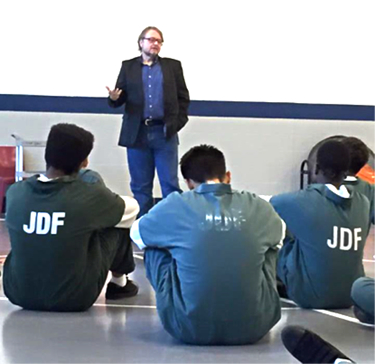 – from a final report by the Wichita Public library Foundation, an NEA Big Read grant recipient in FY 2015-2016.
Dancers Perform at a Mariachi Fiesta Event Celebrating Into the Beautiful North in Atlanta, Georgia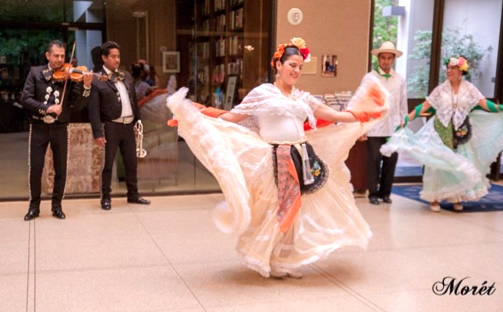 - from a report by the Atlanta History Center, an NEA Big Read grant recipient in FY 2014-2015.