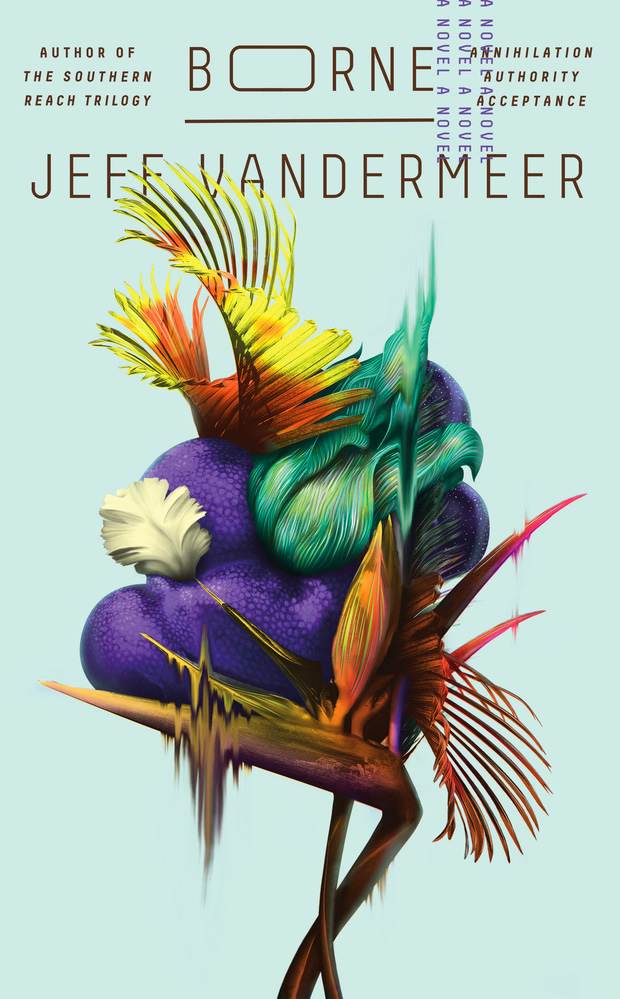 OVERVIEW
This title will no longer be available for programming after the 2020-21 grant year.
Florida-based writer Jeff VanderMeer—"the weird Thoreau" (New Yorker)—won the World Fantasy Award three times, as well as the Shirley Jackson Award and Nebula Award for his bestselling trilogy The Southern Reach, which begins with the book Annihilation that was adapted to the screen in 2018. His novel Borne about a woman and a mysterious creature "is a story of loving self-sacrifice, hallucinatory beauty, and poisonous trust…a tale of mothers and monsters" (Washington Post). Named one of the best books of the year by more than a dozen major news outlets, Borne is "a thorough marvel," writes author Colson Whitehead. It challenges "the way you think about nature, science, and the future" (Chicago Review of Books). It's filled with "stunning imagery" (Booklist, starred review) and "a mix of absurdity, horror, and grace" (San Francisco Chronicle). "Think of Borne as a retelling of Steven Spielberg's E.T., or the character arc of Data on Star Trek: The Next Generation. It's the story of humanity making contact with something strange, alien, artificial, but yet possessed of a personality, a sense of humor, a drive to find love and friendship and community" (Rumpus).
"'You are a person,' I told him. 'But like a person, you can be a weapon, too.'" – from Borne
INTRODUCTION
"When we think of living things, what is 'product,' what is 'art,' and what is 'entity'?" – Jeff VanderMeer in the Chicago Review of Books
In an unnamed city of rubble and ruin stands a building once owned by a biotech company from which hybrid creatures have escaped and are now fighting for survival. They must compete for resources with the remaining humans who came to the city as a last resort, fleeing a decimated homeland, or were brought to the Company before it went defunct. All these living things roam the streets, scavenging for food while trying to remain hidden from Mord, a massive, murderous, flying bear. Among them is a young woman named Rachel who one day is inexplicably drawn to a small green living blob that she carries back to the home she shares with her lover, Wick. She names her new charge "Borne" and nurtures him as he grows in size and evolves into a being she both loves and fears. The novel Borne by Jeff VanderMeer "begins innocently enough: girl meets strange plantlike creature," writes Esquire. But "this is Walden gone horribly wrong."
Borne reminds Rachel of the marine life from her island home, before it was devastated by rising seas and she found herself adrift and alone in an unfamiliar city until Wick took her in. They live in the Balcony Cliffs, a secret sanctuary overlooking a poisoned river at the edge of the city. There Wick grows psychoactive biotech beetles that he and Rachel use to barter with those who want to put them in their ears and rid themselves of bad memories. Like everyone else in the city, Rachel and Wick live in fear of Mord who was once the Company's human henchman and is now as big as a five-story building with claws and fangs and a hunger for death and destruction. "He's very literal and real, but also a little like the freak storm on the horizon or the missile that explodes and levels a city: the unexpected force that rips away the world you thought you knew in a blink of an eye," VanderMeer told Tor.com.
To Rachel and Wick, Mord's most powerful and power-hungry human rival is in some ways just as threatening. Known only as the Magician, she wears a biotech cloak that renders her invisible and lords over a roving posse of vicious, genetically altered children. "I felt not that she was inhabiting the role of the mad scientist, but that she was definitely of the opinion that we could mold the world around us to make it a better place," VanderMeer told PowellsBooks.blog. "Sometimes, when you think that too strongly, or it becomes too much like a religion or an ideology to you, then you lose sight of the inhumanness of what you might wind up doing."
Rachel tries desperately to remain safe from Mord and the Magician and other threats, but she also desires more from her existence, like love and companionship. She finds them with Wick and then with Borne, for whom she develops maternal feelings once he evolves from something akin to a potted plant to a childlike being with an insatiable appetite and senses beyond the five that humans possess. In time, he learns to communicate, but also acts mischievously, craves attention, and makes mistakes. "As improbable a task as it may seem to make a faceless, squid-like creature lovable, VanderMeer does it," writes the New Yorker. "He asks the thousands of maddening questions familiar to any adult who has spent much time with a four-year-old ('Why is water wet?') and many that are unanswerable for reasons peculiar to Borne himself ('Am I a person?'). Yes, it's a bit creepy that Borne, for all his weirdness, has obviously been engineered to appeal to Rachel, but the same could be said of human babies, with their oversized eyes and adorable cooings." "I had so much fun writing Borne's dialogue as he evolved," VanderMeer told the Chicago Review of Books. "Rachel's conversations with Borne, especially early on, are like my conversations with my daughter or my grandson."
The more Borne develops, the more independent-minded and powerful he becomes. He "incorporates" living beings into him that don't ever come out, and uses his polymorphous abilities to change shape and spy on others. While Wick is cautious and cold to Borne from the outset, Rachel's awakening to his darker nature and her own vulnerability is, at times, slow and painful. As Borne struggles with his conflicting motivations, he threatens the safety of Rachel and Wick's sanctuary just as Mord, the Magician, and other threats outside the sanctuary gain momentum.
"We are so ignorant of life on Earth it is painful sometimes," VanderMeer told Gulf Coast. "If we are less intentional than we think, but a bee, for example, might be slightly more intentional than we think, then suddenly the gap between us and animals, which was always artificial anyway, becomes much reduced." At the back of the paperback version of Borne, as well as online, one can find a bestiary of illustrated imaginary creatures described in the novel. "We hope you enjoy this exclusive peek behind the scenes of Borne," writes VanderMeer in the introduction to the online bestiary. "And by 'we' I mean 'me and whatever form of biotech has already colonized that me.'"
"There are a lot of horrible things that happen in the book," VanderMeer explains, "but I do see it ultimately as a hopeful novel" (PowellsBooks.blog). "I wanted to examine…how we carve out a place for the good that is within us, even as we have to deal with the bad" (Chicago Review of Books).
---
Offbeat Books About Strange Creatures for Eerie Summer Evenings (ArtWorks Blog, July 16, 2019)
We are introduced to the world of Borne through Rachel, a protagonist who tells us from the start who she is, where she lives and why, and what she's found that will "change everything" (p. 3). How would this story be different if it were told from the point of view of a different character (e.g., Wick or the Magician)?

The title of the novel—a past participle of the verb "to bear"—is also the name that Rachel gives the being she finds and brings home to Wick, who once said of a creature he created at the Company, "He was born, but I had borne him" (p. 17). What do you think Wick meant by that? Why is the name significant in the context of the novel?

Some beings and places in the novel have names (e.g., Rachel, Wick, Mord, Balcony Cliffs) while others just have generic labels (e.g., the city, the Company, the Magician). Why do you think VanderMeer chose to present each of these beings and settings this way? What are the advantages and/or disadvantages of having a name in this dystopian world?

Once Borne is able to communicate, he bombards Rachel with existential questions: What does it mean to be complete? To be a machine? To be aware? To be safe? To be helpful? "What are you?" she asks. "I don't know," says Borne. "Do you know what you are?" (p. 45). If you were Rachel, how would you have answered these questions?

Rachel projects onto Borne a male gender role. Why do you think she chooses to do that? How would you view Borne differently if Rachel saw Borne as female or genderless?

Besides his inquisitiveness, what are some of Borne's other behaviors that make him seem childlike? Where do you think these behaviors fall in the realm of nature-versus-nurture?

Did you find yourself aligning with Rachel's actions and reactions to Borne and the world around her or did you relate more to the way Wick thought and acted? Can you give some examples?

Borne is described as having more than five senses. Can you think of instances in which he uses those extra senses and to what effect? If you were to imagine a character with more than five senses, what might those senses be?

Rachel asks herself whether her relationship with Wick is symbiotic or parasitic (pg. 12). What do you think? Why? Which word would you use to describe Rachel's relationship with Borne? Why?

VanderMeer told PowellsBooks.blog that he saw Rachel and the Magician "as being a little similar, in some ways, in terms of their strength and stubbornness, but having come to completely different conclusions about what was good for the city." Do you agree? If not, why not? If so, what might those different conclusions be? What other comparisons could you make between Rachel and the Magician? What do you think would be good for the city?

The novel is filled with characters influenced by the manipulation of memory—whether it's erased, replaced, stolen, manufactured, or merely absent to begin with. Can you think of some examples? What is the link between memory and compassion? What about memory and survival?

Were you surprised by any of the events and/or revelations at the end of the novel? Did they change your view of any characters and/or prior events? How so?

VanderMeer, like many science fiction and fantasy writers, create futuristic, fictional worlds by first examining our present culture and environment and then imagining where we might be headed. Did you know much about biodiversity before you read Borne? Do aspects of the novel strike you as plausible? If so, which ones and why?

The last chapters describe three days of rain and its aftermath of rebirth with biblical language and imagery, more joy, and much hope. If you were to imagine the city 50-100 years hence, what do you think it would look like?  

Since the publication of Borne, VanderMeer and his fans have continued to imagine what creatures might have emerged from that world, i.e., their backstory, their capabilities, and what they might have looked like. He describes one of them in his novella The Strange Bird: A Borne Story (MCD/FSG, 2018). What kinds of biotech creatures can you imagine? What are their characteristics and abilities?