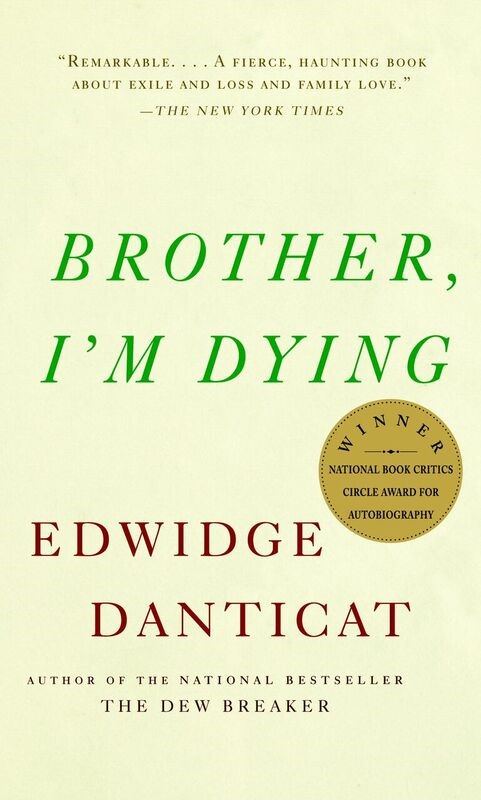 Overview
MacArthur Foundation Fellow Edwidge Danticat was a toddler when her parents moved to Brooklyn for work and safety, leaving her with her aunt and uncle at home in Haiti until she could join her parents in the United States a decade later. Danticat was close with her uncle, a community leader and pastor who chose to remain in Haiti with his congregation. In this poignant 2007 memoir – a finalist for the National Book Award – Danticat is now grown and living in Miami, facing the death of her father and the birth of her first child while her uncle and his son are fleeing for their lives from the Haitian government and gang disputes that have destroyed his church. "Through the seemingly effortless grace of Danticat's words, a family's tragedy is transformed into a promise of collective hope," writes the San Francisco Chronicle. It is "a testament to family bonds so strong they can survive separation, distance, even death" (People). Claims The Philadelphia Inquirer, if this book "does not break your heart, you don't have one."
"'It's not easy to start over in a new place,' he said. 'Exile is not for everyone. Someone has to stay behind, to receive the letters and greet family members when they come back.'" —from Brother, I'm Dying
Overview
MacArthur Foundation Fellow Edwidge Danticat was a toddler when her parents moved to Brooklyn for work and safety, leaving her with her aunt and uncle at home in Haiti until she could join her parents in the United States a decade later. Danticat was close with her uncle, a community leader and pastor who chose to remain in Haiti with his congregation. In this poignant 2007 memoir – a finalist for the National Book Award – Danticat is now grown and living in Miami, facing the death of her father and the birth of her first child while her uncle and his son are fleeing for their lives from the Haitian government and gang disputes that have destroyed his church. "Through the seemingly effortless grace of Danticat's words, a family's tragedy is transformed into a promise of collective hope," writes the San Francisco Chronicle. It is "a testament to family bonds so strong they can survive separation, distance, even death" (People). Claims The Philadelphia Inquirer, if this book "does not break your heart, you don't have one."
Introduction to the Book
Brother, I'm Dying, is the true-life story of Edwidge Danticat's father, Mira, and his brother, Joseph. Born in the Haitian countryside, both brothers move to the big city of Port-au-Prince to work and raise families. Many years later, after Edwidge's father marries and begins a family, he decides to immigrate to the United States, while her Uncle Joseph—a community leader and pastor—chooses to remain in Haiti with his congregation. Edwidge, only two years old at the time of her father's departure, is left in the care of her Uncle Joseph and his wife, Tante Denise. Joseph and Edwidge develop a close relationship over the next several years. Edwidge spends most of her free time with her uncle, and after he suffers severe damage to his vocal chords, she acts as his interpreter.
Ten years later, Edwidge rejoins her parents in the U.S. and must adjust to an unfamiliar world in Brooklyn, where she struggles to balance her new life with memories of the vibrant home and beloved uncle she left behind in Haiti.
Now grown and living in Miami, Edwidge faces the impending death of her father and the birth of her first child. Meanwhile, political unrest and violence in Port-au-Prince heighten due to government and gang disputes, and Edwidge fears for the safety of her Uncle Joseph and his family. Fleeing for their lives, Uncle Joseph and his son Maxo seek safety in America and come face to face with the complications of the U.S. immigration system. Over the next 72 hours, Danticat's world is forever changed as her father's condition worsens and her uncle's whereabouts are unknown.
As political unrest and violence in Port-au-Prince heighten due to government and gang disputes, Edwidge fears for the safety of her Uncle Joseph and his family.
Major Characters in the Book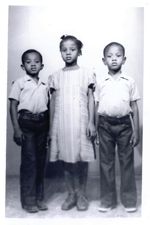 Edwidge with Brother Bob and Cousin Nick (Courtesy of the Danticat family)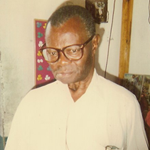 Joseph Dantica (Courtesy of the Danticat family)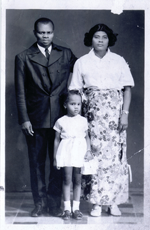 Edwidge with uncle Joseph and Tante Denise (Courtesy of the Danticat family)
Faidherbe "Fedo" Boyer

Husband of Edwidge and father to their daughter, Mira.
Edwidge Danticat

Author of Brother, I'm Dying and the eldest child of Mira and Rose Danticat.
André "Mira" Danticat

Edwidge's father and a dedicated family man, Mira works in a factory and drives a gypsy cab to sponsor the immigration of his wife and two eldest children.
Maxo Dantica

The son of Joseph and Denise, Maxo spends time in the United States for college but later returns to Haiti. Maxo joins his father in the attempt to flee Haiti after a surge of political violence in Port-au-Prince.
Bob, Karl, and Kelly Danticat

Edwidge's three younger brothers. Karl and Kelly were born in New York City while Bob, like Edwidge, was born in Port-au-Prince.
Joseph Dantica

Edwidge's uncle and Mira's brother, Joseph abandons political dreams to become a pastor, opening a church and school.
Tante Denise

Wife to Joseph, Denise is a stern but dedicated guardian of the many children in her care and is known as a skilled seamstress and the best cook in the Bel Air neighborhood.
Granmè Melina

Illness and old age bring Granmè Melina and her folktale traditions from her village in Léogâne to the home of her daughter, Tante Denise.
Marie Micheline

Abandoned by her father, Marie grows up as the adored role model of the younger members of the Danticat household and spends her life in Port-au-Prince working in various medical clinics.
Tante Zi

Doting and playful sister of Mira and Joseph, Tante Zi is a resident of Port-au-Prince and owner of a stationery stand. Tante Zi assists Maxo and Joseph when they are threatened by neighborhood violence.
Danticat tells us that she has constructed the story from the "borrowed recollections of family members....What I learned from my father and uncle, I learned out of sequence and in fragments. This is an attempt at cohesiveness, and at re-creating a few wondrous and terrible months when their lives and mine intersected in startling ways, forcing me to look forward and back at the same time." Discuss what this work of reconstruction and reordering means for the structure of the story she presents, as well as for her own understanding of what happened to the two brothers.
Consider the scene in which Danticat sees the results of her pregnancy test. How do her fears for her father affect her first thoughts of her child? She says to herself, "My father is dying and I'm pregnant." How does this knowledge change her sense of time? How does it affect her understanding of the course of her family's history?
As a child, Danticat was disturbed at how little her father said in the letters he sent to the family in Haiti. He later told her, "I was no writer....What I wanted to tell you and your brother was too big for any piece of paper and a small envelope." Why, as a child, did she "used to dream of smuggling him words"?
How does young Edwidge retain her loyalties to her parents, even though they are absent from her life for so many years? Is there evidence that she feels hurt or rejected by their decision to leave for the States? How does she feel when they come back to visit Haiti with two new children?
Haiti's history is briefly sketched on in the chapter entitled "Brother, I'm Dying" and elsewhere. While many readers will know that Haiti was a slave colony, why is the fact of the American invasion and nineteen-year occupation less well known? Danticat's paternal grandfather, Granpè Nozial, fought with the guerrilla resistance against the Americans. How does the family's engagement with Haiti's political history affect Joseph's unwillingness to emigrate to the U.S.? Why does he refuse to leave Haiti, or even to remove himself from the dangers of Bel Air?
If so few words are passed between Danticat's parents and their two children in Haiti, how is emotion transmitted? Is there a sense, in the book, that Danticat is emotionally reticent even after her reunion with her parents? Why is she reluctant to tell her parents the news about her pregnancy? Why is it important that her father gave her a typewriter as a welcoming present?
Danticat found a scrap of paper on which she had written, soon after coming to Brooklyn, "My father's cab is named for wanderers, drifters, nomads. It's called a gypsy cab." What does this suggest about how she understood, or thought about, her father's work and her family's status in America? What does it reveal about a young girl's interest in the power of words?
Brother, I'm Dying is Danticat's first major work of nonfiction. What resemblances does it bear, if any, to her works of fiction in terms of style, voice, content, etc.?
Danticat says of her story, "I am writing this only because they can't." As a girl, Edwidge was often literally her uncle's voice, because after his tracheotomy she could read his lips and tell others what he was saying. Why is it important that she also speak for her father and her uncle in writing this memoir?
Consider the relationship between the two brothers, Mira and Joseph. There is a significant difference in age, and Mira has been away from his brother for decades, by the end of the story. Despite this, they remain close. What assumptions about kinship and family ties are displayed in their love for each other? Are these bonds similar to, or stronger than, ties you would see between American-born brothers?
When Danticat describes the death of her cousin, Marie-Micheline, or her uncle's list of the bodies he has seen on the street, or when she recounts the story of the men laughing as they kick around a human head, or the threat of the gangs to decapitate her uncle Joseph, or the looting and burning of his home and his church, what is your response as a reader? How does this violence resonate against the warmth and love that are so clearly expressed by the feeling of Danticat's extended family members for each other?
How does Danticat convey a sense of the richness of Haitian culture? What are the people like? What are their folk tales like? How does their use of both Creole and French affect their approach to language and speech? How does she make us feel the effects of the violence and poverty that the Haitians endure?
Danticat's description of what happens to her uncle in U.S. custody is reconstructed from documents. How does Danticat control her emotion while presenting these events? How, in general, would you describe her writing style as she narrates these often devastating events?
Danticat relates her Granmè Melina's story about the girl who wanted the old woman to bring her father back from the land of the dead: what is the effect of her decision to end the book with this story? How does the story reflect on the book as a whole, and on the act of writing?
As one reviewer put it, "If there's such a thing as a warmhearted tragedy, Brother, I'm Dying is a stunning example" (Yvonne Zipp, The Christian Science Monitor). Do you agree? If so, what elements in the writing and the story contribute to this effect?
Brother, I'm Dying discussion questions provided courtesy of Vintage Books, a division of Penguin Random House, LLC.
Brother, I'm Dying Encourages Readers to Share Stories and Helps Students Grieve in Fort Pierce, Florida
As part of their programming, Indian River State College completed a project called "Jour des Aieux Oral History," which allowed students to chronicle their family stories. Thirty five students, community members and staff each interviewed a person in their lives about their experiences with immigration. Listen to the stories.

Several participants also shared how Brother, I'm Dying impacted them personally:
"An unexpected result included enhanced family relationships. One student, waiting in line to meet Danticat at the closing event, told a librarian how he connected with the book after reading it for an English class in fall 2016. He also lost his father and the exploration of grief in the memoir was powerful and real to him. His mother was compelled to read the book after hearing her son talk about it so often and so passionately. They attended Danticat's lecture together and relayed their story to the student's former English professor. A student who participated in the Jour des Aieux Oral History Project said she was glad to have recorded her story because she shared important feelings that she wanted to communicate to her family. During a book discussion, a student spoke of her adoration for her father and the difficult time she had when he died. She realized while reading Brother, I'm Dying that while his death was tragic, she was filled with hope leaving Mexico to come to the United States for an education. She compared this concurrent presence of sadness and hope with Danticat losing her father while being pregnant with her daughter."
– from a final report from Indian River State College, an NEA Big Read grant recipient in FY 2016-17.
Haitian Music, Food, Art, and Culture on Display in Miami, Florida
Edwidge Danticat attended several events, which included a talk by author and former Associated Press writer Jonathan Katz, the only full-time reporter on the ground in Haiti when the 2010 earthquake struck; a photography exhibit called Miami: One City, Two Homes, featuring photos by four artists documenting Little Haiti, Little Havana, Haiti and Cuba; A Feast of Women's Voices & Big Night in Little Haiti, a night of literature, Haitian music, food, art and culture at the Little Haiti Cultural Center featuring eight female writers of Haitian descent who read and discussed their work; local Haitian authors leading creative writing workshops with high school students to explore their cultural roots and immigrant stories through writing; and culminated with Danticat in conversation with immigration attorney Cheryl Little, the Executive Director of Americans for Immigrant Justice who had worked closely with Danticat on her uncle's case.
"This Big Read had a significant impact on the local community in that…the community was very happy and grateful to see us celebrating the work of a Haitian author, especially one that lives here in our midst. The community expressed its gratitude by coming out in significant numbers to all of our events."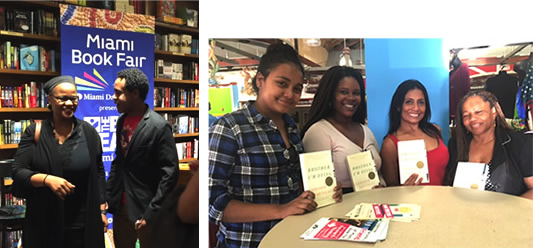 – from a report by The Center for Literature and Theatre at Miami Dade College, an NEA Big Read grant recipient in FY 2015-2016.