The Call of the Wild, White Fang, and Other Stories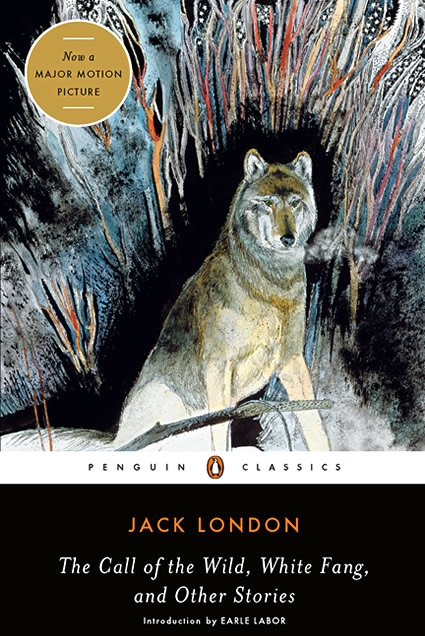 Overview
This title is no longer available for programming after the 2021-2022 grant year.
Jack London's The Call of the Wild is a singular classic. It is a great novel that can be appreciated by readers of all ages, as well as a philosophical book that provides an action-packed adventure. Oddest of all, it is an experimental novel (half of the characters are canine, including the hero) that is a thrilling pleasure to read. No wonder this American novel has never lacked readers—both here and abroad.
"No man ever became great who did not achieve the impossible." —from the essay "The Question of a Name" (1900)
Introduction to the Book
The hero of Jack London's The Call of the Wild (1903) is Buck, a St. Bernard/Scotch Shepherd dog. Late one night in 1897, a poor farm-worker steals Buck from his comfortable Northern California home and sells him as a sled dog. Set mostly during the Klondike Gold Rush of 1897–98 in Canada's Yukon Territory and Alaska, the novel chronicles Buck's struggles and successes as he learns "the law of club and fang."
Four years as a domesticated pet have not extinguished Buck's primordial instincts or imagination. He courageously survives brutal cruelty from humans and the wilderness, and he becomes the leader of his dogsled team. He endures hunger and fatigue, learns to scavenge for food, and fights with a rival dog. Despite all this hardship, Buck is "mastered by the sheer surging of life" for the first time. Ultimately, Buck struggles between his love for his last master, John Thornton, and his desire to answer the mysterious call of his ancestors.
Drawing from Egerton R. Young's historical narrative My Dogs in the Northland (1902), Jack London wrote The Call of the Wild in only one month. It first appeared in summer 1903 as a serialized work in the Saturday Evening Post. Although London was paid only $2,750 for the novel, he won instant literary fame and wide popularity.
London's artistic intentions were often misunderstood. After one particular critique from President Theodore Roosevelt and naturalist John Burroughs, London wrote a letter of explanation: "The writing of [The Call of the Wild and White Fang] ... was in truth a protest against the 'humanizing' of animals.... Time and again ... I wrote, speaking of my dog-heroes: 'He did not think these things; he merely did them'... These dog-heroes of mine were not directed by abstract reasoning, but by instinct, sensation, and emotion, and by simple reasoning."
For this, and for London's vivid description of the struggle for survival in a hostile environment, generations of children and adults have found The Call of the Wild an unforgettable adventure.
Major Characters in the Book
The Dogs
Buck
The narrator tells the story from Buck's point of view. Stolen from his California home to labor as a sled dog in the Klondike, Buck quickly learns to survive and triumph. In addition to his cunning, patience, and strength, Buck's greatest quality is his imagination, which allows him to fight by both instinct and reason.
Spitz
This well-traveled animal—a big white dog from Spitzbergen, Norway—is a practiced fighter who hates Buck. Despite his greater experience, Spitz meets his match when Buck challenges his leadership in a fight to the death.
Dave
The greatest desire of this gloomy, morose dog is to be left alone. Although he sleeps at every possible moment, he surprises Buck when they are first harnessed as a team: Dave loves his work and becomes a fair, wise teacher.
Sol-leks
His name means "the angry one," an apt description of his feelings whenever another dog approaches from his blind side. Like Dave, Sol-leks wants to be left alone, loves his work, and quickly teaches Buck the best ways to work as a team.
The Humans
Judge Miller
Buck and his father, Elmo, were the prized pets of this kind-hearted judge who owns a large ranch in northern California's Santa Clara Valley.
Manuel
This underpaid worker cannot support his wife and children. Motivated by easy money, he steals Buck one evening and sells him as a sled dog during the 1897-1898 Klondike Gold Rush.
The "man with the red sweater"
Never named, this man becomes the embodiment of one of the most important lessons Buck ever learns: In the quest for survival, the "law of club and fang" reigns supreme.
Perrault and François
These intrepid French-Canadian couriers bear important dispatches for the Canadian government, so they are happy to find a dog as strong as Buck. They are never cruel to their dogs, and Buck grows to respect their kind severity.
Hal, Charles, and Mercedes
A mixture of selfishness, greed, and incompetence distinguishes these middle-class Americans as some of literature's most memorable antagonists. Hal's ruthless beating of Buck is sure to awaken the reader's desire for justice.
John Thornton
Thornton rescues Buck, and this man's kindness and love heal more than the dog's physical wounds. Master and dog save each other repeatedly.
When news of the Klondike Gold Rush reached San Francisco in 1897, thousands of men (and some women) left their homes and families to search for gold with no certainty that they would be successful. Would you have made a treacherous journey on such a hope?
The Call of the Wild has an unnamed narrator, who tells the story entirely from the perspective of Buck—a St. Bernard/Scotch Shepherd dog. How effective is Jack London's ability to sustain the story from a dog's point of view? What other stories have been told from an animal's viewpoint?
Describe "the law of club and fang" that Buck learns from the "man with the red sweater." Is this lesson relevant for the survival of humans today?
How does Buck respond when he is "suddenly jerked from the heart of civilization and flung into the heart of things primordial"? Why does the narrator believe his "imagination" is his greatest attribute?
How does Buck's first theft prove he will survive his new, hostile environment? What happens to his "moral consideration" after this transforming experience?
One of the novel's most important scenes is the fight between Buck and his rival, Spitz. Who initiates this fight? Does it have to end the way it does? Why or why not?
Buck begins to hear a mysterious, mournful song only after he is removed from his life as a domesticated pet and taken to the harsh natural environment of the Klondike. Why couldn't he hear this "call" in California?
Are Hal, Charles, and Mercedes the novel's primary antagonists? What does London suggest by including humans who seek gold at the expense of their own well-being?
How does John Thornton differ from Buck's previous masters? Why does Buck respond to Thornton with such devotion?
Ultimately, John Thornton discovers gold "like yellow butter." How does Buck respond to this new lifestyle, compared to the other dogs? Why does the "strain of the primitive" remain "alive and active" in Buck?
The Call of the Wild begins with the opening lines of "Atavism," a poem by John Myers O'Hara published in 1902. Although Jack London didn't know the full poem at the time, he felt these four lines perfectly summarized his novel. Do you agree?