Can't We Talk About Something More Pleasant?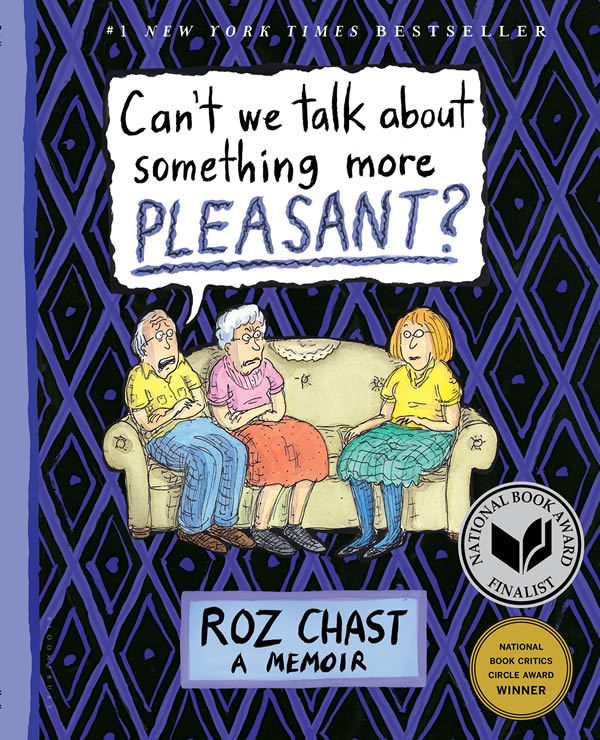 Can't We Talk About Something More Pleasant?, written by Roz Chast, a longtime cartoonist for the New Yorker, is a "tour de force" (Elle), "remarkable" (San Francisco Chronicle), "revelatory" (Kirkus), "deeply poignant and laugh-out-loud funny" (New York Times), and "one of the great autobiographical memoirs of our time" (Buffalo News). A finalist for the National Book Award and winner of the Kirkus Prize, the National Book Critics Circle Award, and the Books for a Better Life Award, the memoir tells the story of Chast's parents' final years through cartoons, family photos, found documents, and narrative prose. "So many have faced (or will face) the situation that the author details, but no one could render it like she does" (Kirkus). "Anyone who has had Chast's experience will devour this book and cling to it for truth, humor, understanding, and the futile wish that it could all be different" (St. Louis Post-Dispatch). "I want to recommend it to everyone I know who has elderly parents, or might have them someday" (Milwaukee Journal Sentinel).
"If you can pass the job on to someone else, I'd recommend it. If not, you have my total sympathy." — Can't We Talk About Something More Pleasant?
"Between their one-bad-thing-after-another lives and the Depression, World War II, and the Holocaust, in which they'd both lost family…who could blame them for not wanting to talk about death?" – Roz Chast in Can't We Talk About Something More Pleasant?
Roz Chast's parents were in their mid-90s, living in the same run-down Brooklyn apartment they'd been in for 48 years and where Chast grew up, when her mother's physical health and father's mental state necessitated a change. "Gut-wrenching and laugh-out-loud funny" (Milwaukee Journal Sentinel), Chast's memoir, Can't We Talk About Something More Pleasant?, is a mix of four-color cartoons, family photos, sketches, found documents, and narrative storytelling that chronicles the conflicting emotions, memories, and practical challenges of her parents' last years and passing.
With chapter titles like "The Beginning of the End," "The Elder Lawyer," and "Kleenex Abounding," Chast's humor guides us through events all too familiar to many Americans, from cleaning out the detritus of her parents' cluttered apartment to the sudden learning curve and anxiety associated with wills, health-care proxy and power-of-attorney forms, end-of-life directives, assisted-living costs, and weird cravings for tuna fish sandwiches. "Her idiosyncratic cartoonist's style cocoons this profound story of suffering in laughter," noted the National Book Foundation. The book comes to life "in vivid layers of anxiety, guilt, grime, humor, love, and sadness."
The memoir begins with Chast going back after a long hiatus to check in on her parents in Brooklyn—"not the Brooklyn of artists or hipsters," she explained, but the Brooklyn of "smelly hallways and neighbors having screaming fights" and "people who have been left behind by everything and everyone." Her mother, Elizabeth, was built like a peasant, she'd say: short, solid, and strong. A former assistant principal in an elementary school, she was decisive, domineering, unafraid to make enemies, and prone to loud, angry outbursts she called "a blast from Chast," especially toward her husband and daughter.
Chast as a child was more like her father, George, a gentle, easily distracted man and a chronic worrier. He was a high school French and Spanish teacher who also spoke Italian and Yiddish and loved words and languages, but he couldn't handle simple everyday tasks. He never learned to drive or swim, and never used the stove except to boil water for tea. Whereas Chast's mother had a thick skin, he did not and was intimidated by his wife, most often doing what she told him to do.
Born ten days apart and married in 1938, her parents did everything together in a rhythm all their own. Their concept of "being happy," wrote Chast, quoting her mother, "was for modern people or movie stars. I.e., degenerates." They were frugal and at home amidst a half-century buildup of saved articles: a drawer of pencils; piles of defunct bank books; and a closet full of old galoshes, fly swatters, tattered bathrobes, and broken manual typewriters.
It was a need to look into this closet that caused Elizabeth to fall off a ladder and end up in the hospital. Chast takes her father back to her home in Connecticut to look after him during her mother's absence, but he becomes disoriented and increasingly frantic about mundane and sometimes imaginary worries. When it becomes clear that her parents can't go on living as they had been for decades, Chast begins the journey of moving them into an assisted living facility; the "massive, deeply weird, and heartbreaking job" of going through their possessions; and preparing for their long and expensive decline. "We don't deal with death in this society," said Chast. "We pretend it doesn't exist. Crank up the Muzak and spray the whole topic with room freshener" (GeriPal).
Chast's best coping mechanism through it all was to draw and take notes. "Cartoons, as it happens, are tailor-made for the absurdities of old age, illness and dementia, the odd dramas and grinding repetition expertly illustrated by copious exclamation points, capital letters and antic drawings" (New York Times). Her lines, in both her words and drawings, are jittery "like a very old person's voice" or a "polygraph having a nervous breakdown" (Boston Globe).
Writing this book, said Chast, was not cathartic. "I didn't write it for catharsis. I think, especially with my parents, I wanted to remember who they were" (PBS). "I hope it comes across that my feelings for them were complex, but that I do think of them as amazing people. I wanted a different kind of relationship with my mother, but it was too late for that. I wrote the book to help those going through this, and to make them feel they're not alone. You do get through it" (Publishers Weekly).
There is a distinct sense of place throughout Chast's memoir, beginning with a description of her parents' Brooklyn neighborhood (p. 12), followed by a description of the interior of her parents' apartment and the homes to which they eventually have to move. How does Chast depict each place? Did some of the details surprise you? To what degree does each place of residence influence or magnify each character's personality and relationships? Do you think your place of residence influences you?

Chast is known, among other things, for her wry, poignant, and often absurdist portrayals of existential questions and anxieties, some of which she illustrates in what she calls "The Wheel of Doom" (p. 29). To what extent do you think Chast's—and her parents'—anxieties drive the tone and direction of the book as it unfolds? Do you or members of your family share any of their particular anxieties?

Are you familiar with assisted living? If so, is your perception and/or experience with it similar to Chast's, or do you share George and Elizabeth's perception of it (p. 95)?

Chast uses humor to delve into an often dark and distressing subject. How would you describe her style of humor? In what ways does her use of humor affect how you experience and relate to the story?

In the section titled "The Old Apartment" (p. 105), Chast describes the accumulated objects that her parents hoarded for decades and left behind. Why do you think she decides to "rescue" the items that she depicts on p. 119? Do you or your family possess objects that have never been thrown away? What are the stories behind these objects and why do you think they remain?

Chast chronicles the complicated relationships she had with her parents with disarming honesty and unflinching candor. In what ways did her relationship with each of her parents differ? Did these differences affect how she related to them at the end of their lives? Do you think Chast's feelings toward her parents evolved or changed in some way over the course of writing the book? Did yours change over the course of reading it?

Did you find the portrayal of Chast's parents sympathetic? Relatable? Do you think it would change your reading of the book—and your perception of these characters—if they were fictional? 

Chast tells us that her parents weren't able to meaningfully connect with other residents at the assisted living facility in part because they had spent so much time alone with one another, isolated from the world at large (p. 131). Do you know others like this? What are some of the reasons that people may feel isolated in today's society? Do you think the experience of aging will be the same for future generations?

It's not uncommon for the roles of parent and child to reverse as we age, i.e., our parents take care of us in our younger years; we take care of them in their senior years. This transition, however, is rarely simple or seamless, as Chast illustrates on p. 146. How would you describe that transition in this story? Have you experienced or witnessed a similar transition in your own life? If so, how does it compare to Chast's experience?

Aging for some can be a complicated, expensive, unpredictable, drawn-out journey. In retrospect, what preparations could Chast and her parents have taken to lessen the burdens that they encountered? Has reading this memoir changed your thinking about your own end-of-life care or that of your parent(s)? How much have you planned for, or talked about, aging in your family?

In the last section of the memoir, just before the epilogue, Chast shifts from comic-style drawings to crosshatched, realistic sketches of her mother's last moments (p. 211). Why do you think Chast chose to mark these moments in a different drawing style?

Chast tells her story in graphic memoir form, using handwritten (as opposed to printed) words, as well as visuals such as color and gray cartoons, photographs, and pencil sketches. Why do you think Chast included each element? Would your impression of the book be different if it did not have some or all of these visual elements?

It is often said that the act of writing, particularly a memoir, is an act of discovery. What might Chast have discovered about herself in writing this book?