The Essential Emily Dickinson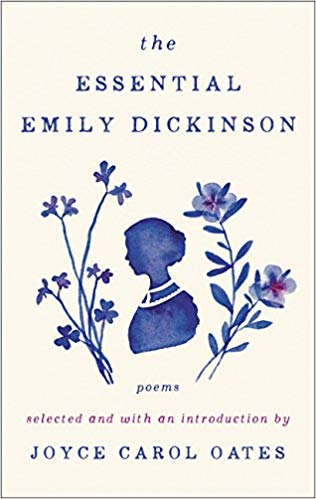 Overview
This title is no longer available for programming after the 2021-2022 grant year.
Are you familiar with the American poet Emily Dickinson but haven't read her poems? Have you seen a film or play about her, or heard some contemporary artists mention how much they've been influenced by her and wondered: why all the hoopla? Did you read her poems in school but haven't revisited them since? Or are you a fan who would jump at any chance to read her poems again and talk about them? The Essential Emily Dickinson—a compact anthology of poems, just 80 pages in length—is an inviting (re)introduction to the work of this celebrated, frank, passionate, sometimes playful, intensely private 19th century poet. Selected and introduced by the author Joyce Carol Oates, the collection presents more than 100 of Dickinson's most famous poems and some lesser known poems—some only four lines long—to showcase the poet's range: her "bold imagery, energy, wit, mimicry of child's speech, dream babble, quicksilver moments…. This is Dickinson 'at the white heat' of ecstasy and its sister, despair, and she continues to hold us in awe" (Emily Fragos in the Boston Review).
"I find ecstasy in living—the mere sense of living is joy enough." —from The Letters of Emily Dickinson
Introduction
"Dickinson has written as frankly of despair and the terror of spiritual collapse as any poet who has ever written…." – Joyce Carol Oates in her introduction
"'Hope' is the thing with feathers –" (p. 11), "Because I could not stop for Death –" (p. 53), and "I'm Nobody! Who are you?" (p. 13) are some of Emily Dickinson's most memorable opening lines in American poetry, yet these and most of her other poetic lines were virtually unknown during her lifetime, as she saw only ten of her poems published. "Though it was known among her family and friends that Emily Dickinson had written poems much of her life," writes Joyce Carol Oates in her introduction to The Essential Emily Dickinson (Ecco, 1996), "the size of the cache discovered by her sister Vinnie after Dickinson's death astonished everyone: 1,775 poems of varying degrees of completeness and legibility, some of them scribbled on the backs of bills." Oates explains that it was Dickinson's practice to "write on scraps of paper that accumulated in her apron pockets during the course of a day, to be artfully assembled at night in the privacy of her room."
Similarly prolific, Oates has published more than 50 books of fiction, nonfiction, and poetry (albeit during her own lifetime). She is our guide to, and curator of, this wide-ranging collection of poems by Dickinson who, says Oates, "never shied away from the great subjects of human suffering, loss, death, even madness," yet could also be "subversively playful" with a "mordent sense of humor." "Dickinson discovered, in adolescence, her distinctive voice, and the energies out of which she writes both poetry and prose are inclined to be romantically adolescent and rebellious; at once self-effacing and self-declaring." Dickinson wrote often of death and immortality, as she was "literally surrounded by death from childhood onward," Oates explains, but her poetry is also filled with the insightful happiness of a woman who had loved deeply and who relished the beauty of nature.
Known for her original metaphors and unexpected syntax, Dickinson's poetry sometimes reads like a riddle. She regularly employs paradox—a statement that seems like a contradiction but actually is not—in order to get at the truth from an unpredictable angle. Although she was not conventionally religious, her poetry often borrows the metrical patterns of the hymns and psalms of her childhood. She also uses punctuation—such as her characteristic dash—and the capitalization of nouns to emphasize her ideas. She rarely wrote a poem of more than 20 lines, and this brevity itself suggests her view of poetry: that it should stun and surprise and ultimately please the reader. "The very look of many of Dickinson's poems on the page is revolutionary," writes Oates. "Her seemingly breathless pauses and dashes, her odd, Blakean capitalizations, her disjointed phrases and radical variants of rhyme, rhythm, cadence—all point to a poet of unique, unnerving gifts."
What does it feel like to read a poem by Emily Dickinson? Do you notice different aspects of musicality, sound, rhythm, and spacing when you read the poems on the page versus reading them aloud? Do you read the poems quickly or slowly?
Dickinson was known to adapt "the rules of Latin grammar for her own purposes," Oates explains. How does Dickinson's use of punctuation—the prevalence of the dash, for example—and her capitalization of words in the middle of lines affect your understanding and emotional response to the poems? If you could change the rules of grammar to get across a particular emotion or idea, what would you change?
In two of her poems about grief, Dickinson hints at the possibility that sadness may lead to a greater truth. In "There's a certain slant of light" (p. 12), she writes that the "Heavenly Hurt" gives us "internal difference / where the meanings are." In "I felt a Funeral, in my Brain" (p. 12), she writes that it seems "That Sense was breaking through –." What kinds of "sense" or "meaning" might she be suggesting in these two poems? Do you think there is a "greater truth" we can learn from our grief? What other poems resonated with you in relation to this idea?
"I'm Nobody! Who are you?" (p. 13) is an invitation to loneliness. How does this poem, or "I taste a liquor never brewed" (p. 8), invite the reader into a kind of shared strangeness? Do you feel separated or connected to these poems by the language? How so?
Almost none of Dickinson's poems have titles. Instead, they are known by their first lines and the numbers assigned to them posthumously. Did this affect your reading of them? If so, how?
Most of Dickinson's poems weren't published during her lifetime, and she made few attempts to publish them. What are some reasons you think Dickinson might not have wanted her poems published? If you wrote poems, would you be inclined to publish them or keep them private? Why?
Editors had reservations about publishing "Wild Nights – Wild Nights!" (p. 10) in 1891. Why do you think this might have been the case?
"What Soft—Cherubic Creatures—" (p. 24) is full of contradictions, such as "A Horror so refined" and "common—Glory" as Dickinson describes the gentlewomen of her day. What do you make of these contradictions? How do these contradictions affect your understanding of these women? Did you notice any contradictions in other poems?
Dickinson loved tending her garden and writing poetry. What parallels do you think exist between the two activities?
In "I heard a Fly buzz" (p. 31), Dickinson imagines the moment of her own death. What role does the fly play in this imagining? She writes "There interposed a Fly –/ With Blue – uncertain stumbling Buzz –/ Between the light – and me." What would you say is her relationship to the fly?
If you were to curate your own collection of Dickinson's poems, would you organize them in a different way? Why?
Oates calls Dickinson "the great poet of inwardness, of that indefinable region of the soul in which we are, in a sense, all one." What do you think she means?
Though she has been a longtime aficionado of Dickinson's poetry, Oates claims that she is "continually discovering poems I'd believed I knew, seeing them in a different light, from a different perspective." If you've been a fan of Dickinson prior to reading (or rereading) this collection, was there anything you discovered anew? If this was your first time reading the poems of Emily Dickinson, can you imagine revisiting them in the future and making new discoveries?
Source material from the Academy of American Poets.