The Heart Is a Lonely Hunter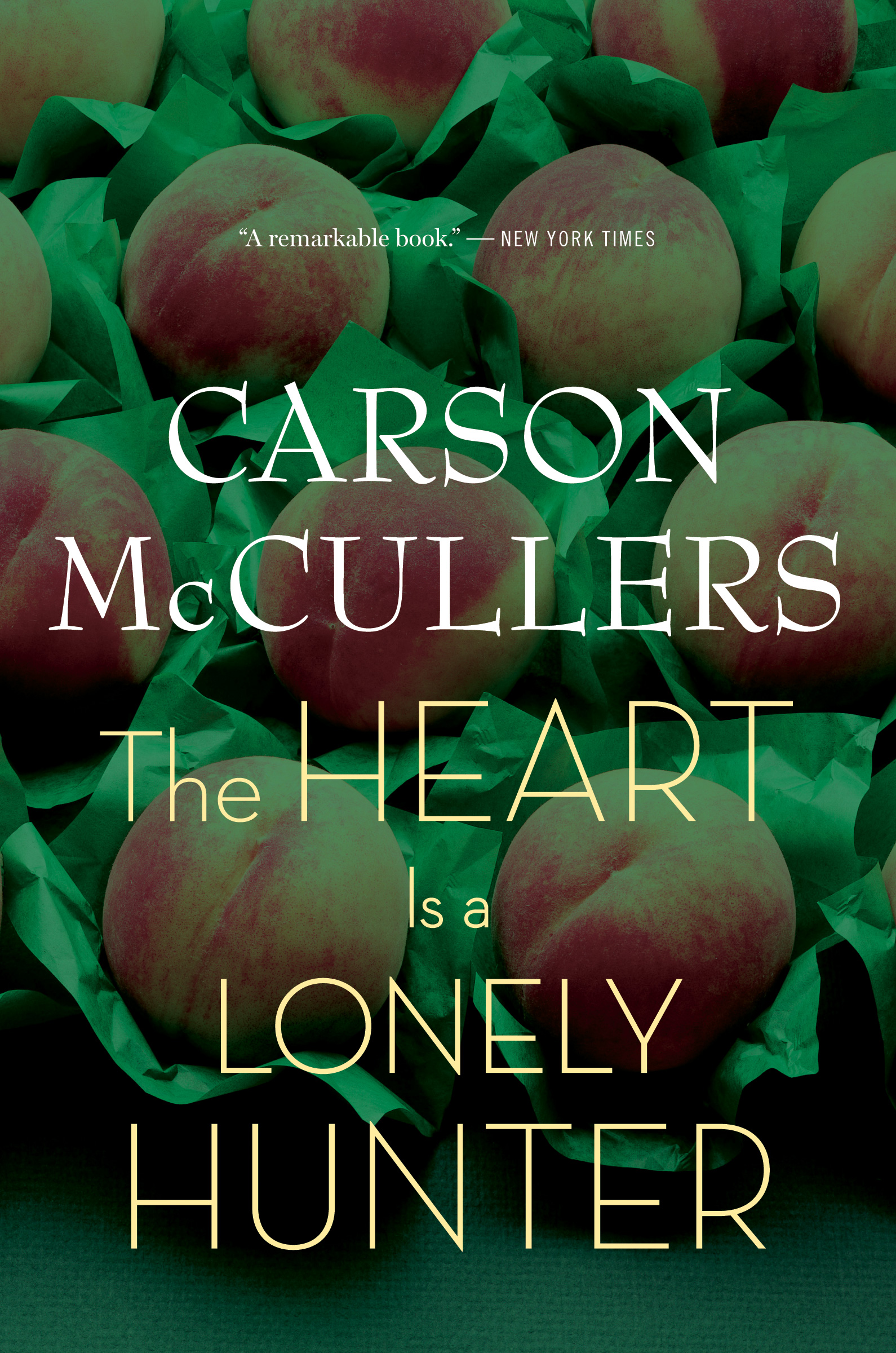 Overview
This title will no longer be available for programming after the 2020-21 grant year.
It is hard to believe that The Heart Is a Lonely Hunter was the first book of a 23-year-old author (who had started the novel at 19!). This tragic, small-town drama is so ambitious in its scope—presenting five radically different characters whose troubled lives intersect in the Depression-era South—it always seems like the work of a master storyteller.
"In his face there came to be a brooding peace that is seen most often in the faces of the very sorrowful or the very wise."
—from The Heart Is a Lonely Hunter
Introduction
Carson McCullers's The Heart Is a Lonely Hunter (1940) is set in a small Georgia mill town in the late 1930s. At the center, like the hub of a wheel, is John Singer, who rents a room in the Kelly house after his fellow deaf companion, Spiros Antonapoulos, is sent away to an asylum. The amiable Singer is a confidant for four of the town's misfits—Mick Kelly, a teenage girl who dreams of becoming a trained musician; Benedict Mady Copeland, the town's black doctor; Jake Blount, an alcoholic socialist; and Biff Brannon, the owner of the local café.
Each of these four characters regularly visits Singer, telling him about the injustices and pain in their lives. Each outcast believes that only Singer can understand his or her loneliness, although Singer reveals little of himself to them. He does, however, open himself to Antonapoulos through visits and letters. Singer even saves his hard-earned money to buy a movie projector for his friend.
Over the course of a year, the characters encounter difficult troubles and find solace in Singer. Mick drops out of school to help support her family after her younger brother accidentally shoots a little girl. Dr. Copeland has tuberculosis and his son, Willie, is sent to jail. New to town and friendless, Jake yearns to help the working class, but his alcoholism muddles his message and carries him toward self-destruction. Biff's wife dies, leaving him with a deeper longing to relate to his patrons, and sad that he doesn't have his own children. Not until the novel's startling climax do any of these lonely souls fully appreciate Singer's importance in their lives.
Whether quiet or roaring, deliberate or reckless, the five voices of The Heart Is a Lonely Hunter unite in a common cry of isolation, a theme that reverberates through McCullers's other works. Yet, a glimmer of hope remains. "All is serene," McCullers writes toward the end of her story—life is an old whistled tune, water pitchers are full of zinnias, and the morning sun will come again.
Major Characters in the Book
John Singer
John Singer is a deaf man who boards with the Kelly family and earns his living as a silver engraver. Though he is a confidant and comfort to Mick, Jake, Biff, and Dr. Copeland, Singer's silent suffering and desolate loneliness are perhaps the most poignant of all. He generously devotes himself to his compulsive deaf friend, Spiros Antonapoulos.
Mick Kelly
Thirteen-year-old Mick's passionate obsession with music fuels her desires. She spends hours listening to Singer's radio. A lonely tomboy, her fascination with Singer helps her cope with her poverty-stricken family. A summer picnic excursion with her Jewish friend, Harry Minowitz, only heightens her isolation.
Jake Blount
An itinerant alcoholic vacillating between violent tirades and drunken stupors, Jake arrives in town with a disorganized plan to begin a socialist revolt among the working class. He lands a job as a mechanic at the traveling carnival and often delivers long speeches about social injustices.
Benedict Mady Copeland
Although Dr. Copeland has practiced medicine for 25 years, he feels his occupation has frustrated his ambition to change the problems between whites and blacks. He is ill with tuberculosis, and his son Willie is violently abused in prison. His daughter, Portia, works for the Kelly family.
Biff Brannon
Biff is the owner of the town's New York Café and is a quiet, contemplative man with a keen eye for detail. Despite his great consideration for all his customers, he lacks affection for his wife, Alice. Unable to resolve inner conflicts, Biff is haunted by his inability to understand Singer.
Music in the Book
Carson McCullers once compared The Heart Is a Lonely Hunter to a three-part fugue—a technique in musical composition that evolved during the 17th century. A fugue begins with a single voice expressing a theme, which other distinct voices restate as they enter one at a time. Like a skilled conductor, McCullers understood that each voice must define itself while simultaneously enhancing those around it.
In the novel, Mick Kelly's voice most skillfully reflects McCullers's own passion for music. Mick's tenacious, yet failed attempt to construct a violin, and her determination to play piano despite "any amount of knocks and trouble" are apt symbols of McCullers's early, frustrated dreams of becoming a composer.
Mick's secret summertime pleasure is to find a house with a radio, tuned in to classical music, so she may sit below its open window and listen. On the evening of her ruined party, the program begins with Beethoven's Symphony No. 3 (Eroica). Mick is spellbound: "She could not listen good enough to hear it all. The music boiled inside her." When the symphony finishes, Mick is left with only a throbbing heart and "terrible hurt."
The novel's rhythmic language is sometimes harmonious—as in the sweet, sad duets between Mick and Singer—and at other times cacophonous, as in Jake and Dr. Copeland's final argument. But McCullers's prose also gives us silence—in Singer, and in what she leaves to our imagination.
In addition to most pieces composed by Wolfgang Amadeus Mozart and Franz Schubert, McCullers also loved:
Franz Liszt's Hungarian Rhapsody No. 2
Frédéric Chopin's 12 Études, Op. 25; particularly No. 11, The Winter Wind
Ludwig van Beethoven's Symphony No. 9 in D minor, Op. 125
Gustav Mahler's Songs of a Wayfarer and Symphony No. 2
"But all the time—no matter what she was doing—there was music. Sometimes she hummed to herself as she walked, and other times she listened quietly to the songs inside her. There were all kinds of music in her thoughts."
—Carson McCullers, from The Heart Is a Lonely Hunter
Carson McCullers took her novel's title from a poem by William Sharp. How does this title relate to the novel's five main characters? Why might McCullers have changed it from her original title, "The Mute"?
Isolation and loneliness are key themes in the novel. How are they different? What are some of the ways the characters seek to alleviate their feelings of isolation and loneliness?
The narrator describes the main characters as both ordinary and heroic. Do you agree?
What fuels John Singer's devotion to his companion, Spiros Antonapoulos? How does Singer feel after Antonapoulos is sent to the asylum?
Why would McCullers choose to tell us so little about Singer's past?
Mick Kelly has an "inside room" and an "outside room." What does this mean? Is this true for the other characters as well?
How different is Dr. Copeland's view of the world from his daughter's? What does he want for Portia? Why does she reject her father's ideal?
Why does Jake Blount try to find the person who wrote a Bible passage he saw on a wall? Is this passage significant in any way to Blount's socialist message?
Why can't Biff Brannon confide in Singer? How does he feel after his wife's death?
What is the role of religion in the novel? How does this affect the actions and beliefs of the characters, especially Jake and Dr. Copeland?
How and to whom does each of the characters in the novel express love?
Do you find the ending of the novel disheartening or hopeful?
In what ways do the themes of the novel resonate with issues of class and race today?