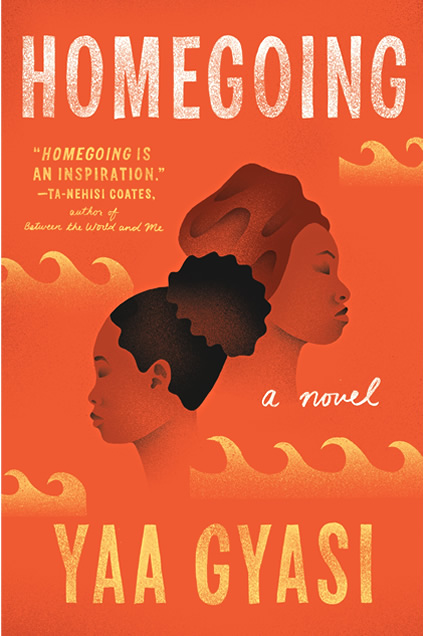 Overview
Spanning three continents and eight generations, Yaa Gyasi's critically acclaimed, debut novel Homegoing begins with two Ghanaian sisters in the 18th century who lead parallel, yet divergent lives: one stays in Ghana and becomes a wealthy slave trader's wife; one is sold into slavery and sent to America. The novel follows the lives of their descendants—from Ghana's beaches to the plantations of Mississippi, the American Civil War to Jazz Age Harlem—offering an essential examination of power and privilege, memory and legacy. It's "intelligent…and healing…destined to become a classic" (author Zadie Smith), "a beautiful story" (The Daily Show host and author Trevor Noah). "No novel has better illustrated the way in which racism became institutionalized in this country" (Vogue). "When people talk about all the things fiction can teach its readers, they're talking about books like this" (Marie Claire).
"No one forgets that they were once captive, even if they are now free." — Homegoing
Told over the course of eight generations, Yaa Gyasi's Homegoing follows the descendants of two half-sisters—Effia and Esi—who are born in 18th-century Ghana. While Effia marries an Englishman and leads a life of comfort in the palatial rooms of Cape Coast Castle, Esi is captured in a raid on her village, imprisoned in the very same castle, and sold into slavery in America. From there, three centuries unfold. In Gyasi's deft hands, time is elastic: 20 years pass in a sentence, a single moment stretches across pages, the past folds into the present. "Our history…informs the way that we treat people in the present," Gyasi said in an interview with TIME. "Every moment has a precedent and comes from this other moment, that comes from this other moment, that comes from this other moment."
Effia and Esi's descendants disperse and converge throughout the novel. In Cape Coast, a reluctant son takes on his father's mantle as a British slave trader, navigating relationships between British companies, the Fante tribes of the coast, and the Asante villages of the inland. As the British end their participation in the slave trade and turn their attention to colonization in West Africa, a young man escapes his family's shadow for the anonymity of a "small-small" (p. 104) life with the woman he loves. At the height of Asante resistance to British colonization, a young woman searches for her ancestors in the Asante capital city of Kumasi; and in a village empty of its warriors, a mother is haunted by visions of a woman made of fire. Years later, a Catholic school instructor in Takoradi, Ghana, comes to terms with the fires of his own past. In the last chapters of the book, three centuries after Effia first moves into Cape Coast Castle, a young woman from Huntsville, Alabama, returns to Cape Coast to walk in her ancestors' footsteps.
An ocean away from Cape Coast, a desperate mother risks her life to give her son a chance at freedom in the antebellum South. As the Fugitive Slave Act is voted into law, that son—now a Black dockworker in Baltimore—holds tightly to all that is left of his family. In Pratt City, Alabama, at the turn of the 20th century, a former convict miner joins a nascent labor movement to fight for fair wages and protections for workers. Set against the backdrop of the Great Migration, his daughter dreams of a spotlight on a New York City jazz club stage. During the height of the Civil Rights Movement, a housing worker at the NAACP finds "Harlem and heroin" (p. 257), struggling to find a path for a lifetime of anger. Years later, a Stanford PhD student chases echoes of his family through America's history, trying to understand the "accumulation of…times" (p. 296) that have shaped his own.
Through the parallel paths of Effia and Esi—and the generations that follow—Homegoing illuminates slavery's troubled legacy, both for those who were taken and those who stayed. In doing so, the novel interrogates the stories we tell about freedom and captivity and the soul of our nation; stories that have been told, retold, and reified through their retelling. "Whose story do we believe," asks one of Effia's descendants late in the novel. "We believe the one who has the power. He is the one who gets to write the story. So when you study history, you must always ask yourself, whose story am I missing?" (p. 226).
Consider the title of the book. How would you have described the meaning of the word "homegoing" before reading this novel? Were there any moments in the book that changed or expanded your understanding of homegoing? Of home?
Gyasi includes an Akan proverb as the novel's epigraph: "The family is like the forest: if you are outside it is dense; if you are inside you see that each tree has its own position." What position does each character in the novel hold within their family? How might your understanding of Esi and Effia's families have changed if Gyasi had chosen to write from a singular point of view or a singular point in history?
Homegoing takes place across eight generations, three centuries, and two continents. Was there anything that surprised you about the scale of the novel? In an interview with Powell's Books, Gyasi shared: "In the beginning, my idea was to go back and forth between the present day and the 18th century." How do you think this structure—without the narratives in between—would have affected your interpretation of the book?
In the second chapter of the book, Esi's mother tells her that "weakness is treating someone as though they belong to you. Strength is knowing that everyone belongs to themselves" (p. 38). How do other characters in the novel define weakness and strength? What forms do weakness and strength take?
Throughout the book, characters exchange fables, folklore, and beliefs. How are fables and folklore connected to belief throughout the novel? What forms of belief are depicted in the book and what purpose do these beliefs seem to serve for the characters?
While they are being kept captive in the dungeons underneath Cape Coast Castle, Tansi tells Esi an Asante story about the origins of kente cloth (p. 30). Are there other moments in the book where storytelling is used to share a piece of history or a tradition? Are there differences between the way Esi's descendants and Effia's descendants use storytelling?
Why does Akosua Mensah insist to James, "I will be my own nation" (p. 99)? What role do national identity, heritage, and tradition play in contributing to the injustices, prejudices, and colonialism depicted in the book? Which other characters seem to share Akosua's point of view?
How do marriage, gender, and power intersect throughout the book? Do they differ across cultures? Across generations?
Mr. Mathison insists on calling Jo by his full name, "Kojo," because "taking away your name is the first step" (p. 118). Are there other moments of naming or renaming that come to mind from the novel? Which characters are given names and which choose their own names? How are names informed by families or communities?
The theme of complicity asserts and reasserts itself across the pages of Homegoing. During her reunion with Yaw, Akua notes that "…there are people who have done wrong because they could not see the result of the wrong" (p. 241). Does this quote remind you of any characters in the novel? What were the results of their wrongs?
Sonny says that the problem with segregation wasn't separation itself, but that "…the practice of segregation meant that he had to feel his separation as inequality, and that was what he could not take" (p. 244). Why might Sonny feel that it is important to distinguish between separation and inequality? How does this problem—separation felt as inequality—manifest itself today?
As he researches his family's history, Marcus yearns for "the feeling of time, of having been a part of something that stretched so far back, was so impossibly large that it was easy to forget that...[he] existed in it—not apart from it, but inside it." (p. 295). In Homegoing, how are family histories recorded or passed down between generations? How are characters' identities shaped by the presence—or absence—of those histories? How do family bonds persist, even when those histories are lost?
In an interview with Powell's Books, Gyasi refers to Effia's descendants as "children of fire," born of the great fire Maame sets before she escapes into the woods, and Esi's descendants as "children of water," carried across the ocean along the Middle Passage. Are there other ways in which the stories of Effia and Esi's descendants mirror each other? Are there ways they contrast each other? 
Through each new generation's stories, Gyasi traces the evolution of major social and political events: from the trans-Atlantic slave trade to British colonization in West Africa, the violent legacies of slavery to the dawn of Jim Crow laws. Consider other ways that you have learned about these periods in history (e.g. family stories, literature, films, school curricula, etc.). Did reading the novel change or enrich your understanding of these events and their connection to modern-day American society?
Source material for Homegoing discussion questions from Penguin Random House.