Their Eyes Were Watching God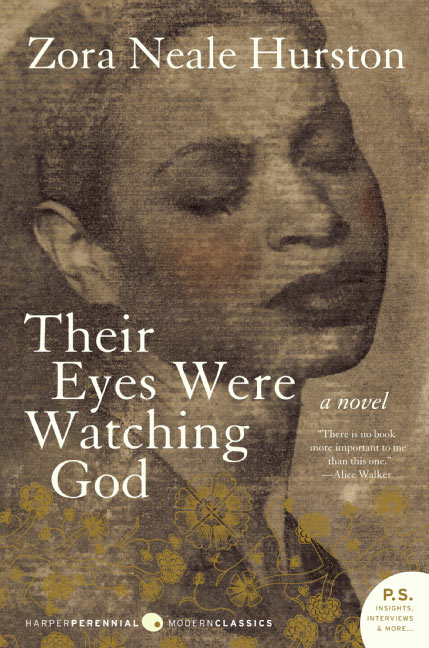 Overview
To call Zora Neale Hurston's Their Eyes Were Watching God an "African American feminist classic" may be an accurate statement—it is certainly a frequent statement—but it is a misleadingly narrow and rather dull way to introduce a vibrant and achingly human novel. The syncopated beauty of Hurston's prose, her remarkable gift for comedy, the sheer visceral terror of the book's climax, all transcend any label that critics have tried to put on this remarkable work. First published amid controversy in 1937, then rescued from obscurity four decades later, the novel narrates Janie Crawford's ripening from a vibrant, but voiceless, teenage girl into a woman with her finger on the trigger of her own destiny. Although Hurston wrote the novel in only seven weeks, Their Eyes Were Watching God breathes and bleeds a whole life's worth of urgent experience.
"The wind came back with triple fury, and put out the light for the last time…. They seemed to be staring at the dark, but their eyes were watching God." —from Their Eyes Were Watching God
Introduction
Their Eyes Were Watching God (1937) begins with our eyes fixed on a woman who returns from burying the dead. Written in only seven weeks while on a Guggenheim Fellowship in Haiti, Zora Neale Hurston's novel chronicles the journey of Janie Mae Crawford from her grandmother's plantation shack to Logan Killicks' farm, to all-black Eatonville to the Everglades—until a tragedy brings her back to Eatonville. From this vantage point, Janie narrates her life story to her best friend, Pheoby Watson, satisfying the "oldest human longing—self-revelation."
Forced to marry for money at 16, Janie at first believes that love automatically comes with marriage. Unable to endure her mule-like servitude and the desecration of her dreams, she spontaneously leaves Logan for Joe Starks, a handsome, ambitious man determined to put her on a pedestal once he becomes mayor of Eatonville. After enduring a mostly joyless 20-year marriage to him, Janie finally meets a young, uneducated wastrel named Tea Cake. With him she thinks she can find genuine love for the first time, but fate intervenes, and Janie fears she may have to choose between his safety and her own.
Although the novel is not an autobiography, Hurston once reflected that it is, at heart, a love story, inspired by "the real love affair of [her] life." She also fictionalized another important incident in her life in the novel: In 1929, Hurston survived a five-day hurricane in the Bahamas, getting herself and another family out of a house moments before it began to collapse.
Hurston's conviction that black culture is valuable, unique, and worthy of preservation comes through in Their Eyes Were Watching God via its harmonious blend of folklore and black idiom. In Janie Mae Crawford, Hurston rejects 19th- and early 20th-century stereotypes for women and creates a protagonist who though silenced for most of her life ultimately finds her own voice.
Why does Janie choose to tell her story only to her best friend Pheoby? How does Pheoby respond at the end of Janie's tale?
Hurston uses nature like the pear tree, the ocean, the horizon, the hurricane not only as a plot device but also as metaphor. Describe the ways these function as both. Can you think of others?
The novel's action begins and ends with two judgment scenes. Why are both groups of people judging her? Is either correct in its assessment?
Many readers consider the novel a bildungsroman, or coming-of-age novel, as Janie journeys through three marriages. What initially attracts her to each man? What causes her to leave? What does she learn from each experience?
In the novel, speech is used as a mechanism of control and liberation, especially as Janie struggles to find her voice. During which important moments of her life is Janie silent? How does she choose when to speak out or to remain quiet?
Is there a difference between the language of the men and that of Janie or the other women? How do the novel's first two paragraphs point to these differences?
The elaborate burial of the town mule draws from an incident Hurston recounts in Tell My Horse, where the Haitian president ordered an elaborate Catholic funeral for his pet goat. Although this scene is comic, how is it also tragic?
Little of Hurston's work was published during the Harlem Renaissance, yet her ability to tell witty stories and to stir controversy made her a favorite guest at elite Harlem parties. Identify several passages of wit and humor in Their Eyes Were Watching God.
How does the image of the black woman as "the mule of the world" become a symbol for the roles Janie chooses or refuses to play during her quest?
What do the names of Janie's husbands Logan Killicks, Jody Starks, Vergible "Tea Cake" Woods tell us about their characters and their relationships with Janie?
What kind of God are the eyes of Hurston's characters watching? What crucial moments of the plot does the title allude to? Does this God ever answer Janie's questioning?
Re-read the last three pages of the novel. How do the imagery and tone connect with other moments in the novel? Does Janie's story end in triumph, despair, or a mixture of both?