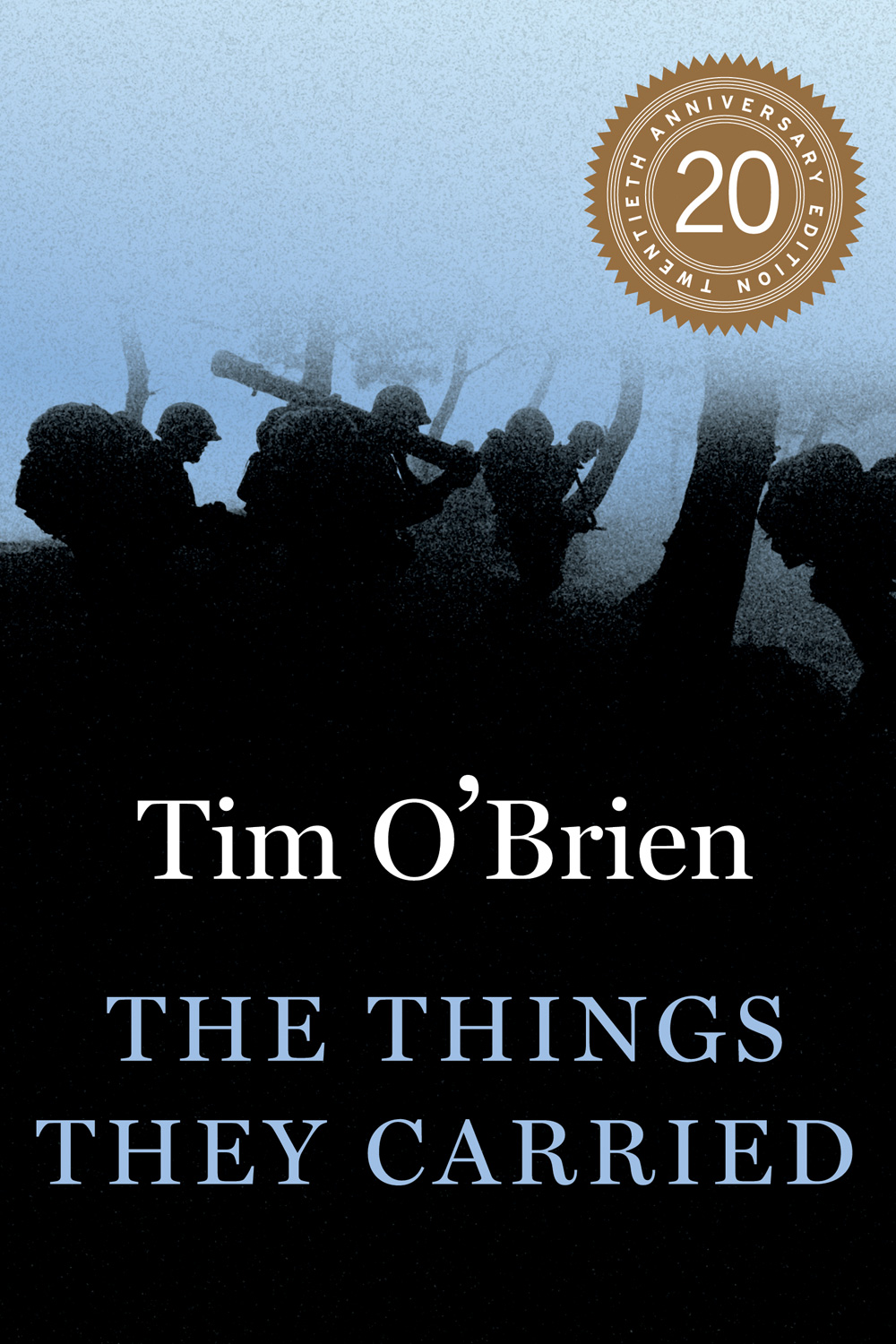 Overview
This title will no longer be available for programming after the 2020-21 grant year.
The award-winning author of nine works of fiction and a former reporter for The Washington Post, Tim O'Brien had what some would call a typical 1950s American childhood in rural Minnesota before he was sent to fight in Vietnam as a foot soldier in 1969. Published in 1990 to vast critical acclaim and written with the help of a National Endowment for the Arts creative writing fellowship, The Things They Carried, a novel about his experiences in that war, has sold well over two million copies worldwide and was a finalist for both the Pulitzer Prize and the National Book Critics Circle Award. More recently, the book was included among Amazon.com's "List of 100 Books to Read in a Lifetime" and was credited as the inspiration for a National Veterans Art Museum exhibit of the same name in Chicago. The book is part memoir, part fiction, and O'Brien―the original master of truthiness―wishes you luck figuring out which is which. It's a "marvel of storytelling which matters not only to the reader interested in Vietnam but to anyone interested in the craft of writing" (The New York Times). It's "controlled and wild, deep and tough, perceptive and shrewd" (Chicago Sun-Times) and based on how it continues to resonate with audiences, particularly among young readers, it undoubtedly "stands the test of time" (PBS NewsHour).
"Abstraction may make your head believe, but a good story, well told, will also make your kidneys believe, and your scalp and your tear ducts, your heart, and your stomach, the whole human being." —from The Things They Carried
Introduction
Tim O'Brien's The Things They Carried (1990) is considered one of the finest books about the Vietnam War. Far from a combat story of pride and glory, it is a compassionate tale of the American soldier, brimming with raw honesty and thoughtful reflection.
The book's narrator follows a platoon of infantrymen through the jungles of Vietnam. We see them trudge through the muck of a constant downpour, get hit by sniper fire, pull body parts out of a tree, laugh while they tell their stories to each other, and fall silent when faced with making sense of it all—both in the moment and twenty years later.
The book is split into a lush mosaic of vignettes drawn from O'Brien's own experiences. The title story describes what the soldiers must lug with them—both literally and figuratively—as they march: food, canteens, flak jackets, and weapons, as well as grief, terror, secrets, and memories. In another story, O'Brien tells of a young medic who brings his high-school sweetheart to his aid station in the mountains of Vietnam, chronicling her transformation from an innocent girl in a pink sweater to a cold night stalker who dons a necklace of human tongues. Yet another story tells of a soldier back from the war who drives his Chevy around his Iowa hometown, struggling to find meaning in his new life.
Central to the book is O'Brien's unique style, which blurs the lines between fact and fiction, then examines how and why he does just that. O'Brien challenges readers to ponder larger philosophical questions about truth and memory, and brings the reader closer to the emotional core of the men's experiences. "For the common soldier," O'Brien writes in "How to Tell a True War Story," "war has the feel—the spiritual texture—of a great ghostly fog, thick and permanent. There is no clarity. Everything swirls. The old rules are no longer binding, the old truths no longer true."
The Things They Carried is not just a tale of war, and the book's themes are no less relevant today than they were decades ago. This award-winning work is a brutal, sometimes funny, often profound narrative about the human heart—how it fares under pressure and what it can endure.
"You can tell a true war story by the way it never seems to end. Not then, not ever."
—Tim O'Brien, in The Things They Carried
Major Characters in the Book
Tim O'Brien is the narrator who never wanted to fight in the Vietnam War and remains haunted by memories even 20 years after he returns to America.
First Lieutenant Jimmy Cross is a solitary, pensive platoon leader who cares about his men. He carries photos and letters from the girl he loves back home in New Jersey, who doesn't love him back.
Bob "Rat" Kiley is a likeable and skilled medic who braves danger to keep his fellow soldiers alive. He carries comic books, brandy, and M&Ms.
Kiowa is a kind and moral soldier from Oklahoma, a Native American, a devout Baptist. He carries an illustrated New Testament, worn-out moccasins, and his grandfather's feathered hunting hatchet.
Norman Bowker is a quiet boy from Central Iowa who strives to live up to his father's expectations and finds he can't relate to anyone back home after the war. He carries a diary and a thumb cut from a Viet Cong corpse.
Henry Dobbins is a large, strong, dependable, unsophisticated machine gunner. He carries extra rations and wears his girlfriend's pantyhose tied around his neck.
"They carried all they could bear, and then some, including a silent awe for the terrible power of the things they carried."
—Tim O'Brien, in The Things They Carried
The narrator of The Things They Carried has the same name as the book's author. How did this affect your response to the book?
In the title story, how do the things the men carry help define them as individuals? What are some of the more interesting items? Which "things" were unexpected? What would you carry if you went to war?
At the end of "On the Rainy River," the narrator says, "I was a coward. I went to the war." What does he mean by this? Do you agree?
In "How to Tell a True War Story," what does the narrator say on this subject? What do you think makes a true war story?
In "Sweetheart of the Song Tra Bong," what causes the transformation in Mary Anne Bell? How does Rat Kiley's telling of the story add to the tension? What does the story say about the Vietnam experience?
In "Speaking of Courage," the narrator says, "Sometimes the bravest thing on earth was to sit through the night and feel the cold in your bones. Courage was not always a matter of yes or no." How does the narrator define courage? How do you define it?
In "Good Form," the narrator says, "I want you to feel what I felt. I want you to know why story-truth is truer sometimes than happening-truth." What does he mean by "story truth" and "happening-truth"? Why might one be "truer" than the other?
The narrator of the story "The Ghost Soldiers" says, "When you're afraid, really afraid, you see things you never saw before, you pay attention to the world." What might he mean by this?
Even though The Things They Carried is set during the Vietnam War, in what ways is it relevant today, with regard to war and politics as well as our personal struggles?
The Things They Carried Author Visits a Community in Ellensburg, WA
"The highlight events during Tim O'Brien's three days of programs in Ellensburg were beyond our expectations. He was such a big hit. He filled our campus auditorium for his major talk and book-signing. He spent four hours at Ellensburg High School talking with small groups of students. He had an intimate luncheon with local veterans. He held a craft talk with writers and writing students. He was so generous and gracious with all whom he encountered."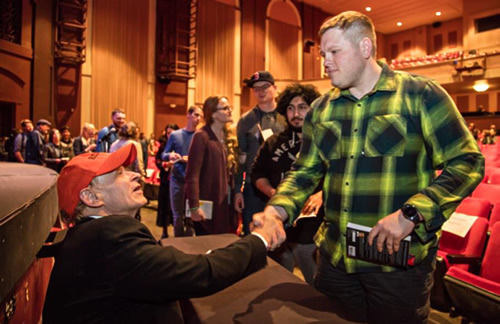 – from a report by Central Washington University, an NEA Big read grant recipient in FY 2016-17.
A Community College Writes and Performs a Theatrical Adaptation of The Things They Carried in Binghampton, NY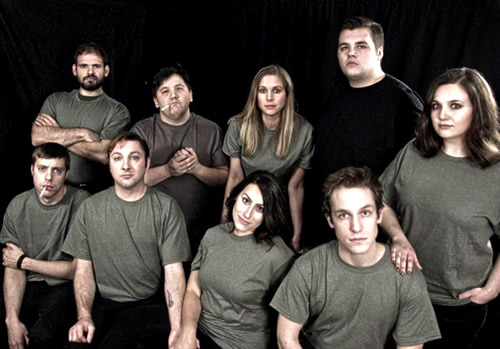 Broome Community college worked with playwright Martin Murray to create and stage an adaptation of the novel. The two-act play, produced by Studio 271 Productions, was performed twice during their Big Read activities. The play, along with other Big Read programming, helped the college build an audience for its programming:
"SUNY-Broome Community College, as a former technical institute, has long suffered from an inferiority complex with regard to our much larger local college, Binghamton University. Our slate of NEA Big Read programming, in fact, was often mistaken as originating from the University and not the community college.
"Nevertheless, I feel that the community college is exactly where such programming should be centered, since our focus is on reaching out to the whole community, not just our campus. Community attendees came away from our programming energized and excited about SUNY-Broome, and I think we are well-positioned to take a more active role in the intellectual life of our community."
Listen to an interview with director Kate Murray and Big Read coordinator Professor Mary Donnelly about the adaptation.
– from a report by Broome Community College, an NEA Big Read grant recipient in FY 2016-17.
Moving Sculpture and Photo Exhibit Connect Veterans with their Community in Elgin, Illinois
"One of the most meaningful and hyper‐local projects was 'The Things I Carried Photo Exhibit.' Former Chicago Tribune award‐winning photographer John Dziekan photographed 12 Vietnam veterans and two Laos Royal service vets (who fought alongside the US) with items they literally or figuratively carried with them during the war (a photograph, philosophy book, cross, scars). One veteran shared a private moment of gratitude with us about this being the first time he felt welcomed home. He told us that when he first arrived home from Vietnam, the community was nasty to him, even throwing blood on him. He said participation in this photographic exhibit meant more to him than we would ever know.
"Hector Ocampo, The Big Read Project Coordinator, ended [a] ceremony by saying, "Today I stand here to let everyone know that I am also diagnosed with PTSD and I am not afraid to admit it. Even as my fellow veterans struggle to adjust and gain our true purpose, we are very capable of maintaining jobs, educating ourselves and above all, never forgetting where we come from. I see veterans on a daily basis and I can tell you one thing, the pride to have served will never diminish. My name is Hector Ocampo and I will always be a soldier!" The Vietnam veterans then embraced Hector, and the crowd gave a standing ovation."
Also a "major arts component" of the library's NEA Big Read program was "The Wall That Heals (TWTH)." "TWTH, a half‐scale replica of the Vietnam Veterans Memorial in Washington, D.C., was on display in the Civic Center Plaza in Elgin from Sept. 19‐22, open all day and night. There were 4,170 veterans who came to view TWTH, and the stories of their connectedness are endless. A 90‐year‐old woman pulls a chair to sit next to her 19‐year‐old son's name. Vietnam veterans tell their stories for the very first time. A woman searches for her brother's name on The Wall in D.C. for years to no avail only to discover he was listed under Eglin, IL, a typo preventing her from finding him all these years. At last, she feels peace. A 1960 high school reunion meets at TWTH, bringing the yearbook to remember their fallen classmates. Tears are shed, and the healing that comes from releasing tormenting grief after 40 years. Connections, new and old, young and end‐of‐life, are fostered at The Wall That Heals."
- from a report by the Gail Borden Public Library District, an NEA Big Read grant recipient in FY 2013-14.
Book Discussions Deepen Relationships and Strengthen Cooperation among Community Hubs in West Chester, Pennsylvania
The oral history recording sessions at the West Chester Public Library were extremely rewarding for all participants. One of our students who served as an interviewer, in fact, is now assisting a Vietnam vet in the editing of his memoir about his war experiences.
"Among the communities particularly touched and influenced by our events was the veteran community—both those whose service dates back many years and those who have fought in our recent engagements in Iraq and Afghanistan. Equally important, the program has been instrumental in building bridges between the university community and the borough as well as strengthening cooperative ties with two local high schools. Despite The Big Read having officially ended, we already have plans with the Senior Area Center, Hickman Center, Public Library, Chester County Art Association, Chester County Historical Society, and high schools for activities that will continue to deepen and expand literacy in our community. For example, we have arranged to cosponsor at least two book discussions in the coming year and to cooperate on special programs such as an upcoming (Spring 2014) panel, "The Future of Reading," undertaken with our campus library, the West Chester University Center for Book History, and the West Chester Public Library.
"Tim O'Brien's visit solicited overwhelmingly positive responses. Several people related to us that his final talk brought them to tears, and that it was the cultural highlight of the semester. He drew the largest crowds we'd seen throughout the Big Read, and kept all four audiences rapt and engaged throughout his presentations. His talks, as one student put it, 'made the book more real' for the community."
– from a report by the West Chester University of Pennsylvania, an NEA Big Read grant recipient in FY 2013-14.
The Things They Carried Initiates Healing and Bridges Divide Between Generations in Montana and California
"Montana veterans were present at most programs and lectures and were avid participants in how story telling is a therapeutic, cathartic and vital component of processing war experiences and traumas. Children had an opportunity to learn more about the Hmong, a strong yet private community of refugees in the Missoula area, and their involvement in the Vietnam War and as immigrants relocated to Montana in the years that followed. All fans of storytelling were engaged with The Things They Carried as a catalyst for autobiographical writing and discussions.
"Many high school teachers reported that their students loved reading The Things They Carried, and that even reluctant readers enjoyed the book," continued the Missoula Public Library, whose program reached an estimated 35,000 participants. "One teacher wrote to say: 'Students are especially receptive to Tim O'Brien's book because it is accessible, and many have relatives who served in the war. They also love the short story format, and the unpredictable nature of the story. One sixteen-year-old girl loved the book so much, she went out and bought her own copy, and then waited in a long line to get it signed by Mr. O'Brien.'"
"The comments we received from Veterans were the most rewarding," wrote the Ventura Cultural Affairs Division. "Hearing them talk about the healing that they received from reading the book and from participating in the Big Read events made the program feel worthwhile. Watching a younger generation listen intently to the veterans reliving memories, both good and bad, was inspirational. The book highlighted history for the younger population and brought healing and memories back to the older generation that experienced the events in the book."
"The Big Read and The Things They Carried prompted serious discussions about war, memory, fiction, and storytelling," wrote the Santa Barbara Public Library. "Students learned firsthand about a subject they often barely even read about. Local vets shared their stories and felt understood. It's not an exaggeration to say that this was a healing experience that brought elements of our community together in ways that had rarely happen. Peter Bie, President of Vietnam Veterans of America, Chapter 218, Santa Barbara, wrote us 'I can't thank you enough for what the library system has done to raise awareness of the Vietnam War and its aftermath by having Tim and his book highlighted these past few weeks.'"
– from reports by the Missoula Public Library, an NEA Big Read grant recipient in FY 2013-14; the City of Ventura Cultural Affairs Division, an NEA Big Read grant recipient in FY 2013-14; and the Santa Barbara Public Library, an NEA Big Read grant recipient in FY 2013-14.
A Treatment Center for Incarcerated Men Engages with The Things They Carried in Pittsburgh, PA
"Although Renewal Treatment, Inc. is not a new partner, this is the first year that the project director and volunteers worked with the male residents. This facility is designed to assist residents with their re-entry to society after they have been incarcerated. Most of the men also have drug and alcohol addictions and when the volunteers worked with them, the men immediately connected with the themes in the book. The opening ice breaker activity is for the participants to respond in writing on the index cards they are given that includes a word from the book. They wrote two responses on the card. The first was how the word related to the novel and the second response was how the word related to them personally. This activity has proven to be a powerful and simple exercise to get participants engaged in a dialogue about the novel's themes. The men stood up one by one and read their responses to words, such as war and ammunition. One resident said he was at war with his addiction. Another said he uses his recovery like ammunition to push him forward and so on. The men temporarily suspended their current situations and delved into their creativity and intelligence."
– from a report by the Community College of Allegheny County, an NEA Big Read grant recipient in FY 2013-14.