In the Time of the Butterflies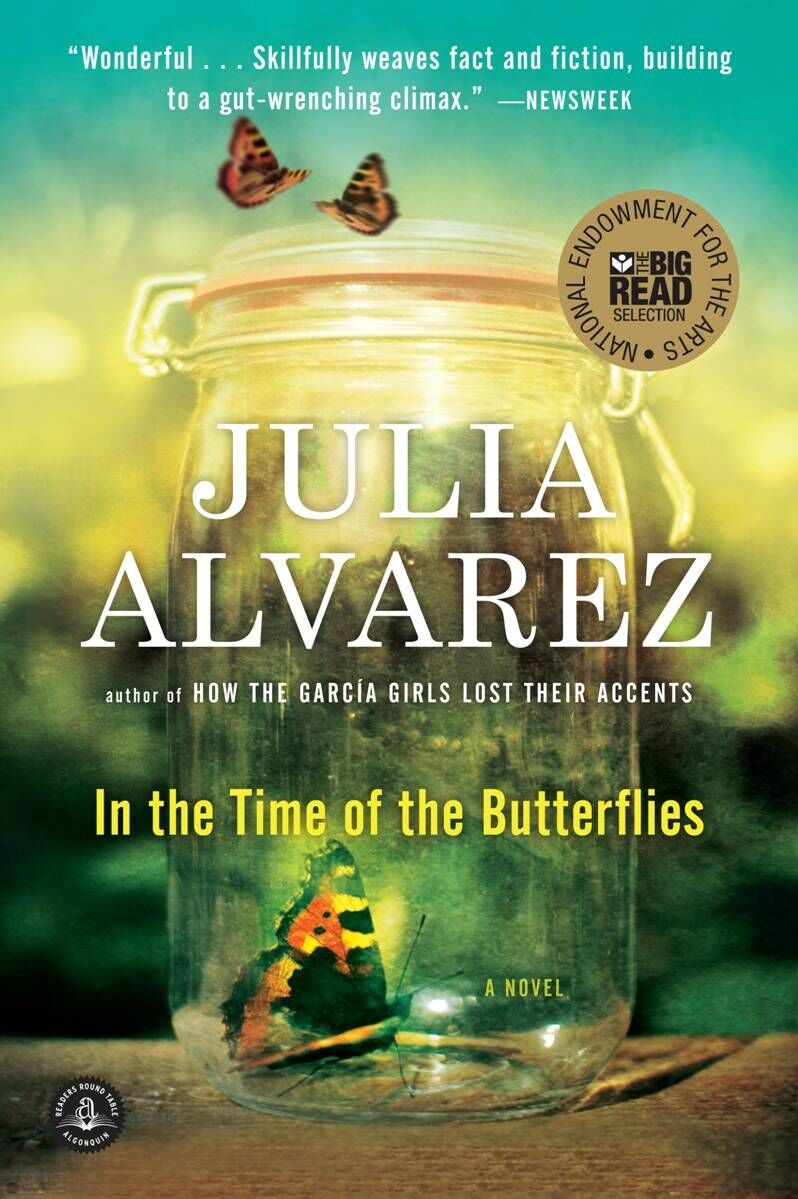 Overview
This title is no longer available for programming after the 2021-2022 grant year.
Julia Alvarez is a novelist, poet, essayist, National Endowment for the Arts creative writing fellow, and cofounder with her husband of a coffee farm and literacy center in the Dominican Republic, her home until she was ten. In the first 13 years of her adult life, she had over 15 addresses: she taught children in Kentucky, bilingual students in Delaware, and senior citizens in New Hampshire. She published her first novel at the age of 41 and has since gone on to receive an F. Scott Fitzgerald Award for Outstanding Achievement in American Literature, a Vermont Governor's Award for Excellence in the Arts, and a National Medal of Arts. Her second novel, In the Time of the Butterflies, is based on the real story of the four Mirabal sisters of the Dominican Republic, three of whom became symbols of resistance after being murdered at the order of the dictator Rafael Trujillo. "Rich in historical detail and immensely, hauntingly lyrical … [this novel is] as lovely as a butterfly at rest, and as moving as one in flight" (Burlington Free Press). Alvarez is "one of our national literary treasures" (The Oregonian).
"A novel is not, after all, a historical document, but a way to travel through the human heart." —postscript of In the Time of the Butterflies
Introduction
Julia Alvarez's In the Time of the Butterflies (1994) is a work of historical fiction based on the lives of the four Mirabal sisters, who participated in underground efforts to topple Rafael Leonidas Trujillo's three-decade-long dictatorial regime in the Dominican Republic. Three of the sisters—Patria, Minerva, and María Teresa—were slain on Trujillo's orders on November 25, 1960. Their story haunted Alvarez, whose own family had fled the Dominican Republic just three months earlier in fear that her father's participation in the resistance would make him a target of Trujillo.
The novel is both an homage to the bravery and sacrifice of the Mirabal family and a literary work of high grace. The first chapter begins in 1994 when a young Dominican-American writer, a gringa dominicana, visits the surviving sister, Dedé Mirabal, at the sisters' childhood home, which has been turned into a museum. Exhausted by the steady stream of pilgrims who have visited her in the thirty-four years since her sisters' deaths, Dedé reluctantly begins to tell the story of a family entwined with the political turmoil of their country.
In the body of the book, narrated in turn by each of the four sisters, Alvarez brings them to life, skillfully telling the story of four young girls who come of age wanting the same things most young women hope for: love, family, and freedom. Each of the sisters chooses to join the revolution in her own time—even Dedé, the one who lives to tell the tale and admits she only got involved "when it was already too late."
Scattered through the girls' stories are glimpses of a nation under siege, where the simplest liberties have been stripped away. We learn the details of the Butterflies' martyrdom slowly and, as it emerges from its chrysalis, readers find a story that spreads its wings, pauses to breathe the air of freedom, and gently takes flight.
Major Characters in the Book
Minerva Mirabal
Independent, outspoken Minerva is determined to get an education but, even after finishing law school, is prohibited by Trujillo from practicing. She is the first to join the revolution—la primera mariposa, the first Butterfly. Her husband Manolo is also a leader in the underground.
"They marveled at my self-control-and so did I. But by now in my life I should have known. Adversity was like a key in the lock for me."
María Teresa (Mate) Mirabal
María Teresa, young and naïve, communicates primarily through journal entries. She becomes aware of the underground after she questions Minerva about both the strange, coded language she uses and a crate of guns that is delivered to the house. She marries Leandro and both join the resistance.
"I've lost all interest in my studies. I just go to classes in order to keep my cover as a second-year architecture student. My true identity now is Mariposa (#2), waiting daily, hourly, for communications from up north."
Patria Mirabal
The eldest sister, Patria, toys with the idea of becoming a nun before falling in love at sixteen with Pedrito González, a handsome young farmer. She becomes involved with the underground after witnessing a battle in the mountains between government forces and anti-Trujillo rebels on the fourteenth of June, 1959.
"Coming down that mountain, I was a changed woman. I may have worn the same sweet face, but now I was carrying not just my child but that dead boy as well."
Dedé Mirabal
In the novel's opening chapter, Dedé's father foretells her future, saying, "She'll bury us all [. . .] in silk and pearls." Until after her sisters' deaths, Dedé obeys her husband Jaimito's orders not to get involved in the revolution.
"I see them all there in my memory, as still as statues, Mamá and Papá, and Minerva and Mate and Patria, and I'm thinking something is missing now. And I count them all twice before I realize—it's me, Dedé, it's me, the one who survived to tell the story."
The novel begins with a writer, "a gringa dominicana," visiting Dedé at the childhood home of the Mirabal sisters. Who or what is the primary focus of the first chapter? How does opening the narrative this way give structure to the book?
Discuss the novel as historical fiction. How much license may an author take in recreating past events, especially those so significant to a country's national identity? What can be gained by presenting the Mirabal sisters as characters in a novel, instead of simply telling the facts of their involvement in the revolution?
Most of the novel takes place from the 1930s to the 1960s in the Dominican Republic. What traits are considered appropriate for women living there at that time? Which women defy these social customs, and why?
Compare and contrast the personalities of the Mirabal sisters. In what ways are they alike? How do they differ?
Despite her anger over her father's infidelity, Minerva insists on meeting her half-sisters and insists after his death that they get the opportunity to have an education. Why do you think she does so?
What prompts Patria to become involved in the revolution? How does her commitment differ from Minerva's and María Teresa's?
Why does Dedé shy away from involvement with the underground? What does her reluctance tell us about her priorities in life? What does Dedé value most?
Each of the sisters has different motivations for her involvement in the underground and tolerates different amounts of risk. Discuss when each sister decides to become politically active. What specific event triggers each woman's decision?
The real-life Mirabal sisters are viewed as heroines and martyrs in the Dominican Republic. Discuss what makes a person a martyr. Is it necessary for martyrs to act heroically? How do the actions of the Mirabal sisters compare to other famous people who have died for important causes?
A Public Library Finds a Meaningful Soundtrack for In the Time of the Butterflies in Montclair, New Jersey
"Montclair has a vibrant music scene and live performances are usually well attended. The library used concerts as jumping off points to discuss the various themes of the novel. The first, a fandango music performance by a band featured on NPR, was part of our kick‐off event and we had nearly 70 attendees. The second was the inaugural concert in our new music series in partnership with Montclair State University (MSU). MSU guitar studies students performed Spanish guitars to coincide with our reading of In the Time of the Butterflies and Hispanic Heritage Month."
– from a report by the Montclair Public Library, an NEA Big Read grant recipient in FY 2014-15.
In the Time of the Butterflies Author Enchants Hundreds of Readers in DeKalb, Illinois
"The biggest draw was Julia Alvarez. She spoke of the Dominican Republic, her life, her family, and her art at DeKalb High School to an audience of 800 juniors and seniors, and gave a second presentation at DeKalb Public Library to 200 patrons. Many of our patrons commented on how Alvarez's words inspired them, with one patron saying that 'tonight, we were touched by greatness!'"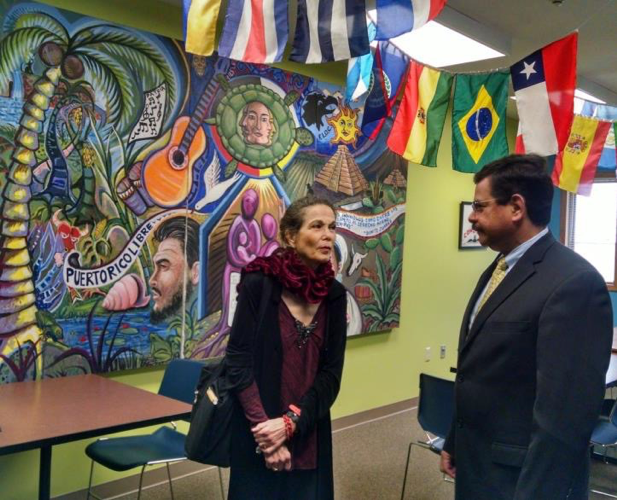 – from a report by DeKalb Public Library, an NEA grant recipient in FY 2015-16.
Author's Visit Boosts Readers' Passion About In the Time of the Butterflies in Lincroft, New Jersey
"[C]ommunity members formerly unfamiliar with Chhange came together to programs held at Brookdale Community College (BCC,) the libraries, Monmouth Museum, and Two River Theater. Community members had the opportunity to share their ideas on the themes from the book with others from across the county. BCC faculty remarked on increased motivation and participation from their students who were part of the Big Read, noting that their students evidenced greater willingness to read and comment, and enjoyed the opportunity to be part of a community of readers. Some faculty expressed to us that students who at first seemed indifferent to the book, reached a certain page or passage, and became very engaged in discussions and writing assignments. The essay contest provided BCC students with another vehicle in which to become engaged, share their thoughts, and become part of this exciting experience. Contest winners brought their friends and families into Chhange for the awards ceremony. One winner's mother was so inspired by her son's enthusiasm that she could not wait to borrow his copy of the book.
"By far, the most successful events were Chhange's 'Day with Julia Alvarez.' Chhange hosted a morning session for 600+ participants, most of whom were middle school students, who read Before We Were Free. Julia Alvarez spoke of the themes of the novel, many of which are shared by In the Time of the Butterflies. The students were extremely well-prepared, and at the end of the session, dozens of them lined up to ask questions. Later, Ms. Alvarez told us that their questions were some of the best she has ever been asked. The evening session was well attended by BCC students, high school students and community members. Ms. Alvarez spoke of her background, as well as her writing process. She inspired audiences with her account of the challenges she faced as a child, learning a new language, and discovering her love for writing. Her presentation with the Q&A was the pinnacle of the project. Ms. Alvarez was a genuinely warm, caring, lovely person who truly cared about her audiences and was humbled by the fact that so many read her books. We could not have been more thrilled by her visit."
– from a report by the Center for Holocaust, Human Rights & Genocide Education (Chhange,) an NEA Big Read grant recipient in FY 2014-15.
In the Time of the Butterflies Engages Refugees in Massillon, Ohio
Celebrating their tenth year of Big Read programming, Massillon Museum selected In the Time of the Butterflies to reach a new audience in their community: immigrants. "This year the Museum forged [a] new partnership with [the Immigrant Worker Project]…to reach the immigrant populations in our county and the surrounding counties. Alvarez's personal background escaping the violence of her country rose awareness of local people's plights. The Museum and its partner, Walsh University, held two panel discussions with refugees who told their stories of escaping violence in their countries of origin, and explaining their decision to settle in Ohio. Because of the partnership with IWP, Massillon Museum staff developed a deeper understanding of the needs of the 800 refugees living in a single neighborhood in our city of 30,000."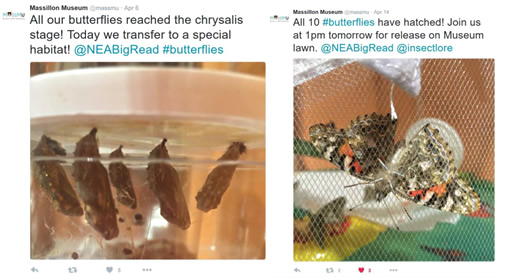 "The community was touched by Alvarez's keynote address and her warm persona. After her lecture and question/answer section, a large line assembled to talk with Alvarez during the book signing; she wrote a personalized message in each book. Three students of an ESL teacher told Alvarez that her book, Before We Were Free (which the Museum purchased for ESL groups for the Big Read), was the first book in English they had ever read. Their teacher said 'the author talk made a huge impression on these students.'"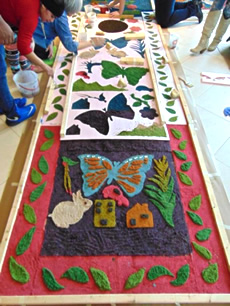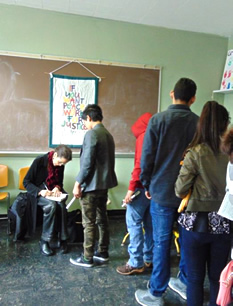 – from a report by the Massillon Museum, an NEA Big Read grant recipient in FY 2015-16.