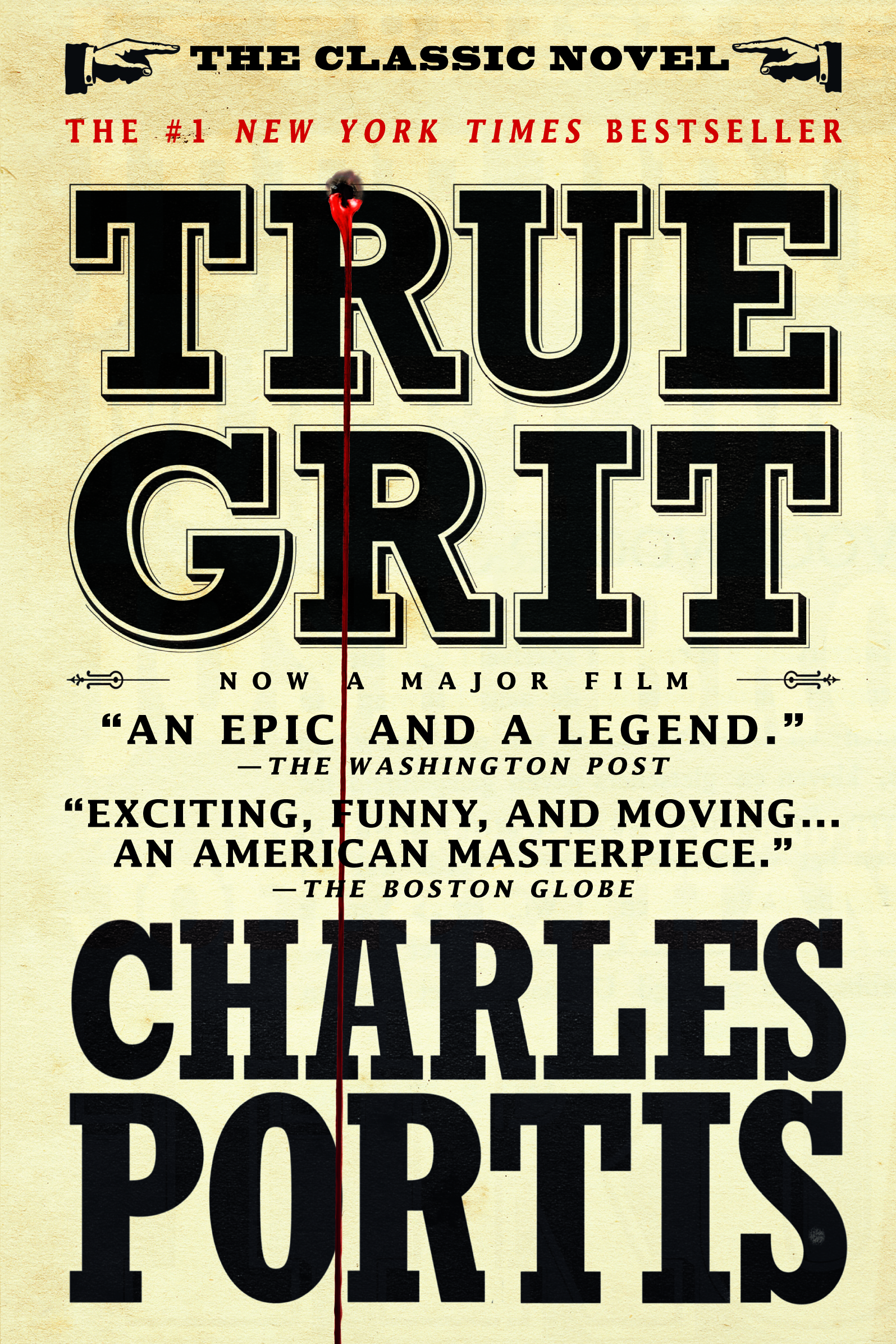 Overview
This title will no longer be available for programming after the 2020-21 grant year.
"True Grit is one of the great American novels, with two of the greatest characters in our literature and a story worthy of their greatness," writes Newsweek about this rousing Western adventure tale that has inspired two award-winning films. Called an "epic and a legend" (The New York Times Book Review) and "a comic tour de force" (The Washington Post), the novel tells the story of a 14-year-old girl from Arkansas in the latter part of the 19th century who recruits a one-eyed marshal to help her avenge the murder of her father; the two set out during a hard winter across untamed territory to find the drifter who killed him. Published in 1968 as a serial in the Saturday Evening Post, the novel is the fifth and most famous one by Charles Portis, a native of Arkansas who served in the Marine Corps during the Korean War, was the London bureau chief of the New York Herald-Tribune, and was a writer for The New Yorker. "Do yourself two favors: read the novel before you see the movie. You won't regret it," writes Newsweek. "As for the second favor: do not loan this book out. You'll never see it again."
"I have never been one to flinch or crawfish when faced with an unpleasant task." —from True Grit
Introduction
In the first line of True Grit, Charles Portis introduces the reader to the engaging voice of Mattie Ross, narrating from old age the great adventure of her life: "People do not give it credence that a fourteen-year-old girl could leave home and go off in the wintertime to avenge her father's blood but it did not seem so strange then, although I will say it did not happen every day."
In language straightforward but strongly her own, full of feeling but unsentimental, she goes on to relate the tale of her search for her father's murderer, "a coward going by the name of Tom Chaney," during a hard winter across the "Choctaw Nation" in the last quarter of the nineteenth century. To aid her in her quest, she seeks a man with a quality she calls "true grit" and thinks she finds him in Rooster Cogburn, a shabby and overweight but affable federal marshal. Also seeking Chaney, for other crimes, is LaBoeuf, a proud, young Texas Ranger, who enters into a sometimes uneasy partnership with the pair.
As the three track the killer across the still-untamed territory, they find themselves challenged by the landscape and its natural perils, by the deadly enemies they face, and ultimately by one another and their own fears.
Portis vividly recreates the roughness of an America that is barely a hundred years old and still deciding what kind of country it will be. A portrait of a specific time, it nevertheless exudes a mythic timelessness. In his unforgettable characters, he explores the meaning of friendship, courage, and fidelity to a moral code. Even as he plumbs these broad themes, the action never flags and the tale bristles with humor.
In the near half-century since it was first published, readers of all ages—including Portis's fellow writers, who admire the craft as much as the rousing story—have come to treasure it as a classic, not just of the Western genre but in all of American literature.
Major Characters in the Book
Mattie Ross
Raised on a farm in Yell County, Arkansas, Mattie is resolute and resourceful in seeking justice for the murder of her father. Headstrong, independent, and witty, Mattie—even at fourteen—insists on eventually facing down Tom Chaney herself, carrying her father's "Colt's dragoon" to kill him even if the law would fail to do so.
Reuben J. "Rooster" Cogburn
A former Confederate soldier, Rooster has become a federal marshal who patrols the Indian Territory. Prone to drinking bouts and the administration of his own brand of justice that some consider "pitiless," he is employed by Mattie to track down her father's murderer.
LaBoeuf
Proud, handsome, and something of a dandy in his "clanking" spurs, the Texas Ranger is seeking Tom Chaney for the murder of a Texas state senator. He clashes with Rooster over their differing approaches to the pursuit and suffers Rooster's antipathy toward the Rangers.
Tom Chaney
An itinerant hired man on Frank Ross's farm, Chaney kills and robs his employer on a trip to Fort Smith to buy horses and then flees to the Indian Territory. He is distinguished by a black mark on his cheek, which he received after a man shot him in the face, lodging gunpowder under his skin.
Lucky Ned Pepper
Long sought by Rooster and earlier wounded by him in the lip, Pepper heads a band of outlaws, which Tom Chaney joins after killing Frank Ross.
Little Blackie
The spirited pony carries Mattie, who calls him her "chum," over the Winding Stair Mountains on the quest to find Tom Chaney and eventually plays a crucial
role in her very survival.
"We loped across open prairies and climbed wooded limestone hills and made our way through brushy bottoms and icy streams. Much of the snow melted under the sun but as the long shadows of dusk descended in all their purple loveliness, the temperature did likewise. We were very warm from our exertions and the chill night air felt good at first, but then it became uncomfortable as we slowed our pace."
—Mattie Ross in True Grit
Mattie says that she is looking for a man with "true grit" to avenge her father's death. When given a choice of marshals, including one who is "straight as a string" as opposed to Rooster, who is the "meanest," why does she choose Rooster? How do you think she would define the quality of "true grit"?
What evidence can we find that Mattie won't abide mistreatment of anyone because of his or her background? What prejudices does she admit to?
Though Mattie often seems very mature, self-assured, and tough for age fourteen, in what scenes do we see her react in a way more like a person her age?
Rooster admits to killing and stealing and is portrayed as a drunkard. Why does Mattie, an upright and moral Christian, have such affection and admiration for him? Does this reveal a contradiction in her moral code?
Do you think Mattie's account of her adventure, as she looks back at her actions from a time decades later, is an accurate one? Why or why not?
At many points during the action, Mattie, Rooster, and LaBoeuf all "stretch the blanket," exaggerating or lying under certain circumstances. In which situations does the lying seem justified? Do any of these instances of lying or exaggeration change your impressions of the characters?
In what ways are LaBoeuf and Rooster similar in their personalities and in their beliefs about what is right and wrong? In what ways are they different?
There's an old proverb proclaiming that there is sometimes "honor among thieves." In what ways do the outlaws and bandits encountered in the book by Mattie, Rooster, and LaBoeuf display a code of conduct that argues that they're not purely evil?
The language of the book is vivid and colorful, yet often unfamiliar. How does Portis keep the characters' dialogue authentic to the historical period but make it accessible to a contemporary reader?
Near the end of the book, when Mattie encounters the elderly outlaws Frank James and Cole Younger at a "Wild West" show, she is polite to Younger but says to James, "Keep your seat, trash!" Why does she view them differently and what does it say about her memory of her adventure?
Topeka Shawnee County Public Library's Poster for a Lecture on Age and Heroism in True Grit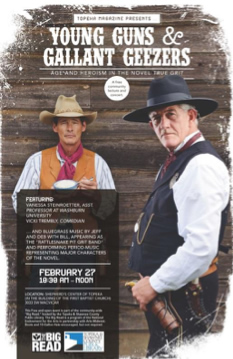 - from a final report by the Topeka Shawnee County Public Library, an NEA Big Read grant recipient in FY 2014-15.
True Grit Inspires an Array of Family-Friendly Programming in Attleboro, Massachusetts
"Our launch event, 'Readin', Ridin', and Ropin', evolved from original plans utilizing stick horses and geared toward young children and families, to one with real horses and activities for all age groups. In an hour and a half segment we had over 300 individuals, mostly as family units, test their "grit" at horseshoes, a haystack maze, riding ponies, making paper marshal badges, as well as having their picture taken in our cowboy cutout and picking up a copy of the book and Reader's Guides. Three City Councilors and our own 'Rooster' unexpectedly provided entertainment with a rousing round of horseshoes. One young teen cowpoke had recently expressed an interest in roping and eagerly waited out the two weeks advance notice to test his skills with local 4-H teens.
"'Horse Sense,' our kickoff art event, included some marvelous depictions of horses, including a nearly life size puppet replica with a head that could be manipulated in very lifelike horse movements. The original graphic for our publicity campaign was purchased by our keynote speaker, Jay Jennings, who planned to show the drawing to Charles Portis. Greenlock Therapeutic Riding Center was pleased for the attention given to the symbiosis between rider and horse with a highlight of the work the center accomplishes with individuals experiencing physical, developmental, and emotional differences. We were pleased to have the Mayor speak and participate in the event and to have two Providence horse patrol officers with their horses attend and greet people as they entered the Museum.
"The Oak Knoll Campfire Adventure, with assistance from local boy and girl scouts, was a great success. The night was perfect for such an event. Staff members from Oak Knoll were pleased with the turnout - which again, was mostly families. The Council on Aging writers groups worked on several original pieces of poetry and short stories with a western theme. Movie showings, one for each version, had attendance ranging from 15-21. The square dance was able to coax some individuals into trying their 'feet' at a few different styles in western repertoire. Our snake education program, again for families, truly brought out those with enough grit to be in the presence of the snakes from our local zoo."
– from a report by the Attleboro Public Library, an NEA Big Read grant recipient in FY 2013-14.
A Dutch Oven Cooking Contest Celebrates True Grit in Wallowa County, Oregon
"Western author and Fishtrap Advisor Molly Gloss gave a lecture at the Tomas Center in Enterprise about the role of women in literature of the West, sponsored in part by our local chapter of the American Association of University Women (AAUW). A favorite among our participants, Gloss's lecture also opened the eyes of many participants to the 'myth of the West,' something that was of particular interest in this community.
"We hosted a two-part event in Wallowa featuring lectures by both Joe McCormack and Paul VanDevelder. The first part of the event took place at the Wallowa Band of the Nez Perce Interpretive Center. A discussion was led by tribe member Joe McCormack about the history of the Nez Perce in Wallowa County and attendees enjoyed authentic Native American fry bread. After this introduction, participants crossed the street to the Wallowa Community Center to hear Paul VanDevelder, author of Savages and Scoundrels: The Untold Story of America's Road to Empire through Indian Territory, give a lecture that provided context for the time in which Mattie lived and the kinds of prejudices, historical events, and attitudes toward Native Americans that would have been prevalent at the time True Grit took place. VanDevelder discussed the specific histories that Mattie would have been aware of – the Treaty of Horse Creek, Fort Smith's importance, and others.
"We hosted an afternoon of camp food and drink in Joseph, starting with a whiskey tasting and tour of Stein Distillery and concluding with a cooking demonstration and tasting of food cooked in authentic trail cooking style, using Dutch oven pots. Janie Tippett - a long-time rancher, and veteran trail cook for cowboys trailing cattle - and her granddaughter, Adele Nash - who with her mother run their own ranch in the county - prepared the food, provided recipes, and answered questions from an enthusiastic audience of over 30 people who enjoyed sampling the fare. Participants were thrilled to add new recipes to their repertoire and to learn more about traditional trail cooking.
"In the fifth week of our Big Read, we hosted The Battle of the Books at Enterprise High School, which engaged both students from all three schools districts and adults to form teams to competing to show their knowledge of True Grit and the companion book, The Ballad of Lucy Whipple. The event gave us the opportunity to connect with our students while encouraging adults to engage in friendly competition as well (team names included 'Rooster's Chicks' and 'Where's La Boeuf?').
"For our Big Read Finale, we hosted Western storyteller Rick Steber. [W]e featured a Dutch-oven cooking contest and potluck. Period music entertained the audience, and Mr. Steber wowed us with his tall tales and true grit experiences."
- from a report by Fishtrap, Inc., an NEA Big Read grant recipient in FY 2013-14.
Inmates Look Beyond Their Bars With True Grit in Sheboygan, WI
"Inmates of Sheboygan County are thankful to have been included in the NEA Big Read presented by Mead Public Library. During the afternoons of September 27th through the 29th, 2016, Lakeshore Technical College (LTC) Correctional Educator facilitated group discussions on the 1968 novel True Grit by Charles Portis. A diverse group of 12 adult males ranging in age from 19 to 55 with most in their twenties and thirties participated in discussions which included reading aloud, writing responses, practicing public speaking, and actively listening to their peers. Learning activities included exploring historical and literary context of the story's setting and the author's life, examining biographical information about the author, identifying with a character and providing support for that choice, expanding vocabulary, examining where the films based on the book fit into the genre of western film, and comparing/contrasting the novel to the film(s). Additionally, each participant reflected first in writing and then explained aloud to the group how he personally defines 'true grit.' Consensus was experienced in that true grit or relentless determination is essential upon release from jail to experience the shared goal of successful re-entry into our community."
– from a final report by the Mead Public Library, an NEA Big Read grant recipient in FY 2015-16.