NEA Chairman Rocco Landesman Announces Inaugural Our Town Grants
Washington, DC - Today, the National Endowment for the Arts (NEA) announced the inaugural round of "Our Town" funding, totaling $6.575 million in grants to 51 communities in 34 states that have created public-private partnerships to strengthen the arts while shaping the social, physical, and economic characters of their neighborhoods, towns, cities, and regions. NEA Chairman Rocco Landesman made the announcement during an online press conference.
Chairman Landesman said, "Communities across our country are investing in the arts and smart design to enhance Americans' quality of life and to promote the distinctive identities of our communities. Our Town creates partnerships among local governments and arts and design organizations to strengthen the creative sector and help revitalize the overall community."
NEA's Director of Design Jason Schupbach noted, "Creative placemaking is a strategy for making places vibrant. Arts and design are essential parts of the complex work of building a livable, sustainable community."
Our Town grants range from $25,000 to $250,000 and represent a range of rural, suburban, and urban communities with populations ranging from just over 2,000 people to more than 8.2 million people. More than half of the Our Town grants were awarded to communities with a population of less than 200,000, and seven to communities of fewer than 25,000 people. Grants were awarded for planning, design, and arts engagement projects that strengthen arts organizations while increasing the livability of communities across America.
By requiring a partnership between local government and an arts or design organization, Our Town encourages creative, cross sector solutions to the challenges facing towns, cities, and the arts community.
Examples of projects receiving Our Town grants:
East Bay Center for the Performing Arts in Richmond, California, will receive $150,000 to support the commissioning of an interactive art installation by new media artist Scott Snibbe, which will feature professionally choreographed and video-recorded movements of Richmond youth, reflecting both the diversity of the local population and the multicultural dance, rhythm, and performance programs taught and performed at the Center.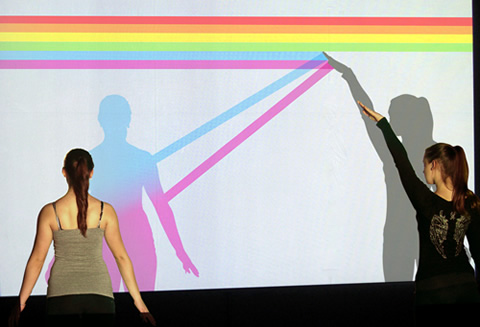 ArtPrize in Grand Rapids, Michigan will receive $100,000 to support
its annual competition, which invites applications from artists from around the world to compete to exhibit their work in museums, businesses, restaurants, stores, parks, and other existing spaces within a three-square-mile area of Grand Rapids during a free, two-week festival.
The City of Wilson, North Carolina will receive $250,000 to support the repair and conservation of internationally recognized artist Vollis Simpson's original large-scale "Whirligigs," which are kinetic sculptures. The project will serve as a national model by generating new employment and training opportunities associated with the conservation of these vernacular artworks.
Ballroom Marfa in Marfa, Texas, will receive $250,000 to support a multi-stage improvement plan for Vizcaino County Park, which is on several acres of scenic desert on the northeastern edge of town. The park will be a permanent home for Marfa's "Drive-In," a new outdoor venue for music, film, and performing arts.
Wormfarm Institute in Reedsburg, Wisconsin, will receive $50,000 to support the planning, piloting, and evaluation of their "Farm/Art D-Tour." Guided and self-led tours will take place along rural roads in northern Sauk County, Wisconsin, featuring farm-based, ephemeral art installations and performances; artist-designed-and-built mobile farm stands; and interpretative signage about rural culture and the local arts, food, and farming communities.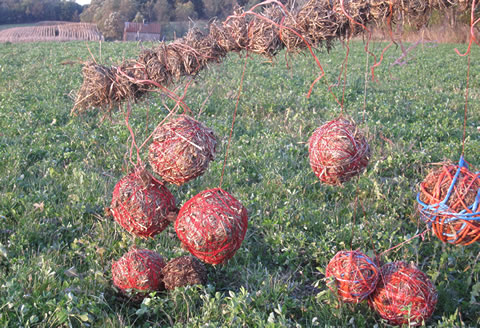 See the complete listing of Our Town grants.
On July 12th, NEA Chairman Rocco Landesman and NEA Design Director Jason Schupbach hosted a webinar announcing the inaugural round of Our Town grants. The webinar has been archived and is now available.
Our Town builds on the NEA's 25-year history of investment in creative placemaking, which has included:
The Mayors' Institute on City Design®, run in partnership with the American Architectural Foundation and the U.S. Conference of Mayors, which connects mayors and design professionals to tackle communities' most pressing design challenges.
The MICD 25th Anniversary Initiative, for which 21 grants totaling $3 million were announced in July 2010. The grants focused in four specific areas: reuse of abandoned space, commissioning public art, cultural district planning, and new ways of designing infrastructure.
Your Town: The Citizens' Institute on Rural Design, managed in partnership with the faculty of Landscape Architecture at SUNY Syracuse, which provides local leaders in rural areas the tools they need to wisely direct the physical growth of their communities.
A panel discussion on creative placemaking, held in September 2010, that examined the role of the arts and the creative community in creating livable, sustainable communities. Participants included Richard Florida, Author, The Great Reset andThe Rise of the Creative Class; Tim Jones, President & CEO, Toronto Artscape; Rick Lowe, Founder, Project Row Houses, Houston, Texas; and Ann Markusen, Professor and Director, Project on Regional and Industrial Economics at the University of Minnesota's Humphrey Institute of Public Affairs.
Creative Placemaking, a white paper by Ann Markusen and Anne Gadwa that summarizes two decades of creative placemaking in the U.S., drawing on original economic research and case studies of path-breaking initiatives in communities of all sizes.
Live from Your Neighborhood: A National Study of Outdoor Arts Festivals, an NEA report that examines the range and variety of arts festivals in the U.S., the artists they employ, the communities they serve, and the roles they play in shaping our cities, towns, and neighborhoods.
The National Endowment for the Arts was established by Congress in 1965 as an independent agency of the federal government. To date, the NEA has awarded more than $4 billion to support artistic excellence, creativity, and innovation for the benefit of individuals and communities. The NEA extends its work through partnerships with state arts agencies, local leaders, other federal agencies, and the philanthropic sector. For more information, go to arts.gov.
Contact
Media Contact:
Victoria Hutter
202-682-5692
hutterv@arts.gov
Program Contact:
Jamie Hand
202-682-5566
hand@arts.gov