National Endowment for the Arts Announces 2013 Our Town Grant Recipients
Washington, DC -- The National Endowment for the Arts marks another investment in creative placemaking with a third year of funding through the Our Town program. Acting Chairman Joan Shigekawa announced that the NEA plans to award 59 grants (pdf) in 36 states totaling $4.725 million to fund projects that engage the arts to help shape the social, physical, and economic character of communities. Since the Our Town program's inception in 2011, the NEA has supported 190 projects totaling more than $16 million in all 50 states and the District of Columbia.
Through Our Town, the NEA supports creative placemaking projects that help transform communities into lively, beautiful, and sustainable places with the arts at their core. Projects encourage creative activity, develop community identity and a sense of place, and help revitalize local economies. All Our Town grant awards are made to partnerships that consist of at least one nonprofit organization and a local government entity.
"This is an exciting time to announce the Our Town grants as a national conversation around creative placemaking advances and deepens," said NEA Acting Chairman Joan Shigekawa. "The NEA leads on this topic not only through our funding but through webinars, publications, and research. With these resources, we will help to ensure that the field of creative placemaking continues to mature, enhancing the quality of life for communities across the country."
"This pool of Our Town investments exemplifies the dedication of the creative people of America to partnering in the development of their communities," said NEA Director of Design Programs Jason Schupbach. "Through a diverse array of projects, artists and designers will not only create great art, but will also work across silos in making lively, beautiful, and sustainable places."
KEY FACTS
Project Types: This year's recommended Our Town grants represent a spectrum of types that fall into two broad areas: arts engagement, and design and cultural planning. 
Arts engagement projects are centered on artistic production or programming, such as public art and festivals, that foster interaction among community members or are designed to activate existing cultural assets.
Design and cultural planning projects can help develop local support systems necessary for creative placemaking to succeed. Planning projects include master planning for cultural districts, asset mapping, and creative entrepreneurship. Design projects include the design of artist spaces, cultural facilities, and public spaces.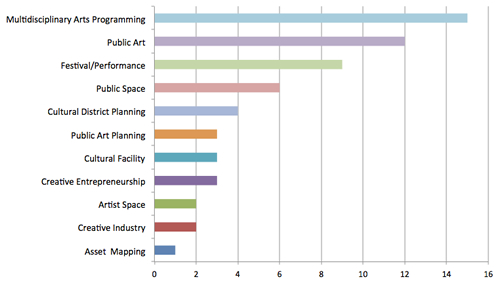 Population: Creative placemaking continues to be an effective development tool for communities of all sizes with 35 of the 59 projects sited in communities of less than 100,000 people. Among the many rural projects are seven first-time grantees all of which have populations under 5,000. Those are:
City of Lanesboro (MN): population, 754
Town of Columbus (NC): 999
City of Tieton (WA): 1,211
Town of Ashfield (MA): 1,800
City of Jenkins (KY): 2,401
Town of Madawaska (ME): 4,534
City of Leland (MS): 4,500
For the first time this year, two rural projects--one in the mountains of Virginia (Barter Theatre) and another on the Canadian border of Maine (Musée Culturel du Mont-Carmel)--feature several small towns collaborating to work on creative placemaking projects together.
Discipline: Project diversity extends across artistic disciplines from opera to digital media to folk art, with all 14 of the NEA's arts disciplines and fields represented in the grants. Not including the lead partners, 147 arts partners are involved in these Our Town projects including 33 local arts agencies and six state arts agencies.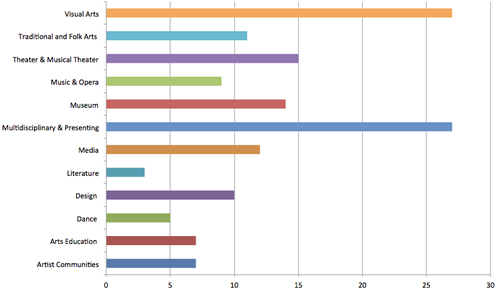 Partnerships: Bringing together diverse partners that are deeply engaged in their community allows project participants to leverage the size, scope, and sustainability of their work. Not including the required two partners per project, 439 additional partners are participating in the 59 recommended grants. These partners include shopping malls, banks, boys and girls clubs, cable and electrical companies, and government departments in agriculture, housing, transportation, environment, among others.
Ethnic diversity: Noteworthy this year are the number of grants designed to engage diverse ethnic groups including Hispanic, African-American, Native-American, and Asian populations. Examples are:
The City of San Jose (CA), in partnership with Movimiento de Arte y Cultura Latino Americano, is recommended for a $200,000 grant to create an illuminated public art wayfinding system, a Pop-up Tienda, and an event series. 
The Arlington County's Cultural Affairs Division (VA), in partnership with the Arlington Community Foundation, is recommended for a $75,000 grant to revitalize Nauck Town Square as part of an effort to preserve the historic African-American character of the surrounding neighborhood.
OUR TOWN PROJECT EXAMPLES
The NEA received 254 eligible Our Town applications which were reviewed in one of five panels featuring a total of 25 outside experts and lay people as panelists. Two panels reviewed applications from non-metro and tribal communities, and three panels reviewed projects from metropolitan communities to ensure that small towns were competing against each other, not with larger and often better-resourced cities. (The NEA's Office of Research and Analysis determined non-metropolitan status by both population size and proximity to a metropolitan area.) Applications and panels were further organized by project type. See complete descriptions for the following and all projects.
Non-metropolitan and Tribal Projects
North Dakota Museum of Art
Lead partner: Cankdeska Cikana Community College  Grand Forks, ND
A $150,000 grant will support planning for a new community arts center on the Spirit Lake Sioux Reservation, including the commission and exhibition of 20th- and 21st-century American-Indian art. The North Dakota Museum of Art and Cankdeska Cikana Community College will work with consultant Artspace Projects to identify space on the campus in Fort Totten, North Dakota, to include a gallery, design studio, artist workshops, live/work studio apartments, and sales opportunities for Native artists.
Tieton Arts & Humanities
Lead partner: City of Tieton Tieton, WA
A $50,000 grant will support the Tieton Mosaic Project, including mosaic installations, an artisan apprenticeship program, and student workshops. Local residents will be selected and trained as apprentices to produce and install mosaic signs and designs on public buildings and civic spaces. The project will establish a bold visual identity for the city and an artisan training program for residents to acquire skills in mosaic making.
Metropolitan: Design and Cultural Planning Projects
City of Fresno, California
Lead partner: Fresno Art Museum A $150,000 grant will support the Mariposa Plaza Activation Project. Project activities include a historically sensitive redesign of Mariposa Plaza to accommodate performance art, cultural gatherings, and a new interactive sculpture commissioned via a national call for artists. The project is expected to better integrate the plaza into the robust collection of public art works along Fulton Mall as well as new high-speed rail and bus rapid transit stations being built less than two blocks away.
Bloomington Theatre and Art Center
Lead partner: City of Bloomington Bloomington, MN
A $100,000 grant will support Terra Nova: Artful Development of Bloomington's South Loop. The project will comprise the development of a public art plan and the commission, promotion, and evaluation of temporary public art projects and installations by artists of regional and national significance. The South Loop is a 2,300-acre district adjacent to the cities of Minneapolis and St. Paul, and is home to the Mall of America, the Minnesota Valley National Wildlife Refuge, a residential neighborhood, and nearly 900 developable acres.
Metropolitan: Arts Engagement Projects
Hawaii Alliance for Arts in Education
Lead partner: City and County of Honolulu Honolulu, HI
A $100,000 grant will support Pow Wow Hawai'i, a mural festival and associated arts education activities throughout Honolulu's industrial Kaka'ako district. The festival will bring more than 40 international and mainland artists to Hawai'i to collaborate with local artists on large-scale murals in vacant and underutilized spaces throughout the district. Local students and indigenous and immigrant youth will be invited to participate in the mural creation process. Related tours and panel discussions will feature the visiting artists and introduce Hawai'i visitors, residents, and students to diverse global artistic processes.
Nashville Opera Association
Lead Partner: Metropolitan Government of Nashville & Davidson County Nashville, TN                                                                                               
A $100,000 grant will support the Music City Opera Project, a series of public opera programs performed in non-traditional settings throughout Nashville. The project will engage, via an open competition, songwriters, composers, arrangers, and lyricists/librettists to create new opera works. Finalists will be commissioned to produce or perform their work in unexpected venues such as The Woods Amphitheatre at Fontanel and well-known honky-tonk and country music destinations in downtown Nashville and throughout the city.
E-STORYBOOK
The nonprofit arts community has regularly asked the NEA for more information on how to do creative placemaking successfully and for ready access to an easy-to-search resource on best practices. In response to these requests, the NEA is creating an e-storybook featuring case studies and lessons learned from 75 of the agency's initial 152 investments in creative placemaking.
The e-storybook will be an online resource, launching in 2014. It is being produced by a multidisciplinary team of researchers (Go Collaborative), a writer (Alec Applebaum), a videographer (Deborah Lewis of Legge Lewis Legge), interactive designers (Electric Fun Stuff), and a graphic design and infographics studio (Hyperakt). 
2014 GUIDELINES
Applications and guidelines for Our Town 2014 will be available at arts.gov in September 2013 with a deadline of early January 2014.
The Twitter hashtag for the program is #NEAOurTown13.
All information in this release is current as of July 17, 2013.
GRANT ANNOUNCEMENT FAST FACTS
Twitter: #NEAOurTown13
Number of eligible applications: 254
Number of grants recommended from pool of applications: 59
Total dollars to be awarded for grants: $4.725 million
Number of reviewing panelists: 25
Range of amount of grants recommended: $25,000 - $200,000 with a median of $50,000
Number of art partners (not including the required two leads): 147
Number of arts agencies: 33 local arts agencies and six state arts agencies
Total number of partners (not including the required two leads): 439
Examples of non-arts partners:
Economic development organizations or departments: 28 partners such as Maine Office of Economic and Community Development and Downtown Providence Improvement District
Banks: Wells Fargo Foundation and Sovereign Bank
Boys and Girls Clubs: 3 in the Boston area and one in Lawrence, Kansas
Government departments and agencies:
Agriculture: 5 partners such as Wisconsin USDA Rural Development
Environmental: 10 partners such as Albuquerque Metropolitan Arroyo Flood Control Authority (NM)
Housing: 5 partners such as the Perth Amboy Housing Authority (NJ)
Transportation: 5 partners such as the Maryland State Highway Administration
Other: shopping malls, Comcast, PEPCO, The Boston Globe, Univision, and the Organic Valley food company
Contact
For media inquiries:
Victoria Hutter
hutterv@arts.gov
202.682.5570