Reed, NEA Chairman Jane Chu, & Leading Arts Advocates Tour "Art Works" RI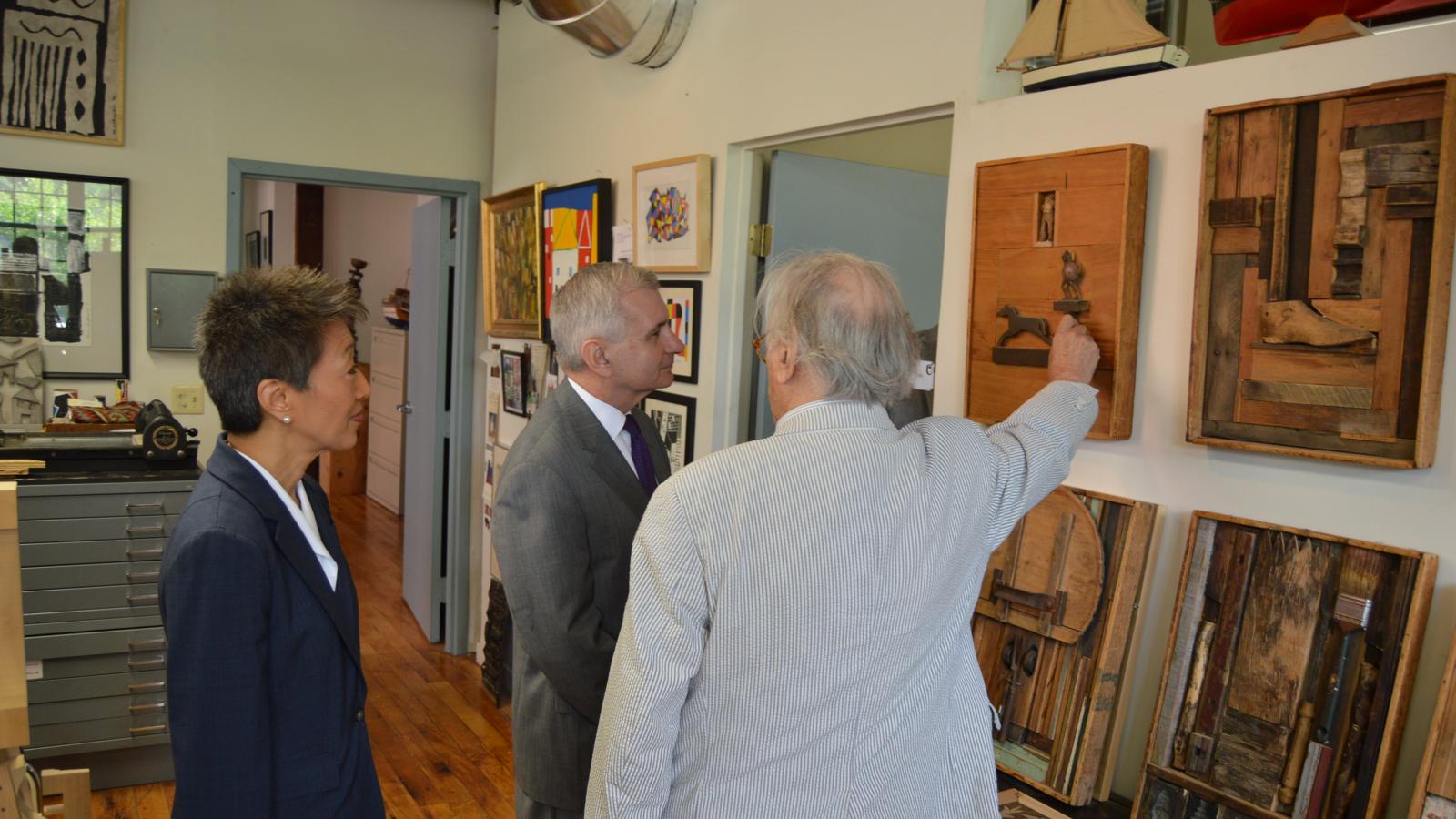 PAWTUCKET, RI – For her first official trip as head of the National Endowment for the Arts (NEA), Chairman Jane Chu went to a place where the concept of the NEA was born: Rhode Island. In 1965, former U.S. Senator Claiborne Pell (D-RI) was a driving force behind the establishment of the NEA, and today, U.S. Senator Jack Reed (D-RI) chairs the Appropriations subcommittee that oversees the NEA and federal arts funding. Together with the NEA, and Rhode Island artists and organizations, Reed has helped to direct $3 million for 35 federal grants from 2012 – 2014.
Today, Reed led Chairman Chu through the cities of Pawtucket, Providence, and East Providence, where they were joined by members of the Congressional delegation, state and city officials, representatives from nonprofit organizations, and local artists for an "Art Works" tour of Rhode Island, focusing on how the state and communities are capitalizing on culture and utilizing public art and arts education to enhance neighborhoods and the local economy.
"Chairman Chu has made building stronger communities and boosting economic growth through arts and cultural engagement a national priority. It is an honor and privilege to welcome her to Rhode Island for her first official visit as the head of the NEA. Today's tour will help highlight Rhode Island's arts and design scene on a national stage," said U.S. Senator Jack Reed, the chairman of the Appropriations Subcommittee on Interior & Environment, who has led efforts in Congress to support NEA funding. "Arts and culture are crucial to our state's economy and the quality of life for all Rhode Islanders.  The NEA has been a critical partner in investing in creativity and innovation here in Rhode Island. NEA-supported projects have helped local artists showcase their talents and given more people of all ages an opportunity to enjoy the arts, enriching our communities and paying cultural and economic dividends."
Reed noted the arts are also a significant economic driver for the Ocean State. The Rhode Island State Council on the Arts (RISCA) estimates more than 25,000 Rhode Islanders are employed in the state's creative sector. According to an analysis done by the NEA, each dollar invested directly through the agency is matched by up to $10 in additional investment, and more than 380 Rhode Island workers benefitted from NEA grants in the last fiscal year.
The daughter of Chinese immigrants, Jane Chu was born in Oklahoma and raised in Arkansas. An accomplished pianist, Chairman Chu holds master's degrees in music and piano pedagogy from Southern Methodist University. Additionally, she holds a master's degree in business administration from Rockhurst University and a PhD in philanthropic studies from Indiana University. Prior to leading the NEA, Chu served as president and CEO of the Kauffman Center for the Performing Arts in Kansas City, Missouri. She was nominated by President Obama and unanimously confirmed by the U.S. Senate in June of 2014 as the 11th Chairman of the NEA.
"I want to thank Senator Reed for organizing this trip, and to the entire Congressional delegation for continuing Rhode Island's strong tradition of support for the NEA," said Chairman Jane Chu. "One of my goals at the NEA is to show the nation how the arts foster connection, value, and innovation. That's the power of the arts—they exist for the beauty itself and draw out our own feelings and emotions. They can connect us, they can weave communities together, and they can infuse our lives with a deeper sense of place and purpose. This is something that has been reaffirmed for me over and over again today as I witnessed just a small part of the incredible work that is taking place in Rhode Island. The arts are woven into the very fabric of society here—it's visible in your leadership, in your economic initiatives and education programs, and in the arts organizations and public artworks that thrive all over the state."
Reed and Chu's day-long agenda included meetings with representatives throughout the Rhode Island arts community, including local leaders, nonprofit organizations, and artists of many stripes. Their first stop, in Pawtucket, was a visit to the Exchange Street Bridge, which is under consideration to be enhanced by an NEA Our Town grant. They also stopped inside the revitalized Design Exchange mill building to visit with three tenants who represent some of Rhode Island's most innovative entrepreneurs, including Fuzion Design, LLB Architects, and Morris Nathanson's Art & Design Studio. While in Pawtucket, Reed and Chu also toured the nonprofit Sandra Feinstein-Gamm Theatre, which serves the public with educational outreach programming designed to support the theatrical experience, and has benefitted from state and federal arts grants throughout the years.
In July, Reed and other members of the Congressional delegation announced a $75,000 grant from the NEA to the City of Pawtucket to enable community artists to create public art installations on road overpasses connecting local neighborhoods to the City's downtown. The funding comes from the NEA's Our Town grant program, which seeks to make communities better places to live through dynamic, attractive, and sustainable works of public art. Under the program, neighborhoods plan art projects in collaboration with local government and arts organizations, and receive matching NEA funds to carry out their project.
Speaking about the proposed Exchange Street Bridge Project, Pawtucket Mayor Don Grebien said: "Winning one of these highly competitive NEA Our Town grants will allow the City of Pawtucket to tap into the wealth of artistic expertise surrounding us to enhance our transportation gateways in a visually appealing way. We are very grateful for the strong support the city's application received from our congressional delegation and look forward to producing a project of which everyone will be proud."
Showcasing Rhode Island's vibrant and growing design industry, Reed brought Chairman Chu to Providence, home of the world renowned Rhode Island School of Design (RISD). Next month, some of Rhode Island's estimated 2,000 designers and design-based businesses—ranging from graphics, industrial, architectural, landscape, Web design, and more—will gather in Providence for the first annual Design Week RI.  During the tour of RISD, Reed and Chu met with senior RISD leadership, faculty, and students for an up close look at some of the school's "maker spaces."  The group discussed the RISD-led "STEM to STEAM"  initiative, which aims to add Art and Design to the national agenda of STEM (Science, Technology, Engineering, Math) education and research in the United States, with the goal of fostering the innovation that comes with combining the mind of a scientist or technologist with that of an artist or designer.
"Welcoming Chairman Chu to Rhode Island School of Design gave us an opportunity to share our efforts to champion the STEAM movement and the value of an art and design education. RISD cultivates essential 21st-century competencies in our students through an immersive, hands-on education grounded in studio practice and "critical making"—learning with the hands, mind and heart. Our students bring creativity and fresh thinking to everything they do, and they are well-prepared to take on the complex challenges facing our economy and culture.  We join with Chairman Chu in advocating for the critical role of the arts in shaping America's future," said Rosanne Somerson, interim president of Rhode Island School of Design.
The day-long tour ended in East Providence at the Rhode Island Philharmonic Music School, where Chu was treated to brief student performances and had an opportunity to learn about the school's approach to lifelong engagement with music through comprehensive music education and community partnership programs taught by orchestra members and other faculty. While at the school, Chairman Chu met with recent Rhode Island recipients of NEA grants including representatives from Waterfire, Trinity Repertory Company, Community Musicworks, the RiverzEdge Arts Project in Woonsocket and AS220, among others. A meet and greet reception with Reed, Chu, and more than 130 members of the Rhode Island arts community-at-large followed.
"We're honored to be the first official trip of the new NEA chairman," said Randy Rosenbaum, Executive director of RI State Council on the Arts, who was instrumental in organizing the day's events. "Rhode Island is a great destination for the arts and we were proud to share some of what makes Rhode Island special with our new federal partner."
-end-
Contact
Chip Unruh (Reed), 202-224-4642
Jess Sarmiento/Liz Auclair (NEA), 202-682-5570