Blue Star Museums Offers Free Admission to Military Families at 2000+ Museums Nationwide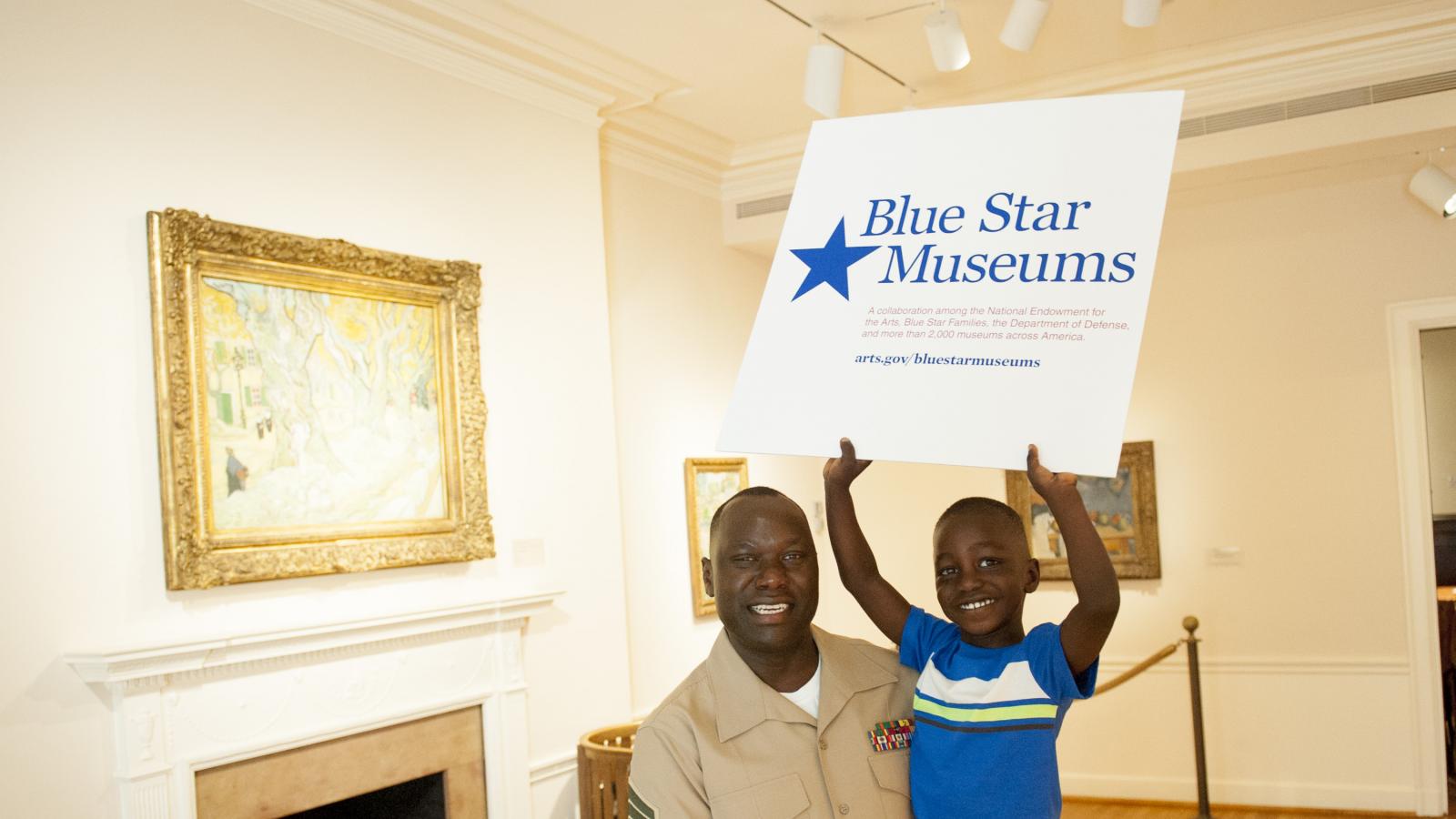 Washington, DC—Below the jewel-colored spring landscape by American artist Ernest Lawson that hangs in the Music Room of Washington, DC's Phillips Collection, military families and others gathered for the sixth annual launch of Blue Star Museums. A collaboration among the National Endowment for the Arts, Blue Star Families, the Department of Defense, and museums across America, Blue Star Museums offers free admission to the nation's service members, including National Guard and Reserve, and their families from Memorial Day through Labor Day 2015. This year, more than 2,000 museums in all 50 states, the District of Columbia, Puerto Rico, and American Samoa are taking part in the program. 
"We are very appreciative of our partnership between the National Endowment for the Arts and Blue Star Families and the U.S. Department of Defense," said NEA Chairman Jane Chu in her remarks at the event. "What a great way for the arts community to say thank you to our service members and their families for the sacrifices they make on our behalf, every day."
Noting that more than 700,000 service members and their families participated in the program last year, Kathy Roth-Douquet, CEO of Blue Star Families, said, "The response has been so far beyond anything we ever imagined it to be. Museum-going enhances resilience, it broadens your perspective, it opens your mind to beauty and ideas and things that you might not have known before."
Ellyn Dunford, spouse of General Joseph Dunford, commandant of the Marine Corps commented on the larger impact of the program saying, "The gift that you give us through Blue Star Museums and the additional exposure and education and experience that our military families gain is valuable for the whole country and the world because we share that as we go along."
"Blue Star Museums is critical," said Colonel Adam L. Rocke, special assistant to the chief of staff, Army and director, Soldier for Life Program. "It's critical to that healing process, that reintegration that we talk about when the wars are going down and we are reintegrating back into communities ..."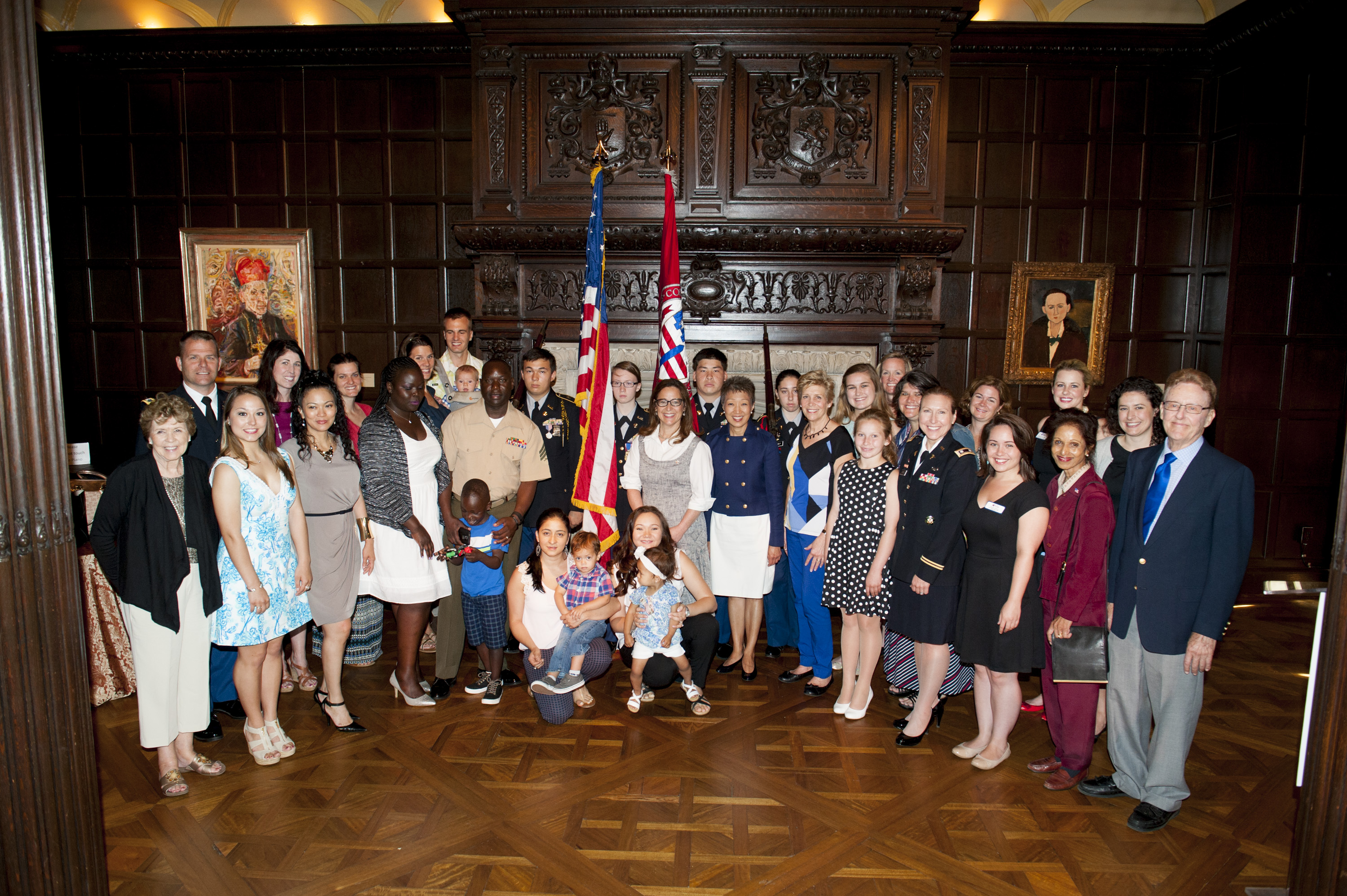 Following the remarks, participants joined a tour of the Phillips Collection, a Blue Star Museum since 2010. Guests stopped by masterpieces such as Vincent van Gogh's The Road Menders and Hilaire-Germain-Edgar Degas Dancers at the Barre.
This year's Blue Star Museums represent not just fine arts museums, but also science museums, history museums, nature centers, and dozens of children's museums. Among this year's new participants are the Museum of Contemporary Art in Jacksonville, Florida, the Duluth Children's Museum in Minnesota, the Space Station Museum in Novato, California, and the Lyon Arboretum at the University of Hawai'i at Mānoa. A list of participating museums is available at www.arts.gov/bluestarmuseums.
All summer long, Blue Star Museums will share stories through social media. Follow Blue Star Museums on Twitter @NEAarts and @BlueStarFamily, #bluestarmuseums, on Facebook, and read the NEA Art Works blog for weekly stories on participating museums and exhibits.
Museums are welcome to join Blue Star Museums throughout the summer. Interested museums may contact bluestarmuseums@arts.gov, or Wendy Clark at 202-682-5451.
Leadership support has been provided by MetLife Foundation through Blue Star Families. The effort to recruit museums has involved partnerships with the American Alliance of Museums, the Association of Art Museum Directors, the Association of Children's Museums, the American Association of State and Local History, and the Association of Science-Technology Centers. 
About Blue Star Museums
Blue Star Museums is a collaboration among the National Endowment for the Arts, Blue Star Families, the Department of Defense, and more than 2,000 museums across America. The program runs from Memorial Day, May 25, 2015 through Labor Day, September 7, 2015.
The free admission program is available to any bearer of a Geneva Convention common access card (CAC), a DD Form 1173 ID card (dependent ID), or a DD Form 1173-1 ID card, which includes active duty U.S. military - Army, Navy, Air Force, Marines, Coast Guard, as well as members of the National Guard and Reserve, U.S. Public Health Service Commissioned Corps, NOAA Commissioned Corps - and up to five family members.  Some special or limited-time museum exhibits may not be included in this free admission program. For questions on particular exhibits or museums, please contact the museum directly. To find participating museums and plan your trip, visit arts.gov/bluestarmuseums.
This is the latest NEA program to bring quality arts programs to the military community. Other NEA programs for the military have included the NEA/Walter Reed Healing Arts Partnership; Great American Voices Military Base Tour; and Shakespeare in American Communities Military Base Tour. 
About Blue Star Families
Blue Star Families (BSF) is a national, nonprofit network by and for military families from all ranks and services, including active duty, National Guard and reserves. As the largest and fastest growing military family engagement organization in the country, Blue Star Families forges extraordinary partnerships resulting in 1.5 million military family members served annually through programs and resources with 50 chapters at home and overseas. BSF has also activated more than 26 million hours of community service to build leaders within and strengthen the military community, and connected Americans with their military. To learn more about Blue Star Families' opportunities for service members, military families, and civilians, visit www.bluestarfam.org.
About the National Endowment for the Arts
Established by Congress in 1965, the NEA is the independent federal agency whose funding and support gives Americans the opportunity to participate in the arts, exercise their imaginations, and develop their creative capacities. Through partnerships with state arts agencies, local leaders, other federal agencies, and the philanthropic sector, the NEA supports arts learning, affirms and celebrates America's rich and diverse cultural heritage, and extends its work to promote equal access to the arts in every community across America. For more information, visit www.arts.gov.
#  #  #
Contact
NEA media contact: Sally Gifford, 202-682-5606
Blue Star Families contact: Brittany Kirk (844) 202-7827, ext.4