2017-18 NEA Big Read Guidelines Now Available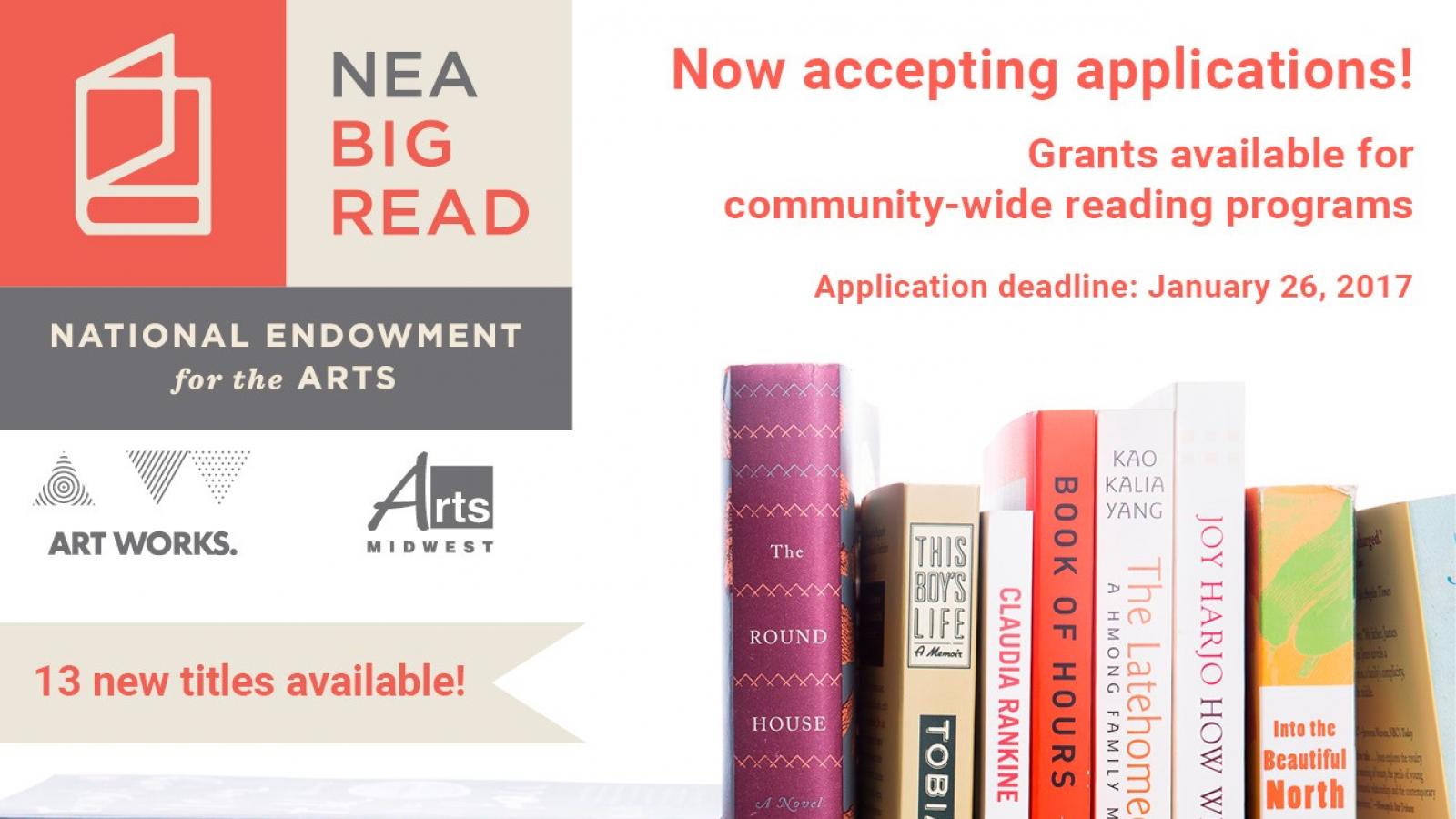 Washington, DC— Today the National Endowment for the Arts released the application guidelines for 2017-2018 NEA Big Read grants. This is the first opportunity organizations have to apply for programming around the 13 new titles added to the NEA Big Read, which include Claudia Rankine's Citizen: An American Lyric, To Live by Yu Hua (translated from the Chinese by Michael Berry), and Pretty Monsters by Kelly Link. In total, applicants can choose from 28 titles, including novels, short stories, memoirs, poetry, and books in translation for their community reading program.
"The NEA Big Read program is heading in a new, more contemporary direction and I'm eager to see how applicants -- both new and seasoned -- respond," said NEA Director of Literature Amy Stolls. "I've been deeply inspired by how imaginative organizations in the past have been in drawing out the rich worlds and complex ideas of our book selections through innovative programming, meaningful conversations, and far-reaching community involvement."
An initiative of the National Endowment for the Arts, the NEA Big Read broadens our understanding of our world, our communities, and ourselves through the joy of sharing a good book. Showcasing a diverse range of contemporary titles that reflect many different voices and perspectives, the NEA Big Read aims to inspire conversation and discovery. The main feature of the initiative is a grants program, managed by Arts Midwest, which annually supports approximately 75 dynamic community reading programs, each designed around a single NEA Big Read selection.
Eligible applicants include nonprofit organizations such as arts centers, arts councils, arts organizations, colleges and universities, community service organizations, environmental organizations, fairs and festivals, faith-based organizations, historical societies, housing authorities, humanities councils, libraries, literary centers, museums, school districts, trade associations, and tribal governments. The application deadline is Thursday, January 26, 2017 at 4:00pm CST for NEA Big Read programs taking place between September 2017 and June 2018. Full details on eligibility and how to apply are available here. A video explaining the application process is available here.
In addition, the National Endowment for the Arts and Arts Midwest will co-host a public webinar about the NEA Big Read on Wednesday, November 16, 2016 from 3:00–4:00 pm ET. It is free and open to the public. Led by NEA Director of Literature Amy Stolls, the webinar will include a discussion about the books included in the NEA Big Read Library, with a focus on the 13 new additions. Participants will be encouraged to ask questions about the books and their authors, as well as about the application process. Please register in advance. You may listen using your computer's speakers or dial in to 1-877-685-5350 and use participant code: 739587. Attendees will be muted but able to type in questions and comments through a text Q&A box. An archive of the webinar will be available at http://arts.gov/videos/webinars.
About the National Endowment for the Arts
Established by Congress in 1965, the NEA is the independent federal agency whose funding and support gives Americans the opportunity to participate in the arts, exercise their imaginations, and develop their creative capacities. Through partnerships with state arts agencies, local leaders, other federal agencies, and the philanthropic sector, the NEA supports arts learning, affirms and celebrates America's rich and diverse cultural heritage, and extends its work to promote equal access to the arts in every community across America. This year marks the 50th anniversary of the National Endowment for the Arts and the agency is celebrating this milestone with events and activities through 2016. Go to arts.gov/50th to enjoy art stories from around the nation, peruse Facts & Figures, and check out the anniversary timeline.
About Arts Midwest
Arts Midwest, a non-profit regional arts organization headquartered in Minneapolis, serves audiences, arts organizations and artists throughout the nine state region of Illinois, Indiana, Iowa, Michigan, Minnesota, North Dakota, Ohio, South Dakota, and Wisconsin. One of six non-profit regional arts organizations in the United States, Arts Midwest's history spans more than 30 years. Arts Midwest promotes creativity, nurtures cultural leadership, and engages people in meaningful arts experiences, bringing vitality to Midwest communities and enriching people's lives. Annually, cultural programs initiated by Arts Midwest reach close to a million people, enhancing the quality of life in hundreds of cities, towns, and rural areas. Arts Midwest's high-quality cultural activities, in a spectrum of artistic genres, reach school children, university students, families, and adults of all ages.