Artists and Creative Thinkers Convene to Examine Creativity in Society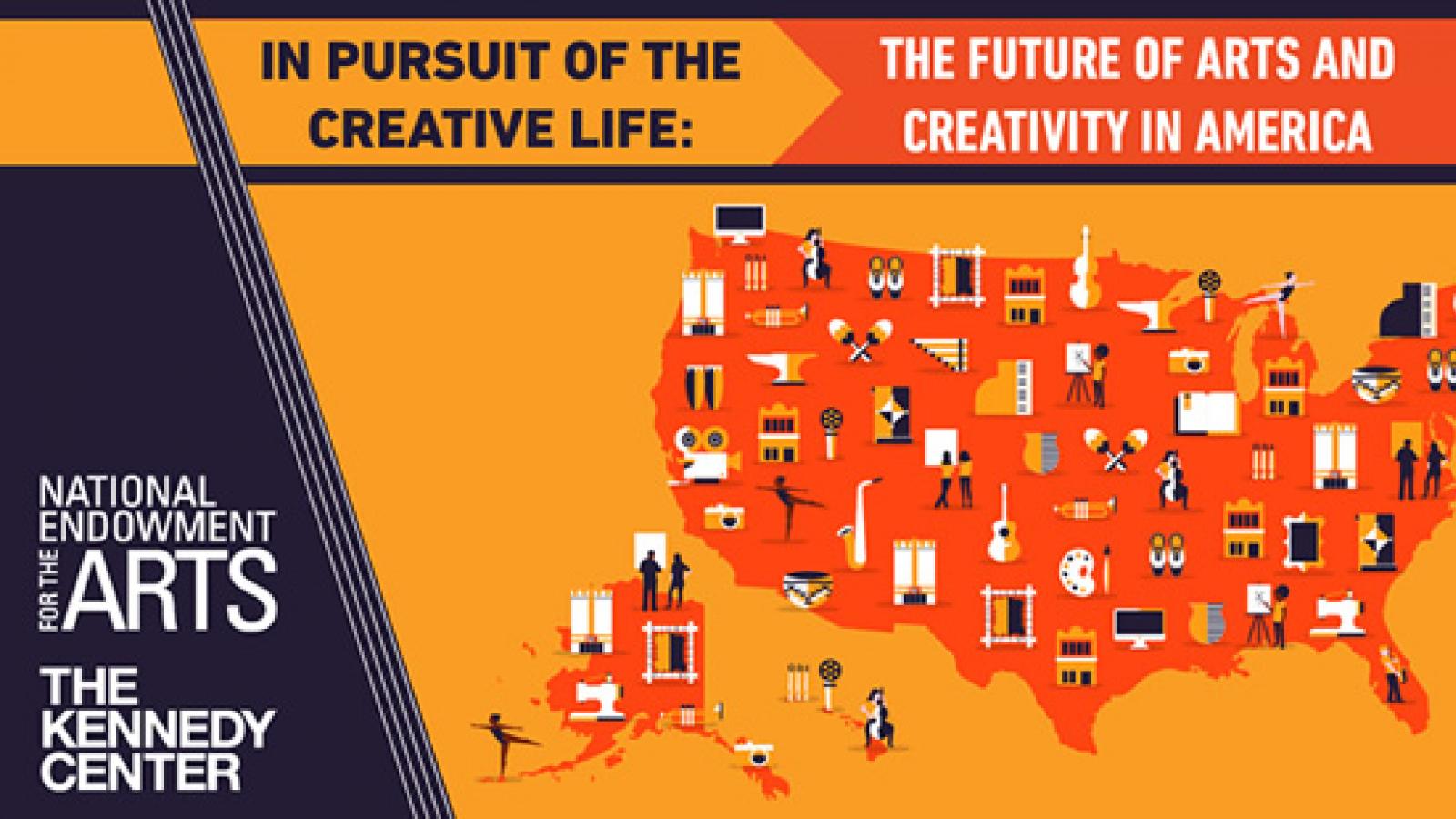 UPDATE as of November 17, 2016: In Pursuit of the Creative Life: The Future of Arts and Creativity in America will not be live streamed. Stay tuned for a video compilation of the day's various sessions in the coming weeks.
Washington, DC—The National Endowment for the Arts will conclude its 50th anniversary celebration with a national convening on Friday, November 18, 2016 from 8:30 AM to 5:30 PM ET at The John F. Kennedy Center for the Performing Arts in Washington, DC. Titled, In Pursuit of the Creative Life: The Future of Arts and Creativity in America, the event brings together a unique group of more than 200 artists, arts leaders, and creative thinkers from across the country and across sectors to discuss how creativity manifests itself in different fields and how we can make more tools, resources, and opportunities accessible to those who want to pursue a creative life. The event features keynote speakers, panel discussions, and breakout group discussions punctuated by performances.
The convening's keynote will be a dynamic conversation with Questlove, DJ, drummer, designer, co-founder of The Roots, and musical director for The Tonight Show Starring Jimmy Fallon. He is also a music producer and author, most recently of something to food about: Exploring Creativity with Innovative Chefs. In addition, he recently became a strategic advisor and first ever artist partner for Pandora. Questlove also collaborated with Pandora to launch Questlove Supreme, a three-hour radio show curated and produced by the four-time GRAMMY winner. Beyond these endeavors, Questlove co-produced the GRAMMY Award winning Original Broadway Cast Recording of Hamilton, alongside Alex Lacamoire, Bill Sherman, Lin-Manuel Miranda and Tarik "Black Thought" Trotter. He is set to co-executive produce The Hamilton Mixtape, which will be released on December 2nd.
NPR's TV critic Eric Deggans, an award-winning journalist who has covered TV, media, music and pop culture for more than 20 years, will lead the keynote conversation.
The convening is invite-only and seating for press is now closed. Please join the conversation on Twitter at #creativityconnects for the following sessions. Biographies of the session leaders are here.
---
8:45 – 9:30 AM          
Opening Keynote: Creativity Makes the World Go 'Round
NPR's Eric Deggans in conversation with Questlove
---
10:00 – 10:55 AM       Panel: The Here and Now of Arts and Creativity 
Moderator Sammy Hoi, president of the Maryland College of Art, higher education leader and advocate for creative professionals as drivers of social, economic, and cultural advancement
Agnes Chavez, new media artist, educator, and founder of stemartslab.com 
Suzy Delvalle, president and executive director of Creative Capital
Shirlette Ammons, musician, poet
---
1:45 – 2:30 PM           Presentation: The Future of Creativity
 with
Caroline Woolard
, co-founder and co-director of sharing networks OurGoods.org and TradeSchool.coop and founder of BFAMFAPhD, a collective using data and installation art to advocate for cultural equity.
Followed by Q & A with Kemi llensanmi, executive director of the Laundromat Project
---
4:00 – 5:00 PM           Panel: Making it Happen: Next Steps for the Future of Arts and Creativity in America 
Moderator Eric Liu, author, educator, civic entrepreneur, founder and CEO of Citizen University, executive director of the Aspen Institute Citizenship and American Identity Program
Rob Giampietro, creative lead for Google's Material Design
RisëWilson, director of philanthropy at Robert Rauschenberg Foundation
Diane Ragsdale, lecturer and former lead of the performing arts program at the Andrew W. Mellon Foundation, currently seeking her PhD on the relationship between nonprofit and for-profit theaters
Kiran Singh Sirah, president of the International Storytelling Center dedicated to enriching the lives of people around the world through storytelling
---
5:15 PM                    
Closing remarks by NEA Chairman Jane Chu 
The video compilation of the above sessions will be available for public viewing on the NEA's website in the coming weeks. The public can follow the conversation at #CreativityConnects. 
In September, the National Endowment for the Arts published Creativity Connects: Trends and Conditions Affecting U.S. Artists and launched the accompanying Bright Spots' interactive graphic. Both resources look at the effect of forces shaping the work environment for artists and ways that artists respond to those forces by advancing their work into non-arts sectors. The issues raised in the Creativity Connect report informed the theme of the In Pursuit of the Creative Life convening.
Contact
Victoria Hutter, hutterv@arts.gov, 202-682-5692