Final Contest for the Title of National Poetry Out Loud Champion on May 4, 2016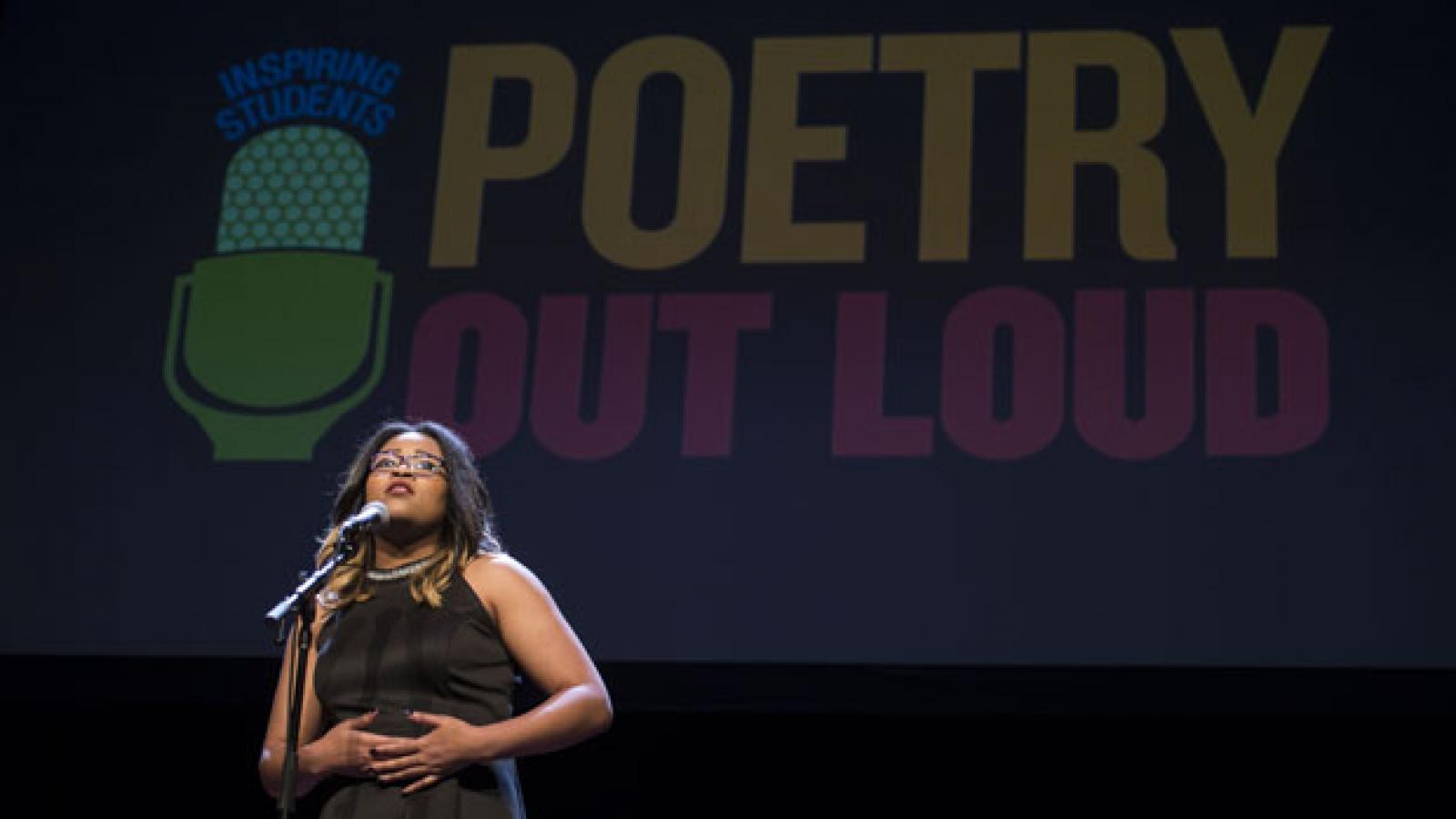 WHAT: Nine student finalists representing high schools from Georgia, Hawaii, Louisiana, Maryland, Montana, Puerto Rico, Texas, Virginia, and West Virginia match their skills in reciting classic and contemporary poetry in a contest for the title of National Poetry Out Loud Champion and a $20,000 award. Poetry Out Loud National Recitation Contest is a program of the National Endowment for the Arts (NEA) and the Poetry Foundation.  
WHEN/WHERE: Wednesday, May 4, 7:00 pm - 9:15 pm ET, Lisner Auditorium, George Washington University, 730 21st Street, NW, Washington, DC. Not in DC?  Poetry fans nationwide can take part in the event via a live, one-time-only webcast at www.arts.gov.
WHO: Speakers and participants are host, Elizabeth Acevedo, award-winning poet. Guest judges include Alice Quinn, executive director of the Poetry Society of America; authors Jacqueline Woodson and Virgil Suárez; playwright and poetry slam champion José Antonio Vadi; and actor Chris Sarandon. The featured performer is hip-hop artist and multi-instrumentalist Christylez Bacon.
2016 Poetry Out Loud National Finalists:
Georgia State Champion Marta Palombo, Cambridge High School, Alpharetta, GA
Hawaii State Champion Nicholas Amador, Punahou School, Honolulu, HI
Louisiana State Champion Kyla Rose Bates, Zachary High School, Baton Rouge, LA
Maryland State Champion Sharese Acheampong, New Town High School, Owings Mills, MD  
Montana State Champion Savannah Smith, Helena High School, Helena, MT
Puerto Rico State Champion Wenmimareba Klobah Collins, University High School, San Juan, PR
Texas State Champion Madison Heggins, Lewisville High School, Lewisville, TX
Virginia State Champion Ahkei Togun, Tallwood High School, Virginia Beach, VA
West Virginia State Champion Neely Seams, Greenbrier East High School, Lewisburg, WV
INTERVIEWS: Pre-event interviews with the nine national finalists are at 6:00 – 6:30 pm. Post-event photos and interviews with finalists, judges, and speakers take place onstage, 9:15 – 9:45 pm.
OTHER:  The Poetry Out Loud Semifinals and National Finals are free and open to the public; no tickets or reservations are required. Both events will offer ASL interpretation. For more information call 202-682-5606 or visit arts.gov.
WEBCAST: Watch the finals through a closed captioned, one-time-only webcast at arts.gov.
PHOTOS/VIDEO: Photos and video of #POL16 Semifinals and Finals will be available at this link.
FOLLOW: Poetry Out Loud is on Twitter at @PoetryOutLoud and @NEAarts, #POL16. 
CONTACT: Media must RSVP to Sally Gifford, NEA Public Affairs, 202-682-5606 or giffords@arts.gov. Video crews covering the Wednesday night National Finals must arrive by 6:45 pm to reserve a space. No flash photography.
Contact
NEA Contact: Sally Gifford, 202-682-5606
Poetry Foundation Contact: Elizabeth Burke-Dain, 773-368-4928