Final Contest for the Title of National Poetry Out Loud Champion on April 26, 2017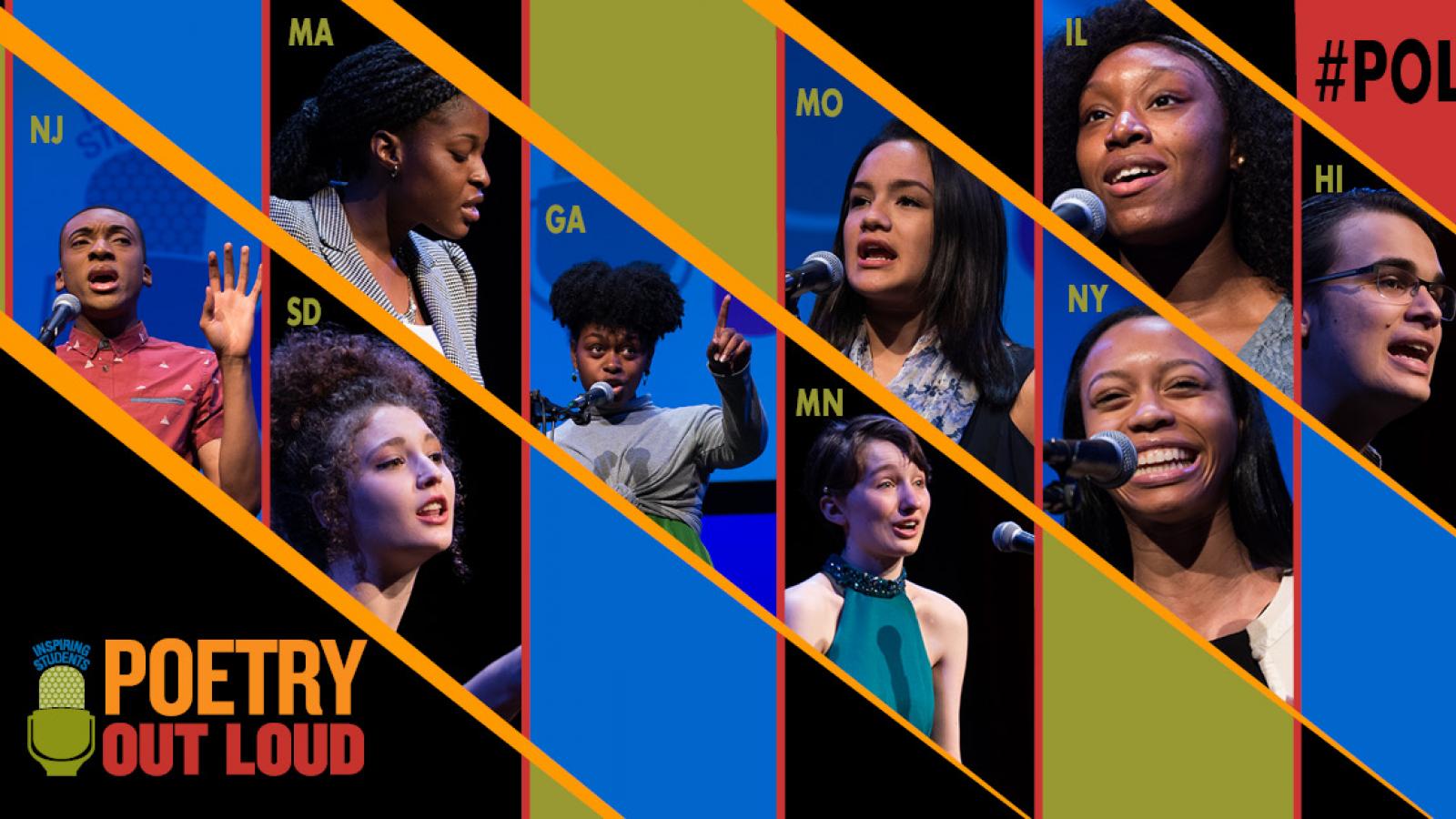 WHAT: Nine student finalists representing high schools from Georgia, Hawaii, Illinois, Massachusetts, Minnesota, Missouri, New Jersey, New York, and South Dakota match their skills in reciting classic and contemporary poetry in a contest for the title of 2017 Poetry Out Loud National Champion and a $20,000 award. Poetry Out Loud is a national initiative of the National Endowment for the Arts in partnership with the Poetry Foundation and the state arts agencies. More information about the National Finals is available at arts.gov. Poetry Out Loud is on Twitter at @PoetryOutLoud and @NEAarts, #POL17.
WHEN/WHERE: Wednesday, April 26, 7:00 pm–9:15 pm ET, Lisner Auditorium, George Washington University, 730 21st Street, NW, Washington, DC. The Poetry Out Loud National Finals are free and open to the public; no tickets or reservations are required. In addition, the event will be webcast live at arts.gov.
WHO: Hosted by poet Elizabeth Acevedo. Guest judges include Marilyn Chin, poet and teacher; Philippa Hughes, founder of the Pink Line Project; Valerie Martínez, poet and collaborative artist; Adrian Matejka , poet and teacher; and Andrew White, playwright and former artistic director of Lookingglass Theatre Company. The featured performer is cellist, composer, and storyteller Ben Sollee.
2017 Poetry Out Loud National Finalists:
Georgia State Champion Samara Elán Huggins

, Whitefield Academy, Mableton, GA

Hawaii State Champion Nicholas Amador

, Punahou School, Honolulu, HI

Illinois State Champion Mariah L. Brooks

, Springfield Southeast High School, Springfield, IL

Massachusetts State Champion Rose-Darla Pascal

, Randolph High School, Randolph, MA

Minnesota State Champion Anna Kochevar

, Arcadia Charter School, Northfield, MN

Missouri State Champion Emily Bauer

, Parkway West High School, Ballwin, MO

New Jersey State Champion Amos Koffa

, Burlington County Institute of Technology, Burlington City, NJ

New York State Champion Iree Mann

, Syosset High School,

Jericho, NY

South Dakota State Champion Madison Lukomski

, Lincoln High School, Sioux Falls, SD
INTERVIEWS: Pre-event interviews with the nine national finalists are between 6:00–6:30 pm. Post-event photos and interviews with finalists, judges, and speakers take place onstage, 9:15–9:45 pm. Contact Liz Auclair at auclaire@arts.gov to request an interview.
PHOTOS: Photos of the nine finalists are available for media use at this link. Videos are available on request.
CONTACT: Media must RSVP to Elizabeth Auclair, NEA Public Affairs, 202-682-5744 or auclaire@arts.gov. Video crews covering the Wednesday night national finals must arrive by 6:45 pm to reserve a space. No flash photography.