NEA Fellowships to Support Creative Writers and Literary Translators Total $1.2 Million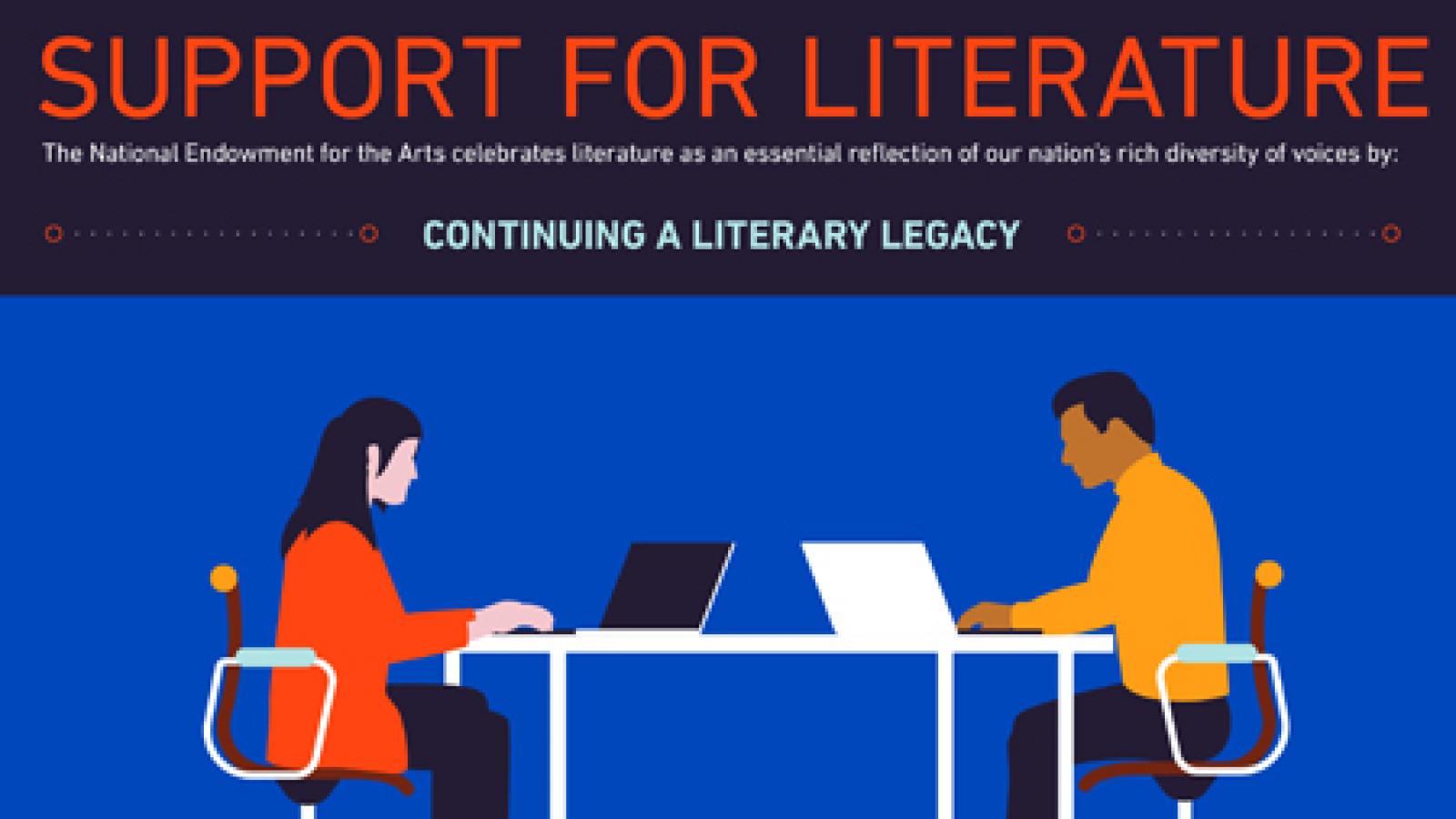 Washington, DC—The National Endowment for the Arts (NEA) has an extensive history of supporting literature in America, providing funding for the creation of new works and for the translation of some of the world's best literature into English. As part of this ongoing commitment, today the NEA announced it will award $1.2 million in fellowships as part of its fiscal year 2018 grantmaking.
"The National Endowment for the Arts is proud to provide crucial funding to support these individuals in their creative endeavors and to continue expanding the range of ideas and viewpoints available to readers," said Amy Stolls, NEA director of literature.
Creative Writing Fellowships
In FY 2018, the NEA will award 36 Creative Writing Fellowships of $25,000 each for a total of $900,000. Fellowships alternate between poetry and prose each year and this year's fellowships are to support prose—works of fiction and creative nonfiction, such as memoir and personal essays. The full list of FY 2018 Creative Writing Fellowship recipients is available here.
This year's fellows hail from 20 states and grew up in settings ranging from the Blue Ridge Mountains to a Midwestern dairy farm to a Native-American reservation in Washington State. Among the recipients are first- or second-generation Americans with family roots in countries such as South Korea, Iran, India, and Ethiopia. The fellows demonstrate an array of backgrounds and interests—from a writer in the tech industry to an opera librettist, an atmospheric scientist to a crime reporter. A third of the recipients have yet to publish their first book while others are critically acclaimed authors.
Through its Creative Writing Fellowships, the NEA gives writers the freedom to create, revise, conduct research, and connect with readers. These fellowships are highly competitive, with 1,692 eligible applicants in FY 2018. Applications are reviewed by a panel through an anonymous process and are judged solely on the artistic excellence of the work sample provided.
Since 1967, the NEA has awarded more than 3,400 Creative Writing Fellowships worth $46 million. Many American recipients of the National Book Award, National Book Critics Circle Award, and Pulitzer Prize in Poetry and Fiction were recipients of NEA fellowships early in their careers.
Literary Translation Fellowships
In FY 2018, the NEA will award 22 Literature Translation Fellowships of $12,500 or $25,000 each for a total of $300,000. The full list of FY 2018 Literature Translation Fellowship recipients and their projects is available here.
Through its fellowships in literary translation, the NEA supports the new translation of fiction, creative nonfiction, poetry, and drama into English. Among this year's projects are award-winning novels, short stories, poetry, and a play from 15 languages and five continents, including works from Japan, Madagascar, and India. In addition, most of the translated works are appearing for the first time in English and ten of them are by female authors.
Projects range from the translation and retranslation of classic works—such as Thiruvalluvar's book of poetry, Tirukkural, written between 100 B.C.E. and 400 C.E., translated from Tamil by Thomas Hitoshi Pruiksma—to contemporary titles, such as the novel Lalana, written in French by Malagasy author Michele Rakotoson, one of the most successful authors in Madagascar, and translated by Allison M. Charette.
Additional projects include:
Todd Fredson's translation from French of the poetry collection The future has an appointment with the dawn by Ivory Coast writer Tanella Boni (b. 1954), one of the most prominent poets, novelists, essayists, and philosophers of francophone Africa—only a handful of her poems are available in English.
Seth Michelson's translation from Spanish and Mapuzungun of two poetry collections by Mapuche-Argentine poet Liliana Ancalao (b. 1961). The collection will comprise the first single-author volume of poetry by a female Mapuche poet from Argentina in English-language translation, and only the second ever such single-author collection by a female Mapuche poet.
Ri J. Turner's translation from Yiddish of selected humoresques by Joseph Tunkel (1881-1949). Tunkel—better known by his pen name Der Tunkeler—was one of the most prolific humorists of modern Yiddish literature, yet he has rarely been translated into English.
Since 1981, the NEA has awarded 455 fellowships to 404 translators, with translations representing 69 languages and 82 countries. The review criteria for these projects consist not only of the translators' skill, but also the importance of a particular work of international literature to English-speaking audiences, including those authors and languages that are often underrepresented.
Information on how to apply for NEA Creative Writing Fellowships and Literature Fellowships for Translation Projects is available at arts.gov. The deadline for Creative Writing Fellowships in poetry is March 7, 2018. The deadline for translation projects has been extended and is January 11, 2018.
Visit the NEA's Writers' Corner to read excerpts by and features on past NEA Literature Fellows, including both Creative Writing and Translation Fellows.
Contact
Liz Auclair, auclaire@arts.gov, 202-682-5744