Finalists Selected for NEA Musical Theater Songwriting Challenge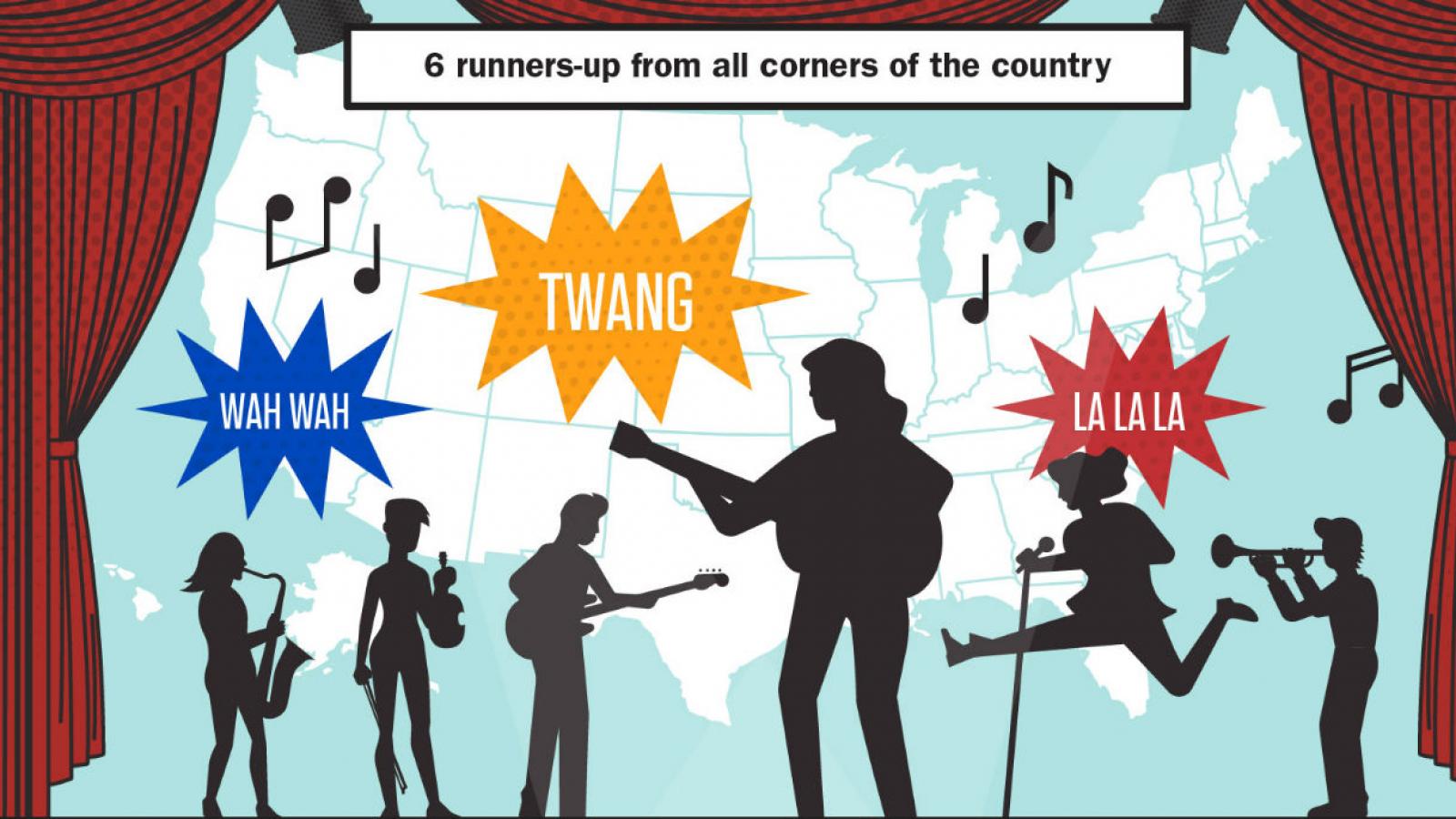 Washington, DC—The National Endowment for the Arts (NEA) along with its partner the American Theatre Wing and collaborators Playbill, Inc., Disney Theatrical Productions, and Samuel French announce the finalists of the NEA's Musical Theater Songwriting Challenge. Six finalists— one duo and five individuals—were chosen by review panels of professional theater artists in a blind competition from almost 200 applications submitted by high school students in 36 states. 
The finalists are:
Eliza Corrington (Syracuse, UT), a senior, and Braxton Gerald Carr (Harrisville, UT), a junior, at DaVinci Academy in Ogden, Utah
Tucker Donelan (New York, NY), a senior at Berkshire School in Sheffield, Massachusetts
Jillian Guetersloh, a freshman at Bedford High School in Bedford, Massachusetts
Frederick Hager, a senior at Robert E. Lee High School in Flint, Texas
Aaron Richert, a senior at New Orleans Center for Creative Arts in Louisiana
David Volpini, a junior at Chippewa Valley High School in Macomb, Michigan
Photos, videos, and song clips from the six finalists will be posted on the Songwriting Challenge webpage in the coming weeks. Details about the national competition on April 23 will be available in early April.
Join the songwriting Twitter conversation at #IWriteMusicals.
About the National Endowment for the Arts
Established by Congress in 1965, the NEA is the independent federal agency whose funding and support gives Americans the opportunity to participate in the arts, exercise their imaginations, and develop their creative capacities. Through partnerships with state arts agencies, local leaders, other federal agencies, and the philanthropic sector, the NEA supports arts learning, affirms and celebrates America's rich and diverse cultural heritage, and extends its work to promote equal access to the arts in every community across America. Visit arts.gov to learn more about NEA.
About the American Theatre Wing
The American Theatre Wing is currently celebrating 100 years of service to American theater across the nation. Its programs provide theater education opportunities for underserved students through the Andrew Lloyd Webber Initiative, develop the next generation of theater professionals through the SpringboardNYC and Theatre Intern Network, incubate innovative theater across the country through the National Theatre Company Grants, foster the next generation of musical theater writers through the Jonathan Larson® Grants, honor the best in New York theatrical design with the Henry Hewes Design Award, and illuminate the creative process through the Emmy-nominated Working in the Theatre documentary series. In addition to founding the Tony Awards®, the American Theatre Wing is the new home of the Village Voice's Obie Awards®, Off Broadway's Highest Honor.
Contact
Victoria Hutter, hutterv@arts.gov, 202-682-5692