National Endowment for the Arts Statement on the Death of Ellie Mannette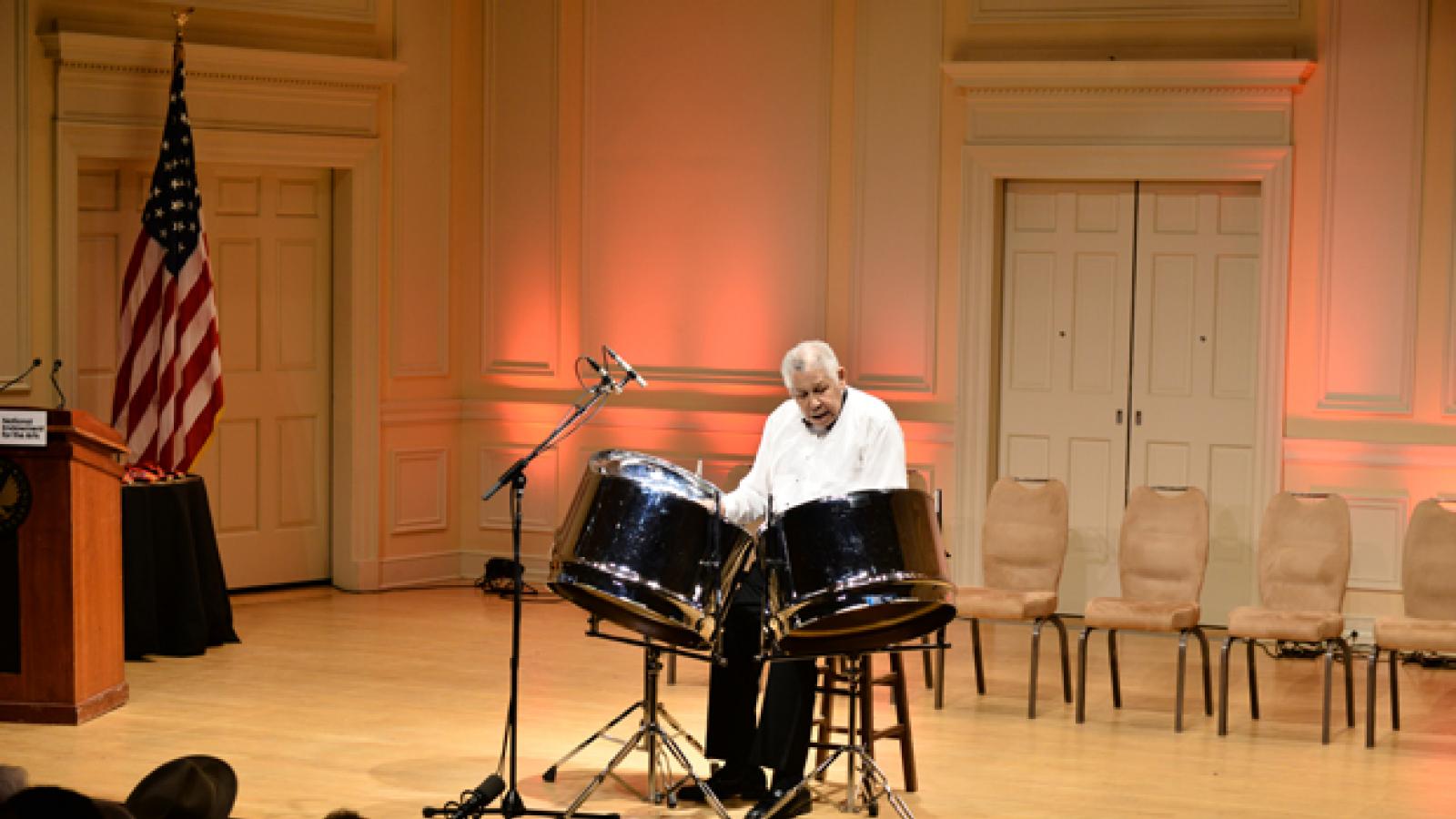 It is with great sadness that the National Endowment for the Arts acknowledges the death of steel pan builder, tuner, and player Elliott "Ellie" Mannette, recipient of a 1999 NEA National Heritage Fellowship—the nation's highest honor in the folk and traditional arts.
Mannette was born November 5, 1927, in Trinidad. As a child, he was attracted to carnival festivities and music. At age 11, he had his first opportunity to perform in a carnival parade with a group that used traditional parade instruments, but these were subsequently banned by the British colonial government. Band members began experimenting with paint pans and biscuit drums and found that they could vary the pitch by striking different areas. Mannette and some other younger members formed their own band, the Oval Boys, the predecessor to the Woodbruck Invaders, one of Trinidad's best and longest-lasting groups.
When the British lifted the wartime carnival ban after World War II, Mannette became the leader of the Invaders. About the same time, oil drums became the standard source material for the instruments, and Mannette, a machinist by trade, became a pioneer of the new technology. He sank the lid to create a tensed playing surface and fired the metal to improve the acoustic properties. A variety of steel drums was created, and entire orchestras were formed. These changes helped to propel the instrument into wide popularity. Over the next several decades, Mannette brought an even more sophisticated approach to pan tuning, using a stroboscope to analyze and shape the harmonic blend.
In 1951, the Trinidad government organized the Trinidad All-Steel Percussion Orchestra, a national steel band, to represent the country at the Festival of Britain. Mannette was among the musicians chosen to be trained by Lt. Joseph Griffith of Antigua's Police Band. Mannette said, " We practiced for hours a day and, along with playing dozens of gigs to raise money, even had to build new instruments for the trip!... Mr. Griffith told me that I would have to build a bass pan from a 55-gallon drum. Now prior to that, we used only the light caustic soda barrels to make our bass, and only one barrel at that.... I told him I didn't believe I could build a bass from a 55-gallon drum; they were just too heavy and would not sound…. Anyway, he refused to take no for an answer.... I guess he knew what he was talking about, because I did do it."
Mannette came to the United States in 1963 in response to an invitation to develop a U.S. Navy steel band, build the instruments, and train the players. He returned for good in 1967 to work with inner-city youth in New York City. He started more than ten new bands, founded Mannette Musical Instruments, worked with more than 350 school programs, and served as an artist-in-residence at West Virginia University.
More information about Ellie Mannette is available at arts.gov.
Contact
NEA Public Affairs
202-682-5570