National Endowment for the Arts Announces Free Events September 18 & 20, 2019 in Honor of National Heritage Fellows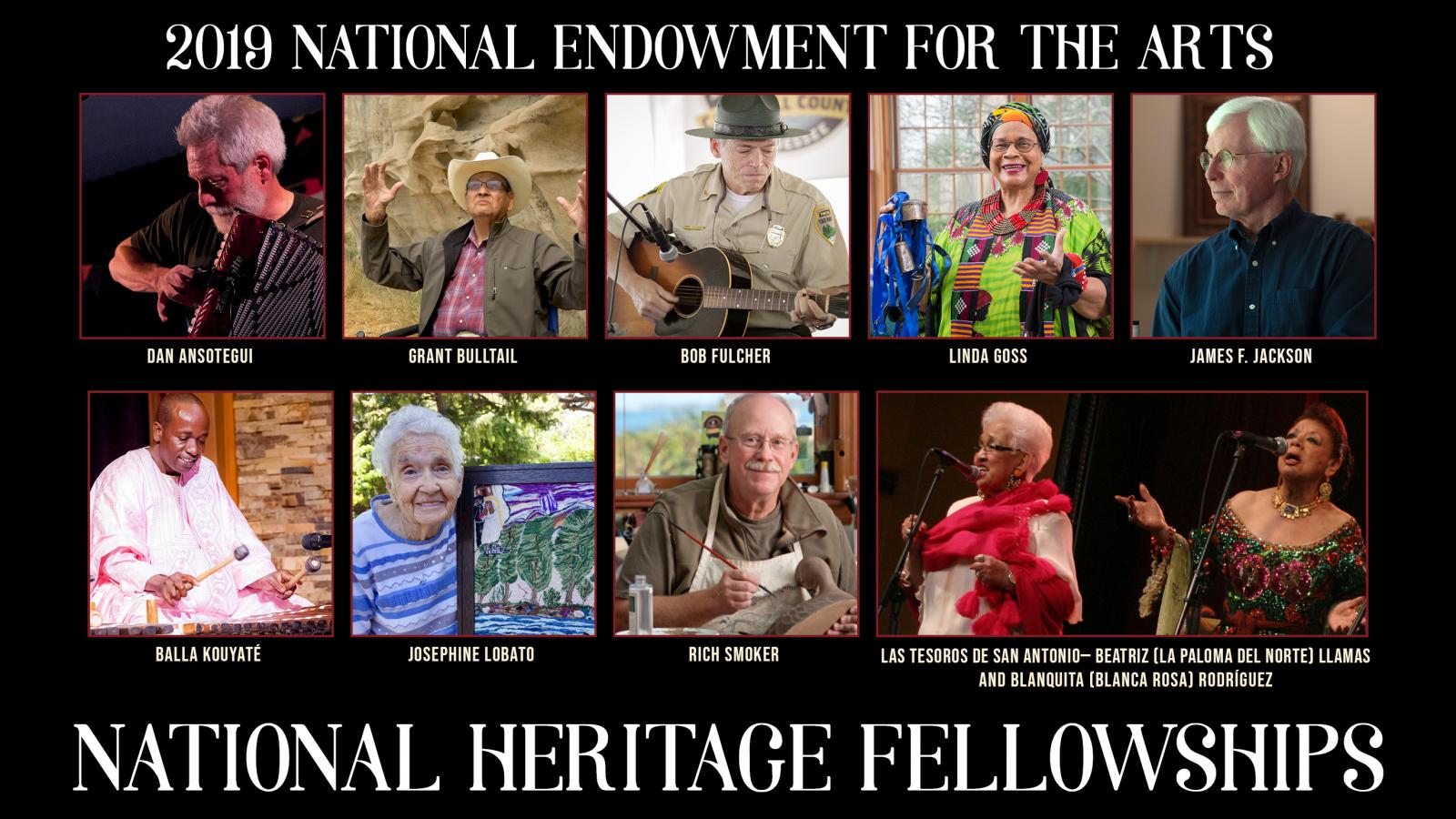 Washington, DC—This September, two free events will celebrate the 2019 National Endowment for the Arts National Heritage Fellows—recipients of our nation's highest honor in the folk and traditional arts. The awards ceremony on Wednesday, September 18, 2019 is an opportunity to hear remarks by the 2019 Fellows and meet them at a post-event reception. On Friday, September 20, a free concert will feature performances, demonstrations, and stories from the 2019 Heritage Fellows, highlighting the richness of our country's cultural traditions. The concert will also be available through a live webcast at arts.gov.
The 2019 National Heritage Fellows are:
Fulcher is the recipient of the 2019 Bess Lomax Hawes National Heritage Fellowship in recognition of an individual who has made a significant contribution to the preservation and awareness of cultural heritage.
National Heritage Fellowships Awards Ceremony
WHAT: National Endowment for the Arts Chairman Mary Anne Carter and members of Congress will honor the 2019 National Heritage Fellows at an awards ceremony, which will include a presentation of medals and short remarks by the recipients. Hosted by the American Folklife Center at the Library of Congress, the ceremony will open with a performance by Sheila Kay Adams, ballad singer, musician, storyteller and 2013 National Heritage Fellow, and will be followed by a reception.
WHEN: Wednesday, September 18, 2019 from 5:30–6:30 p.m. ET
WHERE: Library of Congress's Coolidge Auditorium in the Thomas Jefferson Building, 10 First Street SE, Washington, DC.
TICKETS: This event is free and open to the public and no tickets are required.
National Heritage Fellowships Concert
WHAT: The concert will feature music, demonstrations, and conversations with the National Heritage Fellows and other special guests. The evening will be hosted by Queen Nur, storyteller, teaching artist, and director of the Folklife Center at the Perkins Center for the Arts.
WHEN: Friday, September 20, 2019, 8:00 p.m. ET
WHERE: Shakespeare Theatre Company's Sidney Harman Hall, 610 F Street NW in Washington, DC and streamed live at arts.gov.
TICKETS: Free tickets to the concert can be reserved via Shakespeare Theatre Company's website, either online, by phone at 202-547-1122, or in person at Sidney Harman Hall at 610 F Street NW in Washington, DC. PLEASE NOTE: Ticket-holders should arrive by 7:45 p.m. At that time, all unclaimed tickets will be released to those in the stand-by line.
WEBCAST: The concert will be live streamed at arts.gov and archived after the event. Viewers can join the celebration on Twitter using the hashtag #NEAHeritage19.
MEDIA RSVP FOR EVENTS: To secure admission and camera locations, crews must RSVP for the ceremony by Wednesday, Sept. 18 at 12 p.m. and for the concert by Friday, Sept. 20 at 12 p.m. Interview requests for the artists and/or photo/video requests should be sent to auclaire@arts.gov.
Contact
Liz Auclair, auclaire@arts.gov, 202-682-5744