National Endowment for the Arts Statement on the Death of National Heritage Fellow Molly Neptune Parker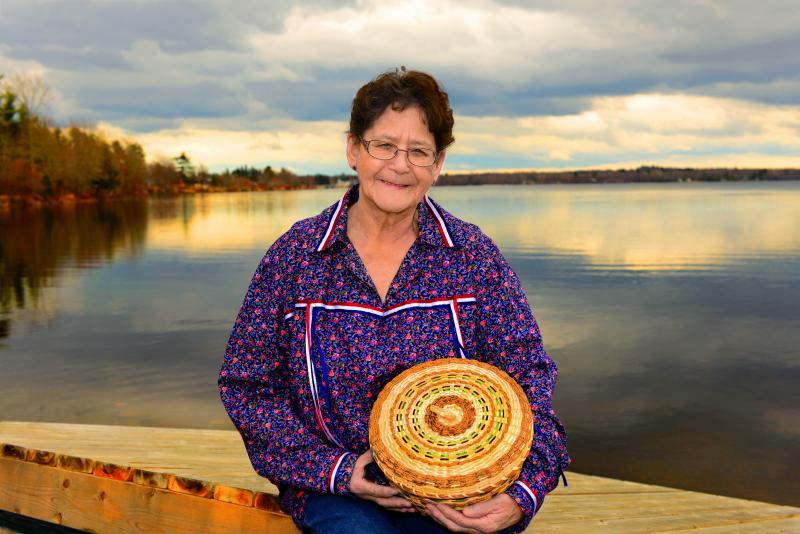 It is with great sadness that the National Endowment for the Arts acknowledges the death of Passamaquoddy Basketmaker Molly Neptune Parker from Princeton, Maine, recipient of a 2012 National Heritage Fellowship, the nation's highest honor in the folk and traditional arts. Parker was the matriarch of four generations of Passamaquoddy basketweavers and led efforts to share this tradition with young people, encouraging the continuance of this art form for generations to come.
Born in Indian Township, Maine, in 1939, Parker was part of a family of basketmakers; her mother, grandmother, and aunts all made baskets. While the men would harvest and pound the ash trees used for basketmaking, the women in her family would strip the ash and split it into the correct thickness—fine ash for fancy baskets and thicker ash for work baskets. In the Passamaquoddy tradition, families have signature designs that are passed down; Parker made baskets with ash flowers fashioned on the top, a design her mother and grandmother used.
Parker was known for her fancy baskets, featuring intricate weaving techniques, such as her signature creation, the acorn-shaped basket. Basketmaking supported her livelihood, and allowed her to buy a home and helped pay for the education of her grandchildren, who also carry on this craft.
Parker also worked to continue the basketmaking tradition in her local community and in the communities of Maine's four federally recognized Wabenaki tribes (Maliseet, Mi'kmaq, Passamaquoddy, and Penobscot). She served as president of the Maine Indian Basketmakers Alliance and as a master teacher in the Maine Arts Commission's traditional arts apprenticeship program, and demonstrated her craft at the 2006 Smithsonian Folklife Festival as well as local festivals—particularly the annual Native American Festival & Basketmakers Market—and schools. In a 2012 interview with the National Endowment for the Arts, she said, "Believe it or not there are more people today making baskets then there were in the '70s. They realize the value of the work, not only for money, but to continue the tradition. They're finally realizing how important it is to carry on the tradition our forefathers started."
For more information about Molly Neptune Parker, including the full interview, visit arts.gov.
About the National Endowment for the Arts
Established by Congress in 1965, the National Endowment for the Arts is the independent federal agency whose funding and support gives Americans the opportunity to participate in the arts, exercise their imaginations, and develop their creative capacities. Through partnerships with state arts agencies, local leaders, other federal agencies, and the philanthropic sector, the Arts Endowment supports arts learning, affirms and celebrates America's rich and diverse cultural heritage, and extends its work to promote equal access to the arts in every community across America. Visit arts.gov to learn more.
Contact
NEA Public Affairs
publicaffairs@arts.gov
202-682-5570