National Endowment for the Arts Announces Biden-Harris Appointees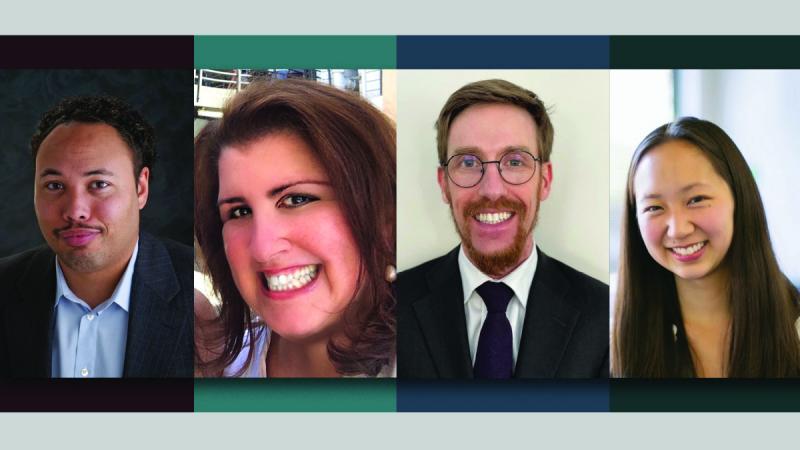 Washington, DC—The National Endowment for the Arts announces four political appointees designated for senior positions at the agency by the Biden-Harris Administration. These accomplished professionals will bring their expertise to the Arts Endowment to advance priorities for the new administration. 
They are Chief of Staff Ra Joy, White House Liaison and Senior Advisor to the Chief of Staff Jennifer (Jenn) Chang, Director of Strategic Communications and Public Affairs Sonia Chala Tower, and Director of Congressional Affairs Ben Kessler. The previous political appointees along with former chairman Mary Anne Carter left the Arts Endowment on January 20.
Ra Joy, Chief of Staff
Ra brings more than 25 years of senior leadership experience in the arts, public policy, and nonprofit management to the National Endowment for the Arts. Previously, Ra served as executive director for CHANGE Illinois, a nonpartisan coalition leading systemic political and government reform. From 2007 to 2015, Ra served as executive director of Arts Alliance Illinois, one of the nation's most prominent statewide arts advocacy and service organizations. In this role, Ra championed the arts as a public policy asset and civic priority at all levels of government.  
From 2001 to 2007, he served as a senior staffer for U.S. Representative Jan Schakowsky, specializing in appropriations, community development, education, youth development, and the arts. Ra is a frequent writer and speaker on issues of social justice, creative expression, and participatory democracy.
 
Jennifer Chang, White House Liaison and Senior Advisor to the Chief of Staff
Jenn joins the Arts Endowment after working on the appointments team with the Biden-Harris transition. She recently worked as an associated consultant with WolfBrown, with a portfolio of performing arts and education clients. Prior to that, Jenn spent over a decade at Google, where she built resilient teams and innovative programs. 
 
While at Google, Jenn received her master's degree in viola performance from The Juilliard School. In 2016, she took a six-month sabbatical to serve as the expansion states operations director at Hillary for America. Since graduating from Harvard College with a degree in social studies, Jenn has found herself playing at the edge between the arts and civic engagement.
Sonia Chala Tower, Director of Strategic Communications and Public Affairs 
Sonia Tower's career in cultural development and arts policy spans more than 25 years, during which she has worked with nonprofit cultural institutions, public arts agencies, and philanthropic organizations at the local, regional, and national level. 
 
Sonia's early leadership roles with a range of nonprofit visual and performing arts groups led to her position as an arts program officer for a community foundation, where she launched a countywide arts agency in a region of over a million residents. 
For more than a decade following that, she served as the municipal arts director for the City of Ventura in Southern California, where she established a cultural affairs division, and implemented a host of new cultural revitalization programs. Wanting to work systemically on the infrastructure for arts support on a national basis, she took a position as vice president of development and special initiatives for Americans for the Arts, and then served as SVP of corporate relations for Ovation TV, and president of the Ovation Foundation, where, over an 8-year period she worked with arts and cultural institutions and cultural leaders in communities across the country. 
During the 2008 presidential election, Sonia was appointed to the position of convener for the Obama Arts Policy Committee, and served as an advisor to the Obama transition. Most recently she was the national co-chair for Arts for Biden-Harris, which engaged the arts and creative industries in 18 key states in the 2020 presidential election.
A classically trained mezzo-soprano, Sonia has performed as a soloist and an ensemble singer with a number of groups on both the East and West Coasts, and is a specialist in Byzantine and Russian liturgical music.
 
Ben Kessler, Director of Congressional Affairs
Ben Kessler is an intellectual property lawyer with ten years of federal government advocacy experience and a passion for live music.  After graduating from Amherst College in 2007, Ben worked in the office of oversight and investigations in the United States Senate Committee on Aging.  Following his time on the Hill, Ben joined Heather Podesta + Partners, now Invariant Government Relations. There, Ben helped organize strategic outreach to the executive and legislative branches of government on behalf of a broad range of clients.  
Ben then spent over six years at the Pew Charitable Trusts working on food safety policy. During his time at Pew, Ben worked to ensure robust funding for FDA's food safety budget and helped to coordinate the rollout and full implementation of food safety regulations.
 
With an eye towards combining his love for music and the arts with his expertise in advocacy, Ben enrolled at the American University Washington College of Law.  There, Ben focused on intellectual property law and was a member of the Glushko-Samuelson Intellectual Property Law Clinic.  While in school, Ben fortified his passion for protecting creators and spent his summers working for the Future of Music Coalition and Copyright Alliance.  
 
Almost immediately following graduation, Ben joined the Biden for President campaign. During his nearly nine months with the campaign, among other work, Ben managed a team of intellectual property law volunteers, reviewed campaign-produced content for copyright, trademark, and right of publicity concerns, and enforced the campaign's intellectual property rights online.
 
About the National Endowment for the Arts
Established by Congress in 1965, the National Endowment for the Arts is the independent federal agency whose funding and support gives Americans the opportunity to participate in the arts, exercise their imaginations, and develop their creative capacities. Through partnerships with state arts agencies, local leaders, other federal agencies, and the philanthropic sector, the Arts Endowment supports arts learning, affirms and celebrates America's rich and diverse cultural heritage, and extends its work to promote equal access to the arts in every community across America. Visit arts.gov to learn more.
Contact
Victoria Hutter, hutterv@arts.gov, 202-682-5692