National Endowment for the Arts Statement on the Death of National Heritage Fellow Flory Jagoda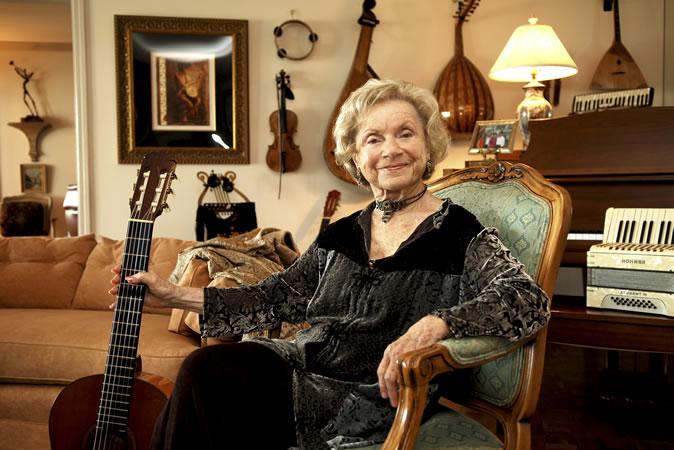 It is with great sadness that the National Endowment for the Arts acknowledges the death of Sephardic musician and composer Flory Jagoda, from Falls Church, Virginia, recipient of a 2002 NEA National Heritage Fellowship, the nation's highest honor in the folk and traditional arts.
Flory Jagoda was born in Sarajevo, Bosnia, a member of the Sephardic Jewish community. When the Sephardic Jews were forced into exile from Spain and Portugal in the 15th century, many settled in other Mediterranean countries but preserved their native language, called Ladino. In a 2002 interview with the Arts Endowment, Jagoda said: "I lived with my Nonna, my grandmother, who was a singer. She was a Sephardic singer and had four daughters, three sons. They were all musicians, all folk singers. My Nonna sang to my mother and my mother sang to me and today I sing with my children. The music's been kept alive from generation to generation."
She also became familiar with the region's Balkan cultural traditions. Jagoda escaped the destruction of Sarajevo's Jewish community and came to the United States after World War II. She has been recognized as an important carrier of a unique musical heritage and also as a composer and arranger of new Sephardic songs. She said, "I have three recordings and my holiday songs are mostly based on my memories of my family. They were all, all forty-two of them, thrown into a mass grave during World War II. They took all the songs with them. I started writing songs just to remember the life in my little mountain village. My family vanished and they live with me through these songs…. Some people write books to remember. I write songs to remember."
In addition to passing that tradition on to her children, she has taught many students who now perform Ladino music. She toured widely and her music was circulated through recordings and in The Flory Jagoda Songbook. She was well known in the Washington, D.C. area for her willingness to perform at religious ceremonies, family celebrations and cultural events. Her performances were marked by musical beauty but also by her commitment to find meaning through affirmation of community in her personal experience.
 
Contact
NEA Public Affairs, publicaffairs@arts.gov