National Endowment for the Arts Statement on the Death of National Heritage Fellow Ralph W. Stanley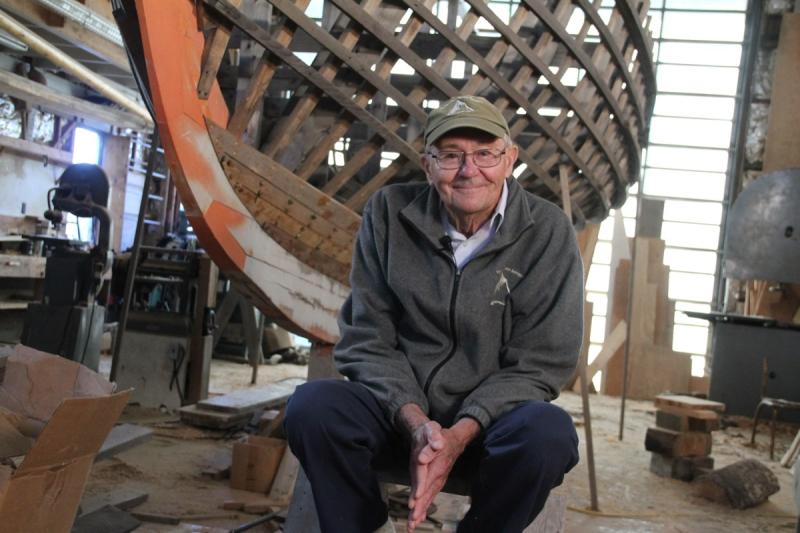 Washington, DC—It is with great sadness that the National Endowment for the Arts acknowledges the passing of Master Boatbuilder Ralph W. Stanley, recipient of a 1999 NEA National Heritage Fellowship, the nation's highest honor in the folk and traditional arts. 
From Maine's Mt. Desert Island, Stanley descends from a long line of mariners who first settled on the island around 1760. Stanley grew up in Southwest Harbor where commercial fishing boats and pleasure boats have always been a prominent part of the local landscape. As a youngster, Stanley made toy boats out of wood and played with them in the harbor, and he enjoyed making drawings of boats, too. When he was old enough, he accompanied his father in his boat when he went out to haul his lobster traps. During his high school years, Stanley became interested in boat-building. World War II was in progress, and since the local boatyards were humming with activity, he was able to observe the construction of large fishing boats, called draggers, and other vessels.
After earning an associate's degree from Ricker Junior College in Houlton, Maine, Stanley returned to Southwest Harbor. Not sure what occupation he wanted to pursue, he decided to try to build a boat. He earned the money he needed to buy locally available wood and other construction materials and, during the winter of 1951-1952, he built a 28-foot lobster boat. The boat turned out well and a local person bought it. This led to orders for other boats.
The one-hour documentary, Ralph Stanley - An Eye for Wood, tells the story of the Ralph Stanley. First-hand accounts of family and community are evidence of Stanley's love of history and a testament to his storytelling skills. Maine filmmaker Jeff Dobbs' film about the Southwest Harbor wooden boat builder Ralph Stanley helps bring the stories of Maine history to life through film.
There are few remaining professional boatbuilders in Maine solely engaged in wooden-boat construction. Stanley's small Maine boat shop is now run by his son Richard, who had worked alongside his father for years. Always striving to learn and to make improvements to his work, Ralph Stanley had once said, "Building wooden boats is like climbing a still-growing tree where you never get to the top … you're always looking to improve."
About the National Heritage Fellowships
The National Heritage Fellowships are the nation's highest honor in the folk and traditional arts. Including the 2021 class, the Arts Endowment has awarded 458 National Heritage Fellowships, recognizing artists working in more than 200 distinct art forms, including Japanese classical dancer Gertrude Yukie Tsutsumi, Tejano musician and singer Manuel "Cowboy" Donley, Passamaquoddy basketmaker Molly Neptune Parker, leatherworker James F. Jackson, oud player and composer Rahim AlHaj, and quilting community advocate Carolyn Mazloomi. More information about the National Heritage Fellows is available on the Arts Endowment's website. 
About the National Endowment for the Arts
Established by Congress in 1965, the National Endowment for the Arts is the independent federal agency whose funding and support gives Americans the opportunity to participate in the arts, exercise their imaginations, and develop their creative capacities. Through partnerships with state arts agencies, local leaders, other federal agencies, and the philanthropic sector, the Arts Endowment supports arts learning, affirms and celebrates America's rich and diverse cultural heritage, and extends its work to promote equal access to the arts in every community across America. Visit arts.gov to learn more.
 
Contact
Public Affairs
publicaffairs@arts.gov
202-682-5570