NEA Statement on the Death of NEA Jazz Master Barry Harris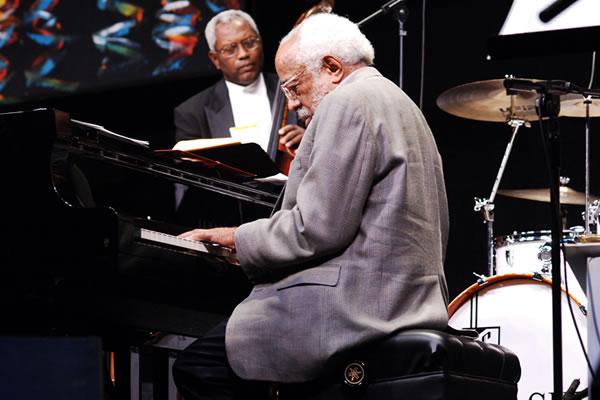 It is with great sadness that the National Endowment for the Arts acknowledges the passing of Barry Harris, pianist, composer, arranger, educator, and recipient of a 1989 NEA Jazz Masters Fellowship, the nation's highest honor in jazz. 
In an interview as part of the Smithsonian Jazz Oral History Program, supported by the NEA, Harris said, "We are not only jazz musicians. We are the continuation of improvisation that has been going on for years—centuries. We are the continuation of classical theory, classical improvisation. We are classical musicians."
Barry Harris was part of an exceptional crew of Detroit-bred jazz musicians, including Tommy Flanagan and Donald Byrd, who rose through the extraordinary arts education program in the public school system during the 1930s and 1940s. Harris' earliest musical mentor was a church piano-playing mother who exposed him to piano lessons at age four. He became seriously immersed in jazz in the mid-1940s and fell under the spell of Thelonious Monk, Charlie Parker, and Bud Powell. As a professional, he would become a key translator of Monk's music.
Detroit was blessed with a high-energy jazz scene during the 1940s, and Harris was house pianist at one of the hottest spots, the Blue Bird Lounge. At the Blue Bird and later at the Rouge, he backed visiting performers such as Miles Davis, Wardell Gray, Max Roach, Sonny Stitt, Lee Konitz, and Lester Young. Displaying an early interest in passing the torch through education, Harris began teaching his bebop theories as early as 1956, tutoring young talent such as Joe Henderson. It is a tradition he carried on throughout his life.
At the urging of Cannonball Adderley, Harris left Detroit in 1960 and moved to New York. In addition to Adderley, Harris found work in the 1960s and 1970s with fellow Detroiter Yusef Lateef, Charles McPherson, and Coleman Hawkins. In addition to sideman work, Harris led various trios and duos at piano bars and restaurants around New York. He also began to get work as an arranger and composer, showing a particular adeptness for his treatment of strings. A consummate freelancer, he found work in a variety of diverse settings and continued to play, inaugurating the Lincoln Center's Penthouse piano series in 1997.
By the early 1980s, Harris' acumen as a teacher and mentor to developing pianists had become legendary. He was able to expand these interests when he opened the Jazz Cultural Center in 1982 on Eighth Avenue in Manhattan. The Center served as workshop, educational facility, and performance space for Harris and his affiliated artists, but unfortunately only lasted until 1987. Harris soldiered on, though, continuing to teach and mentor young musicians, holding weekly workshop sessions in New York City for aspiring performers. He also produced and presented multimedia concert spectaculars at places like Symphony Space and the Manhattan Center in New York City.
Contact
NEA Public Affairs, publicaffairs@arts.gov