NEA Statement on the Death of NEA Jazz Master Slide Hampton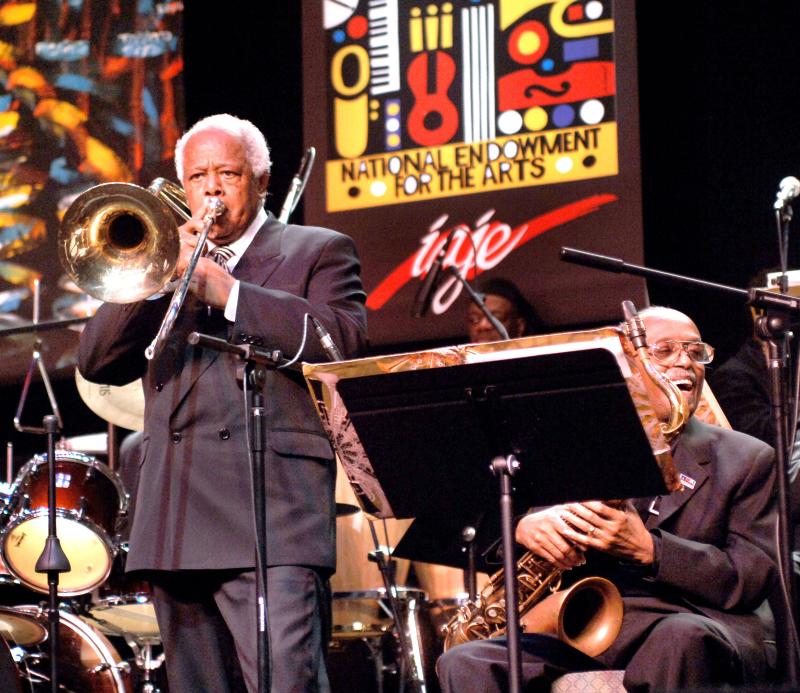 It is with great sadness that the National Endowment for the Arts acknowledges the passing of Slide Hampton—trombonist, arranger, composer, educator, and recipient of a 2005 NEA Jazz Masters Fellowship, the nation's highest honor in jazz. A charismatic figure, master arranger, and formidable trombonist, Hampton holds a place of distinction in the jazz tradition. 
In a 2007 interview with the NEA, Hampton discussed the importance of life experience to a performer: "Your life experience is very important—not so much for your creativity, but especially for your expression. The creativity is an important thing, but the expression is more important. It doesn't matter whether you are composing many notes, it just matters that those notes have a lot of meaning and that you express yourself individually in a way that makes the music have some effect on the people that are listening to it, including yourself."
At the age of 12 Slide Hampton was already touring the Midwest with the Indianapolis-based Hampton Band, led by his father and comprising other members of his musical family. During these tours, Hampton encountered jazz musicians such as J.J. Johnson and Wes Montgomery, who became early influences. By 1952, at the age of 20, he was performing at Carnegie Hall with the Lionel Hampton Band. He then joined Maynard Ferguson's band, playing trombone and providing exciting new compositions to the band's repertoire such as "The Fugue," "Three Little Foxes," and "Slide's Derangement."
As his reputation grew, he began working with bands led by Art Blakey, Dizzy Gillespie, Barry Harris, Thad Jones, Mel Lewis, and Max Roach, again contributing both original compositions and arrangements. In 1962, he formed the Slide Hampton Octet, which included stellar horn players Booker Little, Freddie Hubbard, and George Coleman. The band toured the U.S. and Europe and recorded on several labels.
From 1964 to 1967, he served as music director for various orchestras and artists. Then, following a 1968 tour with Woody Herman, he elected to stay in Europe, performing with other expatriates such as Benny Bailey, Kenny Clarke, Kenny Drew, Art Farmer, and Dexter Gordon. Upon returning to the U.S. in 1977, he began a series of master classes at Harvard University, the University of Massachusetts at Amherst, De Paul University in Chicago, and Indiana University. During this period he formed the illustrious World of Trombones: an ensemble of nine trombones and a rhythm section.
In 1989, he was co-musical director of Dizzy's Diamond Jubilee, alongside Paquito D'Rivera, a year-long series of celebrations honoring Dizzy Gillespie's 75th birthday. In the 1998, Hampton received a Grammy Award for Best Jazz Arrangement with a Vocalist for Dee Dee Bridgewater's recording "Cotton Tail." More recently, he served as musical advisor to the Carnegie Hall Jazz Band.
Visit arts.gov for more information on Slide Hampton, including an interview and a series of Jazz Moments—short audio features—featuring Hampton.
 
Contact
NEA Public Affairs, publicaffairs@arts.gov