Rahele Megosha from South Dakota Named 2021 Poetry Out Loud National Champion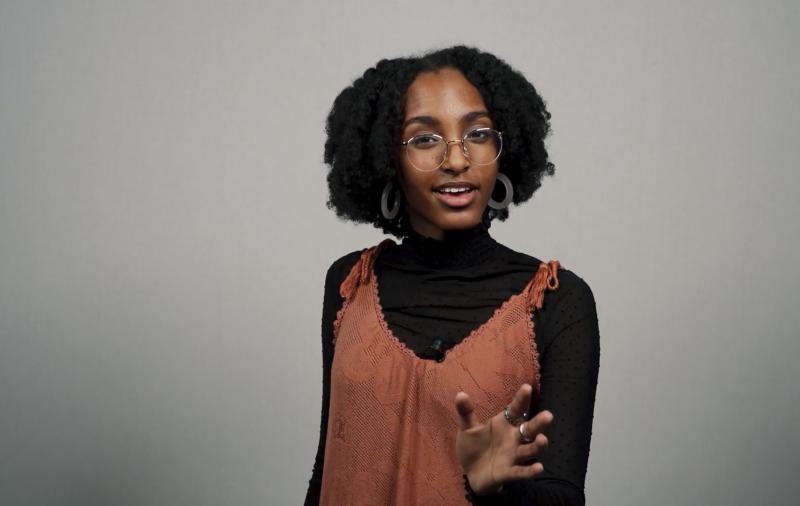 Washington, DC—Following recitations of poetry by Linda Pastan, Jehanne Dubrow, and Mary Lamb, Rahele Megosha, a senior at Washington High School in South Dakota, was announced as the 2021 Poetry Out Loud National Champion during last night's national finals webcast at arts.gov. Megosha will receive a prize of $20,000.
The second-place winner is Kendall Grimes, a junior at Battle Ground Academy in Tennessee, who receives a $10,000 prize. The third-place winner is Soojin Park, a senior at Auburn High School in Alabama, who receives a $5,000 prize. The remaining six students who competed in the finals will each receive a $1,000 prize. The schools of each of the top nine finalists will receive $500 to purchase poetry materials. 
This is the 16th year that the National Endowment for the Arts and Poetry Foundation have partnered with the state and jurisdictional arts agencies to support Poetry Out Loud, a program that encourages the nation's youth to learn about great poetry—both classic and contemporary—through memorization and recitation. The Poetry Foundation provides and administers all aspects of the monetary prizes awarded for Poetry Out Loud. The Poetry Out Loud national finals are administered by Mid Atlantic Arts. 
In a short video about the impact of Poetry Out Loud, Megosha said: "Being able to get to know these different poets and their different poems, it really helps me understand the multitude of perspectives that exist in this world and I think that's a really beautiful thing."
Last night's national finals were the culmination of the 2020-2021 Poetry Out Loud program, with thousands of students from all 50 states, the District of Columbia, Puerto Rico, the U.S. Virgin Islands, Guam, and American Samoa participating during this school year. Both the national semifinals and finals took place virtually in 2021, with state and jurisdictional champions submitting pre-recorded videos that were reviewed and scored by judges based on criteria including physical presence, voice and articulation, dramatic appropriateness, evidence of understanding, overall performance, and accuracy. Read more about all 55 state and jurisdictional champions in the national finals program book.
Photos and videos of the finalists are available for media use. To request an interview with one of the finalists, please email Liz Auclair at auclaire@arts.gov.
The National Endowment for the Arts also recently announced the 2021 winners of the Poetry Ourselves, a second competition open to the Poetry Out Loud state and jurisdictional champions to highlight their original poetry. Read about the winners of that competition on the NEA's website.
About Poetry Out Loud
A partnership of the National Endowment for the Arts, the Poetry Foundation, and the state arts agencies, Poetry Out Loud is a national arts education program that encourages the study of great poetry by offering free educational materials and a dynamic recitation competition for high school students across the country. Poetry Out Loud starts at the classroom/school or at the local level with an area organization. Students memorize and recite poems they select from an anthology of more than 1,100 classic and contemporary poems. Winners then may advance to a regional and/or state competition, and ultimately to the national finals. Since the program began in 2005, more than 4.1 million students and 68,000 teachers from 17,000 schools and organizations across the nation have participated in Poetry Out Loud. The Poetry Out Loud national finals are administered by Mid Atlantic Arts. For more information about Poetry Out Loud and how to participate in the 2021-2022 program, visit poetryoutloud.org.
About the National Endowment for the Arts
Established by Congress in 1965, the National Endowment for the Arts is the independent federal agency whose funding and support gives Americans the opportunity to participate in the arts, exercise their imaginations, and develop their creative capacities. Through partnerships with state arts agencies, local leaders, other federal agencies, and the philanthropic sector, the Arts Endowment supports arts learning, affirms and celebrates America's rich and diverse cultural heritage, and extends its work to promote equal access to the arts in every community across America. Visit arts.gov to learn more. 
About the Poetry Foundation
The Poetry Foundation, publisher of Poetry magazine, is an independent literary organization committed to a vigorous presence for poetry in American culture. It exists to discover and celebrate the best poetry and to place it before the largest possible audience. The Poetry Foundation seeks to be a leader in shaping a receptive climate for poetry by developing new audiences, creating new avenues for delivery, and encouraging new kinds of poetry through innovative literary prizes and programs. For more information, visit poetryfoundation.org
About Mid Atlantic Arts
Mid Atlantic Arts was established in 1979 to promote and support multi-state arts programming in a region that includes Delaware, the District of Columbia, Maryland, New Jersey, New York, Pennsylvania, the U.S. Virgin Islands, Virginia, and West Virginia. It is one of six regional arts organizations in the United States, and works in close partnership with the National Endowment for the Arts and its member state and jurisdictional arts agencies. Mid Atlantic Arts distinguishes itself through its work in international cultural exchange, model programs in performing arts touring, its knowledge and presence in the jazz field, and its support of folk and traditional arts. 
 
Contact
Liz Auclair (NEA), auclaire@arts.gov, 202-682-5744
Elizabeth O'Connell-Thompson (Poetry Foundation), eoconnellthompson@poetryfoundation.org, 312-799-8065