Students Across America Selected as Winners of 2021 Musical Theater Songwriting Challenge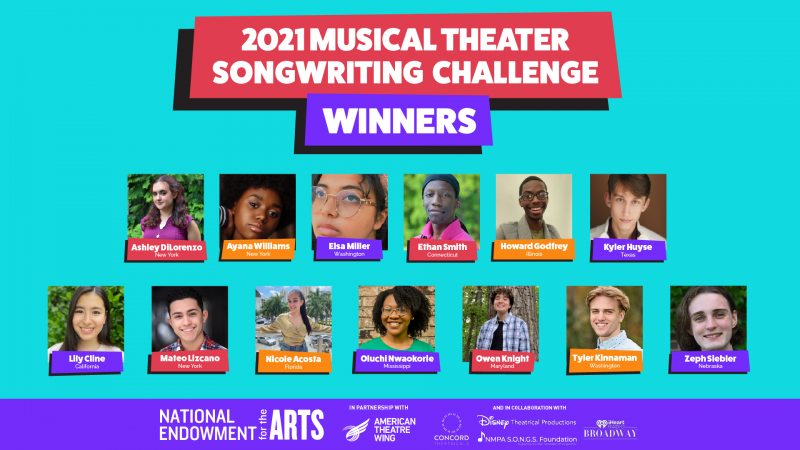 Washington, DC—The National Endowment for the Arts with the American Theatre Wing announced today the winners of the 2021 Musical Theater Songwriting Challenge. Now in its fifth year, the Songwriting Challenge seeks to cultivate the next generation of musical theater songwriters from among the country's high school students through mentorships with professional musical theater artists. Program collaborators include: Concord Theatricals, Disney Theatrical Productions, iHeartRadio Broadway, and the NMPA S.O.N.G.S. (Supporting Our Next Generation of Songwriters) Foundation.
As in 2020, the National Endowment for the Arts and the American Theatre Wing are able to offer this opportunity to 13 students: 11 individual songwriters and one two-person songwriting team. Winners' hometowns range from Maple Valley, Washington to Bethel, Connecticut and from Lincoln, Nebraska to Jackson, Mississippi. Click here for bios and song summaries from each of the winners. 
| | | | | |
| --- | --- | --- | --- | --- |
| Name | City | State | School Level at Time of Submission | School Name at Time of Submission |
| Ayana Williams | Brooklyn | New York | Junior | Brooklyn High School of the Arts |
| Elsa Miller | Maple Valley | Washington | Senior | Tahoma High School |
| Ethan Smith | Bethel | Connecticut | Junior | Bethel High School |
| Howard Godfrey | Gurnee | Illinois | Senior | Evanston Township High School |
| Kyler Huyse | Katy | Texas | Junior | Seven Lakes High School |
| Lily Cline | San Rafael | California | Junior | San Domenico School |
| Nicole Acosta | Miami | Florida | Junior | Miami Arts Studio |
| | Jackson | Mississippi | Senior | Murrah High School |
| Owen Knight | Sykesville | Maryland | Sophomore | Century High School |
| Tyler Kinnaman | Snoqualmie | Washington | Senior | Mount Si High School |
| Zeph Siebler | Lincoln | Nebraska | Junior | Lincoln High School |
| TEAM: Ashley DiLorenzo/Mateo Lizcano | Maspeth/Flushing | New York | Senior/Junior | Frank Sinatra School of the Arts High School |
 "The winners in this fifth anniversary year represent the energizing diversity and creative potential of our country," said NEA Acting Chairman Ann Eilers. "These young people will have a rare opportunity to develop their original song with an extraordinary group of mentors, music directors, musicians, and vocalists. Whether or not the winners take up songwriting professionally, their experience in the program will help them develop as artists and as adults."
"As we build back a better, more inclusive American theatre, it's important to continue nurturing young talent and to bring them to a supportive network where they're set up to succeed", said American Theatre Wing President & CEO Heather Hitchens. "The winners' songs and their myriad styles, sounds, and genres provide just a small sample of the creative, diverse perspectives this upcoming generation of songwriters possess. I look forward to seeing these winners develop as artists and create work that challenges the way society thinks."
The Songwriting Challenge provides each winner with a coaching team—a mentor and a music director—to hone an original song into a Broadway-ready composition. Each song is then recorded by Broadway musicians and vocalists in New York City, made available on streaming music platforms, and compiled into a songbook by Concord Theatricals. The mentoring sessions take place remotely while the recording sessions will be a combination of remote and in-person. 
Almost 150 applications were submitted by high-school students in 32 states. The winners were selected by review panels of professional theater artists in a blind competition. The next phase is that the students will be paired with a mentor and music director to begin their work. Through its different components, the Challenge offers an immersive arts education experience for each student winner, a chance for them to develop their artistic talents and gain insight into the world of professional musical theater and its myriad forms.
To watch performances from the 2016, 2018, 2019, and 2020 programs, go to arts.gov/songwriting. To join the conversation on social media, use #IWriteMusicals. Please contact Victoria Hutter at the above contact information to request an interview with any of the winners.
About the American Theatre Wing
The American Theatre Wing is a not-for-profit organization, founded on the eve of America's entry into WWI by seven suffragists and theatre-makers who came together to support the nation by harnessing the power of theatre. Through a powerful suite of programs that address all aspects of the national theatre ecology, ATW encourages the discovery of theatre by people of all ages, nurtures talent on stage and off, creates pathways for success for students and young professionals, and encourages the development of the art form itself by recognizing and supporting innovative and excellent work with awards and grants.  Building a just, equitable and inclusive American theatre is a guiding principle of all of ATW's work and programs.
Visit AmericanTheatreWing.org to learn more about the extensive programming and grant opportunities for students, theatre professionals, and audiences. For the latest updates and news, follow the Wing on Facebook, LinkedIn, Instagram and Twitter.
 
About the National Endowment for the Arts
Established by Congress in 1965, the NEA is the independent federal agency whose funding and support gives Americans the opportunity to participate in the arts, exercise their imaginations, and develop their creative capacities. Through partnerships with state arts agencies, local leaders, other federal agencies, and the philanthropic sector, the Arts Endowment supports arts learning, affirms and celebrates America's rich and diverse cultural heritage, and extends its work to promote equal access to the arts in every community across America. Visit arts.gov to learn more about the National Endowment for the Arts.
Contact
Victoria Hutter, hutterv@arts.gov, 202-682-5692