NEA Statement on the Death of National Heritage Fellow Kevin Locke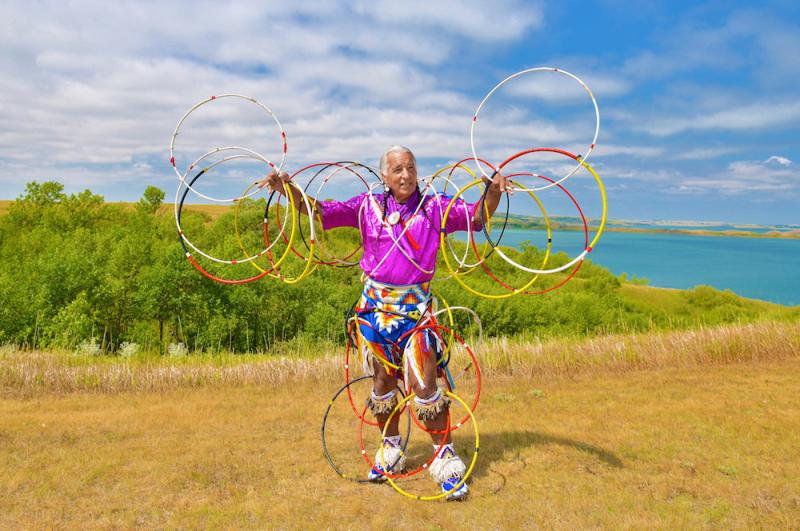 It is with great sadness that the National Endowment for the Arts acknowledges the death of Lakota flute player, singer, and dancer, Kevin Locke (Lakota and Anishnabe), of Wakpala, South Dakota, recipient of a 1990 NEA National Heritage Fellowship, the nation's highest honor in the folk and traditional arts.
Kevin Locke was born June 23, 1954, the son of noted American Indian self-determination advocate and MacArthur Fellow Patricia Locke, and was raised on the Standing Rock Reservation in South Dakota. At home, his uncle spoke only Lakota and taught Locke both the language and traditions of his culture. He was trained from an early age in all forms of Lakota musical, oral, and dance traditions. He learned to make and play traditional wooden flutes from the elders, listening to them sing the songs, as well as from recordings that he found at the Library of Congress. Locke spent much of his life learning, preserving, and sharing the traditions of his people. He lived to become one of the foremost practitioners and scholars of the North American Indigenous flute, a term Locke coined to differentiate the indigenous instrument from its Euro-American pop culture imitator. Through Locke's advocacy efforts, South Dakota state legislature passed a law naming the traditional flute as the state's official indigenous instrument.
Locke also learned the Sioux hoop dance, a traditional practice that had almost died in the early 1980s. His hoop dance was stunning—in it, Kevin used 28 wooden hoops to create a series of designs and patterns from flowers to orbs. In the practice of hoop dancing, the hoop represents unity and the dance is an expression "of the oneness of humankind." Locke describes more about the hoop dance, Lakota flutes, and other traditions in this Art Works podcast.
"There's a point at which you can't express yourself with pure words, and that's where the music comes in." Locke explains that music and dance are used "to connect with that which is real, and good. That which is holy. That which enables all these barriers to collapse and to dissipate the barrier between ourselves and our ancestors."
Throughout his life, Locke was committed to preserving the traditions of his people, giving presentations around the state and throughout the world, Locke said, "I have been able to teach countless Indian and non-Indian children to sing, to dance, to stand inside the hoop of Indian culture, and I know that this experience will have lasting influence with regard to future positive race relations."
Celebrated internationally for his artistry, Locke was determined to use the performance stage to educate the world about the holistic nature of indigenous culture – ranging expertly from linguistics to music, dance, environment, law, and sacred belief. He received the prestigious United State Artists Fellowship in 2020, and performed at the Smithsonian Folklife Festival and the Library of Congress. He also worked tirelessly as an artist-educator in public and tribal schools across South and North Dakota.
Kevin Locke performs at the 2016 Smithsonian Folklife Festival at a concert featuring NEA National Heritage Fellows
Contact
NEA Public Affairs, publicaffairs@arts.gov