NEA Statement on the Death of NEA Jazz Master Pharoah Sanders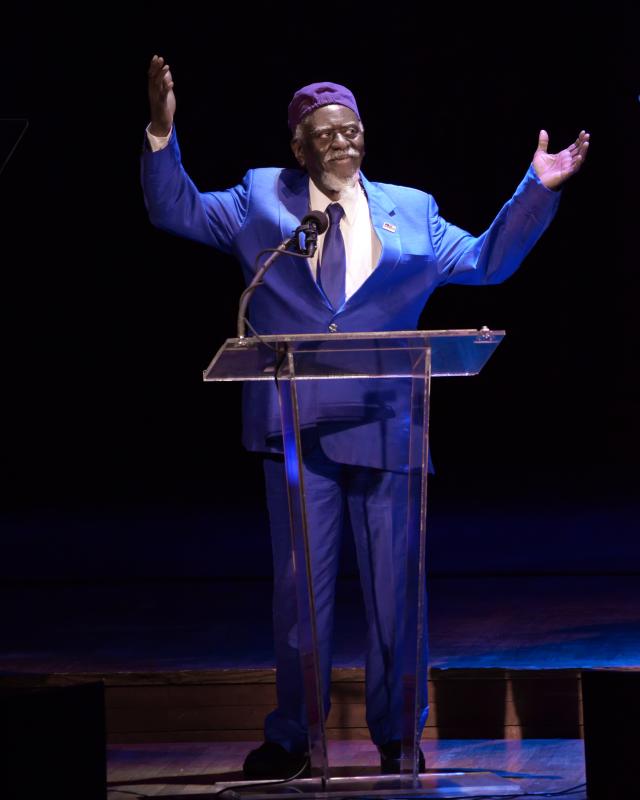 It is with great sadness that the National Endowment for the Arts acknowledges the passing of saxophonist and composer Pharoah Sanders, recipient of a 2016 NEA Jazz Masters Fellowship, the nation's highest honor in jazz. A Grammy Award-winning jazz saxophonist, Sanders showed a remarkable facility performing in a variety of styles, from free to mainstream, displaying what has been called "hard-edged lyricism." Emerging from John Coltrane's groups of the mid-1960s, Sanders was known for his distinctive sound marked by overblowing, harmonic, and multiphonic techniques.
In a 2016 NEA Jazz Moment audio feature, Sanders said, "I never look at the word 'jazz,' I just play. I feel like all of my music is comes from the creator within myself. Whatever comes through me, I'm trying to express, and free myself, and let it out, whatever it is.
"Pharoah's music is so powerful because his spiritual soul is powerful," said Terence Blanchard in a video tribute to Sanders when he received his NEA Jazz Masters Fellows in 2016. "It's almost like that music is bursting out of him. It's like he can't contain it. He has to play, just for his own survival."
Ferrell "Pharoah" Sanders was born into a musical family, and he took up the clarinet as a child. In high school, he was first exposed to jazz by his band director. He switched to the tenor saxophone and soon played blues gigs around Little Rock. After high school, Sanders moved to Oakland, California, studying art and music at the Oakland Junior College. Known in the San Francisco Bay Area as "Little Rock," Sanders expanded his repertoire to include bebop, rhythm and blues, classical, and free jazz, performing with musicians such as Ed Kelly and Smiley Winters.
In 1961, he moved to New York City, where he first began to use the name "Pharoah." Sanders formed his first group in 1963 with pianist John Hicks, bassist Wilbur Ware, and drummer Billy Higgins. However, he came to greater prominence playing and recording with John Coltrane's band, first on the album Ascension and then on their dual-tenor recording Meditations (both 1965). Sanders was strongly influenced by Coltrane, including spiritual elements such as the chanting in his release Om. In 1968, he participated in Michael Mantler and Carla Bley's Jazz Composer's Orchestra Association album The Jazz Composer's Orchestra. A year later, Sanders recorded one of his most commercially successful albums, Karma, featuring the 33-minute track, "The Creator has a Master Plan," with pianist Lonnie Liston Smith and vocalist Leon Thomas' yodeling.
In the 1970s, Sanders began experimenting with African rhythms, such as on his 1971 album Black Unity with bassist Stanley Clarke, which continues to influence his music. In 1994 he traveled to Morocco to record The Trance of Seven Colors with Gnawa musician Mahmoud Guinia. Towards the end of the decade and into the 1980s, he continued to explore other styles of jazz, such as modal and hard bop, and ventured into rhythm and blues.;
In 1988, Sanders received a Grammy Award (along with McCoy Tyner, Roy Haynes, Cecil McBee, and David Murray) for the album Blues for Coltrane: A Tribute to John Coltrane. His last recording, Promises, released in 2021, was a collaboration with the British electronic musician Floating Points and the London Symphony Orchestra and was critically acclaimed.
Visit the NEA's website to watch the full video tribute to Sanders, and listen to short audio features with him.
Contact
NEA Public Affairs, publicaffairs@arts.gov