Announcing the 2023-2024 National Endowment for the Arts Big Read Communities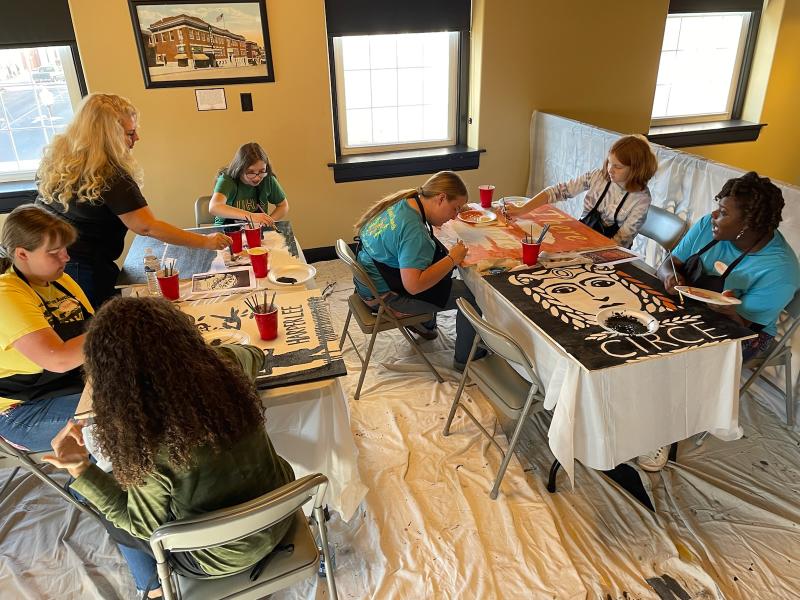 Washington, DC—The National Endowment for the Arts (NEA), in partnership with Arts Midwest, is pleased to announce grants to 62 nonprofit organizations to hold NEA Big Read programming in 2023-2024. In total, the NEA is investing $1,075,000 to support programming centered around a contemporary book from the NEA Big Read Library, with the aim of inspiring meaningful conversations, artistic responses, and new discoveries and connections in participating communities.
"The NEA Big Read brings the transformative experience of reading to an entire community," said Maria Rosario Jackson, PhD, chair of the National Endowment for the Arts. "This year's grantees are taking themes off the page and using creative programming to navigate difficult topics, explore new perspectives, and strengthen bonds between neighbors."
"Using the captivating power of literature, NEA Big Read events unleash the creative spirit that resides within all of us," said Torrie Allen, president and CEO of Arts Midwest. "We're thrilled to support the work of grantees across the nation as they inspire conversations and artistic expressions through shared reading experiences."
Grantees are from 35 states with 40 percent of the recipients receiving their first NEA Big Read grant this year. Each NEA Big Read grantee will receive a matching grant ranging from $5,000 to $20,000 to support their project.
Examples of 2023-2024 grantee programming:
A new grantee this year, Northern Arizona Book Festival will work with Indigenous artisans to create a large scale art installation in an historic house in downtown Flagstaff in response to Postcolonial Love Poem by Natalie Diaz. In addition, art pieces, performances, and found texts throughout the house will be generated by community members.
Another new grantee, Tifton-Tift County Public Library in Georgia will engage youth by presenting a shadow puppet version of The Bear for Youth, an interpretation of Andrew Krivak's novel The Bear.
Girls Write Now in Brooklyn, New York, will kick off their NEA Big Read focused on Ross Gay's poetry collection Catalogue of Unabashed Gratitude with their popular Friday Night Salon, bringing together poets who explore gratitude and mental health in their work.
About the National Endowment for the Arts Big Read
The National Endowment for the Arts Big Read, a partnership with Arts Midwest, broadens our understanding of our world, our communities, and ourselves through the joy of sharing a good book. Since 2006, the National Endowment for the Arts has funded more than 1,800 NEA Big Read programs, providing more than $25 million to organizations nationwide. In addition, NEA Big Read activities have reached every Congressional district in the country. Over the past 15+ years, grantees have leveraged more than $57 million in local funding to support their NEA Big Read programs. More than 6 million Americans have attended an NEA Big Read event, over 100,000 volunteers have participated at the local level, and over 40,000 community organizations have partnered to make NEA Big Read activities possible.
Visit arts.gov/neabigread for more information about the NEA Big Read. Organizations interested in applying for an NEA Big Read grant in the future should visit Arts Midwest's website for more information; guidelines will be released in the Fall.
About the National Endowment for the Arts
Established by Congress in 1965, the National Endowment for the Arts is an independent federal agency that is the largest funder of the arts and arts education in communities nationwide and a catalyst of public and private support for the arts. By advancing equitable opportunities for arts participation and practice, the NEA fosters and sustains an environment in which the arts benefit everyone in the United States. Visit arts.gov to learn more.
About Arts Midwest
Arts Midwest supports, informs, and celebrates Midwestern creativity. We build community and opportunity across Illinois, Indiana, Iowa, Michigan, Minnesota, North Dakota, Ohio, South Dakota, Wisconsin, the Native Nations that share this geography, and beyond. As one of six nonprofit United States Regional Arts Organizations, Arts Midwest works to strengthen local arts and culture efforts in partnership with the National Endowment for the Arts, state agencies, private funders, and many others. Learn more at artsmidwest.org.
Contact
Liz Auclair, auclaire@arts.gov, 202-682-5744