Final Contest for 2023 Poetry Out Loud Competition on May 10, 2023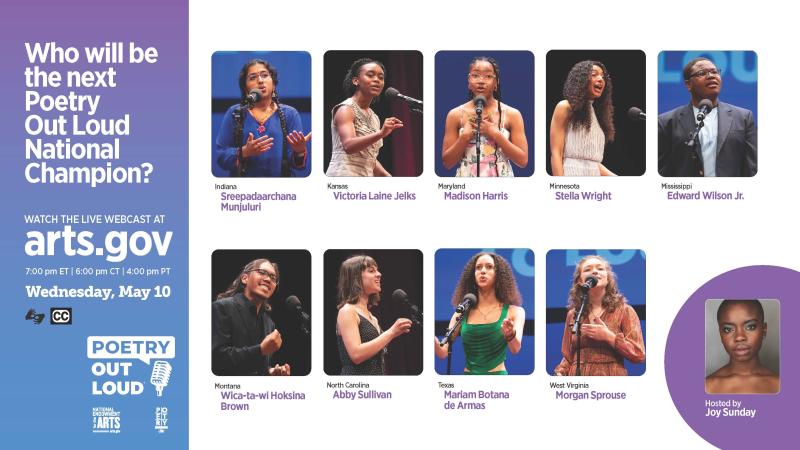 WHAT: Out of a field of 54 state and jurisdictional champions, nine high school students are advancing to the 2023 Poetry Out Loud National Finals on May 10. These students will match their skills in reciting classic and contemporary poetry in a contest for the title of 2023 Poetry Out Loud National Champion and a $20,000 award. A program of the National Endowment for the Arts and the Poetry Foundation along with the state and jurisdictional arts agencies, Poetry Out Loud has reached more than 4.3 million students since it began in 2005. This year's state and jurisdictional champions advanced from more than 158,000 students nationwide. 
WHEN/WHERE: Wednesday, May 10, 7:00–9:15 p.m. ET at Lisner Auditorium, The George Washington University, 730 21st Street NW, Washington, DC. In addition, there will be a live, one-time-only webcast at  arts.gov/Poetry-Out-Loud.
WHO: Hosted by Joy Sunday from the television series Wednesday. Judges include Crisosto Apache, H-Dirksen L. Bauman, J. Nicole Brooks, Guadalupe García McCall, Diana Khoi Nguyen, and Brian Teare. The evening will also include a performance by bilingual singer-songwriter Alisa Amador, winner of the 2022 NPR Tiny Desk Contest.
2023 Poetry Out Loud National Finalists:
Indiana Champion Sreepadaarchana Munjuluri, an 11th-grade student at Columbus North High School representing Indiana Humanities 
Kansas Champion Victoria Laine Jelks, a 9th-grade student at Horton High School 
Maryland Champion Madison Harris, a 9th-grade student at Indian Creek School (Crownsville)
Minnesota Champion Stella Wright, a 12th-grade student at Robbinsdale Armstrong High School (Plymouth)
Mississippi Champion Edward Wilson Jr., a 12th-grade student at Jackson Preparatory School 
Montana Champion Wica-ta-wi Hoksina Brown, an 11th-grade student at Polson High School 
North Carolina Champion Abby Sullivan, a 12th-grade student at Weaver Academy (Greensboro)
Texas Champion Mariam Botana de Armas, an 11th-grade student at Northside School of Innovation, Technology and Entrepreneurship in (San Antonio)
West Virginia Champion Morgan Sprouse, a 12th-grade student at Bridgeport High School 
INTERVIEWS: Pre-event interviews with the nine national finalists are available on request. Contact Liz Auclair at auclaire@arts.gov to arrange an interview.
PHOTOS/VIDEOS: 
Video of poetry recitations available on request—email auclaire@arts.gov
CONTACT: Media must send a request for coverage to auclaire@arts.gov by 5 p.m. ET tonight. Video crews covering the Wednesday night national finals must arrive by 6:45 p.m. to reserve a space. No flash photography.
Contact
Liz Auclair (NEA), auclaire@arts.gov, 202-682-5744
Elizabeth O'Connell-Thompson (Poetry Foundation), eoconnellthompson@poetryfoundation.org, 312-799-8065