National Endowment for the Arts Funds 25 Rural Communities Through Citizens' Institute on Rural Design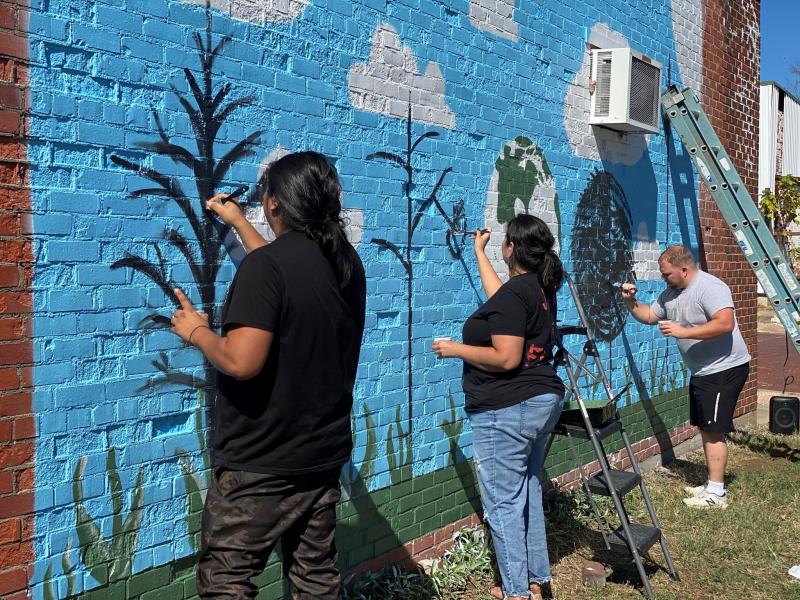 Washington DC—The National Endowment for the Arts is pleased to announce the 25 towns and tribal communities taking part in this year's Citizens' Institute on Rural Design™ (CIRD), continuing the agency's longstanding commitment to rural America. Working with communities with populations of 50,000 or less, this national initiative has two primary components: local design workshops and a design learning cohort. This year CIRD will support eight workshops across the country, twice the number of workshops funded in previous years. The members of the peer learning cohort come from 17 communities as geographically diverse as Dalhart, Texas, and Ellsworth, Maine.
"I am thrilled that the Citizens' Institute on Rural Design is able to extend its reach to more rural populations this year by supporting additional workshops," said Maria Rosario Jackson, PhD, chair of the National Endowment for the Arts. "These activities exemplify how communities can come together to leverage design, enhancing quality of life, economic vitality, and civic infrastructure."
With guidance from a range of design, planning, and creative placemaking professionals, the workshops convene local residents and leaders from nonprofits, community organizations, and government to explore design ideas to revitalize their communities. The eight workshop communities will also participate in the design learning cohort, where they will receive training in rural design and creative placemaking, coaching on facilitation techniques, assistance navigating funding opportunities, and one-on-one technical assistance on their community design project.
"The Housing Assistance Council is delighted to further strengthen and broaden the reach of its partnership with the National Endowment for the Arts around the shared goal of enhancing the quality of life and economic viability of communities", said David Lipsetz, CEO of the Housing Assistance Council. "Paramount to placemaking, the resident-led approach cultivates a sense of ownership and fosters strong community bonds—critical components that interweave the vibrant tapestry of rural communities and small towns across rural America."
The multi-day design workshops in the eight selected communities will offer hybrid in-person and virtual sessions. The workshop communities will also receive a design book that contains the design concepts and suggested resources from their workshop, as well as support through webinars, web-based resources, and customized follow-up support after the workshop. Dates for each workshop and members of the resource team are forthcoming. Design assistance will be provided to the following workshop communities:
Boswell, Indiana (population 800): J.O.B.S. Renewable Fund, Inc. is taking on an ambitious project to create a community hub at a former elementary school site. In 2021, the school closed due to consolidation, but with creative design concepts, the organization will repurpose the building for sustainable, community-based economic opportunities, potential housing, and green space.
Mount Sterling, Kentucky (population 7,545): With local support, the Gateway Regional Arts Center is looking to revitalize a part of Mount Sterling's historic downtown with public art, community gathering spaces, and recreational activities. With CIRD's design assistance, this area along a creek which currently divides the city, will come to serve as a place of harmony and celebration of community.
Two Harbors, Minnesota (population 3,621): In Two Harbors, a group of committed volunteers is spearheading a well-timed project with potential to transform a 47-acre waterfront parcel on Lake Superior. Working with citizens, businesses, and city leaders to develop an actionable waterfront master plan, Two Harbors' waterfront revitalization will transform a neglected, environmentally-degraded area into a community asset for all.
Grenada, Mississippi (population 12,169): Friends of the Chakchiuma Swamp will preserve and tell Grenada stories by drawing a connection between two unique city-owned properties, the Grenada Hangar and Lee Tartt Nature Preserve. These public spaces are culturally significant but need immediate design assistance. Capitalizing on community partnerships, the project will result in an outdoor space that boosts local pride.
Thompson Falls, Montana (population 1,551): The Orchard Project, helmed by the Kaniksu Land Trust, links outdoor recreation with conservation. Using community input from a public survey, this collaborative effort seeks design assistance to create trails, pavilions, parking, and educational spaces in Thompson Falls, in particular for the use of local youth.
Dublin, Texas (population 3,433): The Dublin Public Library will improve the design of the local farmer's market, making it a "producer to consumer" market. The design project will transform an old recreation hall, engaging local farms, agritourism, and ensuring the community receives access to fresh, healthy foods in an area with a high rate of food insecurity.
Sunnyside, Washington (population 16,254): Catholic Charities Housing Services is in the initial planning stages for a large-scale community development effort in Sunnyside. With CIRD's assistance on the community engagement and early design concepts, this holistic community development project will help meet the growing need for affordable rental housing and homeownership opportunities for farm workers and other families across the very low- to moderate-income spectrum.
Ft. Washakie, Wyoming (population 1,732): The Eastern Shoshone Tribe on the Wind River Reservation is planning for the construction of a new facility that can house the Tribe's Cultural Center and Museum and also be a repository for the Tribal Historic Preservation Office and the Tribal Archives. CIRD's design concepts for the building will tie together the tribe's many cultural assets and ensure there is adequate space, equipment, supplies, and climate controls to preserve and share ancestral collections with the broader community.
The 17 selected communities in the design learning cohort, as well as the eight workshop communities, will meet online monthly over the course of 14 months.
Organizations
Sitka Tribe of Alaska
Sitka, Alaska
Siskiyou County Economic Development Council
Yreka, California
Cortez Cultural Center
Cortez, Colorado
Reimagine Mendota
Mendota, Illinois
The Building Community
Fredonia, Kansas
Sharpsburg Design Studio
Sharpsburg, Kentucky
Heart of Ellsworth, ME
Ellsworth, Maine
Town of Van Buren
Van Buren, Maine
Village of Marcellus DDA
Marcellus, Michigan
Community Economic Development Associates
Zumbrota, Minnesota
City of Bowling Green
Bowling Green, Ohio
Tablertown People of Color Museum
Stewart, Ohio
Project G.A.I.N.
Hugo, Oklahoma
Seminole Arts Council
Seminole, Oklahoma
A Greater Applegate
Jacksonville, Oregon
City of Dalhart, TX
Dalhart, Texas
City of Ilwaco, Downtown Ilwaco Revitalization Committee
Ilwaco, Washington
About Citizens' Institute on Rural Design
CIRD has provided design assistance to rural communities since 1991 and this is the fifth year working with the Housing Assistance Council as the NEA's initiative partner. The program has design support from To Be Done Studio. To date, the National Endowment for the Arts has engaged more than 120 communities in all regions of the country. For more information about the Citizens' Institute on Rural Design, visit www.rural-design.org.
About the National Endowment for the Arts
Established by Congress in 1965 the National Endowment for the Arts (NEA) is an independent federal agency that is the largest funder of the arts and arts education in communities nationwide and a catalyst of public and private support for the arts. By advancing equitable opportunities for arts participation and practice, the NEA fosters and sustains an environment in which the arts benefit everyone in the United States. To learn more, visit arts.gov or follow us on Twitter, Facebook, Instagram, and YouTube.
About the Housing Assistance Council
Housing Assistance Council (HAC) is a national nonprofit that helps rural communities build a better future. Based in Washington, DC, HAC provides below-market financing, capacity building, research and information, and policy formulation to support affordable housing and community development across rural America. For more information, visit www.ruralhome.org.
About To Be Done Studio
To Be Done Studio (TBD) harnesses the inherent goodness in people and the power of design to create sustainable solutions to the endemic problems that our world faces. We seek a relevant practice, one which is accessible to all rather than the few. To do so, we design and build spaces that uplift, inspire and support power within the communities we work. For more information, visit www.tbd-studio.org.
Contact
Carolyn Coons, coonsc@arts.gov, 202-682-5552