NEA and White House Domestic Policy Council Host Convening on Whole-of-Government Approach to Arts and Culture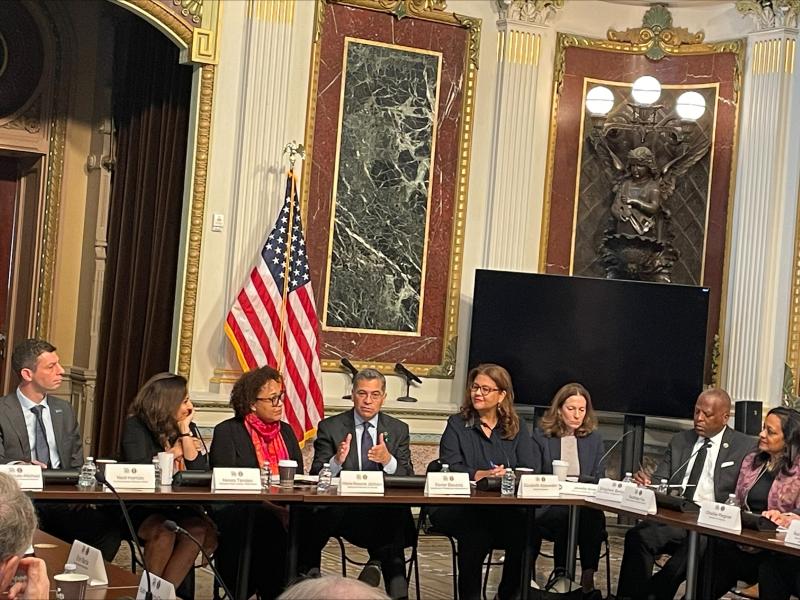 On Tuesday, October 17, 2023, in recognition of National Arts and Humanities Month, the White House Domestic Policy Council and National Endowment for the Arts (NEA) co-hosted a convening to discuss the Biden-Harris Administration's whole-of-government approach to arts and culture. 
This National Arts and Humanities Month, the Biden-Harris Administration highlights its commitment to supporting the arts, humanities, and museum and library services and integrating them into federal policies and programs, including major investments in the NEA, National Endowment for the Humanities, and Institute of Museum and Library Services. A year ago, President Biden signed an Executive Order on Arts and Humanities to spur investment and alignment of arts and culture across the federal government, make art more accessible to people from underserved communities, elevate new voices through the arts and humanities, and expand opportunities for artists and scholars. The Executive Order also re-established the President's Committee on the Arts and the Humanities. 
In the meeting, Domestic Policy Advisor Neera Tanden highlighted the anniversary of the 2022 Executive Order and discussed how arts and humanities are essential to a thriving democracy and should be integrated across federal agencies. NEA Chair Maria Rosario Jackson discussed current federal opportunities for the arts, including the administration's focus on equity and justice, climate, the urgent need to repair our democracy, and challenges facing the arts sector in the wake of the pandemic. Senior Advisor to the President and Director of the Office of Public Engagement Steve Benjamin spoke about the value of engaging artists directly and bringing communities together through the arts. HHS Secretary Becerra highlighted the intersection of arts and health and well-being as well as NEA and HHS collaboration such as the new interagency working group on Arts, Health, and Civic Infrastructure. Senior Advisor to the President and White House Infrastructure Coordinator Mitch Landrieu discussed how we can connect artist workforce programs to the administration's unprecedented bipartisan infrastructure law investments, ensuring infrastructure design is responsive to place and that it engages local communities. National Endowment for the Humanities (NEH) Chair Shelly C. Lowe (Navajo) discussed the importance of knowing our past to strive for a better future.
Administration officials across sectors, including health, transportation, infrastructure, education, environmental protection, emergency preparedness, and national service, discussed ways the arts and culture contribute to goals such as equitable community engagement, social connectedness, mental health, and climate resilience in rural and urban settings. Participants discussed ideas to strengthen the intersections of the arts and other sectors while continuing to build clear pathways for artists and arts organizations. 
This meeting built toward a first-of-its-kind public convening, which will take place at the National Endowment for the Arts and online on January 30, 2024, called "Healing, Bridging, Thriving: A Summit on Arts and Culture in our Communities."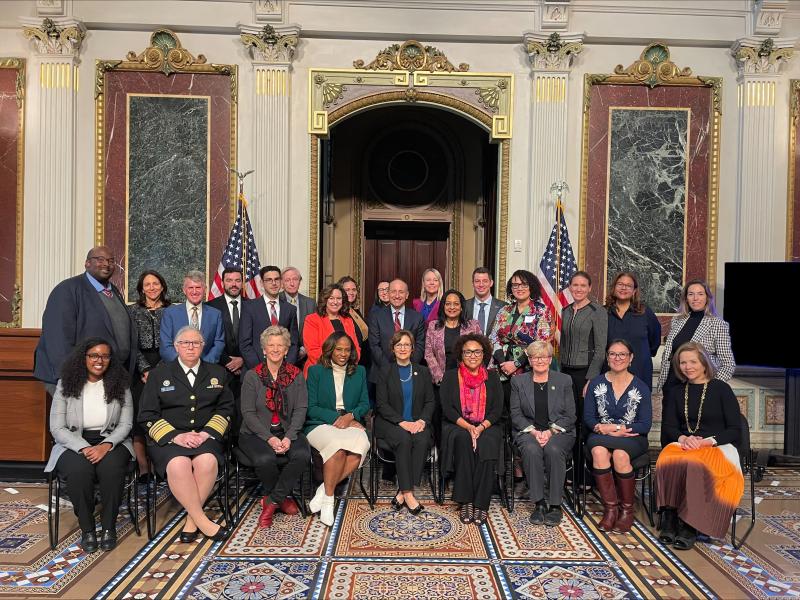 Administration participants included
Xavier Becerra, Secretary, Department of Health and Human Services
Steve Benjamin, Senior Advisor to the President and Director of the Office of Public Engagement
Robin Carnahan, Administrator, General Services Administration
Marcus Coleman, Director, Department of Homeland Security Center for Faith-Based and Neighborhood Partnerships, Federal Emergency Management Agency
Nicole Elkon, Deputy Assistant Secretary for Professional and Cultural Exchanges, Bureau Of Educational And Cultural Affairs, Department of State
Katharine Ferguson, Chief of Staff, Department of Agriculture
Radhika Fox, Assistant Administrator for Water, Environmental Protection Agency
Kathryn Isom-Clause, Deputy Assistant Secretary for Indian Affairs, Bureau of Indian Affairs, Department of the Interior
Maria Rosario Jackson, Chair, National Endowment for the Arts
Crosby Kemper, Director, Institute of Museum and Library Services
Jen Klein, Assistant to the President and Director of the White House Gender Policy Council 
Mitch Landrieu, Senior Advisor to the President and Infrastructure Coordinator, White House
Rachel Levine, Assistant Secretary for Health, Department of Health and Human Services
Shelly C. Lowe (Navajo), Chair, National Endowment for the Humanities
Cindy Marten, Deputy Secretary, Department of Education
Carlos Monje, Under Secretary of Transportation for Policy, Department of Transportation
Yasmeen Shaheen-McConnell, Senior Advisor for Strategic Partnerships, AmeriCorps
Neera Tanden, Domestic Policy Advisor to the President 
Adrianne Todman, Deputy Secretary, Department of Housing and Urban Development
Tsione Wolde-Michael, Executive Director, President's Committee on the Arts and the Humanities
Other participants included
Elizabeth Alexander, President, Mellon Foundation
Tonya Allen, President, McKnight Foundation
Suzanne Bonamici, Representative, Member of Congress
Erin Borla, President, Roundhouse Foundation
Jim Canales, President, Barr Foundation
Renée Fleming, Singer, Arts and Health Advocate
Kamilah Forbes, Artistic Director, Apollo Theater
Sam Gill, President, Doris Duke Charitable Foundation
Ned Hanlon, President, American Guild of Musical Artists
Christy MacLear, President, Good Chaos
Chellie Pingree, Representative, Member of Congress
Rip Rapson, President, Kresge Foundation
Contact
NEA Public Affairs, publicaffairs@arts.gov