NEA Big Read Introduces New Theme "Where We Live"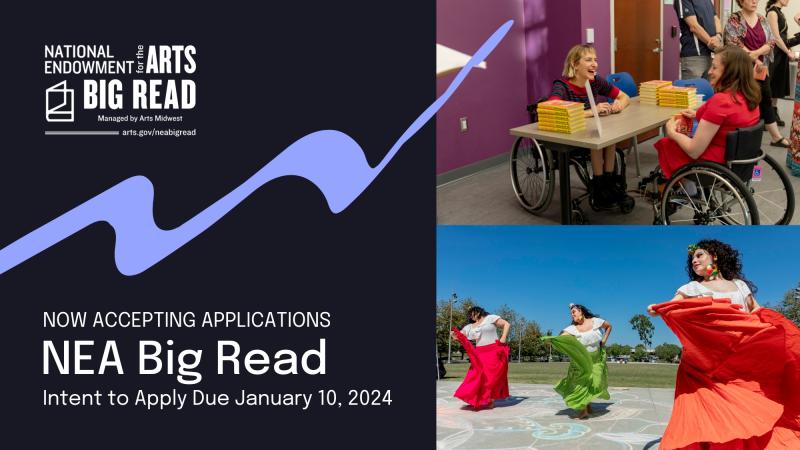 Washington, DC—Applications are now open for grants to support NEA Big Read projects between September 2024 and June 2025. An initiative of the National Endowment for the Arts (NEA) in partnership with Arts Midwest, the NEA Big Read supports community reading programs designed around a single NEA Big Read book. The goal of this program is to inspire meaningful conversations, celebrate local creativity, elevate a wide variety of voices and perspectives, and build stronger connections in each community. Matching grants range from $5,000 to $20,000 each. The Intent to Apply deadline is Wednesday, January 10, 2024. Visit Arts Midwest's website for complete grant guidelines and to apply.
New for 2024-2025: Community programming during this cycle will focus on the theme "Where We Live." Applicants will host book discussions, writing workshops, and creative activities that celebrate unique aspects of their community, using as inspiration one of 50 available NEA Big Read books. These 50 titles are drawn from the NEA Big Read archive and showcase a wide range of genres, perspectives, and geographic regions.
"Community is at the heart of the NEA Big Read program, and we are excited to see how this new theme inspires applicants to explore what that means, not only by bringing a community together around a common read, but forging deeper connections between people and place," said Amy Stolls, the NEA's literary arts director. 
As part of the Where We Live theme, applicants will explore one or more of the following sub-themes: 
The Environment—a community's physical/natural surroundings
The People—a community's ancestors and/or current members (including, for example, those who recently arrived, whose familial roots go back generations, and those who left but still feel its pull)
Industry and Culture—landmarks, work centers, traditions, and other aspects that define a community
History—aspects of the past that have influenced a community, including legends
Alternate Realities—an imagining of what a community could be or become
The NEA Big Read welcomes applications from a variety of eligible organizations, including first-time applicants; organizations serving communities of all sizes, including rural and urban areas; and organizations with small, medium or large operating budgets. Read more about eligibility in the guidelines.
Applicant organizations will collaborate with a broad range of partners—including a community library if the applicant itself is not a library—to offer events and activities that engage the whole community.
Applicant Resources:
A webinar for potential applicants will take place on Wednesday, November 15th at 2:00 p.m. ET. Register here.
Potential applicants may also sign up for 15-minute consultations with Arts Midwest staff and review sample applications—access the guidelines for more details. Stories about past NEA Big Read projects can be found on Arts Midwest's website.
Arts Midwest has created a Best Practices for Federal Grant Applications resource, which is applicable to the NEA Big Read application. 
How to apply:
Visit Arts Midwest's website for complete guidelines and what information is required to apply.
Register your organization in Arts Midwest's SmartSimple grant portal.
Intent to Apply deadline: Wednesday, January 10, 2024. Arts Midwest will confirm applicant eligibility and forward to the application stage. 
Full application deadline: Wednesday, January 24, 2024.
Organizations are also encouraged to explore another open grant opportunity from the NEA and Arts Midwest—Shakespeare in American Communities. Through grants to theater companies that produce Shakespeare's works, this program supports high-quality productions and educational activities in middle schools, high schools, and juvenile justice facilities throughout the United States. The Intent to Apply deadline is January 25, 2024.
About the National Endowment for the Arts
Established by Congress in 1965, the National Endowment for the Arts is an independent federal agency that is the largest funder of the arts and arts education in communities nationwide and a catalyst of public and private support for the arts. By advancing equitable opportunities for arts participation and practice, the NEA fosters and sustains an environment in which the arts benefit everyone in the United States. To learn more, visit arts.gov.
About Arts Midwest
Arts Midwest believes that creativity has the power to inspire and unite humanity. Based in Minneapolis, Arts Midwest grows, gathers, and invests in creative organizations and communities throughout the nine-state region of Illinois, Indiana, Iowa, Michigan, Minnesota, North Dakota, Ohio, South Dakota, Wisconsin, and the Native Nations that share this geography. One of six nonprofit United States Regional Arts Organizations, Arts Midwest's history spans more than 35 years. For more information, visit artsmidwest.org.
 
Contact
(media questions) Liz Auclair, auclaire@arts.gov, 202-682-5744
(application questions) Arts Midwest, neabigread@artsmidwest.org, 612-238-8024