President Biden to Award National Medals of Arts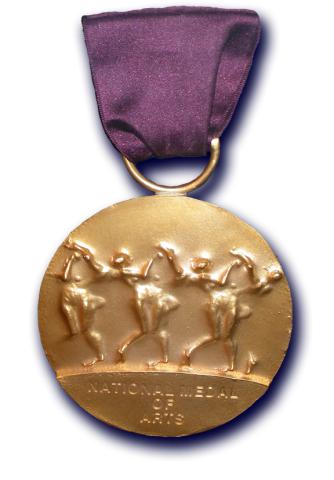 Washington, DC—President Joseph R. Biden will present the 2021 National Medals of Arts in conjunction with the National Humanities Medals on Tuesday, March 21, 2023 at 4:30 p.m. ET in an East Room ceremony at the White House. First Lady Dr. Jill Biden will attend. The event will be live streamed at www.whitehouse.gov/live.
National Endowment for the Arts (NEA) Chair Maria Rosario Jackson, PhD, said, "The National Medal of Arts recipients have helped to define and enrich our nation's cultural legacy through their life long passionate commitment. We are a better nation because of their contributions. Their work helps us see the world in different ways. It inspires us to reach our full potential and recognize our common humanity. I join the President in congratulating and thanking them."
Below is the list of 2021 recipients:
Judith Francisca Baca: Judith Francisca Baca's collaborative work has turned forgotten histories into public memory—pioneering an art form that empowers communities to reclaim public space with dignity and pride. 
 
Fred Eychaner: From dance and architecture to arts education and a lifetime of LGBTQI+ advocacy, Fred Eychaner has helped give millions of people strength to be themselves and moved our country forward.
 
Jose Feliciano*: Over 60 years, 60 albums, and 600 songs, Jose Feliciano has opened hearts and built bridges—overcoming obstacles, never losing faith, and enriching the goodness and greatness of the Nation.
 
Mindy Kaling: Imbued with humor and heart, Mindy Kaling's work across television, film, and books inspires and delights—capturing and uplifting the experiences of women and girls across our Nation.
 
Gladys Knight: Gladys Knight's exceptional talent influenced musical genres—from rhythm and blues to gospel to pop—and inspired generations of artists, captivated by her soundtrack of a golden age in American music.  
 
Julia Louis-Dreyfus: As one of the most decorated comedic actors of our time, Julia Louis-Dreyfus has blazed a trail for women in comedy and across American life through her commitment to excellence and the power of her example.
 
Antonio Martorell-Cardona: Transcending generation and genre, Antonio Martorell-Cardona's art exposes hard truths with whimsy and color, to help us remember and grow, as people and as a Nation. 
Joan Shigekawa: Throughout her career, Joan Shigekawa has championed artists, created global exchanges, and promoted the power of the arts to heal, build strong economies, and help people and Nations reach their full potential.
 
Bruce Springsteen: One of our greatest performers and storytellers, Bruce Springsteen's music celebrates our triumphs, heals our wounds, and gives us hope, capturing the unyielding spirit of what it means to be American.
 
Vera Wang: From the runway to red carpets to retail stores, Vera Wang's modern designs and bridal collections express individualism and elegance, making beauty and style accessible to all. 
 
The Billie Holiday Theatre: Channeling its namesake's exploration of freedom and identity, The Billie Holiday Theatre cultivates some of our Nation's most renowned Black actors, writers, designers, and musicians and has expanded the reach of American artistic expression and achievement. 
 
The International Association of Blacks in Dance: Through teaching, training, and performance, The International Association of Blacks in Dance promotes dance by people of African ancestry and origin, explores and exchanges art, spans cultures and generations, and enriches the dance culture of America.
* Will not be in attendance at the ceremony.
The 2021 National Humanities Medals will be presented at the same ceremony 
Join the conversation on Twitter at #ArtsHumanitiesMedal.
About the National Medal of Arts
The National Medal of Arts is the highest award given to artists and arts patrons by the federal government. It is awarded by the president of the United States to individuals or groups who are deserving of special recognition by reason of their outstanding contributions to the excellence, growth, support, and availability of the arts in the United States. Please see additional information and the list of past recipients on the NEA website.
The National Endowment for the Arts manages the nomination process on behalf of the White House. Each year, the Arts Endowment seeks nominations from individuals and organizations across the country. The National Council on the Arts, the NEA's presidentially appointed and Senate-confirmed advisory body, reviews the nominations and provides recommendations to the President, who selects the recipients.
About the National Endowment for the Arts
Established by Congress in 1965, the National Endowment for the Arts is an independent federal agency that is the largest funder of the arts and arts education in communities nationwide and a catalyst of public and private support for the arts. By advancing equitable opportunities for arts participation and practice, the NEA fosters and sustains an environment in which the arts benefit everyone in the United States. To learn more, visit arts.gov or follow us on Twitter, Facebook, Instagram, and YouTube.