Sreepadaarchana Munjuluri from Indiana Named 2023 Poetry Out Loud National Champion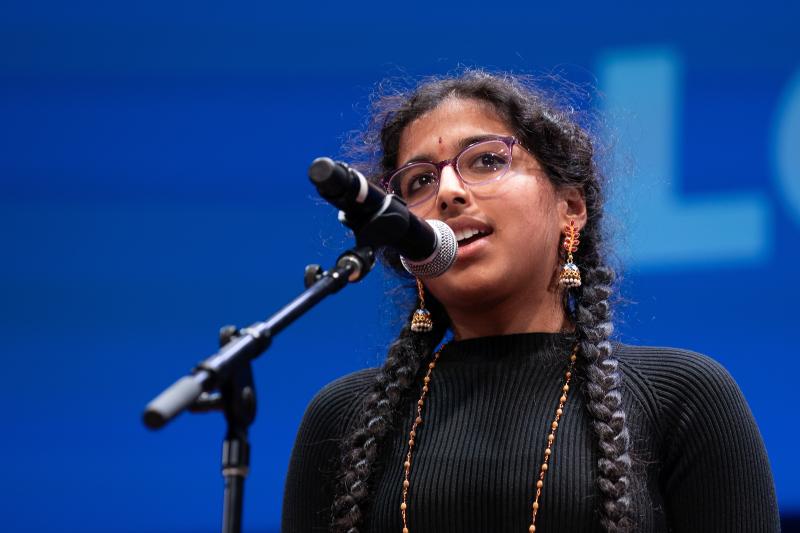 Washington, DC—The National Endowment for the Arts and the Poetry Foundation are pleased to share that Sreepadaarchana Munjuluri, a junior at Columbus North High School, is the 2023 Poetry Out Loud® National Champion. After reciting poems by Emily Jungmin Yoon, Emma Lazarus, and Garrett Hongo, Munjuluri was named champion during last night's national finals, which took place in Washington, DC, and was hosted by Joy Sunday from the recent television series Wednesday. As National Champion, Munjuluri will receive a prize of $20,000.
The second-place winner is Edward Wilson Jr., a senior at Jackson Preparatory School in Mississippi, who will receive a $10,000 prize. The third-place winner is Madison Harris, a freshman at Indian Creek School in Crownsville, Maryland, who will receive a $5,000 prize. The other six national finalists were Victoria Laine Jelks (Kansas), Stella Wright (Minnesota), Wica-ta-wi Hoksina Brown (Montana), Abby Sullivan (North Carolina), Mariam Botana de Armas (Texas), and Morgan Sprouse (West Virginia); each receives a $1,000 prize. The representing schools/organizations of all the top nine finalists will each receive $500 to purchase poetry materials. The Poetry Foundation provides and administers all aspects of the monetary prizes awarded for Poetry Out Loud. The Poetry Out Loud National Semifinals and Finals are administered by Mid Atlantic Arts.
Munjuluri participated in Poetry Out Loud through the organization Indiana Humanities. In an interview about her experience with Poetry Out Loud Munjuluri said, "I love the fact that students are not just reading a poem or reading words, but they are actually sharing a part of their identity, sharing what's important to them. The poems that I chose share a different facet of what I believe in, who I am."
Photos from the 2023 National Finals are available for media use. To request an interview with Munjuluri or any of the finalists, please email Liz Auclair at auclaire@arts.gov.
This is the 18th year that the National Endowment for the Arts and Poetry Foundation have partnered with the state and jurisdictional arts agencies to support Poetry Out Loud, a program that encourages the nation's youth to learn about great poetry—both classic and contemporary—through memorization and recitation. 
The state champions competing at the National Finals also had the opportunity to showcase their creativity through an optional competition, Poetry Ourselves. The students could submit an original work of poetry in one of two categories: either a written poem or a video of a spoken poem, both of which were judged by poet Mahogany L. Browne and announced at last night's National Finals. The winner in the written category is Natasha B. Connolly from Rhode Island. The winner in the spoken category is Stella Wright from Minnesota. The runner-up in the written category is Irene Jiayi Zhong from Hawai'i. The runner-up in the spoken category is Catherine Wooten from South Carolina. Winning poems are available on the NEA's website at the links above.
About Poetry Out Loud
Poetry Out Loud starts at the classroom/school or at the local level with an area organization. Students memorize and recite poems they select from an anthology of more than 1,200 classic and contemporary poems. Winners then may advance to a regional and/or state competition, and ultimately to the National Finals. Since the program began in 2005, more than 4.3 million students and 76,000 teachers from 19,000 schools and organizations across the nation have participated in Poetry Out Loud. For more information about Poetry Out Loud and how to participate in the 2023–2024 program, visit poetryoutloud.org
 
About the National Endowment for the Arts
Established by Congress in 1965, the National Endowment for the Arts is an independent federal agency that is the largest funder of the arts and arts education in communities nationwide and a catalyst of public and private support for the arts. By advancing equitable opportunities for arts participation and practice, the NEA fosters and sustains an environment in which the arts benefit everyone in the United States. Visit Arts.gov to learn more. 
About the Poetry Foundation
The Poetry Foundation recognizes the power of words to transform lives. The Foundation works to amplify poetry and celebrate poets by fostering spaces for all to create, experience, and share poetry. For more information, visit PoetryFoundation.org
About Mid Atlantic Arts
Mid Atlantic Arts supports artists, presenters, and organizations through unique programming, grant support, partnerships, and information sharing. Created in 1979, Mid Atlantic Arts is aligned with the region's state arts councils and the National Endowment for the Arts. Mid Atlantic Arts combines state and federal funding with private support from corporations, foundations, and individuals to nurture diverse artistic expression while connecting people to meaningful arts experiences within our region and beyond. To learn more about Mid Atlantic Arts visit www.midatlanticarts.org.
 
Contact
Liz Auclair (NEA), auclaire@arts.gov, 202-682-5744
Elizabeth O'Connell-Thompson (Poetry Foundation), eoconnellthompson@poetryfoundation.org, 312-799-8065