Reaching Out to HBCUs
By William Maloney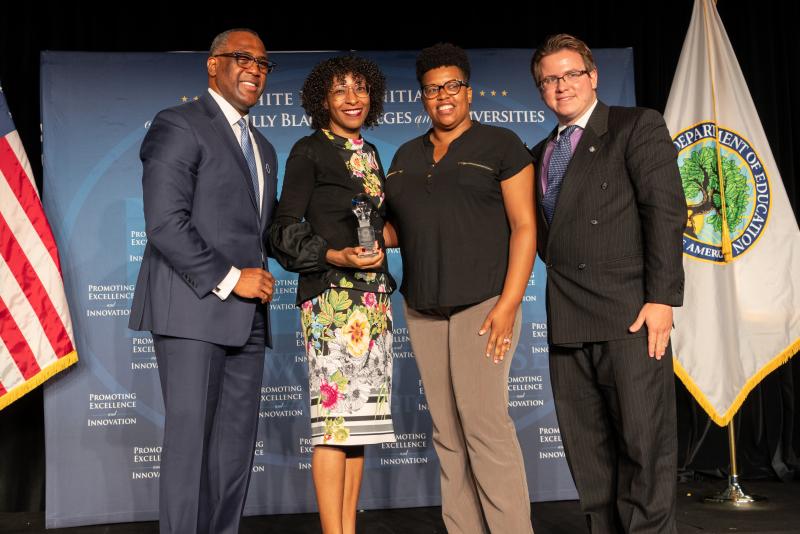 Last year, Chairman Mary Anne Carter made outreach to Historically Black Colleges and Universities (HBCUs) a direct priority at the National Endowment for the Arts. In the span of two years, for example, the agency has met on site with 28 HBCUs by mapping staff travel to the location of HBCUs, changed the agency grant guidelines to specifically encourage HBCU applications, hosted three HBCU interns, and recently hosted a workshop at Jackson State, an HBCU in Mississippi. All of these directives are explicitly designed to increase the number of successful applications from these institutions.  
For its innovative outreach strategy to HBCUs, the National Endowment for the Arts received a Public Partnership Award, presented by the White House Initiative on Historically Black Colleges and Universities (WHI-HBCU) at its annual conference in Washington, DC, earlier this month. In addition, I and my colleagues Ayanna Hudson and Tamika Shingler, who have been tirelessly working on this outreach strategy, received Certificates of Recognition by the WHI-HBCU, which stated, "In appreciation of your continuous hard work, care and dedication towards assisting our Nation's Historically Black Colleges and Universities."
To further demonstrate the Arts Endowment's commitment to reaching out to HBCUs, the agency also participated in the WHI-HBCU conference for the second year. Together with the National Endowment for the Humanities, the Advisory Council on Historic Preservation, the U.S. Department of Education, and the Institute of Museum and Library Services, the National Endowment for the Arts spearheaded an interagency team that provided a day-and-a-half overview of federal cultural funding opportunities for HBCUs.
Ayanna Hudson, director of Arts Education at the National Endowment for the Arts, spelled out why it was so important that the agency participate in this outreach. "Many HBCUs have shared with us that they do not apply for federal grants because they feel that they cannot compete. By providing these programming opportunities, we show what federal resources are available and how to effectively apply for cultural grants. Plus, it gives them an idea of whose face is on the other side of the telephone." Hudson, who is also an alumna of Spelman College, an HBCU in Atlanta, Georgia, helped lead much of this programming. "The ultimate goal was to provide a rich overview for these wonderful HBCUs," she noted.
The National Endowment for the Arts staffed a booth in a high traffic area during the conference as well. Faculty, students, and others came by to learn about what the agency had to offer. And by all accounts, the booth was a success. National Endowment for the Arts Director of Congressional Affairs Kelli Ripp, who staffed the agency's table part of the time, said, "There were so many people coming by, asking questions, taking materials—I think the HBCU community was really interested in what we have to offer, and I think that will translate into continued growth in our engagement with HBCUs."