Art Talk with Composer Jerod Impichchaachaaha' Tate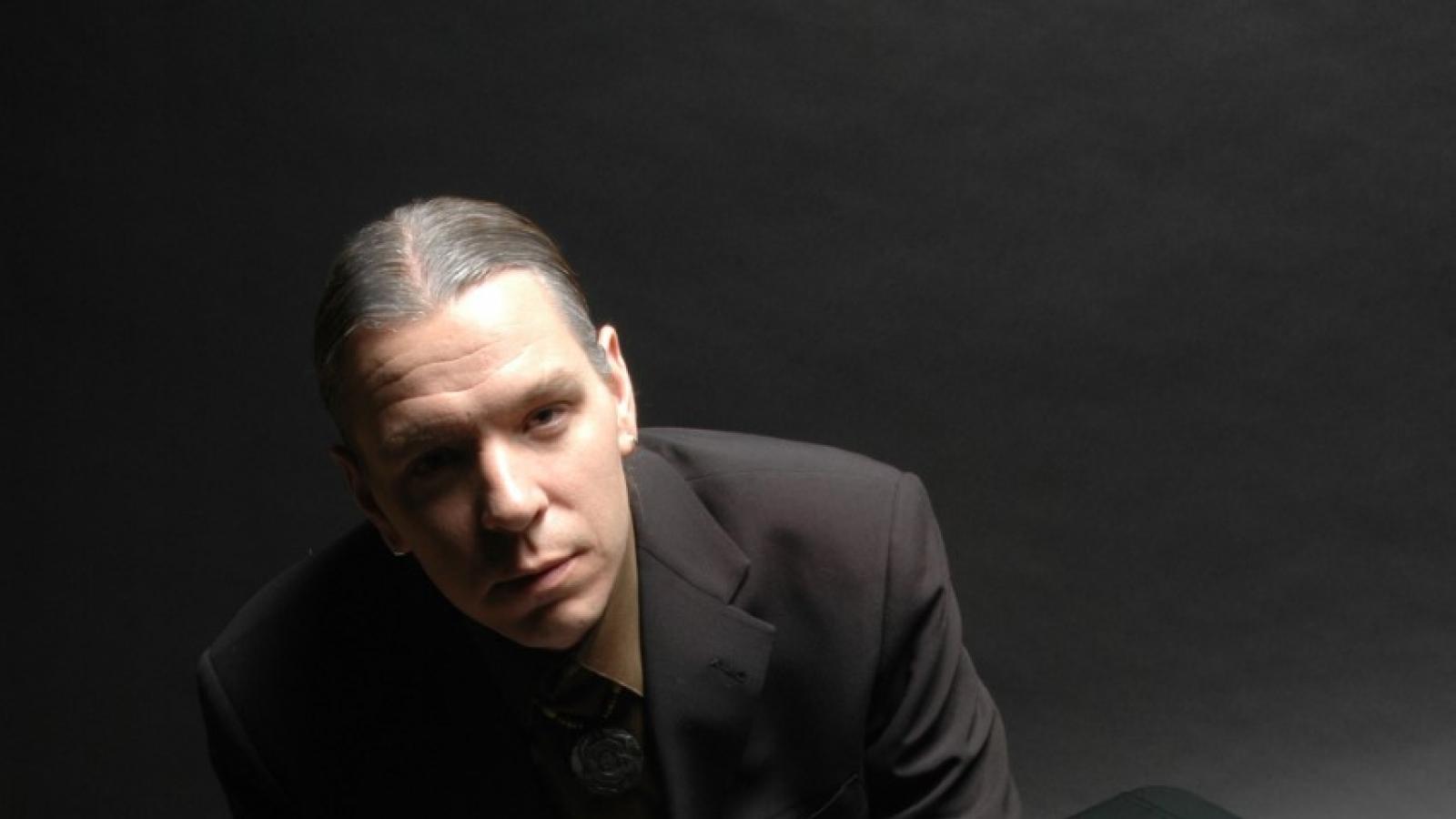 Jerod Impichchaachaaha' Tate was just eight years old when he announced to his parents that he wanted to be a concert pianist when he grew up. He made good on that declaration, but upped the ante by becoming a composer as well. Today, he fuses the many artistic traditions that saturated his childhood—from flamenco to opera to ballet to theater—with the strong sense of Chickasaw identity he inherited from his father, and proudly embraces his identity as an American Indian classical composer.

His music has made new space for Native voices on American classical stages, with works commissioned and performed by the National Symphony Orchestra, Dallas Symphony Orchestra, the Detroit Symphony, the Colorado Ballet, and others. These commissions have also led to historic firsts: his pieces Tracing Mississippi and Ilhoba', for instance, marked the first time the San Francisco Symphony Chorus had ever sung in an American Indian language.

Throughout his career, Tate has also actively worked to develop and promote other Native composers. He founded the Chickasaw Chamber Music Festival, co-founded the Chickasaw Summer Arts Academy, and has been long involved with the Lakota Music Project, a program from the South Dakota Symphony Orchestra that brings Native and non-Native musicians together in creation and performance, with support from the Arts Endowment. We recently spoke with Tate by phone about balancing classical and Native traditions with his own creativity, how his work has affected his personal identity, and why he thinks it's a great time to be alive.

NEA: Did you grow up in an artistic household?

JEROD IMPICHCHAACHAAHA' TATE: Yes. My father, Charles, is Chickasaw and my mother, Patricia, is Manx Irish. Mom was a professional choreographer and dancer, so Mom grew up in a very, very rich American dance history. I absolutely pinch myself as I grow as a composer. The exposure I had to the American dance world was unbelievable, and it heavily informs me.

My father graduated from law school. He was a tribal judge, a special district judge, lawyer, and a classically trained pianist and baritone. My parents met at the theater, and between the two [of them], I grew up with an extremely rich theater background. My dad started me on the piano first. Dad played classical repertoire in the house all the time, and so I loved it. I was probably two or three months into piano lessons when I announced to my parents I was going to be a concert pianist.

NEA: When did you begin composing?

TATE: I was 23. After I graduated from Northwestern University with my piano performance degree, I became accepted to the Cleveland Institute of Music for piano. I saw absolutely no relationship between my tribal identity and my classical career. And Mom was doing an original ballet based on American Indian stories. So as dancers do, she turned to me and said, "Well, you're my Indian kid. Would you write my score?" I began composing her ballet entitled Winter Moons, and I finished it my first semester at the Cleveland Institute of Music, and then I took the next semester off to premiere it and tour it with Mom. I had an enormous amount of feedback from both my Indian community and my classical community that overwhelmingly was telling me "You've got to do this, Jerod." So I decided to go ahead and focus on composing. I decided specifically to become an American Indian classical composer, and that's exactly how I identify. I am a Chickasaw classical composer, and everything that I compose is based on American Indian history and culture.

NEA: You mentioned that prior to composing, you saw no relationship between your two identities as Chickasaw and as a classical pianist.

TATE: It's so ironic, because here I was struggling with this idea, and yet all I was playing was repertoire by composers who were doing the exact same thing. I grew up on Tchaikovsky—you couldn't be more Russian than Tchaikovsky. Here's Stravinsky doing Russian folk tales, and of course there's Bartók, who again consciously became an ethnomusicologist of his own people. Debussy did the exact same thing. You couldn't be more French than Debussy. You can't be more German than Beethoven. All of these icons were [writing the music of their own people] already, and I was literally being trained how to do it by the piano repertoire that I was playing. I will say that the pressure I felt was pretty enormous. I had a very deep awareness of what it is I was about to tackle. And Donald Erb [my professor] was cautious, because he didn't want me to be pulled into New Age expectations of American Indian music. Of course, he had nothing to fear, because I already had my standards, and I wasn't going to just do an easy trip. I was very serious about, "If I'm going to do this, I have to do this as well as Tchaikovsky."

NEA: Did merging these two identities affect you on a personal level, as well as a musical level?

TATE: It allowed me to become a full person. I felt very divided about who I was. When I was a kid, I was very, very torn about what it meant to be a mixed-blood Indian, and many people face that in life. Identity is the most important thing to every human alive, and identity challenge is one of the deepest things that we all go through. Everybody's identity is challenged all the time at different phases in their life. So I was given the opportunity to define my identity for myself. There's a summation that I came up with that I think is really, really important, and that is I defined who I am. It's not the external resources. The beauty of this is that I learned to define my own tribe, and that's very empowering and that's very beautiful, and it allows me to be the best version of Jerod that I can be. I'm very proud to be my tribe's symphonic composer, very proud of that.

NEA: In your work, you're dealing with traditions of classical music as well as the traditions of your culture. How do you balance honoring those traditions with exercising your own creativity and personal vision?

TATE: I'm constantly striving to balance that. I'm always aware and I'm always drawing from all of those simultaneously, and every minute is a little different than the previous minute. I want to express Chickasaw identity, but then I start to dive into it, and I come up with a concept. I go back and forth between kind of impulsive desires, and then also I critically evaluate myself.

One of the things I love to do is include specific tribal melodies. I'll abstract those tunes, and chromaticize them, invert them, retrograde them—all those things that composers have been doing for centuries. I basically find myself chasing myself back and forth between maybe being more rigid with myself and also maybe being more what I would call impulsive. At the end of the day, I hope that I have a piece that has a good balance of all that. I don't know if I'm going to always achieve that in the most perfect way. All I can do is I can go in with all of that on my mind at the same time. It's like raising a kid. You've got to give structure, and you've also got to have fun. I think most artists do that, and I think anything in life that's creative is going to challenge somebody to find some kind of a balance with that. So I'm always looking for that balance.

NEA: Can you walk me through your creative process?

TATE: I'm very story-driven, and I love to find some kind of a narrative or legend that drives the shape of the work that I'm doing. I'm a little shy of specific history, because it gets pedantic, I feel at points. I like legends, because there's something a little more abstract and freer about them. The Nutcracker is a good example. It's abstract. It goes into Neverland, and I like going to Neverland when I'm writing.

What I will do is I will then sit down and take inventory. What are the stories that I know? It doesn't have to be Chickasaw. It could be Muskogean, which includes the tribes of Choctaws and Seminoles and Creeks, Cherokees—they were all part of the larger cultural base. I'll call friends. I'll hunt books and refresh myself and put the ingredients in front of me and see what spices I've got available, and then see what calls to me.

When I've got that idea, then I start filing through the hymns or the social dances. I start thinking about where it would fit, what could drive what. I start to lay out the fabric, like this texture here, or like a fabric artist—what fabrics do I want to use in this particular design? Then of course there's logistics. What am I writing for? Is it for a chamber group? Is it for full orchestra? Based on that, it just starts to flow. Like yes, a string quartet could express this really well. That's when I start to jot down larger swaths of ideas. I like to have fun and I literally ask myself what's the cool factor of all this? "Oh, it'd be so cool to do that." Or "I've always wanted to do that. Could that fit?" There's some stuff that has absolutely nothing to do with Chickasaw culture; it's just I've just got these instruments that I think are fabulous and there's an unexplained impulse and I want to do something.

Then I will decide movements and sketch it out. I draw designs on paper in my sketchbooks. In the meantime, I'm choosing melodies. A lot of things will start to flow simultaneously.

NEA: Can you talk about your experience with the Lakota Music Project?

TATE: I've been involved with them for almost ten years. I'm very, very fortunate. There's a toggle that happens between American Indian communities, and the toggle is that [you have] your tribal identity and then also an American Indian identity, a larger one. A lot of Native folks toggle back and forth between those two, and so [the Lakota Music Project] is kind of me toggling. While I feel very Chickasaw, I also feel very close to my tribal cousins who are from different parts of the country.

And realistically, the number of American Indian symphonic composers is very, very small. There's a practicality that happens with that as well. That being said, I've engaged with the Lakota Music Project because I'm a very active American Indian symphonist, and they asked me to bring that into their agenda of involving the Lakota community. The first commission I did for them was a song cycle in the Lakota language based on historic Lakota warriors. So that was their Chickasaw cousin paying homage to the tribe, to Lakota people going, [saying], "This is a gift to my cousins in their language."

NEA: What has your involvement with the Lakota Music Project meant to you on a personal level?

TATE: It means everything. I have incredible pride in bringing American Indian identity onto the classical stage, and I love bringing our languages into the same stage as Latin, Italian, French, Chinese, and Russian. We belong there absolutely. I have written pieces in a lot of different tribal languages, and I am very, very on fire in my passion for bringing our language and culture to the concert stage. We belong there, just like we belong in a genetic engineering lab or in agriculture changing the world, just like we do being astronauts. We belong on the concert stage as well.

NEA: You talked about some of the joys associated with creating and promoting American Indian classical music. Can you talk about some of the challenges that it might involve?

TATE: The challenge is when I'm making sure that I'm understanding what I'm doing. I have a very deep love and kinship with my other Indian cousins. But I'm also not Lakota, and so I have to be respectful. I want to make sure that I'm honoring Lakota people with the absolute very best that I can. So I'm not going to put shoddy language up there, and I'm not going to do something that I consider to be trite or cheesy or gimmicky. So while I'm working with icons of Lakota culture, I'm keeping myself in check all the time to make sure I'm communicating with the community correctly and I'm working with the best translator who feels the most comfortable. And I'm very transparent. I do believe that my love wins the day. I love my people and I love what I'm doing for the communities.

NEA: What do you hope your impact will be on Native communities and audience members, as well as Native musicians and composers?

TATE: I want my impact to be permanent, meaning there's no doubt to anybody, whether they're Native or non-Native, that American Indians can and have and will compose symphonic music. I'm hoping I'm helping to stack that deck very strongly, and the deck is already stacked. It was stacked before I was born. There are very strong [Native] symphonic composers that were born [before me]: Jack Kilpatrick, I believe was [born in] 1915, Cherokee. Louis Ballard I believe 1931 he was born, Quapaw and Cherokee. David Yeagley was Comanche, he was born in 1951. [They were] all symphonic composers with very significant works. It's been done and I'm continuing this. Fortunately, I'm in a time where media is now different where this can be accessible to the American Indian community and both Indian and non-Indian. The joy I have in sharing this with both is equal because everybody's learning. So I'm able to spread this knowledge and this experience to everybody.

NEA: You also co-founded the Chickasaw Summer Arts Academy. What's the most important thing you try and impart on your students?

TATE: To be true to themselves. What I teach kids goes back to my philosophy of fine art in general, and that is fine art asks you for your individuality with a very specific type of discipline. I try to impart to my kids to express that. When we start, I make it very, very clear that I have no stylistic restrictions whatsoever. Just because they're American Indian kids doesn't mean they have to do what I'm doing. So I make sure that they know I'm going to be there to coach them and be their living encyclopedia to help them achieve the best expression they can based on their impulse. It is critical that they feel free to be exactly who they want to be at that time, with no restrictions. Nobody told me what to do as a composer. I decided this for myself, and I'm really grateful for that. And so as passionate and focused as I am, I am not going to presume to tell another student what to do or who to be.

NEA: Is there anything else that you wanted me to know or that you wish I had asked?

TATE: Music and fashion are the two most consumed forms of fine art. We wear clothes, [so fashion] is just a constant expression. But I mean, the reason we have iPhones is because of iPods. We all carry the soundtrack of our lives. Music is so unbelievably personal to people. Music and fashion—I guess I'd put those two together. They are the two things that forge and break relationships in junior high and high school. Isn't that weird? People will hate each other based on their musical taste. Of course, when you get in the classical world, people who are super nerdy hate you if you like Rachmaninoff as opposed to whatever.

One thing that I think is really important to know is that we are saturated by music all the time. All the music that we love and hold so dear was composed by somebody. The only reason we're listening to music is because somebody made it up and the only reason an orchestra or a band or a radio station is playing any music is because somebody made it up. You've got musicians everywhere creating music all the time and it's just unstoppable.

And of course, now with this explosion of Netflix and Hulu originals, it means that musicians and composers are involved. The industry is just on fire. And there's so much cultural renaissance around the world for indigenous cultures around the world, including Gaelic, Lithuanian, Aboriginal—whatever it is. Everywhere is [having] an explosion of traditional cultures. So that mixed with being modern people, it's really incredible what we're doing right now artistically. I love it. It's a great time to be alive.