ARP Grant Spotlight: Plains Art Museum (Fargo, ND)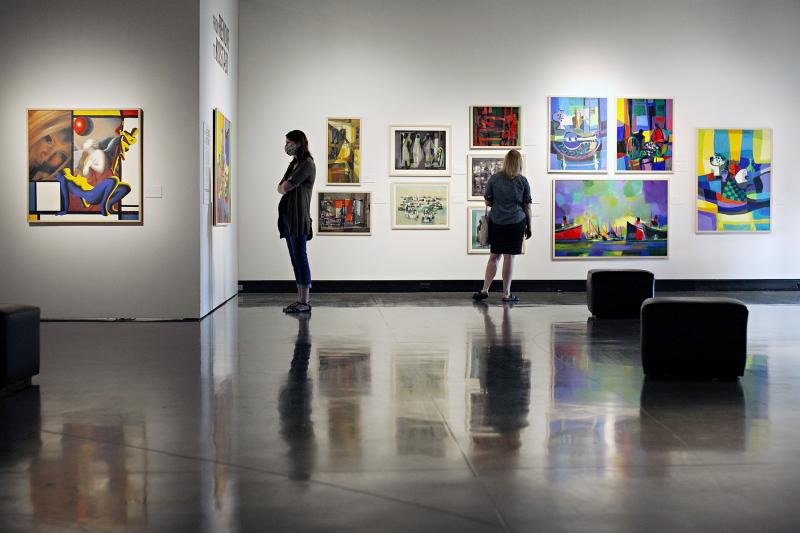 In Fargo, North Dakota, amid a city revitalizing its downtown and surrounding suburbs, is Plains Art Museum, the state's flagship art museum. Working to lead by example and make the museum space more accessible and inclusive for all, the regional art museum features a wide range of artwork from national to international with a focus on contemporary Native American artwork. The institution exists in a region that has 23 sovereign Native Nations and actively engages and acknowledges the Indigenous artists and culture bearers who originally settled the lands and have helped make Fargo what it is today.
"I was born with a birth defect and I have a diverse immediate family, so I have a personal mission, if you will, to fully realize what museums should be for as many people as we can reasonably serve," said Executive Director Andy Maus.
"That could be real barriers that people experience, particularly with disabilities, and that could be perceived barriers that people experience. Or it could be an understanding of the trajectory of history that museums intentionally or unintentionally convey to specific community members, that we are not for them, so we have to correct that," he said.
The museum received an American Rescue Plan (ARP) grant of $150,000 earlier in 2022 and used those funds to support three staff positions including a director of Community Education and Native American Programs. Maus cited the grant as a source of stability that allows the museum to continue moving forward through the pandemic.
"During the pandemic I think there was a greater realization that museums aren't just places, they're organizations that do things, and we now had to focus on the doing," Maus said. "I feel fortunate in the sense that we already have that mindset and it was really cool to see our staff think so creatively."
In March 2020, the pandemic forced Plains Art Museum to close its doors for three months, causing the organization to lose hundreds of thousands of dollars. To continue community engagement, the Plains Art Museum created "Visit Us Virtually," an initiative that allowed the museum to transition from in-person programming to digital in just one week. The community response was so positive, that the initiative has remained in place long after the museum's reopening.
In addition to exploring the museum's contemporary collection online, virtual visitors can learn about local Indigenous artists and culture bearers through the museum's podcast Five Plain Questions. The podcast was started at the beginning of the pandemic by Joe Williams, Director of Indigenous Programs, who recalled how, growing up, he didn't have access to success stories of Native Americans. Now, he is collecting those stories and sharing them with the world, with more than 115 episodes and 10,000 downloads across the globe.
The weekly podcast poses the same five general questions to Native American and Indigenous artists, creators, musicians, writers, movers and shakers, and culture bearers. Interviews have included people like Dyani White Hawk, a Lakota artist and curator; Sean Sherman, who founded a food education business and caterer, The Sioux Chef, and the acclaimed Owamni restaurant in Minneapolis; and Joy Harjo, the first Native American to serve as poet laureate of the United States.
"All of these interviews are so candid and personal. The hierarchies are flat in this podcast, and everyone is given the same questions; it's an opportunity for people to share their stories. And so that's why people listen to this because it's just human," Maus said.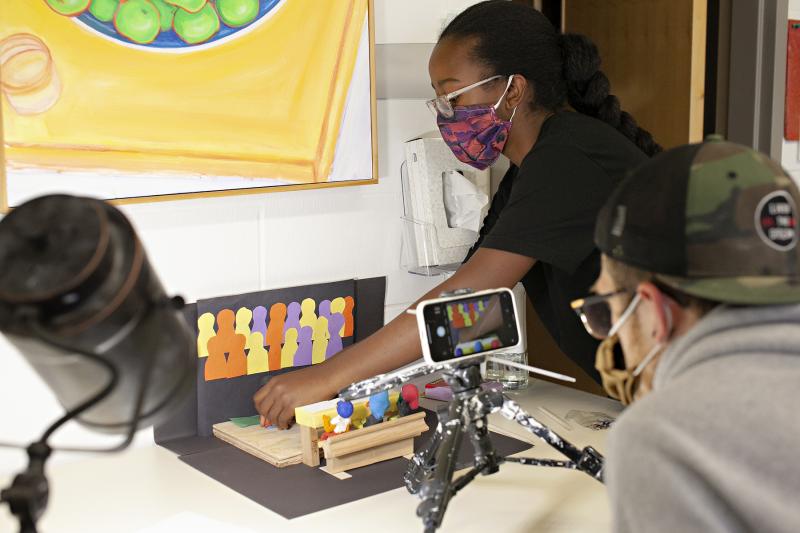 Plains Art Museum also boasts a robust roster of educational programming at its Katherine Kilbourne Burgum Center for Creativity, a multipurpose arts facility offering classes for the entire community along with studio and exhibition space. One core element of this facility has become a ceramics program in partnership with local Fargo elementary schools. Before the pandemic, thousands of students would visit the museum annually and then have the opportunity to create work in a professional studio with teaching artists. When students were unable to visit the museum in 2020 and 2021, teaching artists brought that ceramics programming to the students at their schools.
Maus credits his team for managing the incredible logistics of transporting large, cumbersome equipment and keeping the students' artwork organized, and more importantly in one piece.
"There are a lot of museums that talk about arts education, and how they use resources. This museum is very, very, much an education forward institution." Maus said. "Educational programming is how we see a lot of our impact in the community. It's through classes and community events like public arts projects, or going into school classrooms, and we involve educators in curatorial work as part of our curatorial team, so it's integrated into everything we do."
At Plains Art Museum, Maus hopes that his team's work is a force that provides more than just a place where people come to view art; rather he hopes visitors have a visceral experience of the intersection of art and culture.
"When you look at how art history has historically been taught, it's focused on places like Paris and New York, but that's not the full story. I think it's interesting representing an organization in middle America because there's so much of art and cultural history that is overlooked, and we exist on the fringe. And so, where it gets really fun for me is when we can make conscious choices that cause people to think about things differently," Maus said.
In looking toward the future of art in America and how museums are perceived, Maus notes that there are real and perceived barriers that impact people depending on ability or life experience. In their next steps, the museum is examining their physical assets and hope to make strides to become even more accessible in the next ten years, a dream they are able to pursue because thanks to grants from groups including the NEA they no longer worry about how to make payroll.
"I believe that museums are organizations who do things for people, and we have to keep that in mind. Sometimes it's easy to get caught up on our own way, but there are things that we can do that can have a positive effect on people's lives. And we should focus our resources on those things," Maus said.