Art Talk with NEA Literature Fellow Ashanti Anderson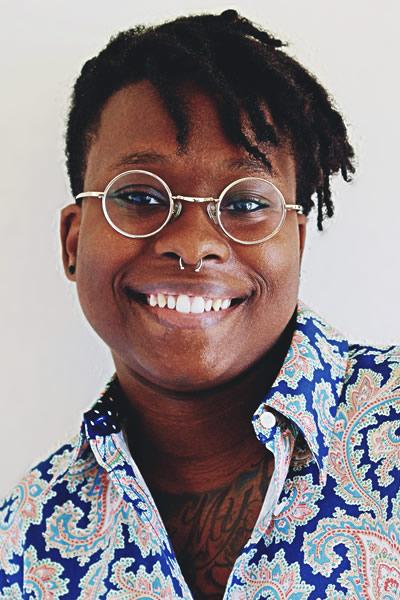 Although poet Ashanti Anderson (they/them) was only named an NEA Creative Writing Fellow last month, the award has already had a tremendous impact on their writing practice.
Anderson said prior to learning the news, they were struggling to take their writing work seriously, especially while balancing a 9 to 5 job at a nonprofit. A call from the NEA's Literary Arts team changed that.
"It's really been like a fire under my butt," they told the Arts Endowment recently. "Maintaining a livelihood, being able to afford to live, can get all-consuming sometimes, so it's great to really have what feels like an investment in the career path I want."
Despite struggling to find time to write, Anderson has an impressive resume at 29 years old. Their debut poetry collection Black Under was the winner of the Spring 2020 Black River Chapbook Competition at Black Lawrence Press, and their poems have printed in World Literature Today and POETRY. A screenwriter and playwright in addition to poet, Anderson has also had both a one-act play and a short film script produced.
As an NEA Literature Fellow, Anderson receives an award of $25,000 and joins a distinguished group of award-winning and beloved writers, including one of their own literary heroes, Natasha Trethewey, who was awarded a fellowship in 1999 when she was only a few years older than Anderson is now. Below, Anderson talks about other sources of inspiration, how they craft their poems, making time to write, and how exactly this fellowship is impacting their career.
National Endowment for the Arts: Could you talk about where your journey with writing began? Where did you learn to be a poet?
Ashanti Anderson: My journey to writing began as a kid. I love to read, and imitation is the highest form of flattery, right? Naturally out of that came one day wanting to create and tell my own stories through writing. That's something that just really has stuck with me my entire life, fortunately.
I wasn't actually into poetry that much in the beginning, because once again, with imitation, I was mostly reading fiction, so that was mostly where my brain was at. I wasn't really exposed a lot to poetry until I went to undergrad. Prior to that I kind of had a, "Ew, poetry, that's not for me" [attitude]. Then I took a Contemporary Poetry class and was like, "Oh, this, I can relate to this." It took off from there.
NEA: You're also a playwright and screenwriter. How do you feel like those writing practices are similar and different for you?
Anderson: For me, I think about what I want the story in my mind to look like. Is that something that I want to see on the stage? Is that something I can imagine on the TV? And then I just go from there.
That's how I think about them in terms of differences, but for me there's a lot of cross-over between them. I'm borrowing from playwriting, the dialogue; borrowing from screenwriting how to be very visual; and then borrowing from poetry a beautiful attention to language and how you craft a story. I've written screenplays that friends have read and been like, "Yeah, I can tell a poet wrote this." It's almost nearing like some kind of hybrid thing.
NEA: Where do your ideas come from and where are you looking for inspiration?
Anderson: That's a very interesting question, because that's a question that I am asking myself a lot lately. Historically, ideas have come from the world history, the news, archived texts. But what I'm really interested in at this present moment is being intentional about how much of myself I want to share in my work and what I want to share about myself in the work, or if there's not a place for me in my work. I think every writer falls somewhere on a spectrum of how much they want to do even if it's embellished or fictionalized. There's a way of bringing yourself to the page that I'm really interested in figuring out like, "Do I got stories to tell?"
I think of [fellow poet] Luther Hughes and I'm like, "What an interesting life." What an interesting life in the sense of being able to just identify moments in your own life that are poetry. I feel like that's something that frankly I've been overlooking as I've been looking externally. I'm really investigating with myself – where's the poetry? Not do I have it, but where is the poetry in my life? And can I bring that to the page? Do I want to? Or is that poetry just for me?
NEA: That brings me to another question I'm always interested in when talking to poets. How do you revise a poem or an entire collection?
Anderson: [sighs] My revision process. You know, I'm working on that, too. [laughs] I think the main takeaway from this Q&A is that frankly the NEA has given me a lot of room to do a lot of self-investigation and self-discovery around my writing practice, which I think is really, really going to pay off for my writing career.
This is something that has changed and something that I need to get back to. I don't know how I lost it, but for me I typically would try to just write it. Get it out. And then after that really sit down and look and say, "Okay, what is the poem trying to be? Is it trying to be sestina?" god forbid. [laughs] I pay attention to the speaker and pay attention to how the language is trying to shape up naturally and really be more of a sculptor. That's how I try to go about revision.
I say that with the caveat that that is a very intimate process to really be listening to what the poem wants and to be able to oblige that. It's something that's also born out of reading and studying other people's work so that you have not just you but you have a counsel of wise voices that can help you discern what is possible and what is being articulated through the poem.
If I'm being honest with myself I haven't really given myself time for [revision] since [my] MFA when the assignment was to write. Literally just write. I feel like this [NEA Fellowship] is another opportunity that I'm being given to have protected time for writing, which revision really requires.
NEA: How else will your NEA Creative Writing Fellowship impact your work?
Anderson: For my own personal body of work, even though I don't deal exclusively in this, I am working majorly around slavery. This grant is going to be used in large part to allow me to travel to different places to get more knowledge – like there's a plantation where I can go pick cotton. I don't know how I'm going to feel about that, but the NEA's paying for it, so we're about to find out. I wouldn't have been trying to do that, but now I'm like, okay, you know what? This is an opportunity to really inform what for me I do genuinely believe is a lifelong body of work and something that for me spans multiple genres. I have a lot of projects centered around slavery and issues during that time period and how they factor into today – how we engage with the information today.
NEA: You said in your personal statement that this was hopefully going to give you some additional space because life or work seems to get in the way of writing, and that's something that a lot of creatives deal with. How do you navigate that balance when your creative practice doesn't always earn enough to pay the bills?
Anderson: Recently I developed a mentality that, "You know what? This writing thing might not pay but if I can get it to sustain itself I'll be like incredibly proud of myself." This fellowship definitely helps with that.
But in general, yes, it's hard. One thing that has made it harder for me that I just realized is that personally I had the idea that writing needed to be like relaxing, or that it wasn't work. Because after you've worked all day the last thing you want to do is more work.
How that turned out was, I'm not taking it as seriously as I'm taking my work. Now I'm doing work, work, work, but I'm not doing so much "not work." And since I put writing in the "not work" category, I'm just working. For some people this might be dreadful but I'm just sharing how I have to practice things, and I really had to tell myself – and this came after getting the fellowship – "Okay, this is work. I have a dollar sign attached to this now. This is literally work. Let's take it seriously. Let's put hours on the clock. Let's do what you need to do."
I kind of cringe. I'm like, "Writing is work? Aw, that sucks." But if that's what gets me to sit down and do it, then it's got to be like work. And that's fine. You know, we think a lot about positivity and we try to force joy, enforce joy. Sometimes it's literally just not that. Sometimes I have to think about this in a different way and get it done, and then that's where the joy comes from – from accomplishing what I wanted to accomplish or spending time with my work consistently. It's definitely a challenge, and it's definitely something that's been hard to justify when I don't have money coming in: "Okay, this ain't a job no more. This is volunteering at this point." But still taking it with that level of responsibility, and that's what's like paying off for me lately. I've just seen a big difference, honestly, between pre-fellowship and now. This has given me something to feel accountable towards.