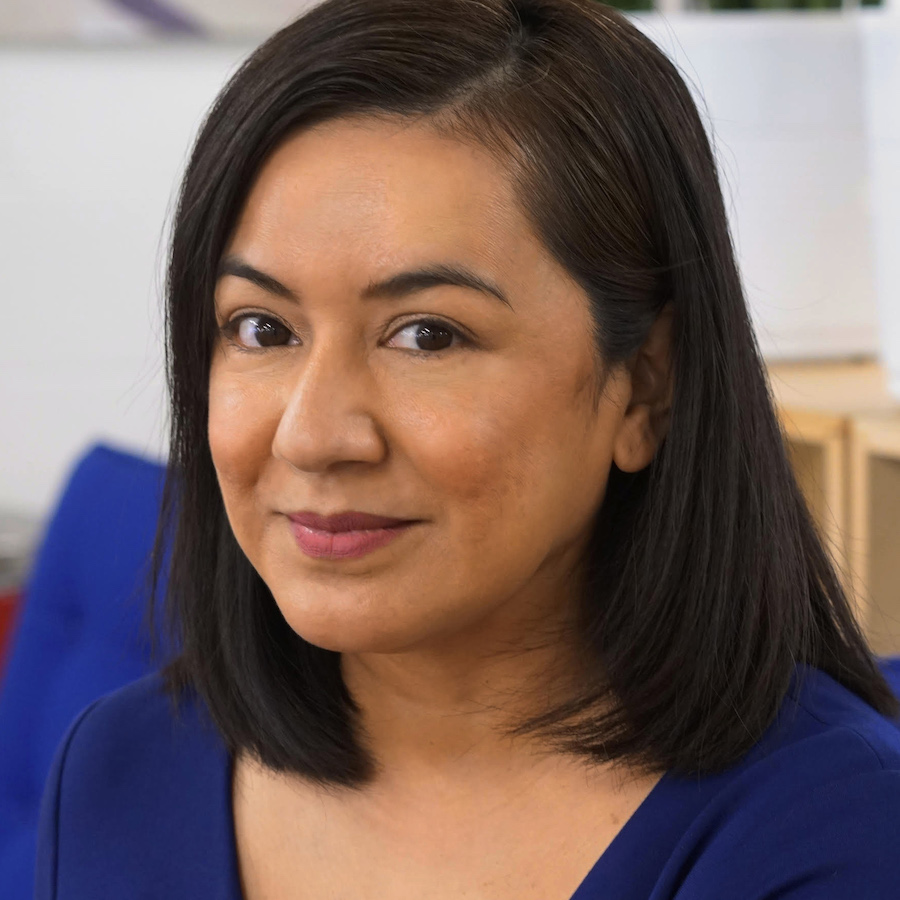 Music Credit: "NY"  written and performed by Kosta T, from the cd  Soul Sand, Used courtesy of the Free Music Archive.
Jo Reed:  From the National Endowment for the Arts, This is Art Works, I'm Josephine Reed.
Today , we continue our celebration of Hispanic Heritage Month with a conversation with Tejano artist and teacher Amalia Ortiz. Amalia is an award-winning performance poet, performer, and playwright. The author of two acclaimed collections of poetry—including The Canción Cannibal Cabaret & Other Songs which doubles as the script for a punk rock musical, Amalia directs the theater arts division at the acclaimed arts education program SAY Sí.  Begun in 1994, SAY Sí—which stands for San Antonio Youth Say Yes—is a year-round, long-term, tuition-free arts program for high school and middle school students primarily from under-served neighborhoods. A recipient of the National Arts and Humanities Youth Program Award in 2002, SAY Sí has some 200 students from over 70 schools in its on-site programs while reaching thousands of Bexar County students through its outreach programs. Amalia Ortiz joined me to talk about her work at SAY Sí, her own extraordinary art,  and the intersection between the two. We began by talking about the on-site programs offered by SAY Sí.
Amalia Ortiz: So, SAY Sí is a year-round afterschool arts program. They have four different studios for two different age groups. We have our middle-school program, we call WAM-- Working Artists & Mentors-- and then our high-school students. And the WAM students get to choose two of the four studios. So, we have visual arts-- what you think of as a traditional arts class: drawing, painting, sculpting. We have media arts, which is photography and filmmaking, and some digital artwork. And then there's the HIVE, and they focus on video games. They do coding. They do more computer-type arts, but then they also do more experimental arts. They just did a sound installation, and they also cover gaming and graphic novels. And then there's the theater arts studio that I work in.
Jo Reed:  Let's hear in some detail about the work you do in the theater arts program.
Amalia Ortiz: I'm proud to say that all of the work that our theater produces is all written by the students. And I have middle-school students and high-school students.  So I'm very much a facilitator, asking questions. We're given a theme. So we do research first. Right now, we're researching Dia de los Muertos, and then I ask a bunch of questions, like, "What do you have to say that's different from all the other media out there, about Dia de los Muertos?" And then we start writing, and really, it's the students dictating to me. I'm at a computer, and I do shape it. I do talk to them about the structure of a play-- the introduction, the expoSítion, introduction of the characters, riSíng action, main conflict, falling action, all of that. So, definitely, by the time they graduate high school, they are playwrights, and that is deliberate. Based on my experience as an actor, you can get frustrated waiting around, waiting for the callback, waiting to be cast, or you can create your own work, in your own voice, about topics you care most about. And that's the main idea that I try to impress upon all my students, is that they have agency to tell their own stories.
Jo Reed: Okay. Now, who are the students-- in theater arts, but at SAY Sí, more generally? Where do they typically come from? Who are they?
Amalia Ortiz: So, they're coming from all over San Antonio. The program is highly recognized, so it can be competitive. We have interviews about two times a year, and we do want to interview our students to make sure that they are serious, that they are committed, because there is a time commitment involved, especially in theater. Pre-pandemic, we tried to keep our numbers at 70 percent at or below the poverty level, and so that other 30 percent, it becomes competitive with people who are above the poverty level, but are competing to get into the program. Then we really have to discuss their portfolios, what they have to offer, what they can share with our other students.
Jo Reed: And I've read alumni often go on to have an important role at SAY Sí.
Amalia Ortiz: Yes. We engage with our alumni so much. Our alumni are often hired. We have an ABC program, and that's artists in communities where it's kind of a mini SAY Sí, where they go into the schools. Our WAM program is Working Artists & Mentors, so we often hire some of our high-school students to come into the middle-school program, to be mentors, so that they also are exposed to get experience with leading young students, so that they can also graduate high school with some sort of teaching experience on their résumé. And I've had students that have gone on to get degrees in theater, and they are teachers now, and they remember their first experiences in the classroom, when they were in high school at SAY Sí.
Jo Reed: And you also serve many students in community programs. How are they different from the programs that you actually house, or are they an extension of them? How does that work?
Amalia Ortiz: So, that is usually our alumni. Most of the ABC instructors are alumni, and they are going into the schools. And so it is different, in that they are going into the public schools. And... so, I used to do workshops in the public schools, and I feel like it's taking the art to everybody. I feel like, with SAY Sí students, we have students that want to be there, students are already drawn to arts. It can be more difficult going into an afterschool program in a school where, sometimes, students are only there because their parents don't want to pick them up until after six, and so, "My mom made me do this thing." And so I feel like it's a harder audience.  I've worked that kind of audience before. I think it is just equally as valuable, if not more so, because some students have no clue that they're artists. They just haven't been exposed to it, and they need that exposure to something different. And it is a shame that there's so many schools where they're cutting back on the arts, and so there are more and more students that have never taken an art class. They have no idea what that is. So, when we talk about, "What medium are you interested in?", they don't even understand that question. It's like, "Okay, there's painting. There are-- there's acrylic and oil. There's pastels. There's charcoal." And there are students who just really, when they think of art, it really is restricted to the materials that they come across on a daily basis: pens, Sharpies, markers. And sometimes, even just exposing a student to a new medium can just really wake up their imagination.
Jo Reed:  SAY Sí has grown so much since it began in 1994 and you actually have just moved into a new building, which apparently has a big gallery space, and it looks like a gorgeous new theater. Are you open for business? Is that open yet?
Amalia Ortiz: So, we are open. We moved in last August, and we were working with an architect, and we had these plans to have-- our old building, I had a black box. So, in the expansion, I was going to have a black box, plus a theater acting studio, plus a proscenium theater; plus, we wanted to have outside performance spaces. And then the pandemic hit, and some funders were not able to continue with funding. Some funders' interests changed. As we all know, during the pandemic, the priority became feeding people, and housing people. And so we are slowly building back our program. We have moved into the new studio, but-- <sighs> I want to say it is probably about five times larger than SAY Sí, and that's just a guestimate. And we have renovated one-fifth of it, so far. And so there are four big studios. So, instead of a black box, I do have a large theater space, but I come from the tradition of Chicano theater. I come from the tradition of, definitely, "The show must go on." I've done theater in found spaces, in backyards, and it is still a beautiful room, and it is a big room. My challenge has been: how do we treat this as a black box, rehanging some of the old theater curtains, and rethinking seating? We used to have a technical booth, and so instead of a booth, where is the best place to set our sound and light booth? So, if you have a big room, how do you convert any big room into a theater? And we've already had two large productions in that space. Our next Muertitos Fest, we have a really great, huge loading dock that takes up the length of the entire building. And last Muertitos Fest, we had a band out there. This Muertitos Fest, we're going to have performances out there. So it is really rethinking theater. We're learning to do lights on trees that are movable, so we can set up lights and roll them out onto that rolling-- the loading dock, and then roll them in. But we are in the middle of a capital campaign, and the goal is to have the rest of the building renovated, and eventually I will have a black box. And I think the goal is still to have, eventually, a state-of-the-arts proscenium theater.
Jo Reed: Now, So the students are also learning behind-the-scenes skills, as well as playwrighting, and   performing and directing. They're also learning all the crafts that go into making a production.
Amalia Ortiz: Yes. I approach the program very similar to everything that I learned in my bachelor's program, and so we do workshops in design--costume and set. We do workshops in stage management, in lights and sound, and not every student is good at everything, but they will gravitate towards those areas of theater that they have a special interest in. A student will ask, "I really want to do costume design," or, "I have an idea for set," or, "I really want to paint a backdrop." And it really is their theater troupe, and they come to me with ideas, and I will ask, "Okay, so, what are your set ideas. In the past, with Muertitos Fest, when it has been a three- or four-day festival, our students are all stagehands, and they learn how to help bands with microphones, cables, how to strike a set quickly, how to set it back up. And then we have stage management. But, as students of theater, by the time they're in high school, they get to see it all. And then their Capstone project, every senior has to do a senior show, and I think the majority of the projects have been, a student writes a play, and then they cast it, and they direct it. But we have had-- this past senior show, we had a student who was more interested in performance art and installation, so she built a giant blanket fort, and then she had a performance inside. The inside of the blanket fort was made to look like a teenage room, so it was very messy, with clothing everywhere. She also had comfortable rugs and pillows, and a big, soft chair, and she had her performers take turns sitting in the chair, reading out of a book, like it was story time. And so the audience would come in and find a place on the floor, and sit and listen to a story. And all of our seniors have to produce an artist statement and bio along with that. In her artist statement, she explained how some of her first performances were in a blanket fort , and she wanted her audience to feel that  intimacy of that kind of micro-performance, in a small space.
Jo Reed: So, it sounds like such an interesting combination of a really rigorous program that, nonetheless, is very tailored to each student.
Amalia Ortiz: It is open to what they want to do with it. And actually, right now, the last couple of days, I've been doing teambuilding with my students, and I ask, "Why are you drawn to theater? Why are you drawn to the arts? What do you want to get out of it? What do you have to say? Who is your community, and what do you have to offer your community?" I'm very community-minded, because I look at this pyramid. If you think of the arts as a pyramid, at the top, especially with theater and actors, it's the A-listers. It's the people on Broadway. It's people who are doing the million-dollar films. But at the bottom of this pyramid, of this triangle, is the everyday theater-makers, who are working every day in community theaters, who are working in found spaces, who are working in educational theater. And all of these theater workers deserve dignity. And in speaking with my students, I tell them, "You can wait around to be discovered. You can go through the mainstream American route of creating theater, and as an actor, you are a dime a dozen. Or, while you're waiting to be cast, and while you're working on your craft, you can also work on telling your stories. And if you aren't necessarily the best writer, you can have a community of friends where, 'Oh, that person is a good writer, and that person is a great director, and that person is a great tech person,' and work with them to create your own stories." I really encourage them to... to create original theater, because that was the route for me, that has given me probably, my entire career, I owe to the community that I've worked with in San Antonio, and that has opened up networks, actually, throughout the United States, for me.
Jo Reed: We mentioned COVID, and what it meant for the building, and the construction of the inside of the building. What else did it mean for SAY Sí? How did you-- how are you-- responding to it?
Amalia Ortiz: When I think back on the year and a half that we were teaching arts online, I don't know how we got through it, but we did. And so it really was signing on through Zoom for the students, trying to offer them some sort of light in that very dark time. It was such an unimaginable storm that we weathered. I could say, from the theater point of view, we became filmmakers, <laughs> because we were doing it over Zoom, so we were thinking more of the camera lens: How do you act to a camera lens? And so, coming back into the classroom, it is reminding them, "You have to project. You're using your whole body." Most of the students, the high-school students that I had, graduated or dropped out of the program. And so, when we came into the building, it really is a whole new group of students that maybe didn't have any kind of arts training during the pandemic, and so it is a lot of 101. I do see smaller attention spans. I get it. Students are traumatized, and obviously, getting back into school was a struggle. And so it is a slow build to reintroduce what is a discipline to them, and explaining-- I've had that conversation with them: "While you're here, I'm really asking for your focus, and your commitment, and your time." And our classes are actually shorter and fewer. We used to have high-school students four days a week.  Now I only have them for two days a week, and it really is us trying to be open to families who are still recovering from COVID, who have transportation issues, who have illness in the family. We have students who are working, and we understand that. And so, really being more open to doing what we can, with the time we have. And it's pretty difficult doing theater on just two or three days a week, but we are still moving forward, and we're still making it happen.
Jo Reed: Well, I mean, it's been such a time, and in San Antonio, you're not just dealing with COVID and the racial reckoning the whole country is dealing with, but you're dealing with issues that are going on on the border, and with immigration, and I have to believe this isn't just an abstract issue for many of the students and teachers.
Amalia Ortiz: It's a very personal issue to me. I grew up on the border. I am-- my-- <sighs> it-- I almost said, "My grandparents were immigrants," but, actually, that goes back to my grandfather. He was in the Mexican Revolution, and settled in South Texas, and this was before the Treaty of Guadalupe. And then, literally, the border crossed him, when the border line moved. But they were considered immigrants, and treated like immigrants. And so, I have had students who are immigrants. The majority of our student body, I would say they are Mexican American, so they do have that history of  immigration, and also the attitudes that those in power have <laughs> towards Mexican Americans and Mexicans here in Texas, and San Antonio, specifically. We are a social justice organization. So, for example, we have Muertitos Fest coming up, and all of my students, whether they are Mexican American or not, I explain that this is a cultural holiday, and we're studying it as that. It began as, definitely, a religious and spiritual holiday, but we're looking at it from a cultural lens. And I would say that every project, I'm asking them, what are their stories? We've had projects where I ask them to interview their grandparents, and we hear those immigration stories. If we have bilingual students, those are skills that I want to have on stage, and so I ask them to use their bilingualism. We did a show where all the students had to interview someone. So, we studied Anna Deavere Smith, and watched Twilight: Los Angeles. Students had to go and interview people from their homes, and then they had to interview them on video. And then, that really is a 101 acting exercise, where you have to imitate that voice and those movements, and you have a video that you can really play again and again, trying to get as close to that original as possible. And that first time we did that exercise, it yielded a show called Hear Me Out, and we had two different students whose monologues were in Spanish, and one of them, specifically, was a young student who talked about his dad's story of crossing the border, and it's monologues, saying, "And then I met your mother, and then we moved to Houston." But all of this was in Spanish. And so these are the stories that the students are bringing to the stage. And I'm so proud of their bravery, and that's why I encourage them: that they have to tell their own stories. They are playwrights. They are storytellers. I just need to ask questions, and then stand back and listen to their stories.
Jo Reed: Well, in your poetry, you're often telling your own story, and I'm curious how growing up in the borderlands in Texas shaped your work, and continues to shape your work.
Amalia Ortiz: It was the strongest influence on my life, and therefore on my writing and my art. I grew up... I think, technically, three miles from the border. There was no border crossing there, but three miles from the river. And people would cross there. People would float across, and then run through these agricultural fields. I grew up in a home where my grandparents only spoke Spanish to me, but they believed that I would do better in this country if I spoke English, and so I speak newscast-- I was a radio announcer. I speak perfect English, and it's a plus and minus. My Spanish is not so good, because I didn't really practice it, but I'm fluent in understanding it. That comes out in my writing. There are certain words that have more meaning to me in Spanish than when I say them in English. I've written about that. I've written about code-switching. I've written about the personalities, the characters, that I grew up maybe not even understanding, not having context for some of the characters, until I was able to leave and go back. My last book, The Canción Cannibal Cabaret, is more abstract from the border, but it is still very much about-- it's set in a postapocalyptic landscape. And the reality is, the border is postapocalyptic. When I was working on my graduate degree at UTRGV, and I was mainly in the campus there in Edinburg, they asked for students to... to volunteer time to go to a refugee shelter, and this was in Mission, Texas. And this was the summer of the unaccompanied minor, and they were calling it-- it was a "border crisis." And going and volunteering time so impacted me, to remind me that apocalyptic reality does exist for so many people: for immigrants, refugees, globally. And so that's where the idea for The Canción Cannibal Cabaret came from. So, it is a punk rock musical, and one of the first poem songs came from me moving back to the border. This was after I had lived away from the border for 25 years. I would definitely visit, but I had lived in L.A. for five years, and then moved back to the Brownsville area, and was shocked to see the border wall. Now, there was some sort of border wall when I was growing up, but it was more of a fence. But this new thing … it's just so ominous, and to see the length of that, and to realize, most of my adult life, I looked back on this region through nostalgia, as a person who survived something, and it was safely in my past. So the move back, and I see this wall, I immediately wanted to write about it, and the idea for my second book came out of that.
Jo Reed: Okay. You're a performance poet, but as we've said, you have two books of poetry. Is there a difference between performance poetry and written poetry? I mean, I have my own ideas, and a lot of it has to do, I would think, with emphasis, but I'm curious what your thoughts are.
Amalia Ortiz: I definitely believe so. I came to poetry as a performer. I had my bachelor's in theater. My brother was in Chicago, and so he really exposed me, in my visits to him, to the Chicago slam poetry and spoken-word scene they have. It's legendary. And I remember some of the first visits, seeing punk rock poets yelling and pounding their fists, and going up and down the aisles of a bookstore or a coffee shop, or poets speaking as though they're in a tent revival. And as an actor, that made sense to me, and especially as someone-- I write my own words. I want to perform them with the energy that I feel that they are due. They're special to me, and so that's how I want to perform them. I have gone through a graduate program, and there's times when I have had assignments where I have to really look at the page. That is something that I noticed: I wasn't really looking at what my stanzas looked like on page. I really didn't care about them, because I was just writing to memorize. And if you look an anthology of slam poetry, it's often left-justified, and then it's short phrases. And it's short phrases because that's how we memorize. I will memorize four to five words at a time, and that's also how we breathe, and so lines are usually broken up by how they sound when we're speaking them. And so I had to rethink what makes an interesting stanza; line breaks; how you can break a line in the middle of a sentence or a phrase, to create a different layer, if you're reading it on the page, as opposed to reading it out loud. So they're very different.
Jo Reed: The Canción Cannibal Cabaret is a published book—a themed collection of poetry has that is also the script for a punk rock musical which you have performed a number of times..
Amalia Ortiz: Yes. And--
Jo Reed: How is performing it—giving it full voice?
Amalia Ortiz: When I first wrote it, I was writing it for someone else to perform. I thought, "I'll find someone with a great voice, and I will direct it." But it was my master's thesis, and speaking with my chair at UTRGV, I would meet with her maybe once a month, and give her updates, and explain to her how the project was changing and evolving. But I definitely wanted it to be and  it is a defense of performance poetry <laughs> and performance. And all along, I saw it with costumes and lights and movement and choreography, even though it begins with poetry. And so, in graduating, I'd set up a date for the thesis defense, but I said, "I need to stage it." And I remember my chair was like, "You don't really have to." I'm like, "But I have to, so that you can see what it is, because you've only been reading it." I remember all the actors in the theater department were all busy with their finals, so I found students from the Mexican American Studies program there at UTRGV. They were sitting around. I'm like, "Hey, you, you're going to be in my musical. You're going to be in my musical." So I got a theater on campus, put it on, and I remember inviting my professors to it, because they needed to understand it's this three-dimensional work, and not this flat book. And so it is about an army of women who have had enough, and they are going to defend themselves, and their families, and marginalized communities. And one of the best  compliments I got was from one of my other professors. She said, "I want to join your army." And I said, "Yes. That is the goal.  I want the work to galvanize people to feel like they have agency. And standing alone, we are powerless, but the agency comes from when you connect to a community, and we decide we are going to make changes."
Jo Reed: Are you still giving performances of it?
Amalia Ortiz:  Yes. For two years, we were in the pandemic, but we are once again out and touring it. We actually performed at Barcelona, at a conference this summer, and our next performance is in San Marcos, at a film festival.
Jo Reed: You won the American Book Award in 2020,--certainly in large part due to The Canción Cannibal Cabaret. So, congratulations! Tell me a little about that award.
Amalia Ortiz: So, I have Rudolfo Anaya to thank for that, I know, because shortly after the book was published, by Aztlan Libre Press, my publisher was sending out copies, trying to get people to review it, to read it, to know that it existed. And I got the most amazing handwritten letter from Rudolfo Anaya, saying, "I hope she wins awards"; and then saying, "The introduction to the book was worth the price." And that's where I lay out my case. I talk about my influences coming from spoken word. I talk about my experience in the classroom, when people say, "Your work is didactic." And it's like, "Well, it is a teaching tool." And I see how, in poetry at that time, it wasn't in vogue. Political poetry wasn't in vogue. You don't want something that hits you over the head, that's too  "on the nose." "On the nose" was a bad thing. You want to be more obscure and more subtle in your poetry. So I wrote this whole defense-- really, just explaining my aesthetics, and Rudolfo Anaya said he loved the introduction, loved the poetry. It's embarrassing to repeat, but he said, "Amalia Ortiz is a genius." <laughs> And I--
Jo Reed: To hear that from Rudolfo Ayana must have been so gratifying.
Amalia Ortiz: And this was the year before he passed, and it's heartbreaking that I never got to meet him, but I know that he was on the board of the American Book Award, Before Columbus Foundation, and I'm certain that it had to have been him who took the book and gave it to the organization when they are looking at what books to consider. And I just know <laughs> that it was through his influence that he brought it to their attention. So, the award is actually for oral literature, and so I don't know if it's specifically for the book, but it is an award for me, for my defense of oral literature. And I think, very much, it is the book, because it is the book with the introduction that defends spoken work in academia, and is carving out a corner for it in academia: why it should be studied. I know that, for many years, there are people who didn't think much of slam poetry or performance poetry. I heard myself in workshops: "Your  your writing relies on theatrics." And it's like, "Well, I don't rely on theatrics, but theatrics is a part of my-- work." And I don't see that as a negative. I see that as adding. It becomes this-- it's this other thing. But, yes, the book was honored from the Before Columbus Foundation, and I was given an award for my work in oral literature.
Jo Reed:  Your résumé is astounding, and I'm curious what led you to teaching. Was teaching something you always wanted to do? How did you move to teaching, and does teaching and writing, for you, revitalize one another, or are they very separate spheres?
Amalia Ortiz: So, when I was in graduate school, I remember we had a class in professional development, and we had to write out a syllabus, and think about ourselves as professors. And I kind of knew all along, "I don't want to be a professor. I don't want to be a college professor." And my issues are, I don't want to be putting grades on people's creative work. And I would always say in class, I was getting my graduate degree because I was more interested in practical application. I want to write, and I want to perform, and I want to produce original theater, and I want to be in original theater. And I just really lucked out. When I interviewed at SAY Sí, and I realized they are working on these long-term projects, and that all of our projects are creating original scripts, I got so excited, because that's exactly what I want. I want practical application, where it is just show after show. To me, that's exciting, as a teacher, where I could show these students what I really do in life. I spend months researching, until I settle on a theme, and then I spent months writing. And then, once it's written, I spend a lot of time rehearsing. And that really is the schedule with our students. We spend about a month researching a theme, and a month writing, and then a month rehearsing. And to me, it's exciting, because I see it as, "I'm a producer. I get to produce all of this original theater." And to me, that's practical application. I'm not giving them writing assignments, and then reading them, and grading them, and giving them back. You know, we'll do writing workshops, and we'll critique each other's work, but then I push them to follow through. I don't want them to crumple up that assignment, or it to get lost in some folder that they never use again. It's like, "Okay, so what are you going to do with this piece now? Now you've written it. Now you've edited it. Now we're going to have an open mic." "Now, there are these local competitions you can submit it in." Every year, our students submit to the Scholastics Awards. And we just finished a script, and I was speaking with a student just yesterday, saying, "You were the lead writer on that project. You need to submit it to Scholastic." And so it's setting up realistic practices, as a writer and as an artist, and to me, that's exciting. I love that I am training young artists.
Jo Reed: Well, I was going to ask you how success, as a teacher, looks like for you-- how you would define that-- but I think you just answered that. <laughs>
Amalia Ortiz: I would say, I've had students that are going on, and they're producing their own theater, and to me, that's the best. I love going to see my students perform, and they are doing it. They are publishing. Students who weren't sure that they should go to college are going to college, or students who weren't sure if the arts was something for them, that are continuing the arts, even though they're not majoring in the arts. To me, that's exciting, is that they are taking their art seriously, their voices seriously. They're using their voices. That, to me, is exciting.
Jo Reed: And what about for your own work, Amalia? What feels successful for you, the way you define success?
Amalia Ortiz: Wow. That's a lot harder. I have recognition, I know I can do it, but as an artist, I still have those moments of self-doubt. I still struggle with impostor syndrome. I cannot think of success. I have to think of, "What do I have to say?" And I would say, daily, as I'm living my life, there's still issues where I feel powerless, and those are the issues I feel most inclined to write about. If I feel like I can't change it, I'm at least going to write about it, so that maybe it connects with community out there, and the community can start to change it.  That's what gives me hope. That's success, to me.
Jo Reed: And I think that is a good place to leave it. Amalia, thank you. Thank you for all the work you do. Oh, and a big shout-out for the video you did for Poetry Out Loud, about strategies that students should be thinking about when they're reciting their poems. So, thank you for that.
Amalia Ortiz: Oh, thank you. Thank you so much for this interview. It really is  an honor to be interviewed, and great to give me time, as an artist, to reflect on my work, and to remember what it is I'm doing, and why I'm doing it. So, thank you.
 Jo Reed: That was poet, performer, and playwright, Amalia Ortiz. Amalia directs the theater arts division at the arts education program SAY Sí in San Antonio. Find out more about the organization at SAY Sí.org.  And you can keep up with Amalia, her poetry and upcoming performances of The Canción Cannibal Cabaret  as well as see videos of her poetry performances at Amalia Ortiz.net.
You've been listening to Art Works produced at the National Endowment for the Arts. Follow Art Works wherever you get your podcasts and leave us a rating on Apple it helps people to find us. And as always, we'd love to know your thoughts about the podcast—send us an email at artworkspod@arts.gov. For the National Endowment for the Arts, I'm Josephine Reed. Thanks for listening.
Performance poet, performer, and playwright Amalia Ortiz talks about the theater arts program at SAY Sí that she directs. SAY Sí  is a year-round, long-term, tuition-free multidisciplinary arts program in San Antonio serving middle and high school students primarily at or below the poverty line. In this podcast, Ortiz talks about the work of SAY Sí in general and the theater program in particular. Ortiz discusses the program's emphasis on producing original theater and encouraging a practical application of the arts where the students learn all aspects of theater: they write the plays, cast them, direct them, create the costumes and scenery, do the sound and the lighting. They learn to work with their strengths, augment their weaknesses, and come together as team.
Ortiz also discusses her own work creating theater and performances  in and for community. She also talks about the impact on her life and her art of growing up three miles from the border, her commitment to and love of performance poetry, her 2020 American Book Award for Oral Literature, and her latest book The Canción Cannibal Cabaret & Other Songs. And we talk about her joy teaching at SAY Sí where she feels like a producer—helping to nurture students' ideas into original theater. We'd love to know your thoughts—email us at  artworkspod@arts.gov. And follow us on Apple Podcasts!