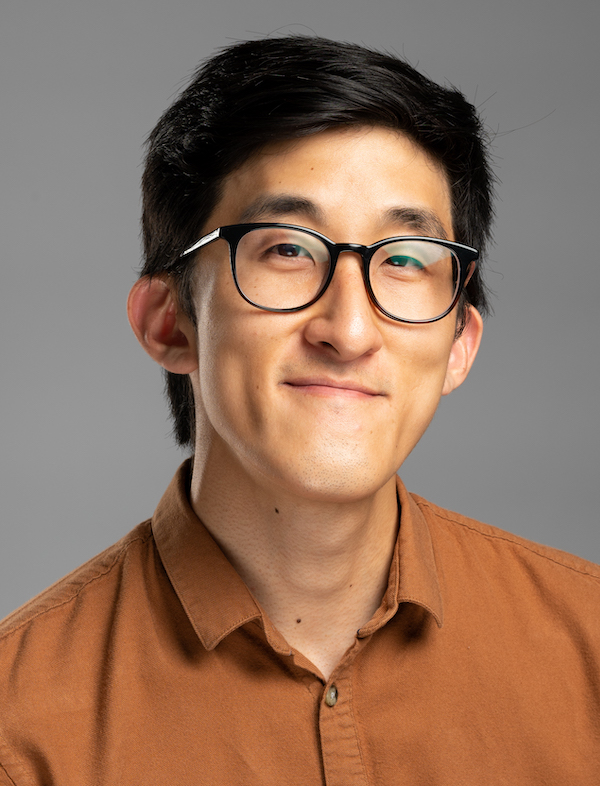 Music Credits: "NY" composed and performed by Kosta T, from the cd Soul Sand. Used courtesy of the Free Music Archive.
Jo Reed: From the National Endowment for the Arts, this is Art Works, I'm Josephine Reed.
(Film excerpt up)
Jo Reed: You just heard an excerpt from the film EJ Lee: All-American. It's a documentary in process and is the first film directed by Jason Rhee. Eun Jung Lee known as EJ,was  a legend in Louisiana basketball in the 1980s. In fact, she was dubbed the "Korean Magic Johnson of NCAA women's basketball."  Despite a remarkable career,  and decades of working as an assistant coach, she had never been able to get a position as head coach on the college level. Jason Rhee, a Korean-American who grew up playing basketball, came across her story in 2020.  He  saw that it would have resonance with Asian-Americans and the treatment they often receive in the workplace, and female athletes—the sisterhood they share and the limits placed on them and wanted to give EJ's story a wide audience. He reached out to her and discovered EJ was coaching a high school basketball team. EJ and Jason clicked and he began documenting her journey. And timing is everything because in 2022, at the age of 60 EJ Lee began as head coach of women's basketball at a college in Texas and Jason was there to document her first year.
I spoke with Jason Rhee recently—here's our conversation:
Jo Reed:. Jason, you're in the midst of making a documentary about Eun Jung Lee, or EJ Lee, called All-American. Give us a thumbnail sketch about her and your film to set the stage.
Jason Rhee: EJ is this visionary Louisiana legend, former basketball player, who had a remarkable career in the NCAA during the 1980s. And EJ is so far ahead of her time, in terms of a female athlete, a female basketball player, and my documentary is covering how, not only her remarkable feats back in the '80s, but her current-day journey as a 60-year-old head coach in a male-dominated field, and how she's been able to persevere through microaggressions, discrimination, and still is committed to the game that she's dedicated her entire life to.
Jo Reed: Her stats are remarkable. Share what she achieved as a college player
Jason Rhee: Absolutely. EJ Lee is a two-time All-American; she's a four-time Southland Conference Player of the Year, one of five men or women in the NCAA history to accomplish this achievement; and she's a Louisiana Hall of Famer, one of seven women inducted in history. EJ finished her college career with a record of 102 wins and 15 losses-- an astonishing record.
Jo Reed: I have seen footage of her play, and my jaw was on the floor. <laughs> How would you describe her playing?
Jason Rhee: Oh, absolutely electric. She was doing behind-the-back passes, no-look assists, step-back jumpers, and these are all skills that are very common in today's modern game, but they were practically unheard-of back when she was playing in the eighties. And when I read up on the history of EJ and that Final Four team of Northeast Louisiana University, thousands of people lined up to witness EJ and her team put on a show, and EJ did so with tremendous skill, tremendous showmanship, and intensity.
Jo Reed: So, she was a real sports celebrity in Louisiana.
Jason Rhee: Yes. She was.  I have had the pleasure of being in her hometown of Monroe, Louisiana, and even to this day, 40 years after she had played in college, there are people that still stop her, and go, "I remember my dad, or my mom, threw us in a car, and we traveled to that rival game against Louisiana Tech." And just to think of the women's game selling out back then, doing more numbers than the men's game at the time, is really unbelievable.
Jo Reed: Now, EJ was born in South Korea. When did she come to the United States, and what precipitated her coming?
Jason Rhee: She first began her love for basketball in Gimje, South Korea, a small, rural town; and then, eventually, she moved with her family to Seoul, where she became one of the top high-school basketball prospects. She eventually got a full scholarship ride to Northeast Louisiana University, which is now known as University of Louisiana Monroe, in 1982. And she immigrated here to America, knowing barely any English, with a suitcase and two dictionaries in hand, just in case she lost one dictionary.
Jo Reed: And no family.
Jason Rhee: And absolutely no family.
Jo Reed: And ULM is a rural school. It's not in the middle of a city.
Jason Rhee: <laughs> No, no, not at all.
Jo Reed: How was that adjustment for her?
Jason Rhee: It was extremely difficult. Speaking with her, in how she reminisces about the past, there's barely any Asian people, let alone Korean people. EJ was so homesick. She wanted to go home. She didn't know the language or the culture very much, But she did have this coach, this head coach named Linda Harper, who was essentially a mom to her.
Jo Reed: What did she do, once she graduated? She had this fantastic four-year career at the university, but then what options were open to her, once she left college basketball?
Jason Rhee: This was before the WNBA era, and at that time, EJ had just made it to the Final Four, one of the biggest stages of basketball, and the only path to continue her basketball career was to play overseas. And eventually, she played for Sweden and Italy, where she received MVP honors. But her career was cut off short after a contract dispute with one of the countries, and she eventually immigrated back to America, where she started her family, and then her coaching career.
Jo Reed: And her coaching career is not without challenges. She was always relegated to being an assistant coach.
Jason Rhee: Correct, yeah. She was climbing up that coaching ladder, she was an assistant, was a recruiter, a longtime recruiter that was constantly on the road, trying to recruit players for her university. And she just put her head down and kept on working and working and working for that one opportunity: that opportunity that many basketball coaches dream of, which is to become the head coach of a college basketball program. And there was this dream of one day taking over that alma mater program, the program that she put on the map, that she led to the Final Four. And she always had that dream of winning the Championship, something that she never was able to do as a player.
Jo Reed: And just to be clear, she worked at her alma mater, ULM as an assistant coach for years.  
Jason Rhee: Correct, correct.
Jo Reed:. For 20 years, I think.
Jason Rhee: For 20-plus years, and eventually she was promoted to be the associate head coach, which is right below the head coaching role.   Coach EJ, as many Asian Americans do in our workplace, they put their head down, and they just work as hard as possible, one day hoping for that opportunity to get that leadership role that they dream of. And like many Asian Americans, EJ faced this bamboo ceiling. She could only go so far in the coaching ranks. She was constantly criticized for not being able to speak proper English, because of her accent. But if anyone who sat down with her could see the tremendous passion, and the commitment she had to not only the game, but to her players and the community. So, it was truly tragic that she wasn't able to get that opportunity.
Jo Reed: Until 2022..
Jason Rhee: Exactly.
Jo Reed: ... when she was 60. What happened?
Jason Rhee: So, after about 300 to 400 job applications, throughout her 30-plus-year coaching career, these applications that she would apply to, to colleges all across the country, she was constantly rejected. She barely heard back from anybody. But if you look at her résumé-- an All-American, four-time Conference Player of the Year, Louisiana Hall of Famer-- you would think that she would get the opportunity, but she was unable to. Until, back in August 2022, a small, Division III program in West Texas, Sul Ross State University, took a chance on EJ, and that is when she received her first college head-coaching job opportunity.
.Jo Reed: What drew you to the story of EJ Lee? How did you find out about her? Had you always known about her? Was it a discovery on your part?
Jason Rhee: Yeah, absolutely. It was a discovery. It was a truly profound discovery. Just to share a little bit about my journey that led to this moment: I have, actually, a background in comedy and in writing, and I was a writer's assistant for The Onion at the time. I was reading a ton of politics, and just terrible news that's just happening in our country all the time. And there was this disconnect that I felt from my personal childhood, my personal interests, my own identity as an Asian American, and I felt this longing to search deeper into that background. At that time, my mom had passed away from COVID after being in hospice care, at the end of 2020. And then, a month later, I'm writing about my time playing in Korean church basketball leagues, when I discover the highlights of EJ Lee. And here is this woman who is an immigrant, a single mother, just like my own. Just like my own mother. And I felt like... the universe, God, whatever the powers that may be, opened this story up to me, and I just had to take it and run. This documentary field is something that's very new to me, and is a huge learning experience, but I knew that, after speaking to EJ, that I had to pursue this story then, no matter what.
Jo Reed: So, you discover EJ Lee. How do you make contact with her? Was it a cold call? Did you find somebody you might have known in common? How did you reach out and pitch?
Jason Rhee: I sat on EJ's e-mail address for a few weeks. I was nervous. I was scared. What if-- why does this legend-- why would this legend want to speak to me? I didn't know what to do, and at that time, I was still heavily grieving my mom's death. But, eventually, I reached out through e-mail; cold-call e-mail. She responded pretty quickly. And what I realize after a Zoom session-- several Zoom sessions-- that she was also grieving. She was going through a difficult time in her career, where she wasn't sure what was in store for her,  if it was the end for her. And I think, because of what I was going through in my personal life, that I was able to develop an understanding, compassion, and just being a person that could just listen. I think there's not been many people who could just listen. And I'm honored to be that person in her life; one of the few people in her life who are able to hear EJ, and her difficulties and her struggles.
Jo Reed: You also share a love of basketball. It was important to you when you were a kid. You grew up playing basketball.
Jason Rhee: Right. Basketball was an anchor for me.  It was just me and my single mother. She was an undocumented immigrant, and we moved around, all throughout the country. I was born in Oklahoma City. I grew up in Dallas and Houston; Colorado. Spent a little bit of time in New York, and eventually ended up in Illinois. And I was a caretaker, early on in my childhood. And throughout all the turbulent childhood, the chaos of my childhood, Basketball was where I could let loose, make friends in these different locations, these different homes that I found myself in. It allowed me to express myself and get my frustrations out.  Basketball is more than just a game to me. It's something that has kept me out of trouble, and has helped me find my way.
Jo Reed: And your mom's own story, as you mentioned, has a lot to do with you choosing to make this film. In a way, it's a way of honoring your own mother's story, isn't it?
Jason Rhee: It is. It is. My mom is someone who's kept a lot of her personal life to herself. I know very little of her-- of her background, of the family that I have back in Korea-- and she's someone that I believe had to swallow a lot of shame and suffering in silence. While I'm greatly affected by this loss of my mom-- this film was born out of grief-- I found it to be a blessing to come across EJ's story a few weeks after my mother's death. I hope I can share EJ's accomplishment's, joys, and struggles, as I wish I could've done so for my own mother, and also for the many Asian Americans and the Asian immigrants who have had similar experiences as EJ. This is not a singular experience that EJ has gone through. This is a similar theme that our community has experienced, and now are speaking out about.
Jo Reed: This film is certainly about EJ and basketball, but it's also about more than that. It's exploring a number of issues. Why don't you recount some of the issues you are exploring through this film?
Jason Rhee: One of my main intentions for EJ Lee: All-American,  this documentary film, is to bring more of a spotlight onto women's basketball, especially at the Division III level. These young women that EJ is leading at Sul Ross State University, they don't have athletic scholarships, so they're truly there for the love of the game. In my time covering this past season, I was interested in exploring the sisterhood, the bond that these young women share with one another…So, I'm interested in exploring that theme, as well as the Asian American experience. I believe a large number of our community suffers in silence, suffers in shame. And that is largely the case for me, as well, up until the last few years, is keeping all this shame and messy feelings to myself, not wanting to expose that vulnerability. But what I found throughout this process of filmmaking, of covering EJ's career and her current-day life, is that there's a lot of power in vulnerability. Many people can resonate; not just the Asian American community, but others who have faced hardships, who have been counted out. This documentary is truly an underdog story.
Jo Reed: Speaking of under dogs, in your show notes for the film, you also share some shocking statistics about women basketball coaches at the college level.
Jason Rhee: Right. There's a very few number of BIPOC women coaching college teams, as a head college coach. This is very evident in EJ's personal life, but also in the greater NCAA coaching landscape. It is a constant struggle for women of color, of BIPOC coaches, to get that fair shot, especially Asian American and Hispanic coaches.
Jo Reed: Well EJ after 20-something years, finally did her shot as head coach of a college team, just last year. How has it been for her?
Jason Rhee:Oh, it's been phenomenal. It hasn't been without its ups and downs, I do have to say. I have had the pleasure of covering her first season, and I just came back from two and a half months on the road in Texas. And I was able to embed myself in this women's basketball program, in this community of Alpine, Texas. And EJ did what she knew she could do, for 30 years. She led her team to the best winning record in school history, during the NCAA era. They had the most conference wins. Five players received All-Conference honors, and she beat teams for the first time in history. It was truly phenomenal to be there on the ground floor, and watch her learn how to take on this new role, work with her players, who she has many differences with, in terms of just the generational divide, the cultural differences. That community is majority Hispanic population, and it's actually a majority Hispanic women's basketball team. So, to watch an older female, Asian American coach lead a majority Hispanic basketball team, it felt like a story that was made up. Like, when has this ever happened in the history of basketball? So, I knew that there was something very special happening in the moment
Jo Reed:. I want to back up, just for a moment. You had said you began at The Onion, and writing comedy. You were a stand-up comic, which I think is incredibly brave. How did you then move to documentary filmmaking? What drew you to that?
Jason Rhee: Yeah. It's definitely an unorthodox path into documentary filmmaking. When I was doing comedy, when I was doing comedy-writing for The Onion, for stand-up, and even for several one-woman shows with my colleague Kellye Howard, an incredible stand-up comic in Chicago, when I think back on what I was doing in comedy, I was trying to explore the messy parts of my childhood, the messy parts of life, of grief, and try to find humor in it. I feel there is such strength in finding humor in these difficult moments, and that has largely helped me throughout this documentary filmmaking process: that even though EJ and I are talking about these difficult things that have happened in her life, that still there's humor in her personal life, as she's a very funny person, and she has a way of handling this-- these hardships with such grace. So, in terms of making my transition into documentary filmmaking, it's very new. There was a risk that I wasn't sure that I could do. I went to film school at DePaul University, but as a screenwriting major, I had barely picked up a camera. I really had no idea what I was doing. But what I was doing was taking a leap of faith, knowing that this story can help my community, can help many other communities. And because of that importance in the story, that's what's driven me to pursue this documentary.
Jo Reed: So, it was EJ's story that brought you to documentary filmmaking.
Jason Rhee: Correct, correct
Jo Reed: Wow. But how did you then begin to learn how to use the camera? I mean, I know you had a fellowship at Kartemquin. What did you learn through that?
Jason Rhee: The Kartemquin Diverse Voices in Docs Fellowship was essential to me being able to begin this journey, as a doc filmmaker. That is a six-month-long program, with workshops, and meetings with mentors that share every step of this documentary filmmaking journey. I was truly able to know what to expect, despite not having gone through it, because of this mentorship and this community of other filmmakers that are going through the same process as I was. That was largely the reason why I wanted to get into this fellowship, was this sense of community. It was extremely difficult to take a leap of faith, to begin this journey, that I knew I needed people around me who have done this before, who are doing it just in the way-- same way as I am doing, with equally important stories, who have inspired me to keep going. And we have been able to celebrate our achievements together, commiserate in the difficulties of being an independent doc filmmaker, where there's so little funding when you're first starting off. And I believe that has been essential to the success of this doc, so far.
Jo Reed: Now you're a 2023 Center for Asian American Media, or CAAM, Fellow. Tell me about that fellowship and how it can provide support for your film.
Jason Rhee: Yeah, the Center for Asian American Media has been tremendous supporters of me and this story. I'm truly honored to be a CAAM Fellow this year. It's a program that develops Asian American documentary filmmakers by pairing us with mentors and colleagues who are on the same path as I am. My mentor is Deann Borshay Liem, and she's already provided tremendous help on this process. To be in this community of other Asian American filmmakers, of other Asian American creatives, is something that I could not have dreamed of in my childhood. I grew up with not much exposure to Asian American media. I didn't know that there were Asian American doc filmmakers. And to have this visibility and the support of an incredible organization like CAAM has given me more inspiration to continue going on this path, to continue taking these leaps of faith, in filmmaking.
Jo Reed: I'm curious how you're telling this story, because filmmakers have lots of choices. Tell me about some of yours, because you're looking at her historical journey, and you're looking at her current role as head coach.
Jason Rhee: Right. One of my favorite documentaries, which is a Kartemquin film, is Hoop Dreams. I remember watching that in college, just massively depressed, and it gave me so much inspiration. And, like Hoop Dreams, EJ Lee: All-American, this documentary, is a vérité film, as well. It follows her current-day journey.
Jo Reed: Now, I'm going to interrupt you, just for one second. Explain for people who might not be familiar, what does that mean, a "vérité film"?
Jason Rhee: A vérité film is essentially just following everyday lives of people. And that is difficult, when you don't know what to expect. In narrative filmmaking, you have this plan. You have a shop list. You have everything ready to go, and everything in its neat little order, but in vérité filmmaking, it's going with the flow of what's happening in life. You know, one day, Coach may be like, "I got to go take up this meeting with a president at the university." And I'm just like, "Can I follow you? Can I just come with you? Is that okay?" And what I love about vérité filmmaking is that I'm able to capture everyday life, and what seems like mundane details says so much about a person. You're really able to develop an understanding of who a person is, when you're able to be with them for almost every day. So, not only is this a vérité film; it's also a historical film, where I'll delve deep into the archives of EJ's playing career in the 1980s, going back, as well, to her time in Korea, as a little girl who was dribbling in muddy fields. So, this will be a melding of vérité and archival documentary.
Jo Reed: So far, for every minute you film, how much ends up on the screen?
Jason Rhee: I believe we've filmed... roughly, about 300-plus hours, so far, over the course of the last two years. There will only be 90 minutes of <laughs> that 300 hours.
Jo Reed: So, working with a good editor is really important.
Jason Rhee: Oh, absolutely crucial. It's crucial in doc filmmaking, especially in vérité filmmaking, to work with an editor who is able to take this huge pool of what seems like a mess, and make it into a narrative story. And I'm really excited to work with several editors on my team: Sam Rong, Zoe Sua Cho. And as a three-headed team, we will tackle EJ's life, and hopefully do our best to honor her story.
Jo Reed: You know, fundraising is always a concern, and it's an ongoing concern with documentary filmmaking. How are you raising money?
Jason Rhee: For the first year when I started this documentary, I was self-funding it. I believe I poured about $30,000 of my own money into this filmmaking. At the time, I had a full-time job, and a salary job, where I had some money saved up, and I was able to have the privilege of doing that. But quickly, that money ran out. And there's this really funny story. It was the end of February 2022. It was the end of EJ's high-school basketball season, and I knew I just had to be there. I was largely not there during the high-school season, because of a lack of funding, but I knew I had to cover the last game. And it was a three-day trip. I used all my money. I didn't even know if it was a smart idea to go. And one of the days, EJ and I went to her former coach's grave, Coach Linda Harper's grave, and that was a very solemn moment. And after that, we went to a casino, and I-- it was my first time <laughs> ever being in a casino, and I won several thousand dollars. And that funded my trip to Korea with EJ, last May. And since then, I've received independent grants from funders such as Catapult Film Fund, Southern Documentary Fund, Center for Asian American Media, and Kartemquin, that have given me the capability to cover this past season. These nonprofit organizations believe in our story, believe in the message that I'm trying to tell with this documentary. So, I'm incredibly grateful to those organizations, and the large funding sources of this film will be nonprofit institutions.
Jo Reed: And, Jason, where are you in the making of the film?
Jason Rhee: I've completed the majority of production. We hopefully have a timeline of releasing the documentary late next year, early 2025. We have a lot of footage to go through, that I'm excited to, with my team, and that's our next step, is to start cutting together an actual film.
Jo Reed: And then, of course,  even though you're still putting the film together, you have to be thinking about the festival circuit, as a way of getting people to see it, and getting audiences and distributors.
Jason Rhee: Absolutely. It's half the battle to just complete the film. The other half of the battle is getting it out there, finding a distributor, finding other... finding a place for your film to live. And I believe this film will be-- have to have a large grassroots movement of receiving community support through community screenings, through festival circuits, and get that word of mouth out there. So, to be able to share this journey, so far, on this podcast is a tremendous help, first off. So, I really appreciate being able to do this, because it... it will help more people know about EJ, and be inspired about EJ's story. And my goal is to get this out to the community, to not only Asian Americans, but to young female athletes, to young student athletes, who can take from EJ's difficult path up to this point, and know that they can persevere, as well.
Jo Reed: And I think that is a great place to leave it. Jason, thank you. Thank you for giving me your time, thank you for introducing me to EJ Lee, and I wish you all the luck.
Jason Rhee: Thank you so much, Jo. Thank you again.
Jo Reed: You're welcome.  
Jason Rhee is an emerging documentary filmmaker who is editing his first film: EJ Lee: All-American . Eun Jung Lee, known as EJ, was a college basketball star in the 1980s, nicknamed "the Korean Magic Johnson of NCAA women's basketball."  She went on to work at her alma mater, University of Louisiana Monroe (ULM) as an assistant coach and recruiter for more than 20 years. In 2022, at the age of 60, after years of rejections, she finally was named head coach of a college basketball team in Texas. 
Rhee had been a comedy writer but was so taken with EJ's journey that he became a documentary filmmaker to be able to tell her story. In the podcast, we talk about EJ, how her story moved him so deeply, the connections he saw between EJ and his recently deceased mother—an undocumented immigrant from Korea who had endured a great deal of hardship—and how EJ's story also speaks to the larger Asian American experience in the United States. He also talks about the importance of basketball in his own life and the sisterhood he sees in the team EJ is now coaching. We discuss his pivot to doc filmmaking, his fellowships at Kartemquin and the Center for Asian-American Media, and the challenges and joys of documentary film.  
Let us know what you think about Art Works—email us at artworkspod@arts.gov. And follow us on Apple Podcasts!